NBA: Indiana Pacers' Paul George Back Among League's Elite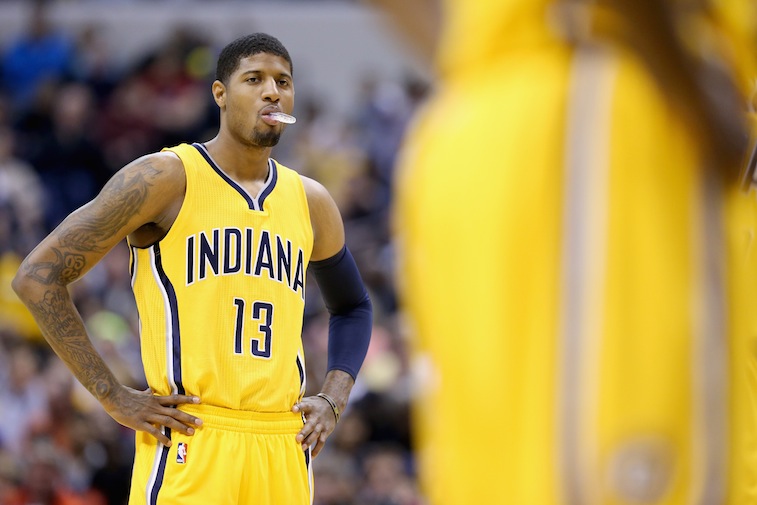 Everything was at a complete standstill as Paul George laid on the floor in pain and agony. Team USA's medical staff rushed to treat his fractured right leg, which he injured during the Team USA Basketball Showcase in August 2014. Many wondered if he could ever regain his status as one of the league's most promising stars. Prior to the injury, George saw progressive improvement in his game as a centerpiece of the Pacers. He attained a huge leap in his play during his fourth season in the league, which involved a significant increase in his scoring, averaging over 20 points for the first time in his career (21.1 per game).
George had become a huge part of Indiana's back-to-back Eastern Conference Finals appearances and earned his second straight All-Star game selection. He was also a lock to make the 2014 Team USA 12-man roster as a starter. But all that was put on hold when he experienced his devastating leg injury.
George worked hard to get back to the player he was prior to his injury — arguably a better player than before. With Roy Hibbert, Lance Stephenson, and David West all gone, he welcomed the larger offensive role with the Pacers. Now, George is the league's fourth-leading scorer at 27.2 points, averaging career highs in field goal percentage (45.9) and three-point percentage (45.5). He currently holds the 10th-highest field goal percentage among qualified small forwards, and the ninth-best percentage from beyond the arc in the league.
The 25-year-old has been an offensive tear over the last few weeks, scoring at least 20 points in 12 straight games, including six performances involving at least 30 points. During this span, he has posted four double-doubles and at least seven rebounds 11 times. He also recorded consecutive games with 30 points or more for the second time in his career. For the first time in his career notched two straight games of 30-plus points and 10-plus rebounds.
He's also third in the league in player efficiency, rating at 19.3 behind only Oklahoma City Thunder point guard Russell Westbrook and Golden State Warriors point guard Stephen Curry. George earned Eastern Conference Player of the Week honors on Monday, scoring 30-plus points in three games last week, including his second career 40-point performance.
November was quite an impressive month for the sixth-year forward who averaged 29.5 points per game while leading the Pacers to win 11 of 13 games played in the month — the second-best record in the Eastern Conference at 11-5 behind the Cleveland Cavaliers.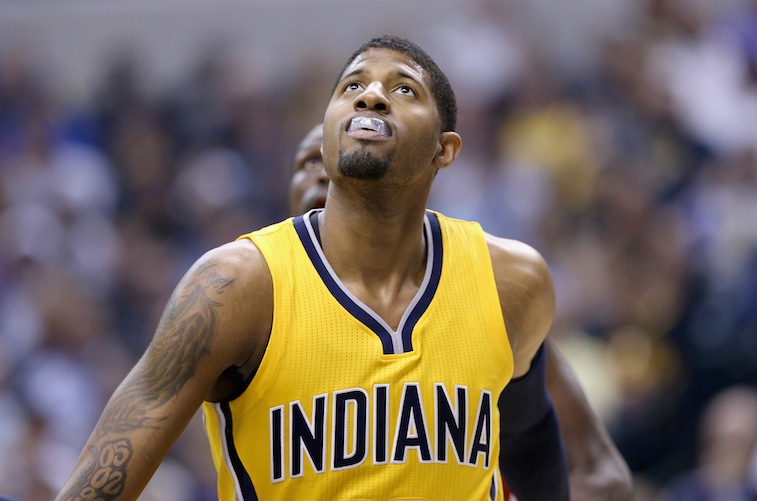 George's vast improvement in a larger offensive capacity for the Pacers thrusts him back into the conversation as one of the game's best young players. What's most impressive about his strong start to the 2015-16 season is his shooting efficiency. Typically, in a bigger offensive role, players' shooting numbers drop because of the larger amount of shots taken, but it is the exact opposite for George as he saw his percentages improve in all areas of the floor.
Through the first 16 games of the season, he's shot 45.6% from 25 to 29 feet away from the rim, hitting 60% of his pull-up jumpers (18 of 30) while making 42.8% of his attempts classified as jump shots. What this means is that George gets to his spots on the floor, leading to shots in his comfort zones where he is most effective.
The offseason addition of Monta Ellis also helped George's scoring this season. In addition to being a solid playmaker, the 30-year-old removes some of the offensive pressure on George. Ellis has scored double figures in all but five games, and he has eight straight games involving at least five assists. Although his scoring is seven points less than his career averages, it's the threat of being an offensive factor that helps open the floor for George.
It's not just his offensive production that looks promising — it's also his strong play defensively. According to Synergy Sports, George forces opponents to shoot just 25% on isolation shots taken against him, and over the last couple seasons George has been one of the league's best defenders at his position, claiming NBA All-Defensive First Team and NBA All-Defensive Second Team honors. His reemergence as a great defender has even led to head coach Frank Vogel calling him the best two-way player in the league.
All in all, George's uptick in his offensive production gives much reason to believe that he's once again one of the best players in the league and without a doubt a clear early favorite to capture this season's NBA Comeback Player of the Year.
All statistics courtesy of ESPN. 
Want more great content like this? Sign up here to receive the best of Cheat Sheet delivered daily. No spam; just tailored content straight to your inbox.