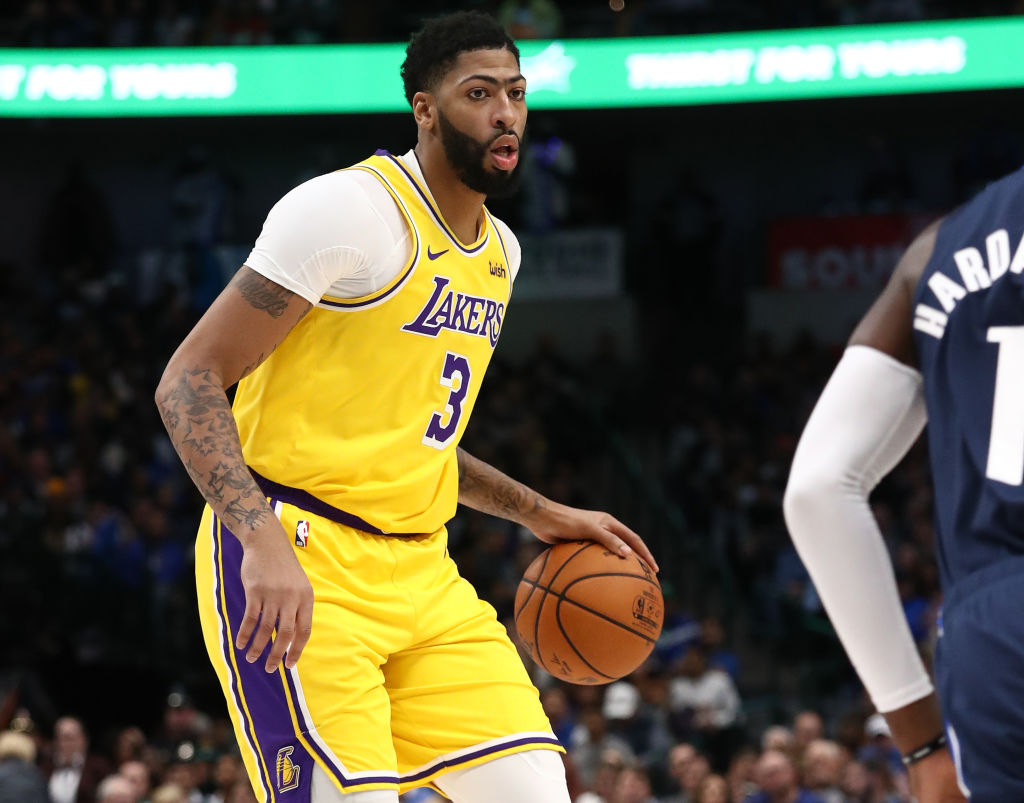 NBA: Is Anthony Davis Leaving the Lakers to Play for the Chicago Bulls?
When asked about leaving Los Angeles in free agency this offseason to join his hometown Chicago Bulls, Anthony Davis left the door open.
Los Angeles Lakers fans are a happy bunch right now. After suffering a loss in their season-opener against the Los Angeles Clippers, the Lakers have reeled off five straight wins and have looked extremely impressive in doing so. LeBron James has recorded a triple-double in each of his last two games, and Anthony Davis is leading the team in points with 28.5 per game and rebounds with 11.5 per game.
But for as happy as Lakers fans are with Anthony Davis on the court, they couldn't have been too thrilled with some of the comments he made about his hometown of Chicago this week. When asked about the prospect of playing with his hometown team, Davis didn't exactly shut down the idea.
Anthony Davis hints at a potential return to Chicago
Anthony Davis made a surprise appearance at Lulu's Hot Dogs in Chicago to meet up with members of the boys and girls basketball teams from his alma mater, Perspectives Charter School. During the event, which was sponsored by Nike, Davis took some time to do a question and answer segment for the young players. One of them asked Anthony Davis if he had the chance to come home and play for the Chicago Bulls, would he?
"I don't know," Davis responded. "I mean, I am a free agent next year, but we'll see. It's a possibility."
When asked on Tuesday morning about the response he gave, the 26-year-old reiterated that he was leaving his options open. "I said I'd consider anything," Davis told the media. "I said I'm focused on winning a championship with the Lakers and, of course, everyone knows I'll be a free agent next year, and we'll see where it goes."
Should Lakers fans be concerned?
Last month, The Athletic's Sam Amick kept it simple. As long as the Lakers "don't [expletive] it up," Davis should be back in the purple and gold next season.
ESPN's Adrian Wojnarowski also expressed his doubt last month that there was any legitimate threat of Anthony Davis leaving in free agency. "We pretend to care about the season for about 10 days," Wojnarowski stated on his podcast. "And then all anybody really cares about is [the upcoming year's free agency]. And we don't have that this year. We just don't have it. Nobody believes Anthony Davis is not staying with the Lakers."
These comments by Amich and Wojnarowski were made before Davis's comments about leaving his options open. But what would you expect him to say, especially at an event based in Chicago? His comments didn't tell us anything that we didn't already know; that he's going to wait until the end of the season to make his decision.
What will that decision be?
Barring any major blowups, it's hard to imagine Anthony Davis going anywhere this offseason. For starters, as his current team, the Los Angeles Lakers can offer him more money than any other team can. Whether he decides to sign a full five-year max deal of over $200 million or to get creative with a 2+1 deal that would give him a chance to earn an even bigger payday in a few years, no other team will be able to give Davis these options at the same rate.
In addition to the money, it's going to be hard for Anthony Davis to find a much more favorable situation on the court, either. He and LeBron James have been perfect teammates thus far, and James is still under contract with the Lakers for two more seasons. Even if this duo eventually hits some bumps in the road, their mutual respect and desire to win should help them overcome it.
Perhaps Anthony Davis will sign with his hometown team as a free agent… in 2025. This time around, Davis will almost assuredly stay in Los Angeles unless something crazy happens. And even in the unlikely scenario that he did decide to leave, it probably wouldn't be to join a rebuilding Bulls franchise after he just demanded a trade away from New Orleans to have a better chance to win a championship.