Is Carmelo Anthony Still an Elite Player?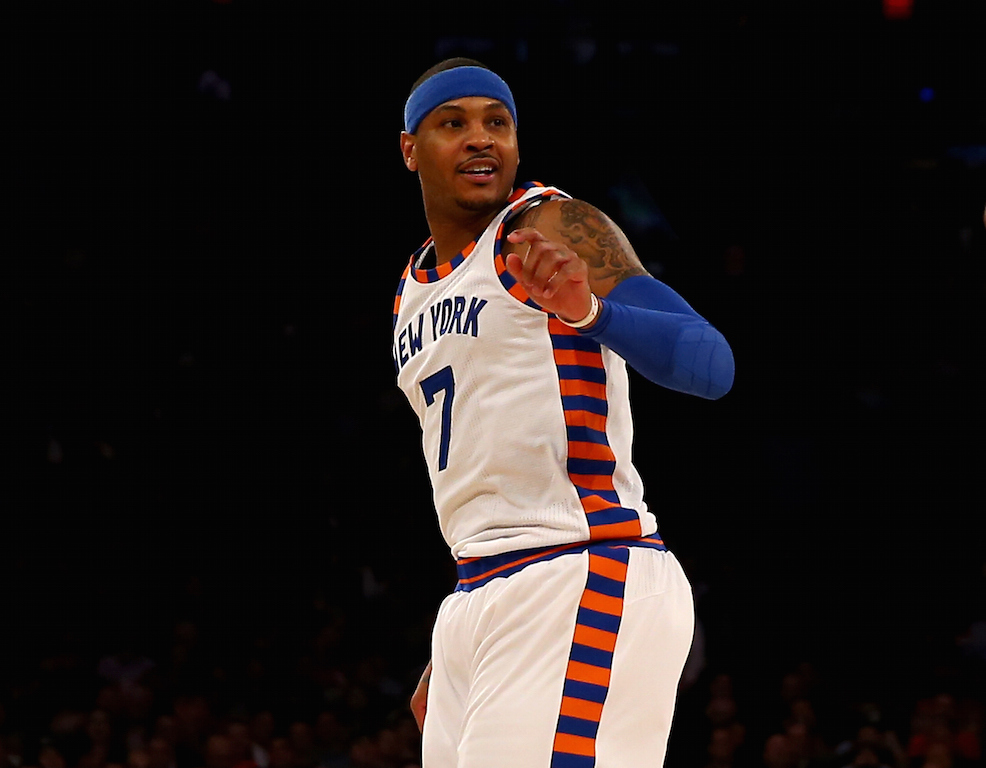 Through the first 11 years of his career, New York Knicks forward Carmelo Anthony established himself as one of the most talented offensive players in the league. However, the 32-year-old has seen a significant dip in production in each of the last two years, with a drop in points, field goal percentage, and three-point percentage. In his 14th year, Anthony currently averages the fewest points (21.8), shot attempts (18.2), and made field goals per game (7.8) since his second season.
For the second straight campaign, he's taking nearly two free throws less per game (5.6) below his career average (7.5). Part of this could be attributed to the surgery that repaired his left knee patella tendon. However, the operation affected Anthony's athleticism, as demonstrated by his failed dunk attempt earlier back in March.
Although he has seen a noticeable dip offensively, Anthony has led the team in scoring 45 times, assists 29 times, and rebounds 19 times this season. The nine-time All-Star finished is currently 14th in the league in scoring (fourth-highest among small forwards) and 29th in league history in points, sitting less than 900 points behind Hall of Famer Elgin Baylor. These statistics would indicate that Anthony is still an elite player, but his decline in production over the last couple years suggests otherwise.
Anthony is still a productive offensive player who can be dominant from mid-range. He was hitting 62.2% (46 of 74) of his pull-up jumpers and 74% (20 of 27) of stepback jumpers through March of last year, after all. However, his diminishing athleticism and quickness limits his ability to get to his preferred spots on the floor. It's something that one of his close friends and a fellow first-round pick in the 2003 NBA Draft, Chicago Bulls guard Dwyane Wade, is also dealing with, as his knees no longer respond like they used to.
Wade expressed regret on his decision to remove the meniscus from his left knee in 2002 while he was at Marquette, which led to the ongoing knee problems. This resulted in Wade battling chronic knee issues over his career and even requiring him to get a second surgery on his left knee in 2012 while also dealing with bone bruises and tendonitis. This limited his playing time over the last five years, forcing him to miss 97 games over that span.
Despite dealing with nagging knee injuries, Wade has averaged at least 19.0 points in each campaign over that span. However, he has seen his field-goal percentage drop drastically over the last two years to 44% and 43.% respectively from 50% or greater in three out four seasons prior. He has shot lower than 30% from three-point range in the last three years, including posting the lowest mark of his career from beyond the arc in 2016, hitting just a meager 16%.
A lot of this drop could be attributed to LeBron James' departure, but Wade has shown that his body isn't responding like it once has. He has flashback moments and is still a dependable player, but his best days are behind him. Yes, Wade isn't nearly the offensive talent that Anthony is, and he may be a couple years older but his steady decline in athletic ability clearly affects his individual game.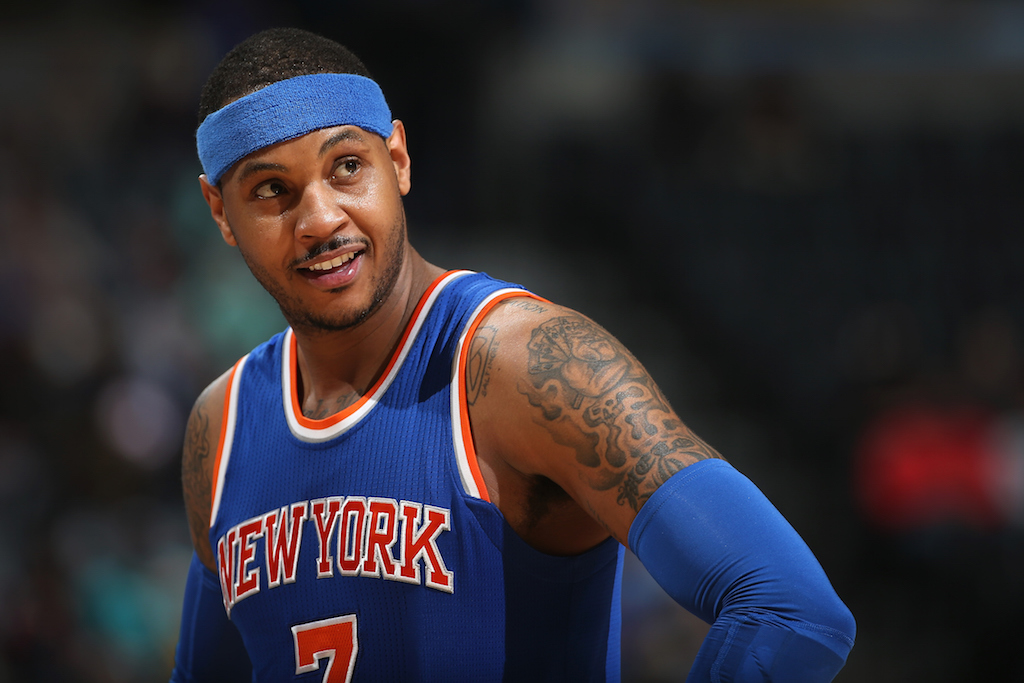 A decline in production will come into play for Anthony. However, it may help that he's much bigger in size compared to Wade — four inches taller and 20 pounds heavier — and he relies more on his outside shooting rather than getting to the rim. This will allow Anthony to age more gracefully than most, because scoring from the outside is a primary part of his offensive work.
With that being said, Anthony's left knee has become a constant issue for him, as he may be dealing with a combination of patellar tendonitis and arthritis from his arthroscopic surgeries, which could become a chronic issue during the rest of his career. Anthony denied that he has tendonitis in his knee and he seemed to be right — it certainly didn't stop him from playing with Team USA this summer.
All of this doesn't hide the fact that Anthony shows signs that his game is beginning to decline, which makes his health a huge factor in how his career will unfold. A study conducted by the American Journal of Sports Medicine determined that players coming off arthroscopic knee surgery had the most decline in their statistics the next three seasons compared to other operations.
Since Anthony joined the Knicks, he has experienced a significant injury in each campaign. In his first year, he underwent elbow surgery along with a scope of his left knee. The following season, he missed 11 games (opening the way for Jeremy Lin's emergence into relevancy in the league). In Anthony's third year, he suffered a slight tear in his rotator cuff and labrum in his left shoulder, which became an issue late the next season. Finally, last year, Anthony played most of the season, but dealt with patellar tendon damage that eventually forced him to shut it down in February.
At some point, these injuries will take a toll on him and visibly affect his ability on the court. Anthony still has the ability to score with the best players in the league, such as James Harden or Kevin Durant, but nights of huge scoring will come less frequently, as he scored 30-plus points just seven times this season. The 32-year-old can put up points in bunches as a volume scorer but his days of dropping more than a handful of 40-point games look to be something of the past.
Anthony has the mindset and desire to be one of the league's top players but it's a matter of whether or not his body — specifically his left knee — will allow him to do so. The bottom line is that Anthony is still one of the better scorers in the league, but as far as being an elite talent, his window is quickly closing, purely because of his health.