NBA: Is D'Angelo Russell a Future Superstar?
When you take a look at the 2015 NBA draft class, you'll notice that several of those rookies have had their time in the spotlight at some point in the 2015-16 season. Early in the season, "Porzingis" mania occurred in New York when Kristaps Porzingis excelled for the Knicks (and well before they fell out of the playoff picture).
The top pick in the draft, Karl-Anthony Towns, proves to be the best player from the class and is probably already the most valuable player on a Minnesota Timberwolves team that is loaded with young talent. Even late draft picks like the Denver Nuggets' Nikola Jokic have shown what they can do in the league in their first professional season.
One player who's been somewhat of an afterthought from that draft class is Los Angeles Lakers' point guard D'Angelo Russell, who was taken with the second overall pick last summer. The Ohio State product experienced his share of growing pains in the early stages of the season, as he adjusted to playing in the shadow of a retiring legend in Kobe Bryant.
However, as the season unfolded, Russell showed flashes of the player who the Lakers expect him to become in future seasons. With his better play of late, is it possible that the kid who could be the Lakers' next franchise icon has the potential to be not only the best player from his draft class, but also an NBA superstar? Looking at his skills and growth during his rookie campaign, we think that may be the case.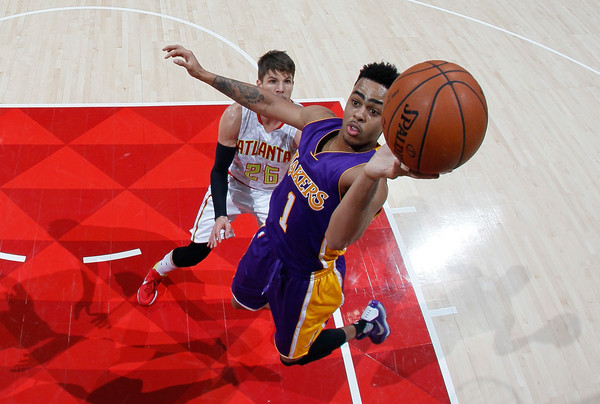 When you look at Russell's month-by-month splits, the growth he's made in a short period of time is impressive — no matter how you look at it. In November, December, and January, he averaged around 12 points and three assists per game with less than ideal shooting numbers. In February and March, however, Russell has scored about 16.5 points per game with closer to four assists per night. Further, his shooting numbers across the board have improved as well. It's clear that as Russell becomes more comfortable in the league, his productivity increases as well.
In the early months of the season, Russell didn't put up dynamic performances for a team that badly needed a spark. He didn't eclipse the 20-point mark in any single game until mid-December and had just four such scoring outputs prior to the start of February. Since the end of January, however, Russell shows that he can score in bunches. He has seven 20-point games in the last two months, including a career-high 39-point showing against the Brooklyn Nets in early March. Again, as the season progresses, Russell shows that he can be a leader for the Lakers and carry the load offensively.
Scoring isn't the only important aspect of being a point guard. Russell also shows his passing ability throughout his rookie campaign. In 18 of the 68 games he's played, Russell has accounted for five or more assists. That's an area he'll have to improve if he ever wants to be a top-flight point guard, but he possesses the court vision to be an effective passer. (His 3-2 assist-to-turnover ratio is a bit of a concern, though.)
Further, for a point guard especially, Russell shows a solid ability to rebound with 17 games of five-plus rebounds this season. Reliability is an important characteristic for any professional athlete and Russell (to this point) shows that he can stay mostly healthy for a large majority of a lengthy NBA season. He's played in 68 of the 70 Lakers' games this season, starting on 36 occasions.
He won't have to deal with a playoff run this year as the Lakers have been terrible this season (15-55), but the fact that Russell has survived the long season and improved in the process is a positive sign for his career and the team's future. Also, his 27.6 minutes per game (sixth among rookies) serves as proof that Russell can handle the work load.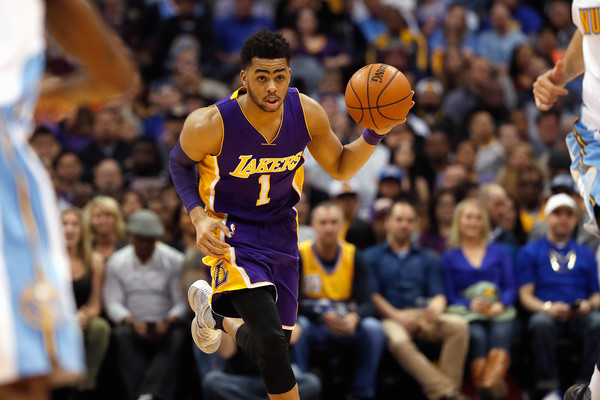 Among rookies, Russell's numbers aren't the best, but they are near the top of the charts. His 13.3 points per game are fourth among first-year pros, his three-point percentage is sixth, his assists total is third, and his steals total is second. With his improvements in the second half of the season, Russell must be mentioned in the conversation for Rookie of the Year, even though he won't win it with the presence of Karl-Anthony Towns.
When you look past this season, though, the ceiling for Russell is as high as can be. His three-point ability along with his knack for getting to the rim is the perfect combination for a point guard trying to be an effective scorer. He also shows his effectiveness as a passer and even a rebounder, given his triple-double potential in future seasons. Couple all that with his ability to get steals (1.2 per game this season) and you have a pretty solid-looking player in Russell.
It might take some time for him to reach "superstar" status (if he ever does), but Russell gives the Lakers hope — at the very least — as the face of their franchise for the past two decades prepares to ride off into the sunset. An offseason of hard work and fine-tuning his game could lead to Russell being one of the more improved players in the league next season and potentially make him the best player from the 2015 draft later down the line.