Is It Time For The Knicks To Move On From Carmelo Anthony?
When you think about the New York Knicks over the course of the past six seasons, the first (and almost only) player that comes to mind is none other than New York native Carmelo Anthony. Even though he was drafted by the Denver Nuggets back in 2003, it always felt like a certainty that Anthony would end up with the Knicks. Once the Melodrama peaked during the 2010-2011 NBA season, a trade sent the talented scorer from Colorado to the Big Apple. It's hard to remember at times, but Anthony has given New York plenty to be thankful for: He's averaged more than 24 points per game since his arrival and brought the Knicks three straight postseason appearances in his first three seasons. After that third straight playoff berth following the 2012-13 season, it felt like Anthony would certainly finish out his career in New York and might even bring the franchise a long-awaited title in the process.
Since that 2012-13 season though, things have gone south for the Knicks. They've missed the postseason for the third straight year, even as Anthony's play has remained solid — he lead the team in most significant categories, However, the 32-year old is producing near career-low scoring numbers, made worse by the fact that the Knicks are lacking in top notch talent aside from Anthony — a big reason for their terrible record this season and also potentially part of the reason why they recently fired head coach Derek Fisher.
Those low scoring totals could also point to the fact that Melo is wearing down (he missed more than half of 2015 with an injury). What's more than likely — even if Melo won't admit it — is that he is tired of carrying a team on his shoulders and, more importantly, of losing. As a seasoned veteran that hasn't even made an NBA Finals appearance in his career, it would be understandable if Anthony is feeling like his window to capture a ring is closing rapidly.
With the struggles for the Knicks and with Anthony's age becoming a factor, now more than ever, a breakup feels somewhat imminent. It's not as if Anthony has asked for a trade (in fact, he did almost the exact opposite) or if New York has been seeking offers for the veteran, but it might make sense for the team to let Anthony walk away, even if that occurs this summer. Think this sounds crazy? Listen closely, we have reasoning behind our claim that it's time for New York and Carmelo Anthony to go their separate ways.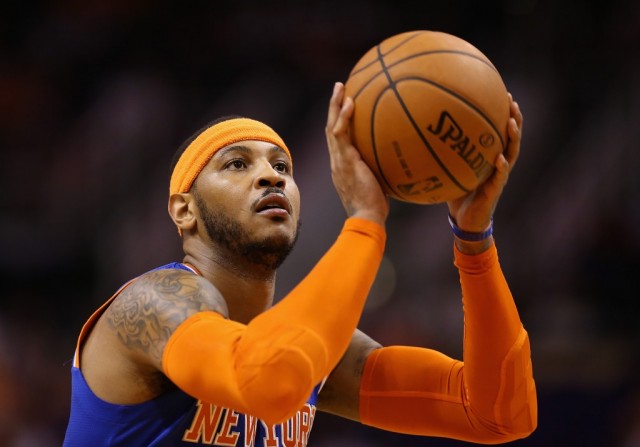 Here's the situation for the Knicks: a roster led by Melo and Kristaps Porzingis, isn't going to compete any time soon (especially not this season). Phil Jackson may be a basketball guru, but he's had trouble putting the pieces together since he arrived in New York in 2014. That combination of uncertainty and lack of direction probably will keep the Knicks out of the postseason for the foreseeable future. Sure, it's possible to bank your hopes on free agency, particularly when there's some serious players available that could change their Knicks' fortunes in an instant. That's a lot of hope and not a lot of probability to lay your loyalties on.
About that loyalty: whatever you want to say about Anthony, it's clear he's loyal to the Knicks. As one of the few players in the league with a no-trade clause, meaning that he can dictate where he gets traded (if at all),  he signed a five-year deal with the team in 2014, which could keep him in New York through the 2018-19 season when Melo would turn 35. We can't imagine he signed that deal thinking the Knicks would be an elite team overnight, but we can imagine that he didn't think they'd be quite this bad.
To some degree, it wouldn't surprise anyone if he left the Big Apple to chase championships (in fact, we've seen nearly every player of significant worth do exactly that in the free agency era), and Anthony hasn't been on a title-contending team since 2009, when he was playing with Chauncey Billups, Nene, and George Karl was on the bench.
Sure, Melo could stick it out with the Knicks and see if he can somehow get it done before the end of his contract. He'd still have one or two years left in the tank when his current deal ends, and after that he could join in the Charles Barkley ring chasing shuffle. However, while Anthony is still a lethal scorer, but he might not be come 2019, so contributing to a title team now seems like a better move.
It probably won't happen by the trade deadline this season, but it makes sense for both Carmelo Anthony and the Knicks to go their separate ways. For New York, it means more cash to go after talent that can fill more than one position, something they truly need. It also means a complete restart, which is something that — frankly — needs to happen sometimes in the NBA if a franchise wants to find success. While Anthony isn't the problem by any means, moving on could allow the Knicks to rediscover themselves.
All data courtesy of ESPN, Basketball-Reference, and Spotrac.