NBA: Is Kawhi Leonard the Best Two-Way Player on the Court?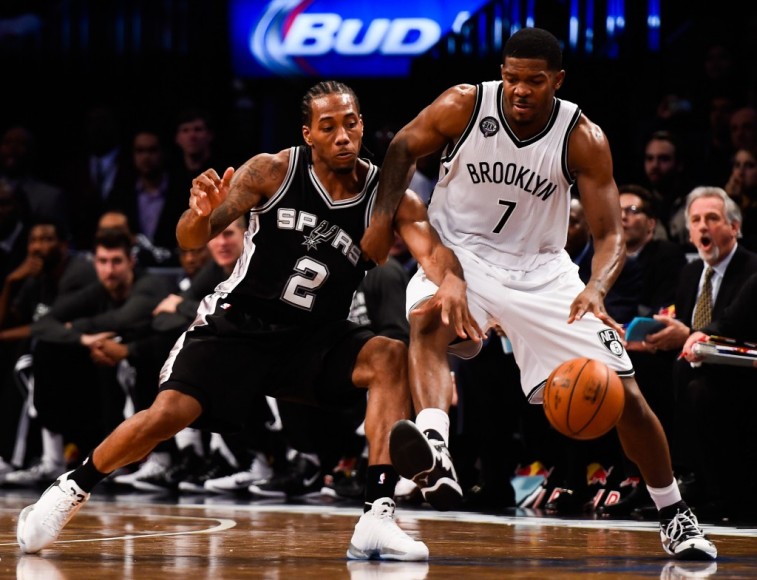 Over the last two decades, the San Antonio Spurs have been a mainstay among the best NBA teams by continually improving their roster through the draft. They set the foundation with Tim Duncan and found second-round international gems in Tony Parker and Manu Ginobili. The Spurs didn't skip a beat when they acquired former San Diego State standout forward, Kawhi Leonard, from the Indiana Pacers (who selected him with the 15th overall pick in the 2011 NBA draft).
The Spurs dealt away another draft find, George Hill, in exchange for a promising prospect in Leonard, and the move has more than worked out for them. In his first four years in the league, Leonard has earned NBA All-Rookie First team honors, an NBA All-Defensive Second Team selection (2014), an NBA championship (2014), an NBA Finals MVP title (2014), an NBA All-Defensive First Team selection (2015), and the NBA Defensive Player of the Year award (2015).
Although he missed some time over the last few seasons due to injuries, he has steadily elevated his game, seeing an increase in points, assists, and rebounds each season. During this time, Leonard has developed into a defensive stalwart, standing at just 6-foot-7 with a 7-foot-3 wingspan and massive, 9.8-inch hands. These measurables, along with his great defensive instinct, helped him quickly climb the ladder of top defenders in the league.
Leonard also possesses speed and agility, which allow him to guard virtually any forward or guard in the league with ease. It comes as no surprise that he's third-youngest player to win the Defensive Player of the Year award, joining Dwight Howard and Alvin Robertson as the only players to win the award at 23 years old. It also made him the youngest player in NBA history to win a championship, an NBA Finals MVP, and the Defensive Player of the Year award.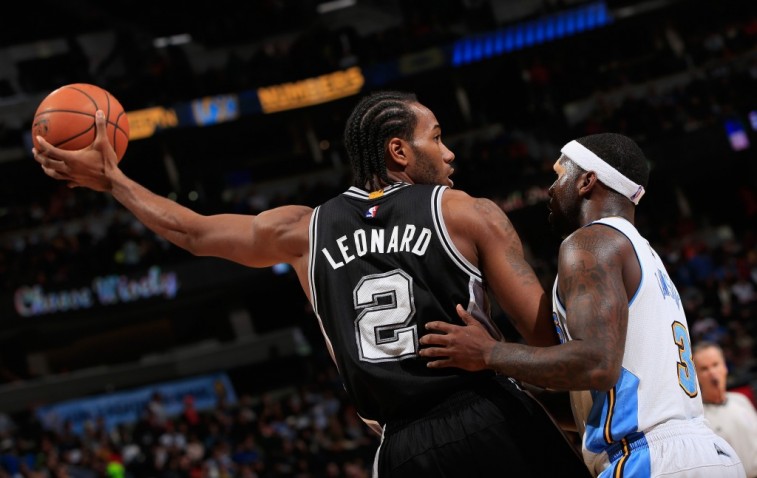 With all that in mind, Leonard took another stride in his game by becoming an elite-level scorer, leading the Spurs with 20.6 points per game, which is also 14th best in the league. What's been most impressive about his significant increase in scoring is his efficiency as a shooter. Leonard is hitting 50.2% of his shots from the field, which ranks him third among forwards and 19th overall.
However, what's more astounding is that he's making a league-best 48.9% of his three-pointers while hitting 87.9% of his free throws. This is significantly higher than his career averages in both areas — an 11% and 5% increase respectively. The fact that he's doing this with an increased workload — shooting 15.3 attempts per game — makes his strong start to the 2015-16 season more remarkable.
Leonard's continued rise in production on both sides of the court puts him among an elite group of players in the league. A fair argument could be made that he is the best two-way player in the league alongside the likes of Indiana Pacers forward Paul George and Cleveland Cavaliers forward LeBron James.
His hard work and dedication to the game immediately caught Gregg Popovich's attention. The Spurs head coach was extremely confident that he would develop into a star. According to Sean Deveney of Sporting News, in 2012, Popovich said:
I think he's going to be a star. And as time goes on, he'll be the face of the Spurs, I think. At both ends of the court, he is really a special player. And what makes me be so confident about him is that he wants it so badly. He wants to be a good player, I mean a great player. He comes early, he stays late, and he's coachable, he's just like a sponge. When you consider he's only had (two years) of college and no training camp yet, you can see that he's going to be something else.
That said, Leonard's ascension in his fourth season puts the Spurs in a position to stay in NBA title contention once Duncan and Ginobili retire in a year or two. They can pass the team over to both Leonard and offseason addition LaMarcus Aldridge without any decline in performance. In the meantime, the 24-year-old's play already places him among the game's best — with plenty of room to grow.
All statistics courtesy of ESPN.com and NBA.com.
Want more great content like this? Sign up here to receive the best of Cheat Sheet delivered daily. No spam; just tailored content straight to your inbox.