NBA: Is Russell Westbrook in the League's Top 5?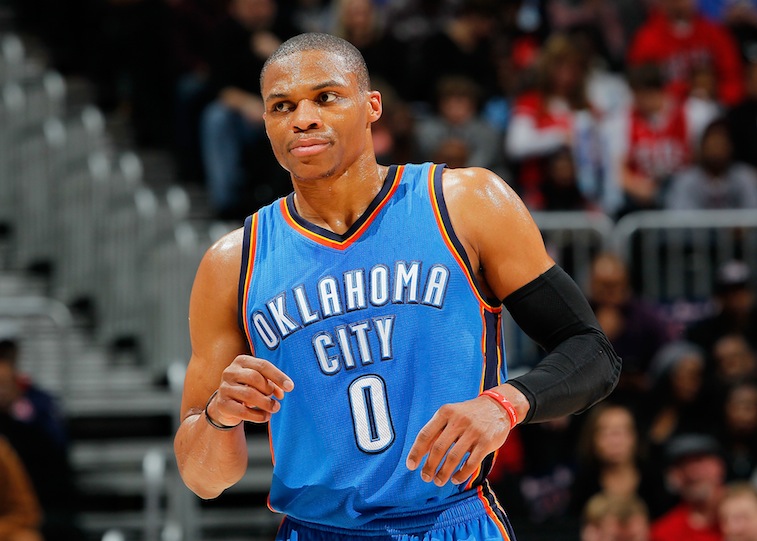 When Oklahoma City Thunder point guard Russell Westbrook suffered a slight tear in his right meniscus during the 2013 playoffs, there was some serious concern that he may not return to being the same explosive player he was prior to the injury. Things weren't looking much better a few months later as he underwent his third knee operation in December. This was just a month after he had a procedure due to the swelling caused by a loose stitch from the first surgery in April.
In total, it was beginning to look like Westbrook's best days were behind him; that he was headed toward similar knee problems as former Portland Trail Blazers star, Brandon Roy, who had to end his career prematurely because of persistent knee troubles. Westbrook returned in February of that season, but played in limited minutes and didn't participate in the second game of back-to-backs. However, the former UCLA guard was starting to show that he had the same bounce and explosiveness during his limited time on the floor.
He recorded the second-fastest triple-double in NBA history by notching 13 points, 14 assists, and 10 rebounds in just 20 minutes during a win over the Philadelphia 76ers. Westbrook was also phenomenal in the playoffs, averaging 26.7 points, 8.1 assists, and 7.3 rebounds in the postseason, which made him the first player since Oscar Robertson to average at least 26 points, 8 assists, and 7 rebounds in the playoffs (in 1964).
His play continued to reach new heights the next season despite suffering a broken hand. After the All-Star Game he averaged 31.4 points, 9.9 assists, and 8.6 rebounds per game. Westbrook became the second player in NBA history behind Michael Jordan to average 33-plus points, 10-plus rebounds, and 10-plus assists over a 10-game span. He once again made NBA history as the only player aside from Robertson to record more than 200 points, 50 rebounds, and 50 assists during a five-game span.
His four consecutive triple-doubles put him alongside Jordan (during the 1988-89 season) as the second player to accomplish that feat. His 11 triple-doubles last year were the most in a single season since Jason Kidd notched 13 triple-doubles during the 2007-08 season. Last year, he also became the first scoring champion (at 28.1 points) since Nate Archibald in the 1972-73 season to average 8.5 assists or better.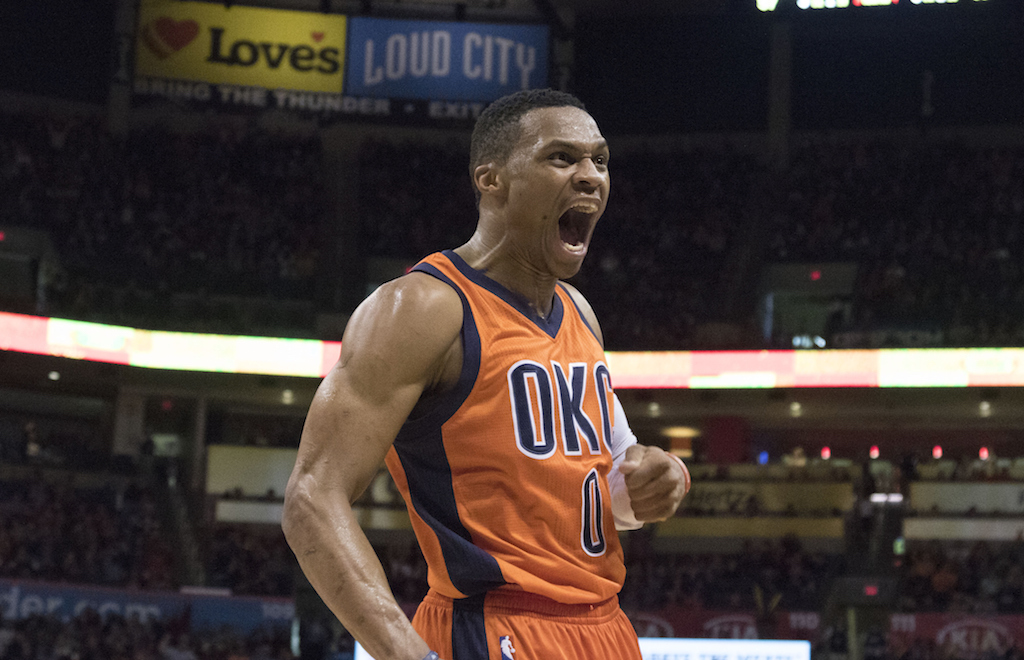 It was clear that Westbrook was back to being the same elite offensive talent that he was prior to the injury. And he continues that upward trend this season, as he's averaging 25.6 points per game (fifth-best in the league), 9.3 assists (third), 6.9 rebounds (50th), and 2.5 steals (first). For, as magical of a season that Golden State Warriors point guard Stephen Curry is having, Westbrook is right behind him for second in the league for player efficiency rating.
He's also on pace to become just the second player in NBA history to average 25 points, 9 assists, and 6.5 rebounds joining Robertson. He has already recorded three triple-doubles this season, pushing his career total to 22, which is third-most among active players behind LeBron James (39) and Rajon Rondo (26) — and one ahead of Kobe Bryant (21). What Westbrook has done over the last two seasons is cement his status as one of the top players in the league.
He has clearly taken over the reigns of the Thunder offense, and in many ways surpassed his teammate Kevin Durant. A fair argument could also be made that he and Curry are the best guards in the league right now. Although Curry is the better overall shooter, Westbrook is the superior athlete, a better individual defender, and brings more to the table in the rebounding department.
He's nearly unstoppable on the fast break due to his agility and athleticism and has mastered the pull-up jumper, which is hard to game plan against. He's also extremely difficult to stop at the rim with his ability to finish through contact and draw fouls. Ultimately, what Westbrook's stellar play over the last year-and-a-half makes him one of the top five players in the league and one of the most exciting players to watch on a nightly basis.
Statistics courtesy of ESPN.com and NBA.com.
Want more great content like this? Sign up here to receive the best of Cheat Sheet delivered daily. No spam; just tailored content straight to your inbox.