NBA: Is Scott Brooks the Right Hire for the Wizards?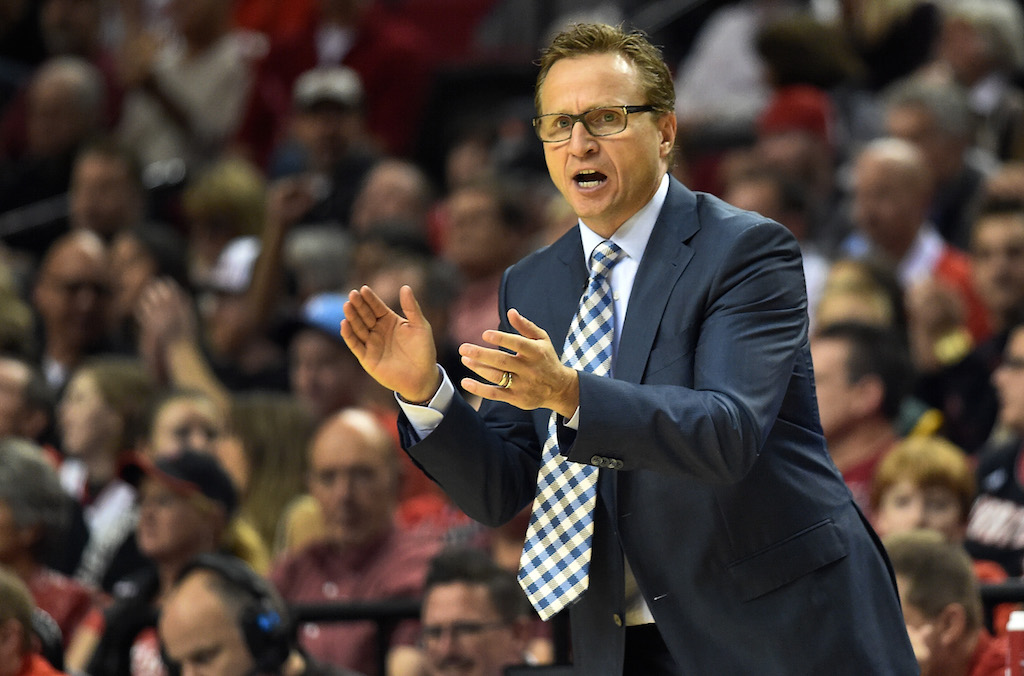 It didn't take the Washington Wizards long to find their next head coach after firing Randy Wittman last week as the team agreed to a five-year, $35 million deal with former Oklahoma City Thunder head coach Scott Brooks.
Although Wittman helped the franchise effectively snap a five-year playoff drought by leading them to back-to-back Eastern Conference Semifinal appearances, he held an overall record of 178-199 in 4.5 seasons with the Wizards. Rather than taking a step forward this past season, Washington struggled mightily throughout the year due to inconsistent play and injuries to key players on the team.
Bradley Beal missed 27 games due to injuries involving his shoulder, right leg, and pelvis, and Nene Hilario was sidelined for 19 straight games with a strained left calf. Despite that, the Wizards nearly made the playoffs due to the stellar season that John Wall put together, averaging a double-double with career highs in points (19.9), assists (10.2), and steals (1.9), which helped him earn his third consecutive All-Star Game selection.
Wall finished third in the league in assists and eighth in steals. This includes earning Eastern Conference Player of the Month for his impressive play in December when he averaged 22.6 points, 11.7 assists, 4.8 rebounds, and 2.3 steals per game. The 25-year-old also set franchise records for most assists (187) and games with 20-plus points and 10-plus assists (10) in a single month.
However, the utter lack of success in Wittman's final season played a huge part in the front office's decision to part ways with him. What also heavily influenced the move was the Wizards' known interest in Washington D.C. native Kevin Durant, who will become an unrestricted free agent this upcoming offseason. This thrust Brooks into the picture to fill the vacancy, especially given the strong bond that he developed with Durant during more than six seasons with the Thunder.
Brooks had an extremely successful stint with Oklahoma City, holding a record of 338-207, including making three trips to the Western Conference Finals and one NBA Finals appearance in 2012. Although he didn't win an NBA title, his .620 winning percentage is the best all-time mark among head coaches who never won a championship.
This helped Brooks get a $7 million base salary that makes him one of the six highest-paid coaches in the NBA, equaling Dallas Mavericks coach Rick Carlisle as the highest-paid NBA coach among those who don't also have the position as President of Basketball Operations for their respective organizations.
It's quite obvious that the immediate end goal here is to make Washington the most appealing landing spot for Durant beyond his hometown team. The Wizards have a solid roster in place, led by their talented backcourt duo in Wall, who is one of the top point guards in the league, and Bradley Beal, who is one of the better young scorers who has built a reputation on his outside shooting ability.
Beal will head into this upcoming offseason as a restricted free agent, but there's no reason to believe that Washington will let him sign elsewhere given that they possess more than enough cap space at around $58 million — even if he declines signing the expected $7.47 million qualifying offer.
The front office has the financial flexibility to sign Beal, Durant, and possibly another key free agent. Regardless, if the seven-time All-Star signs elsewhere, the Wizards now have an established coach with a proven resume of success who could take the franchise to greater heights.
Brooks shows the ability to develop young talent and build a strong culture around a team. He may have been criticized for his play-calling at times, but he could mold Washington into one of the top teams in the Eastern Conference, competing with the likes of the Cleveland Cavaliers, Toronto Raptors, and Miami Heat.
With a team full of talent and the appeal of playing with a former head coach in front of his hometown, the Wizards have built a strong case for Durant. If these things aren't enough to convince him to move, at least the organization has the right head coach at the helm.
Statistics courtesy of Basketball-Reference.com and ESPN.com.