NBA: JaVale McGee's 4 Best 'Shaqtin' a Fool' Clips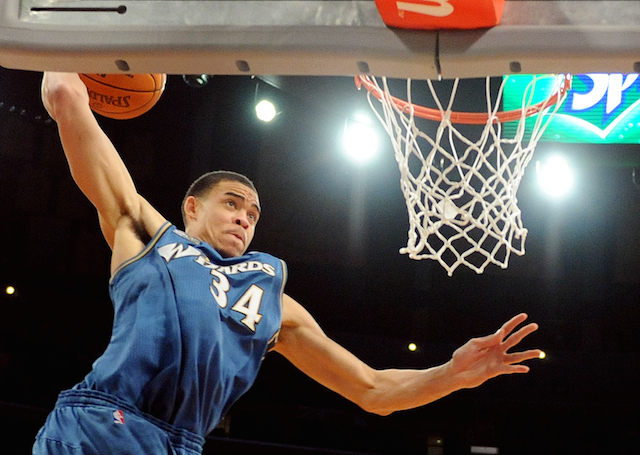 The National Basketball Association is a storied sports franchise filled with countless superstars known for their tremendous efforts on and off the court. We all know the names. Michael Jordan. Bill Russell. Kareem Abdul-Jabbar. Oscar Robertson. Kobe Bryant. LeBron James. The list goes on and on. Thanks in large part to the creativity of former NBA center, Shaquille O'Neal — a legendary, surefire Hall-of-Famer himself — NBA followers are lucky enough to see dozens of modern-day basketball players making the highlight reels in the silliest, most obscure ways possible in the popular clip show, Shaqtin' a Fool.
A constant player in these weekly countdowns, now in his eighth NBA season out of the University of Nevada, Reno, JaVale McGee has particularly brought immense joy and laughter to thousands of fans since Shaqtin' a Fool's inception four years ago. The clips generally air on Thursday night during the NBA on TNT's doubleheader presentation, and then they are posted to NBA.com on Friday. What better way to end a long workweek by kicking back, relaxing, and enjoying the funniest bloopers from the week?
McGee was a fixture during many Shaqtin's for the first two or three years, but due to injury and limited playing time, he found himself on the bench more often than not in the last couple seasons. In honor of his recent return to the blooper reel in the newest Shaqtin' a Fool, let's review some of his best moments. Ladies and gentlemen, the man you all have come to know as "Tragic Bronson," McGee …
1. JaVale runs back on defense
This is one of the original classics for McGee. Back in his heyday with the Washington Wizards (his first team), the big man takes an ill-advised running hook shot that misses. What follows next can only be described as legendary. To his credit, McGee's mindset to hustle after a missed shot and get back on defense was the correct call. One problem though, his team got the offensive rebound and had a new possession. Point guard John Wall's reaction is priceless. This blooper got McGee started off on the right track for Shaqtin' a Fool stardom, but who would have predicted just how many more appearances were yet to come.
2. JaVale's many, many goaltends
What a block by McGee! Scratch that, what a goaltend by McGee! Honestly, there are just too many goaltending mishaps through the center's career to discuss here, as he makes a habit of including this move in his repertoire. This emphatic rejection that turned into two automatic points for the opponent may have been the standout though.
3. JaVale takes a piggyback ride
A favorite of ours, McGee tries to get back on D and disaster strikes again. Now with the Denver Nuggets, McGee again has the right idea, hustling back to defend against the Oklahoma City Thunder's offense, but he takes his eyes of the action for a second. When that happens, McGee accidentally runs into (and over) a Thunder player, making the action resemble a cowboy jumping atop his horse for a ride.
4. JaVale, the kissing bandit
One of the more recent McGee moments, this highlight comes from the 2014-2015 season, which was his last in Denver. After a missed shot from a teammate, the big fella hustles after the offensive rebound and makes his way into the first row of fans. From there, a beautiful love story unfolds as McGee plants a quick peck on the cheek of this older woman. Judging by her reaction, we think the love is mutual.
Well, there you have it. We hope you enjoyed a look back at four of McGee's best bloopers that appeared on Shaqtin' a Fool, and we can only hope that the big man stays healthy and continues to get playing time with his new team, the Dallas Mavericks.
All data courtesy of NBA.com.
Follow Victor on Twitter @vbarbosa1127