NBA Legend Carmelo Anthony Thought He Was About To Die When He Had His Growth Spurt
The Portland Trail Blazers have found a way to make Carmelo Anthony relevant again.
Anthony, who turns 37 on May 29, is enjoying success as the Blazers' sixth man. The 10-time All-Star has certainly come a long way since growing up in Maryland and thinking that puberty meant he was about to die.
Carmelo Anthony thought he was dying when he had his growth spurt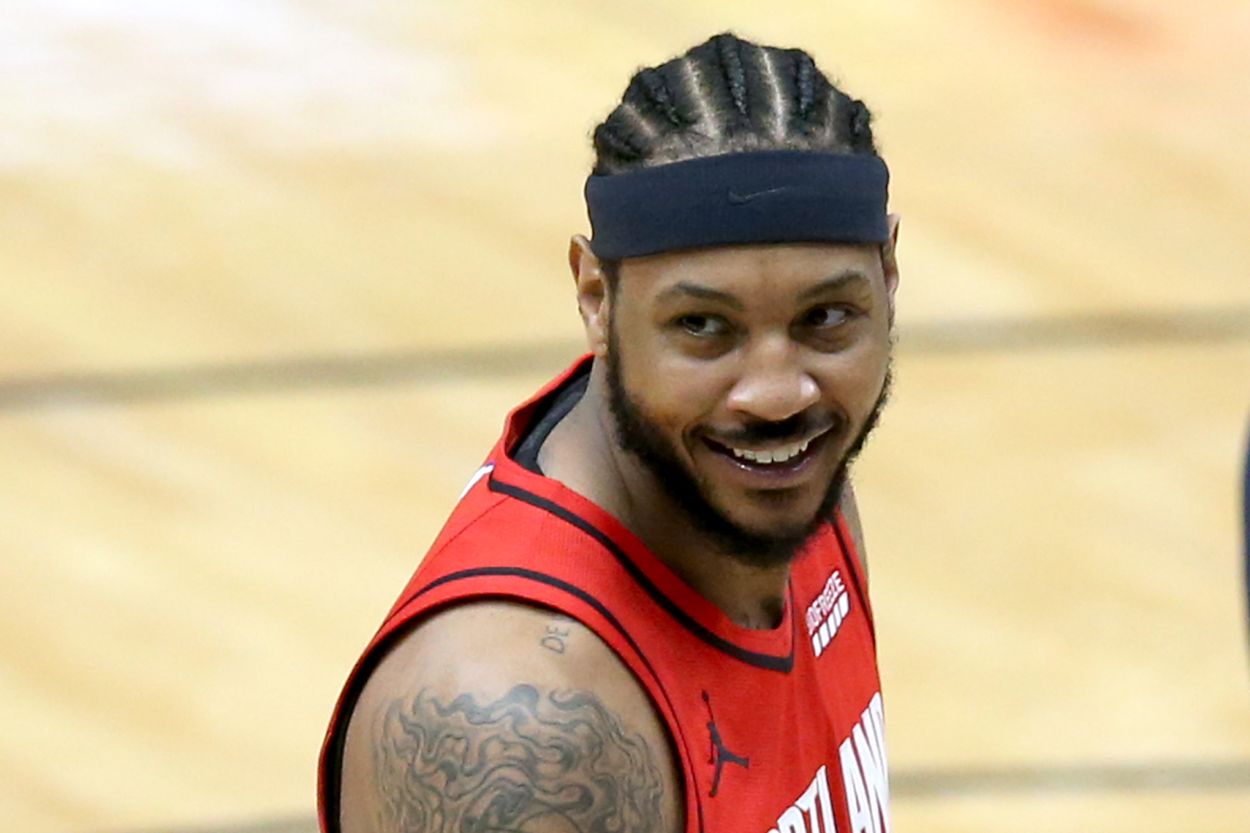 There comes a time in life when puberty and a growth spurt hits someone. Enough said on that front.
The experiences are different for everyone, and that certainly held true for Carmelo Anthony. In a 2009 interview with Cigar Aficionado, Anthony reflected on the growth spurt he had in the summer of 1999.
"I grew four inches, and I thought I was going to die, literally. When you grow that fast, your body is not used to that; my joints were hurting, my elbows, my knees, my shoulders—it was just painful."

Carmelo Anthony
The pain only lasted for so long, though. Suddenly, Anthony stood 6 feet 5 inches and was about to become one of the country's top high school basketball prospects.
Anthony grew into an elite high school basketball player
Anthony spent his first three high school seasons at Towson Catholic High School in Maryland.
As a junior and fresh off a growth spurt, Anthony averaged 23 points and 10.3 rebounds. That put him on the radar as a top high school prospect, especially for schools on the East Coast.
Anthony transferred to Oak Hill Academy, a private school in Virginia, and averaged 21.7 points, 8.1 rebounds, and 4.0 assists as a senior. Anthony earned USA Today All-USA First Team honors and participated in the McDonald's All-American Game.
After working on getting his grades and test scores up, Anthony followed through on his commitment to Syracuse and enrolled there in 2002. It is interesting to wonder in hindsight where Anthony would have been selected had he entered that year's NBA draft — the league was still several years away from changing the draft's entry rules — and not gone to Syracuse.
Anthony is among the NBA's all-time leading scorers
Carmelo Anthony is a long way removed from the pain he felt while growing up.
In 17 NBA seasons, Anthony — the third overall pick in the 2003 NBA draft — has made 10 All-Star teams and earned All-NBA selections six times. On May 3, 2021, Anthony passed Elvin Hayes for 10th place on the NBA's all-time scoring list.
If the ABA is included, Anthony only ranks 12th; Julius Erving and Dan Issel, who rank well outside of the top-50 on the NBA's all-time scoring list, each scored over 10,000 points in the ABA.
As of May 6, 2021, Anthony had 27,334 points to his name. Next up on the NBA's list is Moses Malone, who retired with 27,409 points in that league.
Like Sportscasting on Facebook. Follow us on Twitter @sportscasting19.