NBA Legend Says Damian Lillard Needs to Leave Blazers, as Portland Has 'Squeezed All the Lemon Juice out of Him': 'He Can't Make No More Lemonade'
The NBA offseason is officially here, and it's pretty clear what the top storyline will be: Will the Portland Trail Blazers trade Damian Lillard or not?
There has been a ton of trade speculation around Lillard, who hasn't ever had a real shot at making the NBA Finals with Portland throughout his career, but he has yet to flat out demand a trade, so his future is pretty unclear.
An NBA legend, though, says it's absolutely time for Lillard to leave the Blazers.
That legend is Paul Pierce.
Damian Lillard has been at the center of trade speculation with the Blazers
Lillard has led the Trail Blazers to eight straight playoff trips, but they have lost in the first round in five of those seasons, including the past two years. So, following their latest loss, there has since been a ton of speculation around Lillard's future.
Although Lillard's under contract in Portland through 2023-24 with a player option for the 2024-25 season, Chris Haynes of Yahoo Sports reported in June that the Blazers' inability to build a title contender could potentially lead to the six-time All-Star leaving Portland.
There was then a report that Lillard would ask for a trade from the Blazers, but he ultimately denied it.
"Right now I'm not sure what I'm going to do. What I can say is my intentions and my heart has always been set on being in a Trail Blazers uniform for my entire career," Lillard said on July 16, per ESPN. "But I think over time, you want to win it all. And I want to win it all in a Trail Blazers uniform. But we all have to be making strides toward that."
These comments, though, haven't put a halt to any trade speculation.
Paul Pierce thinks Dame needs to leave the Blazers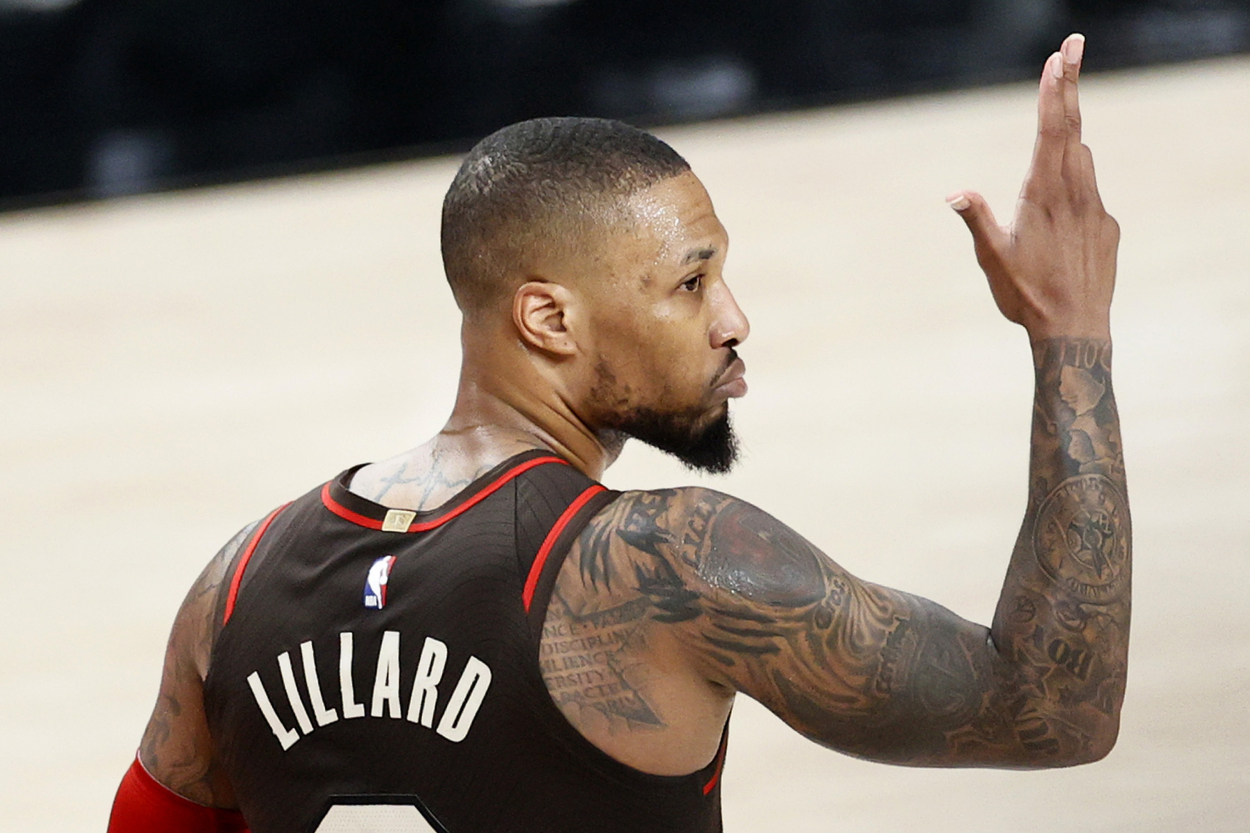 Pierce recently appeared on Showtime's What's Burnin' with Matt Barnes. While discussing Lillard and the Blazers, Barnes compared Dame's situation to Pierce's with the Boston Celtics, as some thought Pierce should have left Boston to have a better chance at winning elsewhere.
Pierce, though, chose to stay in Boston, and the Celtics built a championship team around him, so he doesn't think their situations are similar.
"When I look around the league, what Dame needs is not out there," he said on the July 20 episode. "…There's not [another] superstar that you can say is disgruntled that you can bring over to Dame to say, 'Alright if we add this piece, this will put us in championship contention.' So, I think the best thing for Dame, I think he needs to get out of there."
Pierce then noted that Lillard has always been loyal, but the Blazers haven't given him opportunities to win titles, so the former 10-time All-Star thinks Dame's situation is closer to Kevin Garnett's.
Garnett played with the Minnesota Timberwolves for 12 seasons before teaming up with Pierce and Ray Allen in Boston. Lillard, on the other hand, has been with the Blazers for nine seasons.
"KG was doing all he could for Minnesota, and it just got to the point he couldn't do no more," he said. "It was time for him to go. I think Dame's time is up there. They squeezed all the lemon juice out of him; he can't make no more lemonade, man. He's been making too much lemonade for years."
What teams can the Blazers trade Damian Lillard to if he wants out?
As of right now, it doesn't appear Lillard 100% wants out of Portland, but if he does end up wanting to leave, where would the Blazers trade him?
When fans and experts discuss potential destinations, many look at teams that would give Lillard the best chance to win titles. So, the Miami Heat, Golden State Warriors, New York Knicks, and Philadelphia 76ers are often brought up, as they're all excellent teams with highly tradable assets.
However, Lillard doesn't have a no-trade clause, which means the Blazers can trade him anywhere — even to struggling teams. While Kevin O'Connor of The Ringer reported that the Knicks, Heat, and Sixers would aggressively go after Lillard, he also mentioned the Sacramento Kings and Houston Rockets.
If the Blazers would want to show Lillard any appreciation at all, they wouldn't send him to Sacramento or Houston. But they might just do what's best for their future, which would be going with the best offer.
No one knows what will happen with Lillard, but if he's traded, the Knicks, Heat, 76ers, Warriors, Kings, and Rockets seem to be likely destinations. Get your popcorn ready, though, because this will be a fun storyline to follow this offseason.
Stats courtesy of Basketball Reference