5 NBA Legends Whose Sons Will Become Second-Generation NBA Players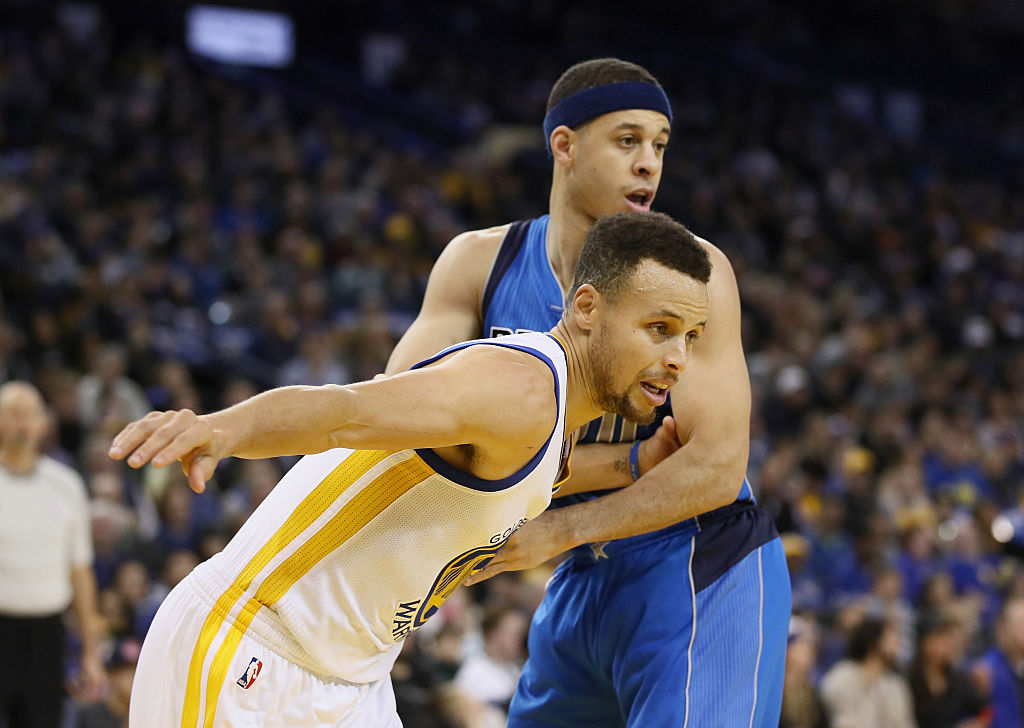 Several years ago Michael Jordan's sons, Marcus and Jeffrey Jordan, tore up the high school basketball circuits in Chicago. Older brother Jeffrey rejected scholarship offers from the likes of Valparaiso and Loyola, heading to the University of Illinois as a preferred walk-on. Marcus, for his part, won a state title for Whitney Young, after dropping in a game-high 19 points in the championship game. Both brothers ultimately landed at the University of Central Florida before quitting the team and quickly flaming out of basketball altogether.
Now, Stephen Curry is taking the league by storm and already has two MVP awards and one championship to his credit. Meanwhile, Seth Curry is carving out a niche in his own right as a solid backup combo guard in Dallas. Several years ago, the Curry brothers took the Coliseum floor to get their shots in as little boys, while Dell warmed up in Charlotte.
It goes without saying that plotting the exact trajectory for the career prospects of a young kid is all but impossible. Still, we can't help ourselves, especially when it comes to the sons of NBA legends who will clearly benefit from both genetics and the environment. One day, these prospects will make the NBA — and make their dads proud.
5. Jordan Lowery (Allen Iverson
)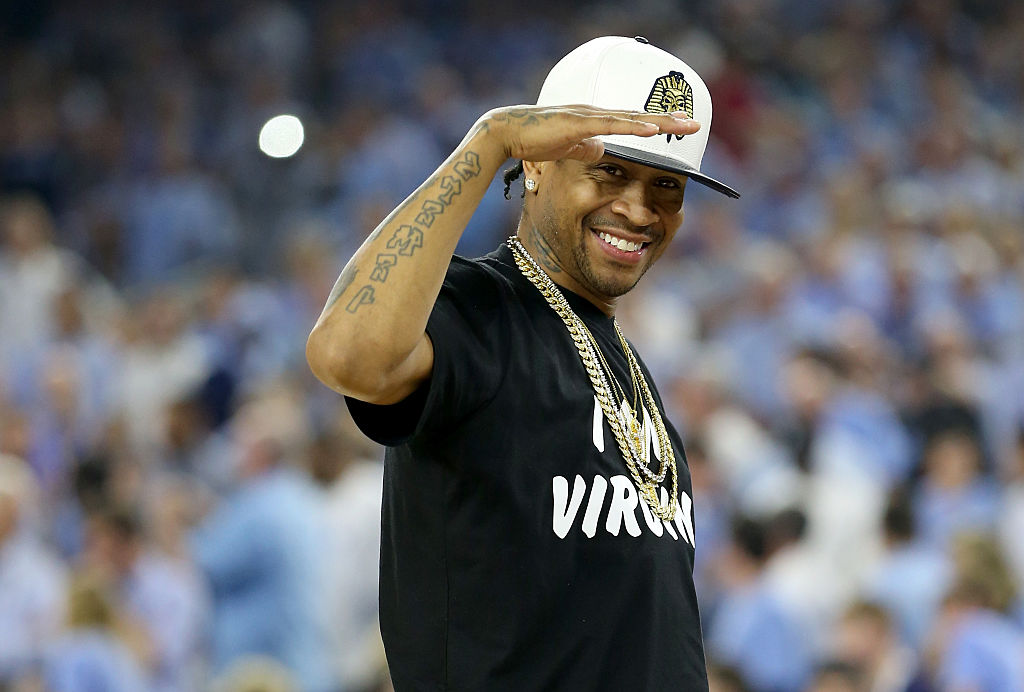 Allen Iverson is often referenced as the greatest basketball player of all time when going pound-for-pound. Barely over six-foot tall and weighing in at 165 pounds (if that), A.I. was a fearless scorer who took on everyone including Michael Jordan.
For his signature moment, Iverson crossed over Tyronn Lue in the corner, knocked down a dagger jumpshot, and stepped over his man before heading back down the floor at Staples Center. That season, Iverson dropped in 31 points per game, won the MVP Award, and dragged a clearly overmatched Philadelphia club to the 2001 NBA Finals.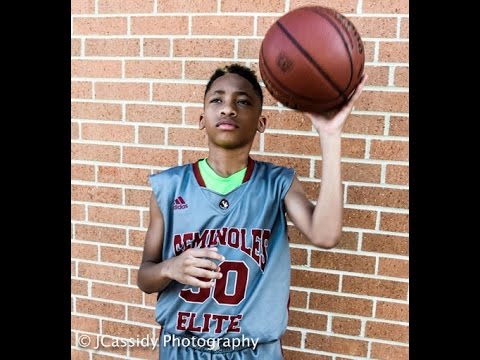 Iverson's son, nine-year-old Jordan Lowery, is in the fourth grade. As a sign of the times, Lowery was already ranked as the best second- and fourth-grade basketball player in the country. Apparently, basketball prospects are now scouted and evaluated right out of the womb.
Lowery, as an elementary school kid, already has a better crossover dribble than the majority of fully grown men. Like his Daddy, he can blow by the defense with ease before finishing right at the front of the rim with a sweet floater. To mix things up, Lowery will sometimes feint a hard drive to the outside before spinning back toward the middle of the floor and splitting the defense. With time and practice, this kid will only improve as an outside shooter and passer. Yes, we are talking about practice.
4. Jaxon Williams (Jason Williams
)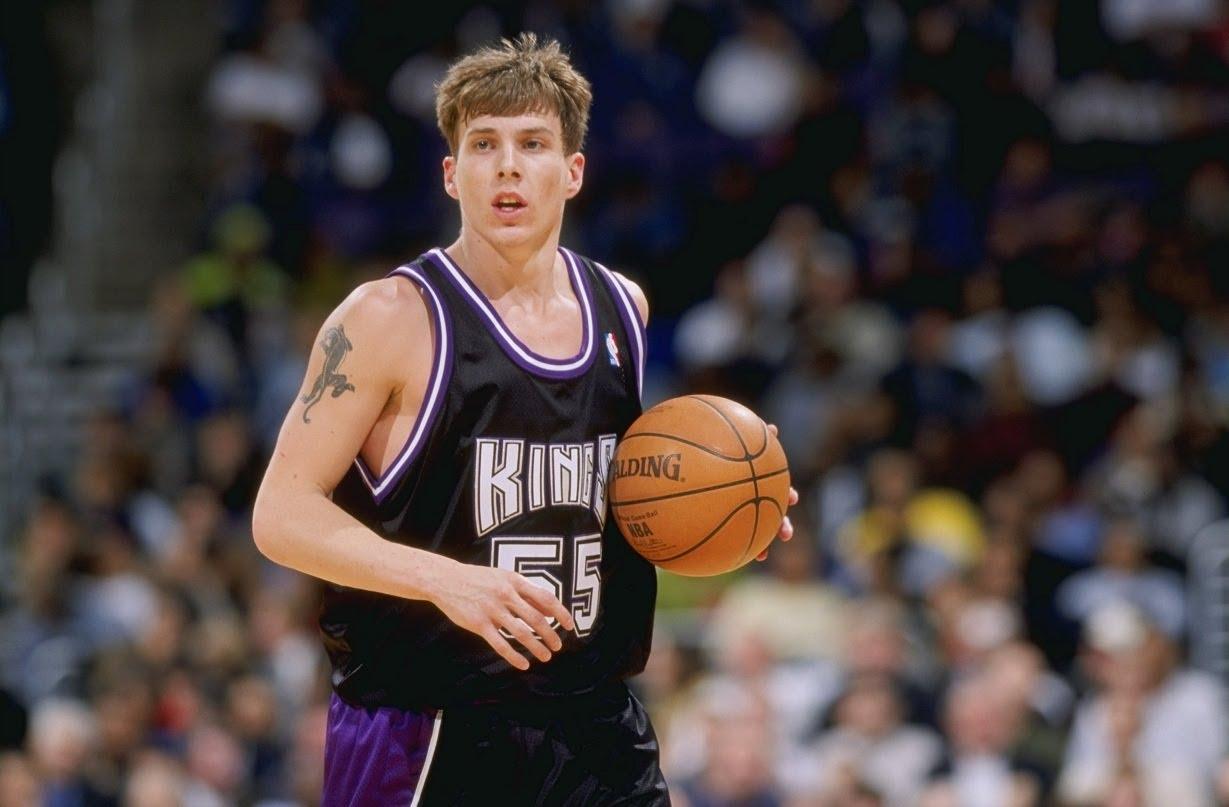 Jason Williams, aka White Chocolate, was one of the greatest showmen and characters of his time. Williams grew up in West Virginia and actually played high school ball alongside Randy Moss, before following coach Billy Donovan to Marshall and Florida. After one year at Florida, Williams left for the NBA. The Sacramento Kings took him as the seventh overall pick out of the historically stacked 1998 NBA Draft headlined by the likes of Mike Bibby, Antawn Jamison, Paul Pierce, Vince Carter, and Dirk Nowitzki.
Before YouTube, basketball junkies passed around And1 Mixtape videos for their daily fix of highlights. At that time, Williams and Rafer "Skip to My Lou" Alston were mostly credited with bringing a street-ball style to the NBA. As an entertainer, a young J-Will always looked to push the pace in transition before whipping a no-look, behind-the-back pass to a trailing Chris Webber for the easy jam.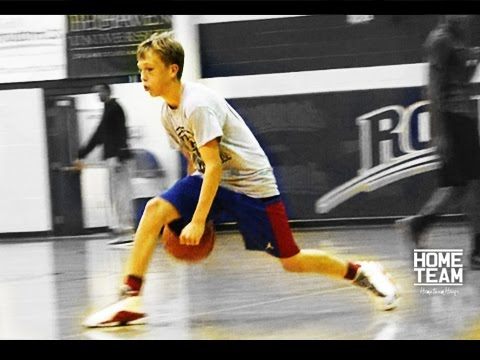 With time, White Chocolate matured into an elder statesman and started every playoff game through his 2006 NBA Finals run in Miami. Williams lasted through 12 years in the NBA, earned one ring, and put up 11 points and six assists per game. He has a son, Jaxon, who is now 14 years old.
Jaxon is a budding legend on the YouTube circuit. He led his prep team to an outrageous 100-point win while his proud Papa filled in as the head coach and barked out signals. Jaxon has already mastered the fake behind the back, elbow swing pass, which is the signature move for the Williams clan. Earlier this year, he was invited the Shaq's estate in Orlando to scrimmage against Shareef and Shaqir O'Neal, as a sure prelude for what is to come in later years on the NBA hardwood.
3. LeBron "Bronny" James Jr. (LeBron James
)
Last summer, King James completed his epic journey and finally brought a championship back home to star-crossed Cleveland after 52 long years. Afterward, James admitted to chasing a ghost from Chicago. LeBron is now firmly entrenched within the "greatest of all-time" conversation, after owning the Eastern Conference for seven trips to the Finals, winning three.
Like the Jordan clan before them, it is inevitable that the spotlight will ultimately fall upon James's sons, Junior, Bryce Maximus, and Zhuri. The eldest, Bronny, is now 12 years old, and shows the most promise out of the group.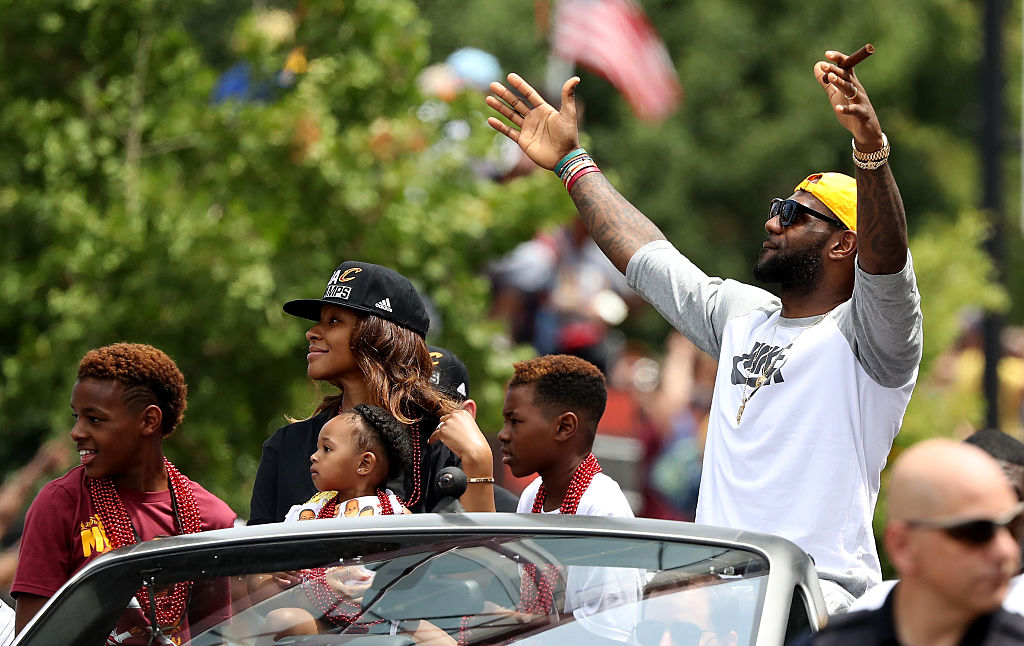 LeBron James Jr., like his Dad, is highly recognized for his weak-side blocks, unselfish play, and freight train drives to the basket through the amateur ranks. For this, John Calipari and Kentucky already extended a scholarship offer to Bronny. In seven years, he will be 19 years old, as The King turns 38.
If everything goes according to plan, these two will be the first father and son combination to play in the NBA at the same time. They'll shake hands at center court in what may amount to a passing of the torch to the next generation of stars. Basketball is clearly the family business in the James household.
2. Zaire Wade (Dwyane Wade
)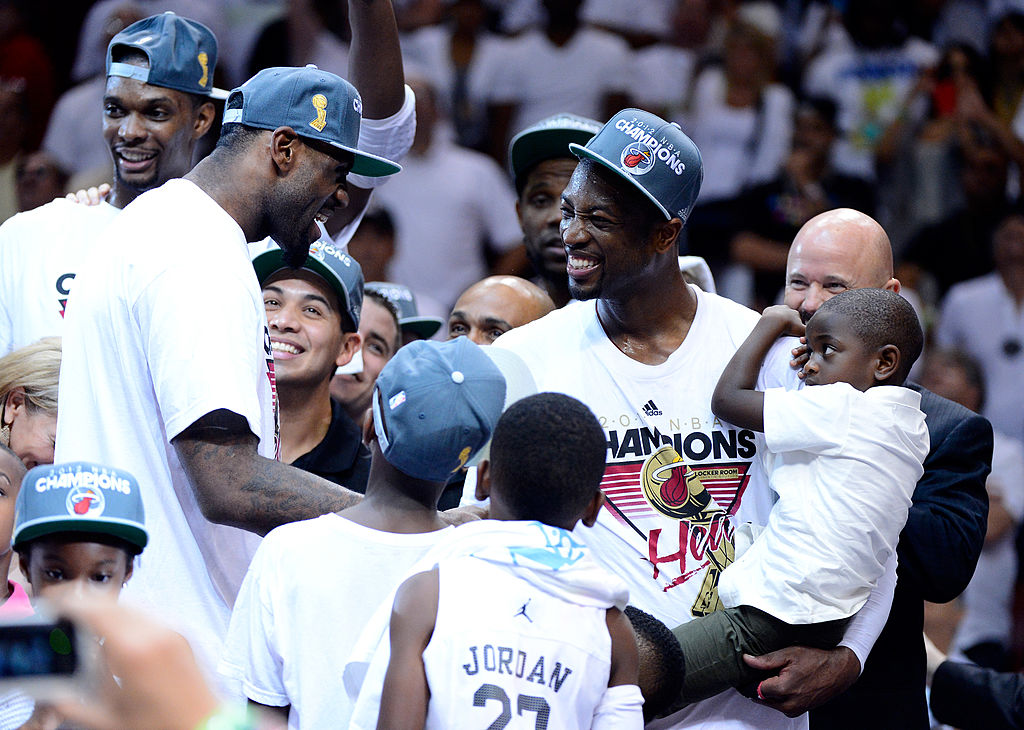 By all accounts, Dwyane Wade is a top-five shooting guard right behind Michael Jordan, Kobe Bryant, and Jerry West. Wade, in his prime, relentlessly attacked the basket for easy layups and game-changing dunks. With time, Wade also developed one of the better mid-range jump shots in the game. As the total offensive package, he can wheel and deal in the post, with an assortment of drop step, spin, and up-and-under moves against smaller guards. On the other side of the floor, Wade is a lock-down defender who would wreak havoc and spark transition.
In 2006, Wade had his coming out party, when he carried the Heat to its first championship in franchise history. Next, he recruited both LeBron and Chris Bosh to South Beach as one of the more polarizing extensions of the Super Team concept. As a group, this big three unit made four straight trips to the Finals between 2011 and 2014, winning two. At first, Wade and LeBron took turns as the top dog on the Heat, before Flash's body broke down.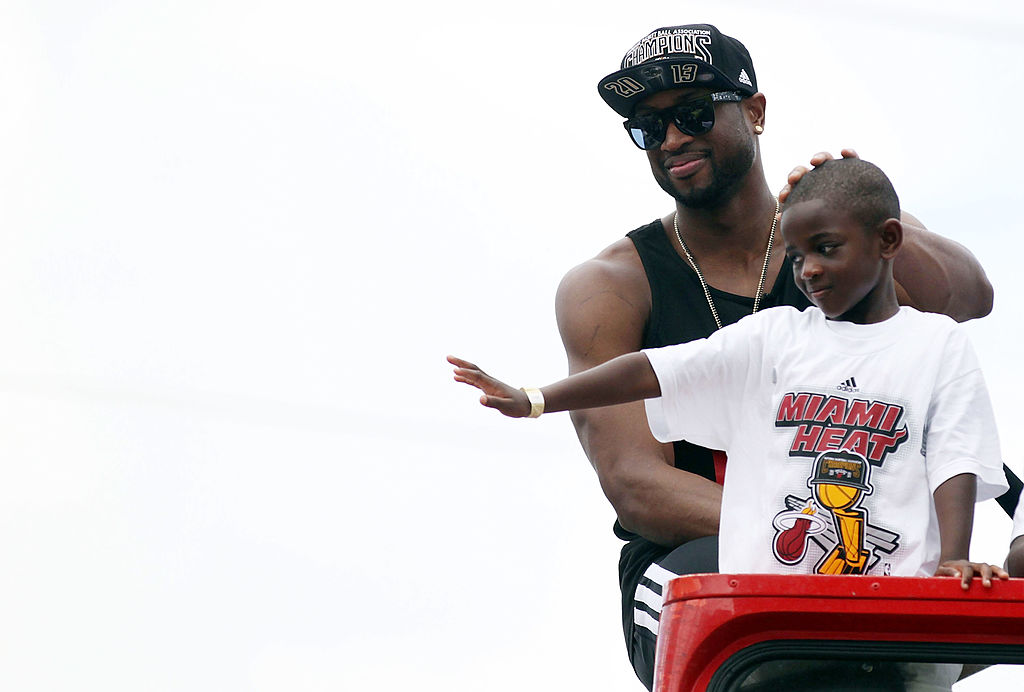 Now, Wade plays out the twilight of his career in Chicago, after an acrimonious split with Pat Riley in Miami-Dade, aka Wade County. Zaire Wade, at 13, now appears to be the second coming of Wade — with a reliable jumpshot. At his age, Zaire towers over the competition, but still plays lead guard.
Certainly, Dwyane has already taught his son how to cross over, hesitate, and Euro-step through the paint for two. After forcing the defense to commit, Zaire will either step back behind the arc to drain a three, or whip a skip pass right over to a wide-open cutter. From here on out, expect Zaire and Bronnie to further build upon their friendship and rivalry of mutual respect, just like their famous fathers.
1. Shareef O'Neal (Shaquille O'Neal
)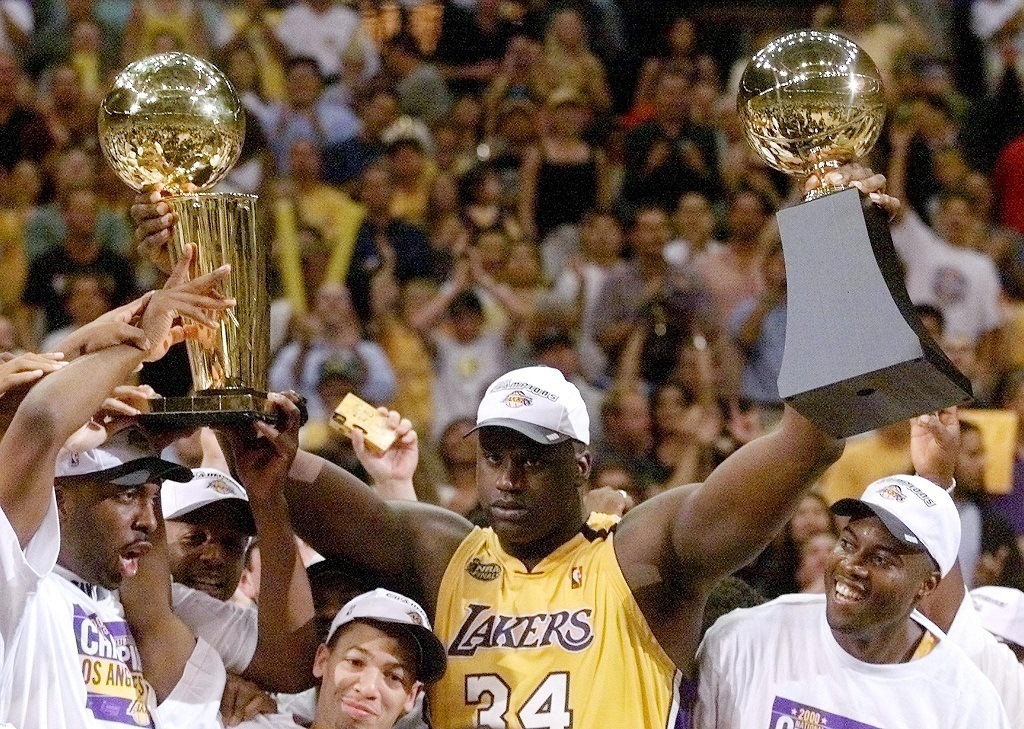 Shaquille O'Neal is arguably the most dominant big man of all time. As a force, O'Neal would simply bully his way to the basket for rim-rocking jams. Shaq, at 7-foot-1 and 325 pounds, was also remarkably light on his feet, and could go to a series of counter-moves in the paint to ward off double and triple teams. As a result, opposing teams often resorted to intentional fouls, as their only hope of putting the breaks on Shaq Diesel.
For his career, O'Neal was a 53% free-throw shooter, which gave way to the infamous "Hack-a-Shaq" strategy as a lasting legacy. As the last of a dying breed, Shaq was the focal point for inside-out basketball, at a time when traditional, franchise centers were thought to be all but necessary to claim championship hardware. In Orlando, Shaq ran with Penny Hardaway, and even bounced a rusty Michael Jordan out of the playoffs before getting swept by Hakeem Olajuwon in the Finals.
From there, Shaq punched his ticket to LA, joined forces with a young Kobe Bryant, and ultimately swung the balance of power out West, with three straight championships between 2000 and 2002. For his last hurrah, the Diesel had just enough left in the tank to help Dwyane Wade to his first title in Miami.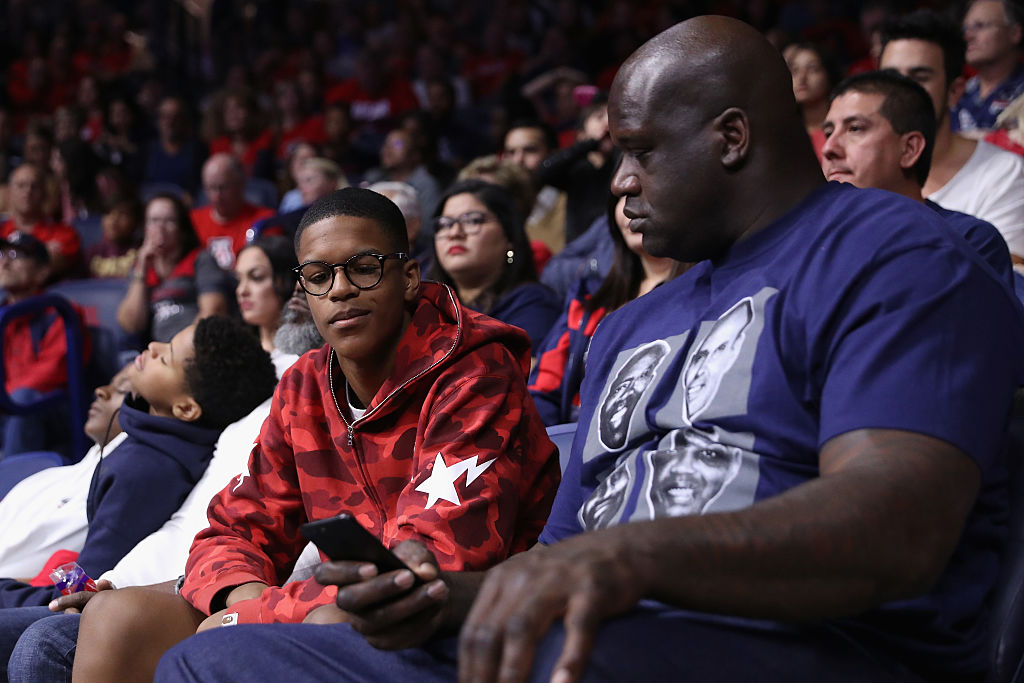 Shaq's son Shareef, at 16, represents the future of basketball. At the next level, Shareef would slide into the "Stretch Four" spot. The young, versatile athlete can put on a show in transition by running the floor and elevating for graceful dunks. In half-court sets, Shareef is at his best working out of the triple threat, as a playmaker who can turn, face, and drive the ball to the basket.
With time, this kid will improve his post footwork and expand his shooting range out beyond the three-point line. The game, through the O'Neal bloodline, has evolved into pace-and-space between interchangeable athletes, instead of four guys standing and watching a dominant big man pound the ball on the low block late in the shot clock. As basketball royalty, Shareef has already fielded scholarship offers out of Pac 12 powers Arizona, USC, and UCLA.
Statistics courtesy of ESPN and Pro-Basketball-Reference.