NBA MVP Watch: Is It Time to Look at Russell Westbrook?
For most of the 2014-15 NBA season, the consensus has been that Stephen Curry and James Harden have been battling it out for the MVP award. And there is nothing wrong with this analysis. After all, these two All-Stars have been playing amazing basketball all season long.
Curry's all-around numbers are extremely impressive. He's averaging 23.6 points, 7.9 assists, and 4.7 rebounds per game, and has led the Golden State Warriors to an NBA-best 43-10 record.
And Harden has been unbelievably explosive on the offensive end of the floor. He's leading the league in scoring with 27.2 points per game, and he's also averaging career-bests in rebounds, assists, steals, blocks, and free-throw percentage. These two are absurdly talented, and have more than established themselves among the best players in the game; each totally worthy of MVP honors.
And yet, despite everything these two have done on the year, there is another name that should be garnering most valuable player consideration as well. It's time to turn this into a three-horse race. Because in all seriousness, has there been any player this season more valuable than Oklahoma City Thunder's Russell Westbrook?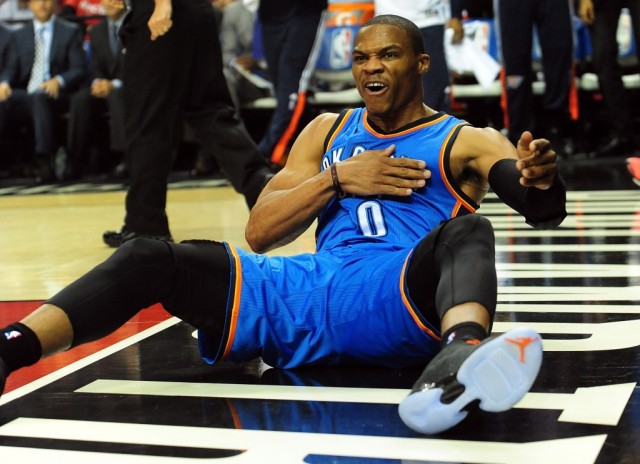 In any given year, the Thunder would be vying for the best record in the Western Conference. This team is that experienced, that dynamic, and that talented. Unfortunately, this season they've also been that injury prone, as Kevin Durant will be sidelined after undergoing a second surgery on his right foot to alleviate soreness. This is a huge blow to a team that has been finding its stride as of late. But Russell Westbrook is more than capable of picking up the slack. He's been doing it all season long.
Despite missing 14 games of his own, Westbrook has had to make up for the fact that KD has only played in 27 games this year. That's a lot of time without the reigning MVP, but it hasn't stopped Westbrook from putting the team on his back and keeping them in the playoff hunt. So far this season, he's averaging 26.1 points, 8.0 assists, and 6.4 rebounds per game. But it's what he's been doing in the last month that's been the most eye-popping of all.
For the month of February, Westbrook is putting up 30.6 points per game, 10.1 assists, and 7.9 assists per game. And most importantly, OKC is winning. A lot. The Thunder have won six straight contests, are 8-2 in their last 10 games, and currently have a two-game lead for the eighth spot in the Western Conference standings. If they get into the playoffs, the rest of the league better watch out. And none of this would be possible without Westbrook. He hasn't just been the team's most valuable player, but he might just be the league's as well.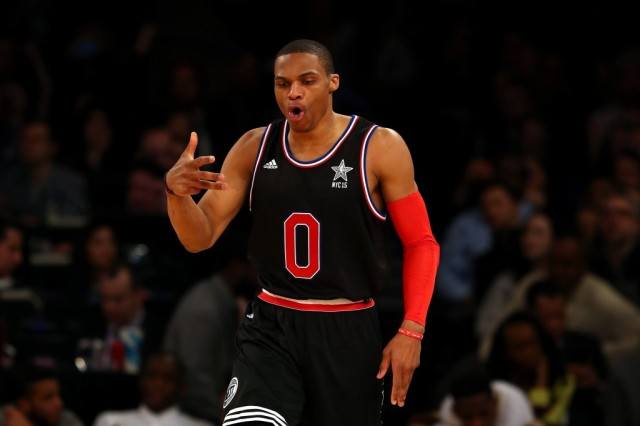 The knock against Russell Westbrook has always been that he's not a prototypical point guard. But at this point, that should be a non-issue. Westbrook is one of the best players in the NBA, and he's doing everything he can to keep his team afloat while they try get back to full health. Last night was a prime example of that. In their second straight game with a sidelined Kevin Durant, Westbrook only scored 21 points in a 119-94 victory over the Denver Nuggets. But what he did do was drop 17 assists on the night; a career-high for the superstar. That's what was needed on the night, and that's what he brought to the table.
After the game, Westbrook talked about his performance and what he was trying to accomplish. "Just trying to do a better job of leading," said Westbrook. "My job is to integrate the new guys and lead them in the direction where we want to go." This is a Russell Westbrook that seems to truly understand his importance. Right now he is the guy for the Thunder, and they will only go as far as he takes them. And for that reason, there may be no one in the NBA more valuable than Russell Westbrook.
All statistics are courtesy of Basketball-Reference.com and ESPN.go.com.