NBA Officiating Changes Started as a Dream for Fans but Are Turning Into a Nightmare for the League
Fans hailed the NBA's decision to change its officiating emphasis to stop players like James Harden and Trae Young from gaming the system. Those two players were at the forefront of an offensive revolution that many fans found revolting. So the NBA cracked down on unnatural moves by offensive players designed to initiate contact and draw fouls. But what the league didn't bargain for was that play has taken on a retro feel in the process, with lots of contact mushrooming into full-on fracases.
On Nov. 11, Indiana Pacers star Myles Turner and Utah Jazz defensive savant Rudy Gobert tangled after Turner blocked a shot. Gobert pulled Turner down with him, and the scrum ensued. Jazz players Donovan Mitchell and Joe Ingles also earned ejections. That came three days after reigning NBA MVP Nikola Jokić drew a one-game suspension for retaliating against Miami Heat forward Markieff Morris after a hard foul.
Mitchell ripped NBA referees for lighting the match that sparked the brawl in Utah
After the game, Mitchell was angry with how the situation between the Jazz and Pacers escalated. According to ESPN, the All-Star guard said officials had a chance to take control of the game but didn't.
"That whole thing could have been avoided — just draw the line early, as opposed to letting it build up for the whole game," Mitchell said.
The incident in Salt Lake City was roughly 72 hours after things got out of control late in Denver's blowout win over the Heat.
After the incident with Morris, Jokić took responsibility for losing his cool, per Ohm Youngmisuk of ESPN.
"It's a stupid play," Jokić said. "I feel bad, I am not supposed to react that way. I thought it was going to be a take foul, (but) I think it was a dirty play. And I just needed to protect myself. I felt bad, I am not supposed to react that way, but I need to protect myself."
For the hard foul, ruled a Flagrant 2, the NBA slapped Morris with a $50,000 fine.
The two incidents are the culmination of increased contact that has been building since the season opened on Oct. 19.
NBA officials are reluctant to blow the whistle at all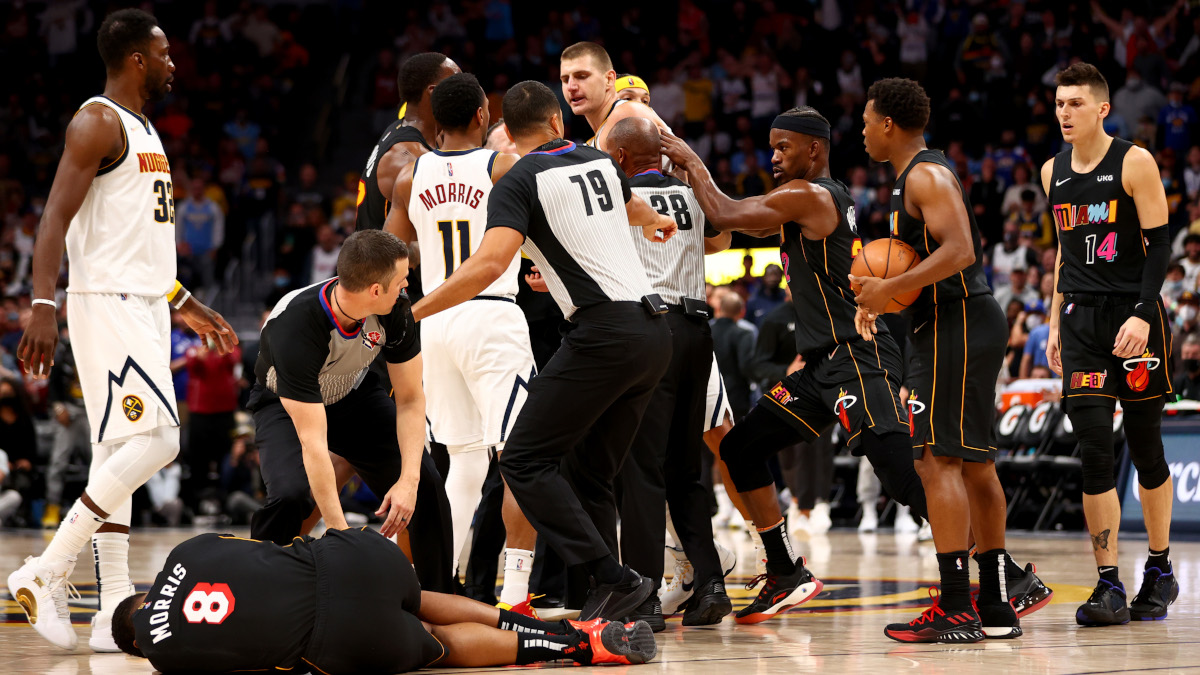 As part of the new emphasis on eliminating what it termed "non-basketball moves," the NBA said officials would call offensive fouls against players making unnatural movements to invite contact. Harden and Young expressed early frustration with the changes.
However, officials have been much more likely not to make a call at all. More contact with fewer whistles invites players to test the boundaries of how much contact will be tolerated.
Let the bumping escalate, and suddenly a basketball game breaks out on fight night. Somewhere, the Bad Boys Detroit Pistons and other rugged characters from the NBA's rough-and-tumble history nod in approval.
The danger is that someone gets hurt, either because of egregious fouls or the ensuing melees. When a team has $100 million or more in talent on the floor at a time, that becomes a very costly proposition. Morris is on a veteran's minimum contract with Miami and makes only $2.6 million with a smaller salary cap hit ($1.6 million). But he also hasn't played in the Heat's last two games because of a neck injury sustained when Jokić shoved him.
Miami lost both games. The added contact comes with a price.
While some fans clamor for a more physical NBA, the league would rather not go there
Basketball is a physical game. Put 10 large bodies into a 94-foot by 50-foot space, and there will be collisions. It's unavoidable.
But the NBA has worked hard to legislate the unnecessary contact out of the game. The people in the suits realize that restricting the athleticism of the elite players damages the appeal of the product.
Scottie Pippen coming off the floor to shoot free throws with a golf-ball-sized knot on the side of his head makes for a great video. But it also makes for dangerous basketball. With role players now earning eight-figure salaries, the monetary cost of losing a player to a silly, risky play is tremendous.
Suppose it's a superstar who misses time because of a cheap shot or, worse, an injury sustained during a scrum. In that case, that can be the difference between contending for a title or sending a representative to the NBA Draft Lottery in May.
The idea behind the rules' emphasis was to eliminate players drawing cheap fouls with non-basketball moves. It wasn't to stop calling fouls altogether. The NBA needs to get the situation fixed before a big-name star gets taken out by a cheap shot spurred by referees letting the game get out of control, as Mitchell alleged happened in Utah.
It's human nature. If you let players bang without consequences, they'll bang more. Before long, you've got Kevin McHale clotheslining Kurt Rambis. That's the last thing the NBA wants to see.
Like Sportscasting on Facebook. Follow us on Twitter @sportscasting19.