NBA: Paul George Makes Bold Claim About Pairing Up With Kawhi Leonard
The LA Clippers shook the NBA landscape this past offseason with the big-splash additions of All-Star forwards Kawhi Leonard and Paul George. This has put forth a bright future ahead of the franchise with championship expectations while taking much of the spotlight away from the Los Angeles Lakers. This oozing excitement level has led George to take a strong stance about the potential that he and Leonard have together on the floor.
Clippers' bright future ahead
The Clippers went into the offseason with their eyes focused on landing Leonard, who had long been rumored to be interested in making the leap to LA.
Despite having the Los Angeles Lakers in the picture as a potential landing spot and the Toronto Raptors' strong case for keeping him after winning an NBA title, the Clippers were able to seal the deal. LA was able to orchestrate a blockbuster trade to land George, which essentially guaranteed them a pair of All-Star forwards.
It's a potential franchise-changing move that has added two elite talents to the mix alongside the league's best bench-scoring duo in back-to-back Sixth Man of the Year winner Lou Williams and big man Montrezl Harrell. All of this has elevated the Clippers to being regarded as one of the betting favorites to capture the 2019-20 NBA title.
Paul George's strong confidence in his pairing with Kawhi Leonard
The Clippers now have in place arguably the best two-way wing players in the league. Beyond them leading the charge, the All-Star forwards have the potential to become arguably the NBA's best duo.
This is something that George acknowledged during the Clippers' Media Day on Sunday afternoon by stating that he believes that he and Leonard are the best pair of two-way talents in the NBA, according to Shaun Powell of NBA TV.
"I think so. When you look at guys who play both ends. Two guys that can go get a basket. Two guys that can stop you from getting a basket. Elite on both ends, I don't see how you can beat that."
There is certainly a strong argument for that being the case as George is coming off being a finalist for both the MVP and the Defensive Player of the Year awards this past season. He is also a six-time All-Star, four All-NBA Third-Team selections, one All-NBA First-Team nods, two All-Defensive First-Team selections, and two All-Defensive Second-Team nods.
Meanwhile, Leonard is a two-time Defensive Player of the Year, two-time NBA Finals MVP, and three-time All-Star. He is also coming off a stellar playoff run, leading the Raptors to their first NBA title making his case as arguably the best player in the league. These two together could be a lethal combo for every other team to play against every night.
Paul George and Kawhi Leonard set to prove it on the floor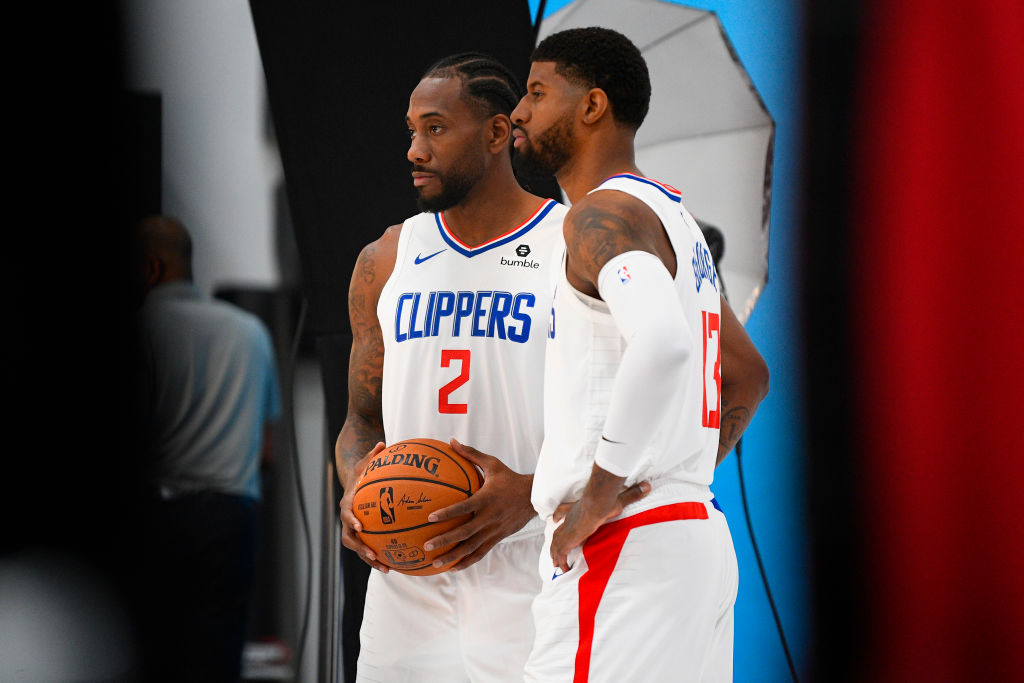 It's quite difficult to argue that the Clippers don't possess the best duo in the league given what both George and Leonard bring to the table respectively.
The only real question that remains is their long-term health. George is coming off offseason surgery on both shoulders that will keep him off the floor until November, according to Ramona Shelburne of ESPN. George has dealt with a number of injuries throughout his career, which is something that the Clippers will certainly keep an eye on this upcoming season.
Leonard is also no stranger to that aspect after a nagging quad ailment cost him nearly all of the 2017-18 campaign. However, the reigning Finals MVP voiced on Sunday that there isn't a set load management plan for him this upcoming season, according to Tomer Azarly of ClutchPoints.
If the Clippers' star duo can stay healthy, there is no reason to believe that they can't make an unflappable argument for this presitgious title.