6 NBA Players with the Biggest Hands in the Game
Having large hands is one of the best attributes NBA players can have. That attribute leads to easier rebounds, the ability to swipe at the basketball on defense, and better control while dribbling.

How important is hand size to a player's success? Let's look at six NBA players who have the biggest hands in basketball (based on length) and see if the size of their hands translates to success on the court. As we will see, the biggest hands in the NBA don't always belong to the biggest players.

6. Rajon Rondo: 9.5 inches long, 10 inches wide
Rondo is one of the most polarizing NBA players. The 6-foot-1 point guard has an excellent basketball IQ, and his huge hands help him in all areas of his game. He has been a league leader in assists per game, and he has career averages of 10 points, 8.5 assists, and 4.8 rebounds per game. Rondo could find a new home this offseason after his first year with the Lakers, and he could be an underrated free agent target.

5. Jahlil Okafor: 9.5 inches long, 11.25 inches wide
Okafor was viewed as a skilled offensive player coming out of Duke because of his moves in the paint, his 6-foot-11 frame, and his hand size. He has struggled to play consistently on the defensive end of the floor, which isn't a strength of his game. He put up eight points and nearly five rebounds per game for New Orleans during the 2018-19 season.
4. Kawhi Leonard: 9.75 inches long, 11.25 inches wide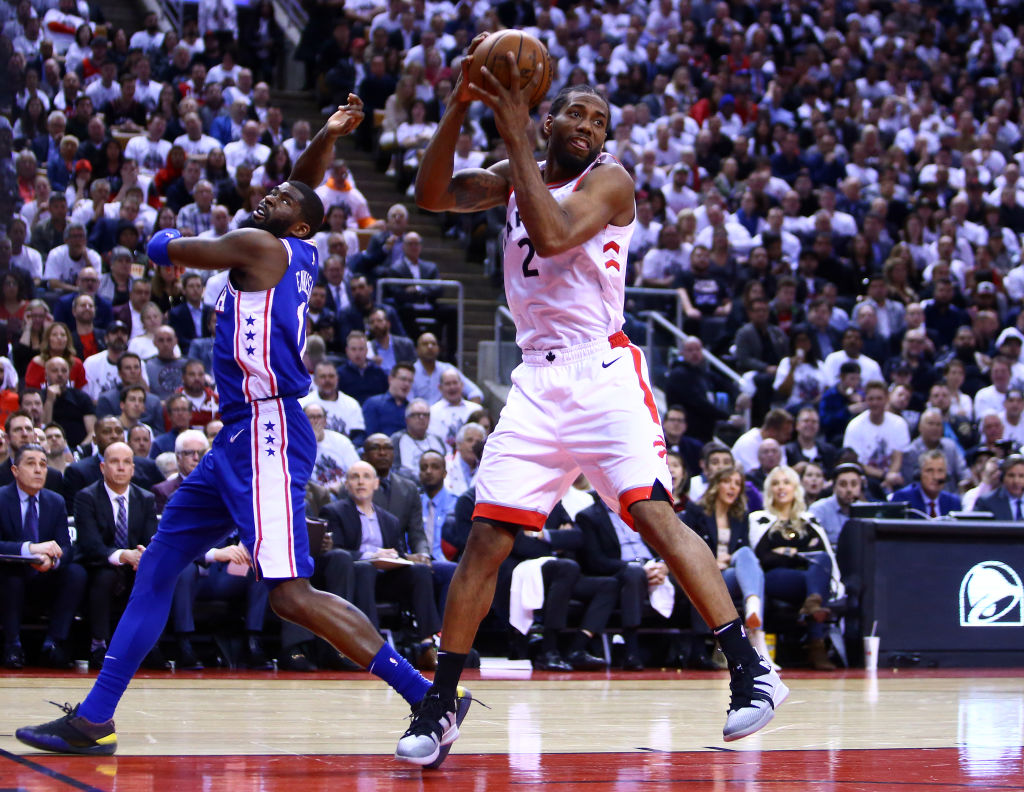 You don't get a nickname like "The Claw" without having huge hands. Leonard is one of the best two-way players in the NBA and has been in the MVP discussion at points throughout his career. This year, his first in Toronto, the 6-foot-7 Leonard took the Raptors to the brink of the Eastern Conference Finals. He is also averaging 26 points and seven rebounds per game this season. So in addition to having some of the biggest hands among NBA players, Leonard puts up big numbers, too.

3. Noah Vonleh: 9.75 inches long, 11.75 inches wide
As a sometimes starter, the 6-foot-9 Vonleh doesn't always fill up the stat sheet, but he can fill up a pair of mittens because he has some of the biggest hands in the NBA. He has shown flashes of potential so far during his career, but he hasn't been able to put it all together. He had a career year in New York this season, averaging eight points and seven rebounds per game for the Knicks.

Vonleh could be a key part of the Knicks rebuild, could they possibly put out a lineup with Kyrie Irving, Kevin Durant, potential No. 1 pick Zion Williamson, and the 6-foot-9 Vonleh? That would be a team to look out for in the playoffs.

2. Giannis Antetokounmpo: 9.85 inches long, 12 inches wide
The Greek Freak has the potential to be the league MVP this season, and one of his best physical attributes are his enormous hands. They compare favorably to some of the greatest NBA players ever. Antetokounmpo can easily palm the ball off of a rebound and go coast-to-coast in a handful of steps before finishing with authority at the rim.

The 6-foot-11 Antetokounmpo posted career highs in points (27.7) and rebounds (12.5) per game this season. You would be hard pressed to find many (or any) NBA players with the ability to dominate the game the way Giannis has.

1. Boban Marjanovic: 10.75 inches long, 12 inches wide
Boban Marjanovic is one of the biggest players in the NBA. He stands at 7-foot-3, weighs 291 pounds, and he is a dominant force when going up for the ball. His large hands allow him to pull down nearly five rebounds per game. His numbers are down during this postseason, but he can still help out the Sixers in the paint when Joel Embiid leaves the game.