5 NBA Players Experiencing a Breakout Season
Last year, C.J. McCollum came out of nowhere to emerge as one of the better pure scorers in the NBA. McCollum closed out the 2015–16 regular season at 21 points per game; the year before he came off the bench strictly for mop-up duty. In 2013, Portland selected him from tiny Lehigh as the 10th overall pick in the NBA draft. Most people assumed he would fill in as a backup combo guard behind Wes Matthews and Damian Lillard. The rest is history.
For the 2016–17 season, many of our breakout stars do not share the same rags-to-riches story as McCollum. Instead, the 19-year-old NBA age limit has many top prospects either plying their trade for one year in college or playing professional ball overseas as teenagers. In this environment, it is all but impossible for a total unknown to break out, when basketball talent is aggressively scouted as early as middle school. The following five athletes are mostly following a natural progression to physical maturity. These days, we watch boys become men out on the court.
5. Hassan Whiteside
Hassan Whiteside signed a maximum four-year, $98 million contract this offseason. He finally got his payday after several years toiling in Chinese and Lebanese outposts. Back in 2014, Heat President Pat Riley called Whiteside up from the Sioux Falls D-League. For 2014–15, he started 32 games and closed out the season averaging a double-double, with 12 points and 10 boards per game.
Last year, Whiteside emerged as basketball's premier rim protector, leading the league with 3.7 blocks per game. Many immediately typecast him as an "energy guy," who could rebound, play defense, and block shots. This Miami team never called plays for Whiteside, running their offense through Dwyane Wade, Goran Dragic, and even Joe Johnson. Instead, Whiteside are off put-backs and broken plays, where he caught and finished at the front of the rim.
This offseason, it was Wade who returned to Chicago after an acrimonious split with Riley. Shortly thereafter, Chris Bosh failed his team physical and it is doubtful that the Stretch Four will ever play basketball again. Now, a 36-year-old Udonis Haslem remains the lone holdover from the James-Wade-Bosh Big Three Era on South Beach. A more polished Whiteside stepped in to lead the club.
This year, he is dropping 17 points per game, off an array of spin moves and drop steps in the post. For added measure, Whiteside has even added a turnaround jumper to his repertoire. As a potential franchise center, he is the last of a dying breed amid this small-ball revolution.
4. Zach LaVine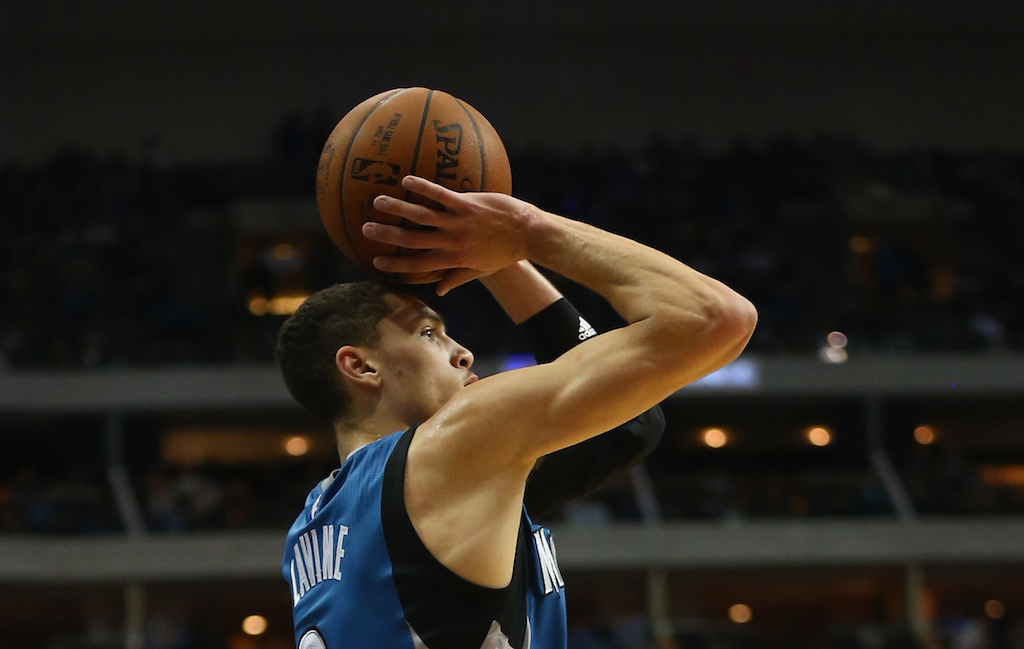 To casual fans, Zach LaVine is mostly notable for his slam-dunk competition exploits. Last year, he stared down Aaron Gordon with a series of free-throw line, 360, and between-the-legs jams to defend his slam-dunk title. As an in-game dunker, LaVine is good for nearly one highlight every night on drives to the basket for tomahawk jams. After starring in his own poster, he always seems calm, cool, and collected, as if he were unimpressed by his own high-wire act.
This season LaVine proves to be much more than just a sideshow act at All-Star Weekend. For 2016–17, he's dropping in 20 points per game off 47% shooting from the field. LaVine has learned to play at multiple speeds and will often hesitate to lull the defense to sleep, before shifting gears and driving the lane. To mix things up, he will sometimes feint a hard move to the hoop, force the defense to commit, and then step back behind the arc and drain a long bomb.
LaVine is now hitting on 38% of his three-point shot attempts this season. Many already compare him to Russell Westbrook. Both declared for the NBA Draft early out UCLA, despite putting up minimal stats at the college level. As raw athletes, however, their games prove to be much more suitable for the breakneck speed of professional basketball.
At times, LaVine and Westbrook do have a tendency to careen out of control and jack up ill-advised shots. Still, Westbrook is on track to join the Oscar Robertson club, as one of only two players to average a triple-double through an entire season. LaVine is only 21 years old and still learning how to play the game. It is only a matter of time before the young gun battles other top guards, like Westbrook, for all of the marbles in the West. The sky is the limit for this kid.
3. Giannis Antetokounmpo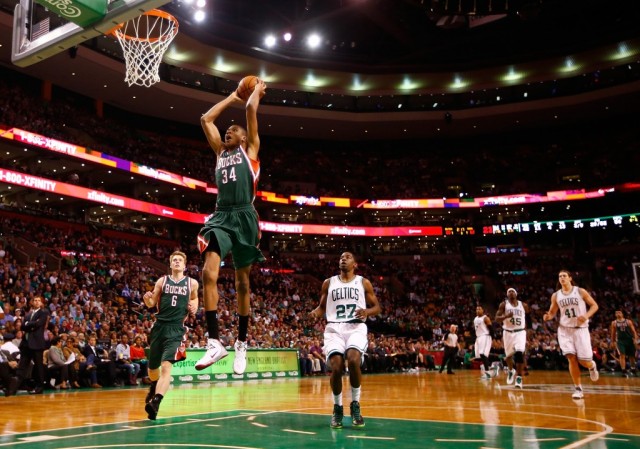 Giannis Antetekounmpo is the most unique player in basketball. Head coach Jason Kidd even refuses to classify him beneath a traditional basketball position. At 6-foot-11, the Greek Freak is the primary ball-handler for the Bucks offense whenever he is out on the floor. Antetekounmpo is a matchup nightmare for the opposition, despite the fact that he still lacks a consistent jump shot. Against smaller players, he can simply bully his way into the post and fully extend for easy scores. When big men switch out, he can isolate, cross over, and drive.
This year, Antetekounmpo is stuffing the stat sheet for 22 points, nine rebounds, six assists, two steals, and two blocks per game. He's improved in each of these statistical categories through four successive seasons in the NBA. In putting it all together, the Greek Freak will lock down his own man on the perimeter, rotate into the paint, and chase down an open cutter for a weak-side block. After controlling the basketball, he will weave through traffic and go coast-to-coast to slam down a tomahawk jam with authority.
Antetekounmpo is only 22 years old. Over time, he'll develop a reliable outside shot and might even extend his range beyond the three-point arc. With this added dimension, the Greek Freak will likely put up 25/7/7 through his prime years in Milwaukee. Because he plays out of a small market, Antetekounmpo would need real postseason success to further establish himself as the latest superstar in the game.
2. DeMar DeRozan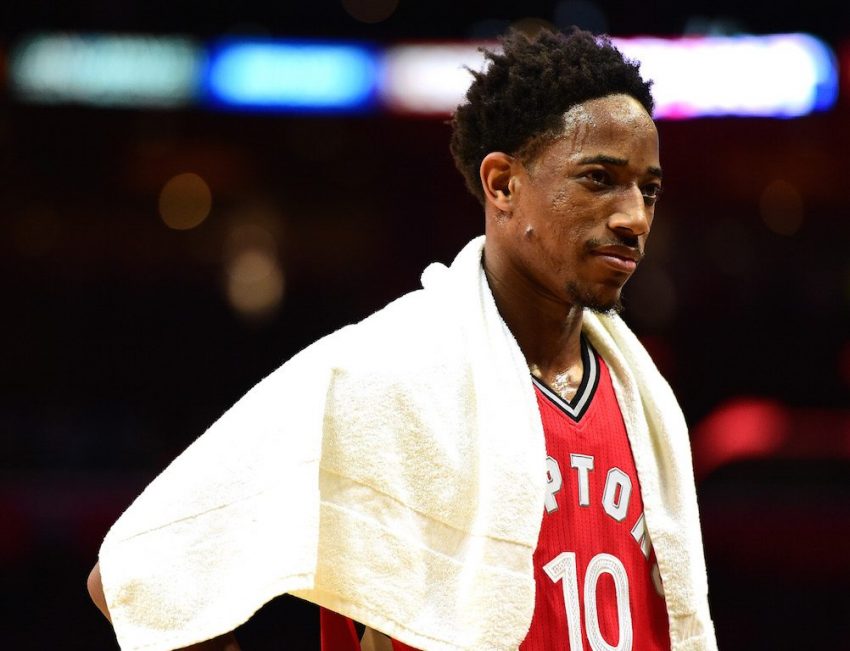 DeMar DeRozan grew up in Compton and played one year of college ball at USC before declaring for the 2009 NBA Draft. DeRozan grew up in the shadows of The Forum, Staples Center, Showtime, and the Los Angeles Lakers. It was only natural for this 6-foot-7 swingman to model his own game after Kobe Bryant. Last year, DeRozan's idol retired as only the Black Mamba could — lighting up the scoreboard for 60 points in his final game to close out his storybook career with 33,643 total points, five championships, and two Olympic gold medals.
So far, this year, DeRozan has upped his game to drop in 28 points per contest. Like Kobe, he has mastered his post footwork to pin his man on his back and sweep toward the goal for an easy layup. If the lane is closed off, then DeRozan will rise up for a turnaround jumper that is now also money from the baseline. By the fourth quarter, he wears out the defense and is ready to throw out a barrage of herky-jerky moves to draw cheap fouls.
The Toronto Raptors, like all teams in the East, run into a brick wall in the form of LeBron James. Last year, the Raps advanced to the Conference Finals, before losing to Cleveland in six games. For the series, it was only DeRozan and Lowry that scored in double digits. To take the next step, DeRozan must continue to improve as a playmaker, create easy offense for his teammates, and finally get past King James. Winning is all that matters now.
1. Kristaps Porzingis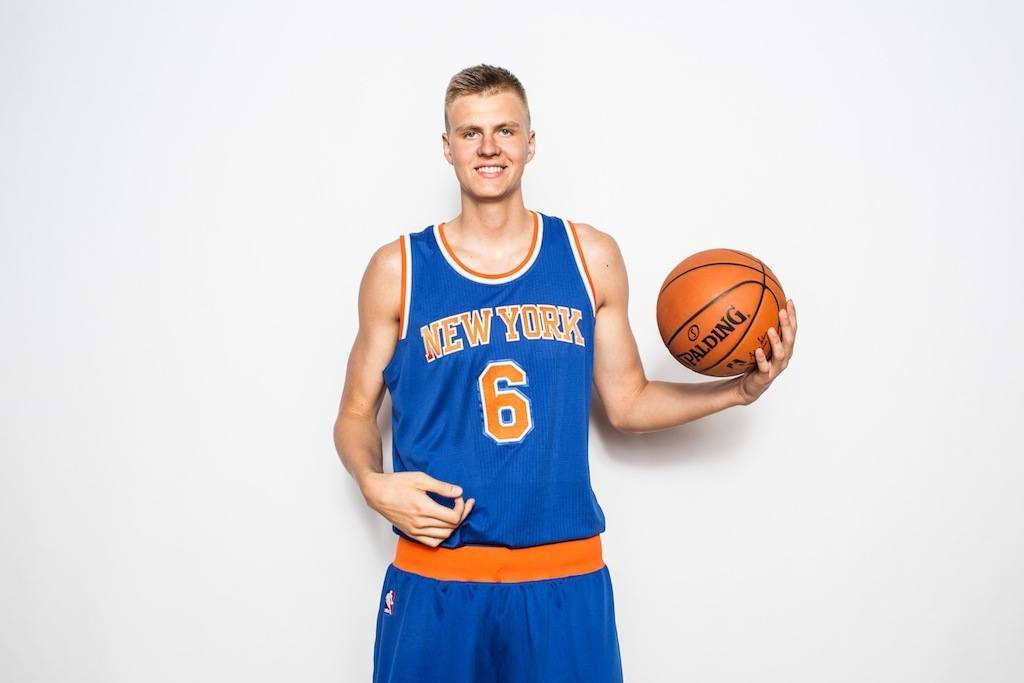 Two summers ago, desperate Knicks fans were all but certain that the team would take Justice Winslow with the fourth overall pick in the 2015 NBA Draft. He was coming off a National Championship at Duke, after averaging a solid 15 points and nine rebounds per game through the Final Four. He appeared to be the most finished product still be available on the board at that point. In Winslow, Knicks fans assumed they had a two-way prospect in the mold of Jimmy Butler, who was readymade to immediately pair alongside an aging Carmelo Anthony.
Instead, the New York Knicks announced Kristaps Porzingis as their pick, only for the Latvian to be immediately met by a chorus of boos in Brooklyn. From then on, Phil Jackson spent the entire night defending his selection to a hostile crowd. Ironically, Porzingis quickly began to win over fans during the Summer League, due to his willingness to get after it and bang in the post. Years ago, Knicks fans were burned by Danilo Gallinari, another lanky European. Gallinari floated around the perimeter and lived on injured reserve, before flaming out of New York after three short seasons.
As a rookie, Porzingis put up a solid 14 points per game, while mostly deferring to Anthony. This year, both athletes seem to take turns as the lead dogs on the team. A more confident Porzingis is now averaging 20 points per game and asserting himself within the game plan from the opening tip. At the same time, he is also hauling in eight rebounds and blocking two shots per game to go with this additional offense. Expect the New York Knicks to make some real noise this postseason behind Porzingis, or Dirk Nowitzki 2.0.
Statistics courtesy of ESPN and Pro-Basketball-Reference.