4 NBA Players Lebron James Needs to Watch Out For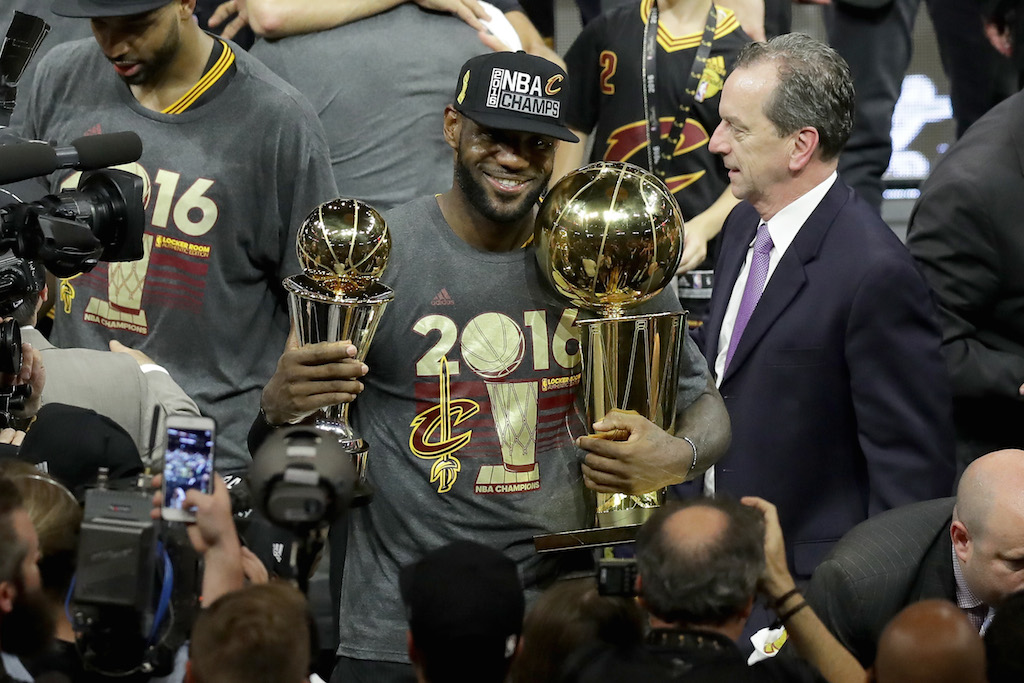 Last June, LeBron James completed his epic journey, finally bringing a championship back home to Cleveland after a long 52-year drought. To achieve his goal, James held off the 73-9 Golden State Warriors on the road in Game 7. "The Block" and "The Shot" will now replace "The Drive" and "The Fumble" in Cleveland sports lore, after The King put up a staggering 30 points, eleven rebounds, nine assists, three steals, and two blocks for the series. In doing so, James went down as the only man in history to lead both teams in points, rebounds, assists, steals, and blocks through the finals.
Still, sports is a "what have you done for me lately" type of world, and even James himself has acknowledged that he will continue to chase Michael Jordan's ghost. To cement his legacy, James will have to go to war against four formidable rivals with championship aspirations of their very own. At this level, it is only rings and MVP trophies that really matter.
4. Carmelo Anthony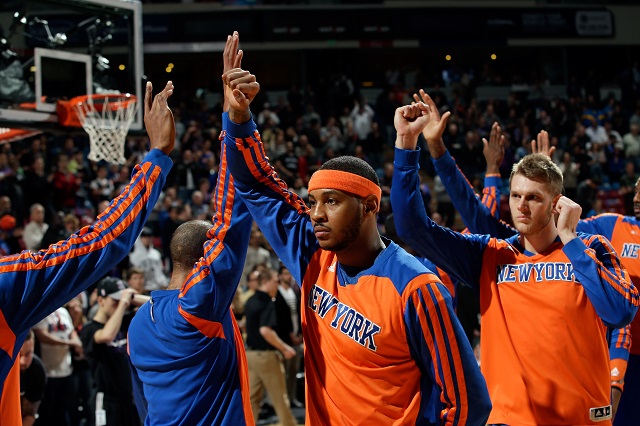 What a difference winning makes. James and Carmelo Anthony were once considered 1A and 1B rivals heading into the 2003 NBA offseason, when the two went first and third in the draft respectively. At that time, James was a schoolboy legend out of Akron, Ohio, where his high school games were televised on ESPN to the content of a breathless Dick Vitale. Meanwhile, Anthony was coming off a National Championship after averaging 27 points, 12 rebounds, and four assists through the Final Four as a Syracuse freshman.
King James now has three championship rings to his credit and is hailed as a generational talent. Alternatively, Anthony has only made it so far as the Western Conference Finals — and then only once, with the Denver Nuggets in 2009. To his critics, Melo is nothing more than a one-dimensional, selfish gunner for a New York Knicks franchise on the fast track to nowhere. In some circles, Anthony is even blamed for running the upstart Jeremy Lin out of town. Still, Anthony is all but certain to close out his international career with one bronze and three gold medals as the top scorer in USA Basketball history.
On a loaded roster, Anthony is a proven winner who has been more than willing to share the ball and pick his spots within the flow of the offense. The 2016–17 Knicks will feature a hungry Anthony flanked by a rapidly emerging Kristaps Porzingis and irrationally self-confident Derrick Rose. A renewal of the Melo-versus-LeBron rivalry will quickly emerge as the talk of New York. Like Bernard King before him, Anthony is a pure scorer with the tools to go toe-to-toe against all, including James in a postseason shootout. As an added bonus, both Iman Shumpert and J.R. Smith will certainly up the intensity against their former team in this looming grudge match.
3. Dwyane Wade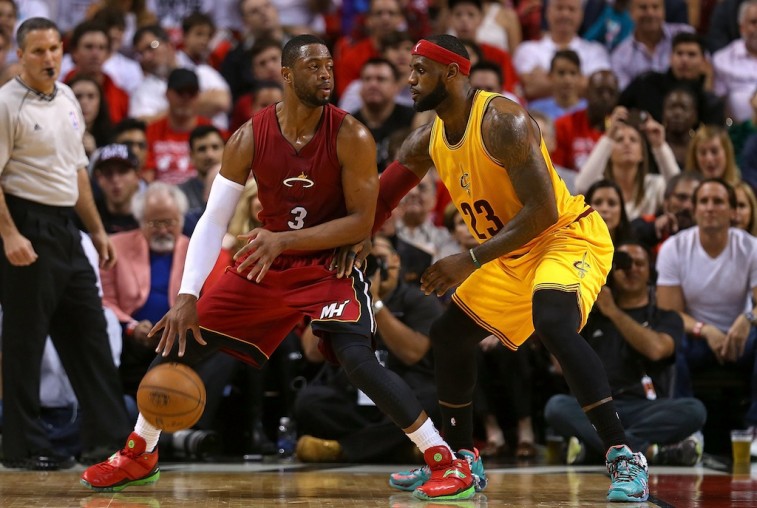 As teammates in Miami, Dwyane Wade and James made four consecutive trips to the Finals, winning two, through four seasons together. Wade, James, and Bosh were one of the most successful basketball trios of all time and popularized the super team concept. When clicking on all cylinders, Wade and James took turns controlling the pace and attacking the basket, while Bosh improved his jump-shot to emerge as one of the better Stretch Fours in the game. Still, Pat Riley was left muttering about "smiling faces with hidden agendas," in light of the Wade and James defections.
Wade will now join a Chicago roster that also features Jimmy Butler and Rajon Rondo. Taj Gibson and Robin Lopez will add muscle to the starting lineup, while young talents Doug McDermott, Nikola Mirotic, and Denzel Valentine will add scoring punch and shooting off the bench. The Bulls present one of the more intriguing lineups in the NBA, especially if Wade can remain healthy.
As a precaution, Chicago will likely restrict Wade's minutes to keep him fresh for the postseason. Last season, Wade, at 34 years old, was at his best in the playoffs, when he put up 24 points, six rebounds, and four assists through the Eastern Conference Semifinals. The Heat, however, lost to the Raptors in seven games, and the much-anticipated Wade-versus-James ECF showdown never materialized.
This year, the two former teammates are set upon a collision course for control of the East. Certainly, James will look to quiet whispers that he learned how to win from his good friend in Miami-Dade — or Wade — County. To many, Wade owned the Heat, and LBJ was just along for the ride.
2. Kevin Durant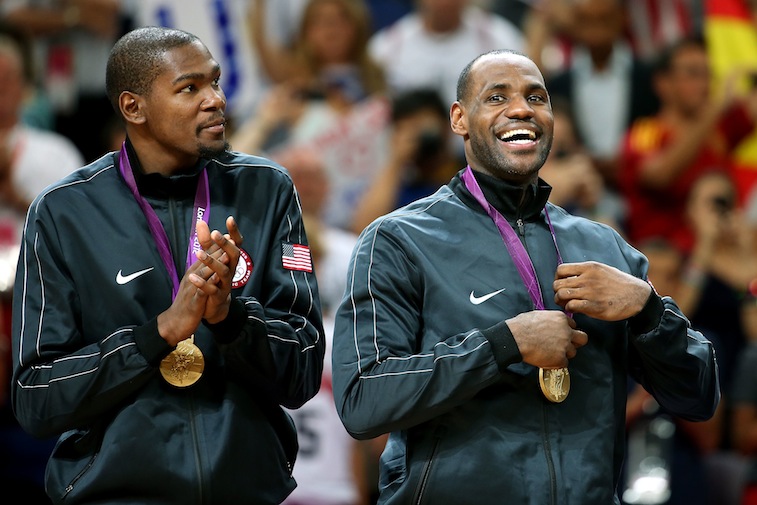 The Kevin Durant sweepstakes quickly emerged as the central pillar of the 2016 NBA offseason. First, Oklahoma City shipped out Serge Ibaka to Orlando in exchange for Victor Oladipo, Ersan Ilyasova, and the draft rights to Domantas Sabonis. Apparently, management was sending a direct message to Durant: Oklahoma City was ready to win now. Still, KD spurned the Thunder for the Warriors, despite taking 73-9 Golden State to seven games in the Conference Finals.
Durant, Stephen Curry, Klay Thompson, and Draymond Green are the latest Super Team that will go down as one of the more prolific offensive attacks of all time. This outside shooting and playmaking will open up the floor for the likes of Andre Iguodala, Shaun Livingston, and Zaza Pachulia to go to work. For this season, anything less than another championship run out of the GSW will result in major disappointment.
Expect these Warriors to rest starters through the regular season, rather than chasing after any 72-10 or 73-9 record mark. Durant will be hell-bent on avenging the 2012 NBA Finals, when he lost out to James and the Heat in five games. For years, Durant had to bat away questions as to whether or not he could coexist alongside Russell Westbrook, an electric, but ball dominant lead guard prone to turnovers and erratic shot selection. Now, in contrast, KD will join forces with Curry, who is quite comfortable making the extra pass and coming off the ball.
These 2016–17 Golden State Warriors may prove to be a matchup nightmare for James and his Cavaliers. In a Finals rematch, James must shadow Durant across the floor, instead of hanging back and conserving energy as a help defender. With time, a sprier KD may begin to exploit a gassed James and score easy baskets. For Durant, a championship ring and MVP performance would narrow the gap separating the two best forwards of this generation.
1. Stephen Curry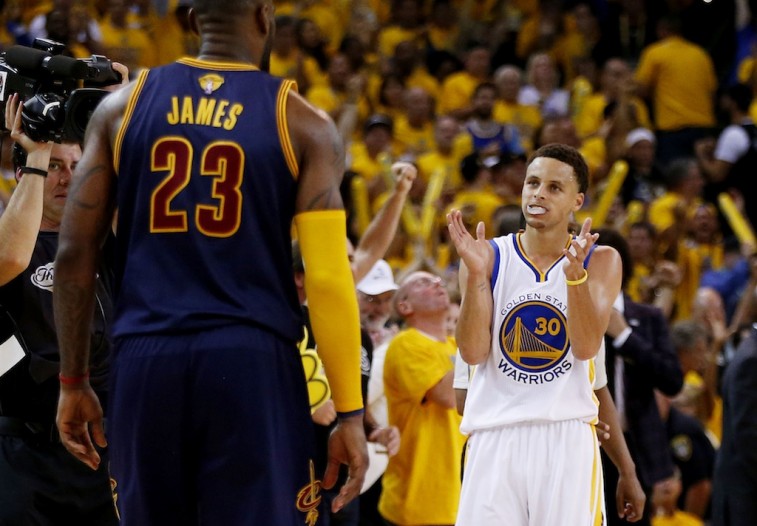 Curry versus James is already eerily similar to Magic versus Bird as a transcontinental rivalry bringing together opposing cultures and playing styles. In Cleveland, we have a hard-luck Rust Belt town that apparently peaked in the '60s, right before blue collar and manufacturing work was shipped overseas. Meanwhile, the Bay Area has given birth to Web 2.0 and the New Economy, where hipsters show up for work in jeans and sandals, before taking off early to sip on craft beer.
Against this backdrop, Steph Curry captivates fans with his craftiness and boyish charm, whereas James stands as the most imposing physical specimen in basketball. The Warriors and Cavaliers are coming off two consecutive trips to The Finals, with each team winning once, and James coming away with one MVP award. To date, James has openly bristled at the term "MVP," as he was clearly the most dominant force in both series, even without the hardware.
In round one, James put up 36 points, 13 rebounds, and nine assists per game, largely without the services of both Kyrie Irving and Kevin Love. For round two, King James again went down as the only man to lead both teams in points (30), rebounds (11), assists (nine), steals (three), and blocks (two) through a championship series. To really settle the score, Curry will remain fully intent upon returning back to the Finals and putting up an explosive performance to claim his first Bill Russell trophy.
So far, the Cavaliers have apparently cracked the code in harassing Curry to miserable 40% field-goal shooting through the 2016 NBA Finals. Going forward, Curry can catch fire at any time, especially if his new sidekick Durant starts drawing extra attention. Chef Curry, remember, was clearly the most popular player in the NBA, as recently as last year.
Statistics courtesy of ESPN and Basketball-Reference.