10 NBA Players Most Known for Playing 'Dirty'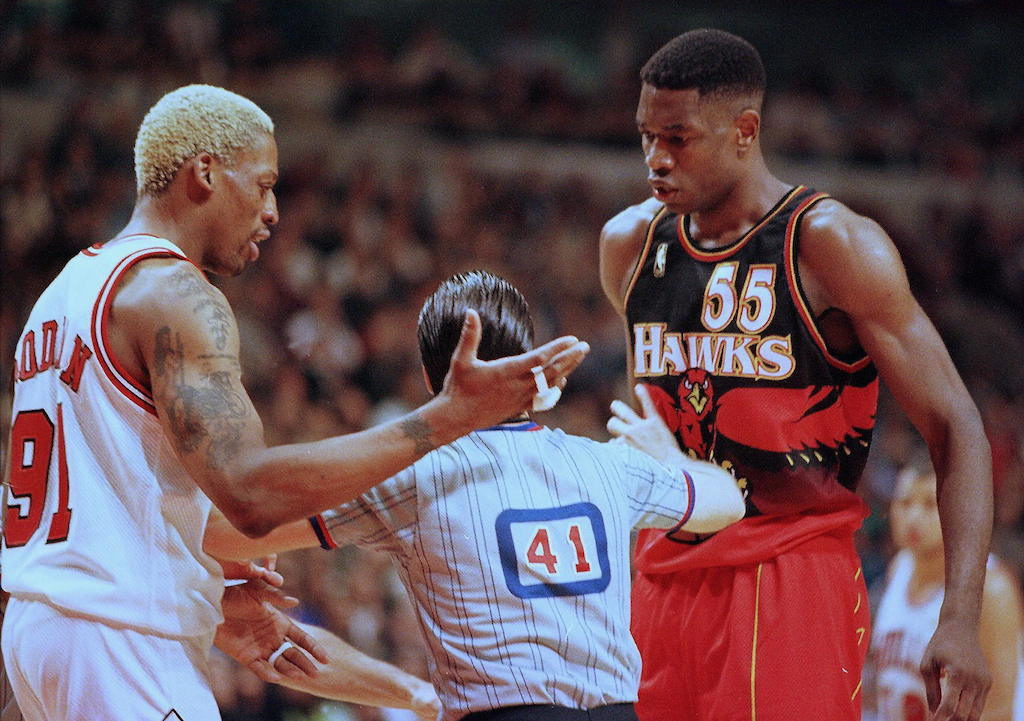 At what point does playing gritty, scrappy ball cross the line? For one thing, there is certainly a difference between a dirty player and a villain. And it's an important distinction. The NBA's villains know that their play agitates their opponents, but that means nothing to them. This is how they make a living, and nothing will keep them from it. However, when a player's "chippiness" goes too far, then it seems perfectly reasonable to call that player dirty.
We don't think, say, Matthew Dellavedova (who made waves during the playoffs last year with his "scrappy" on-court attitude) is that kind of player. But there have been some standouts over the years. With that, here's who we believe represent the 10 dirtiest players in NBA history.
1. Charles Oakley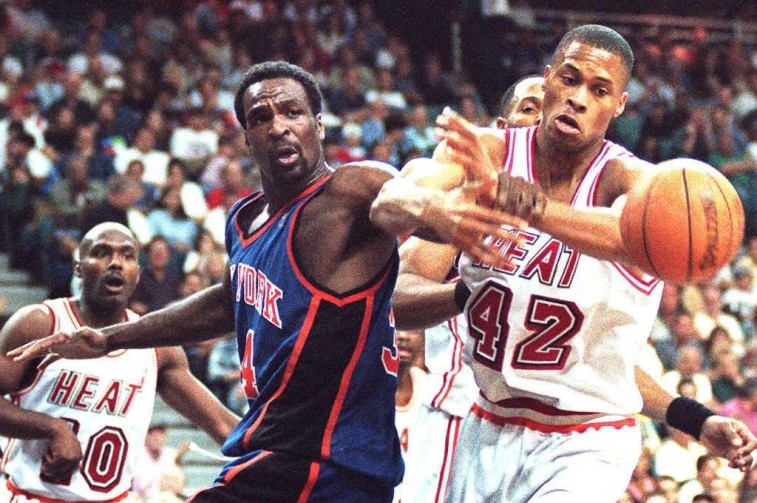 When you played against Charles Oakley, you knew what you were getting yourself into — a physical war. In his 19 seasons in the NBA, it didn't matter whether the power forward/center was suiting up for the New York Knicks, Toronto Raptors, Washington Wizards, Chicago Bulls, or Houston Rockets, Oakley would make sure his presence was felt. If you were soft on the court, The Oak Tree would destroy you. He wasn't afraid of the forceful foul, and he wasn't afraid to fight. You can ask Sir Charles about that.
2. Karl Malone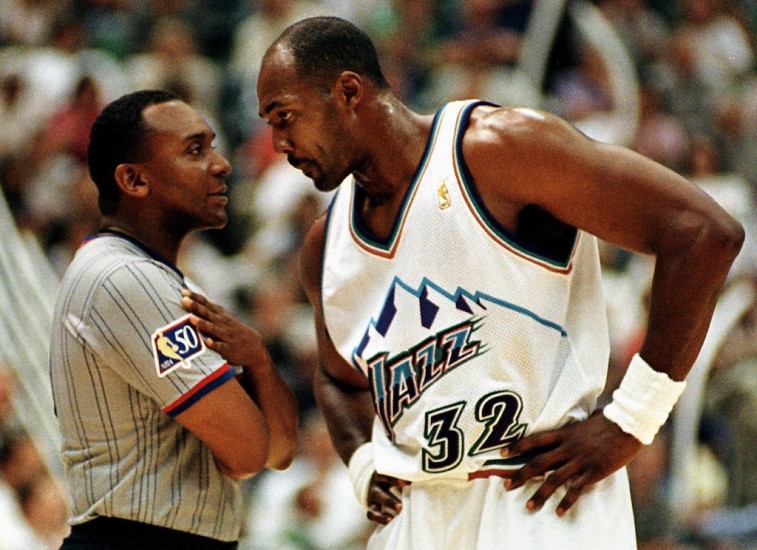 Another intimidating force on the basketball court: Karl Malone. The 6-foot-9, 250-pound power forward for the Utah Jazz was built like an absolute freight train. The Mailman may be a Hall of Famer and second place on the all-time NBA scoring list (36,928 points). However, he did much more than deliver buckets. Malone delivered elbows. He crushed Detroit Piston Isiah Thomas with one of the more vicious blows in NBA history. To this day, Thomas definitely still remembers. This is what he told Terry Foster of The Detroit News:
"I think it was the dirtiest play I have experienced in the game of basketball in my life." Thomas said of the play, which happened on a Pistons pick-and-roll with Malone rotating to cover the middle. "I don't think I've seen anything as vicious and as intentional to a player. I still don't understand it."
New rule: Always, always stay away from Malone's elbows.
3. John Stockton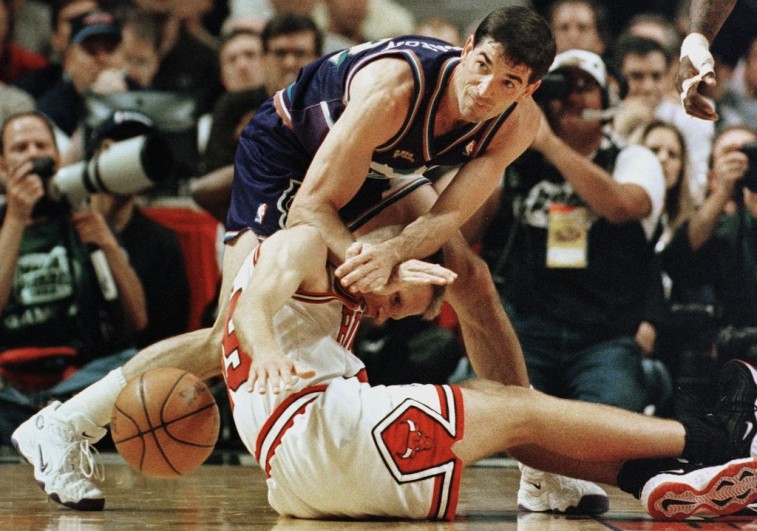 Malone was not the only member of that famed Utah Jazz team to play dirty. Point guard John Stockton was also considered among the dirtiest players to step onto the hardwood. However, the difference between the two was that Stockton got away with it. People know Stockton as the guy with the most assists in the history of the game. But only those who paid close attention saw him for what he truly was: a scrappy player (or if you take Steve Kerr's word for it, "a dirty bastard").
Stockton would fight for every inch; he'd set illegal screens; and he'd never hesitate to give you a shot to the torso. But he was rarely caught doing anything wrong. That's what made Stockton such a tough player; he was super smart on the basketball court. However, it doesn't mean he wasn't afraid to get dirty like everyone else.
4. Rick Mahorn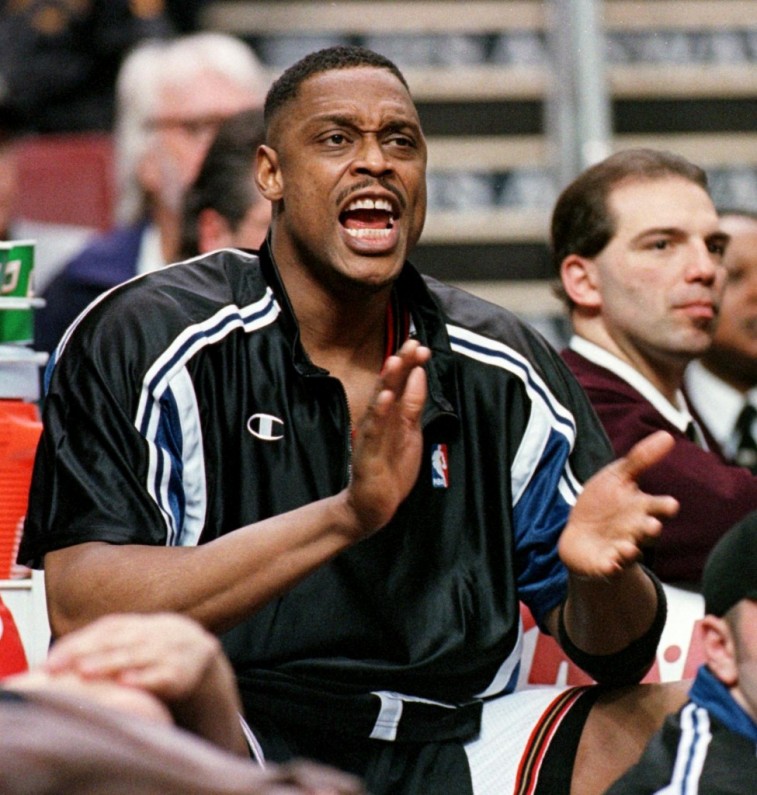 People dubbed the Detroit Pistons of the late '80s and early '90s the "Bad Boys." If you're curious to know which member of this group was considered the "baddest of the bunch," then look no further than power forward/center Rick Mahorn. What Mahorn lacked in scoring ability — only averaging 6.9 points per game for his career — he made up with physicality.
Mahorn was a beast, who would not be denied. He wasn't as athletic as most of his opponents — he certainly couldn't jump as high. However, he would fight for that ball and do whatever it took to get it. That's how he played. That's what people expected. That's why he's on this list.
5. Kurt Thomas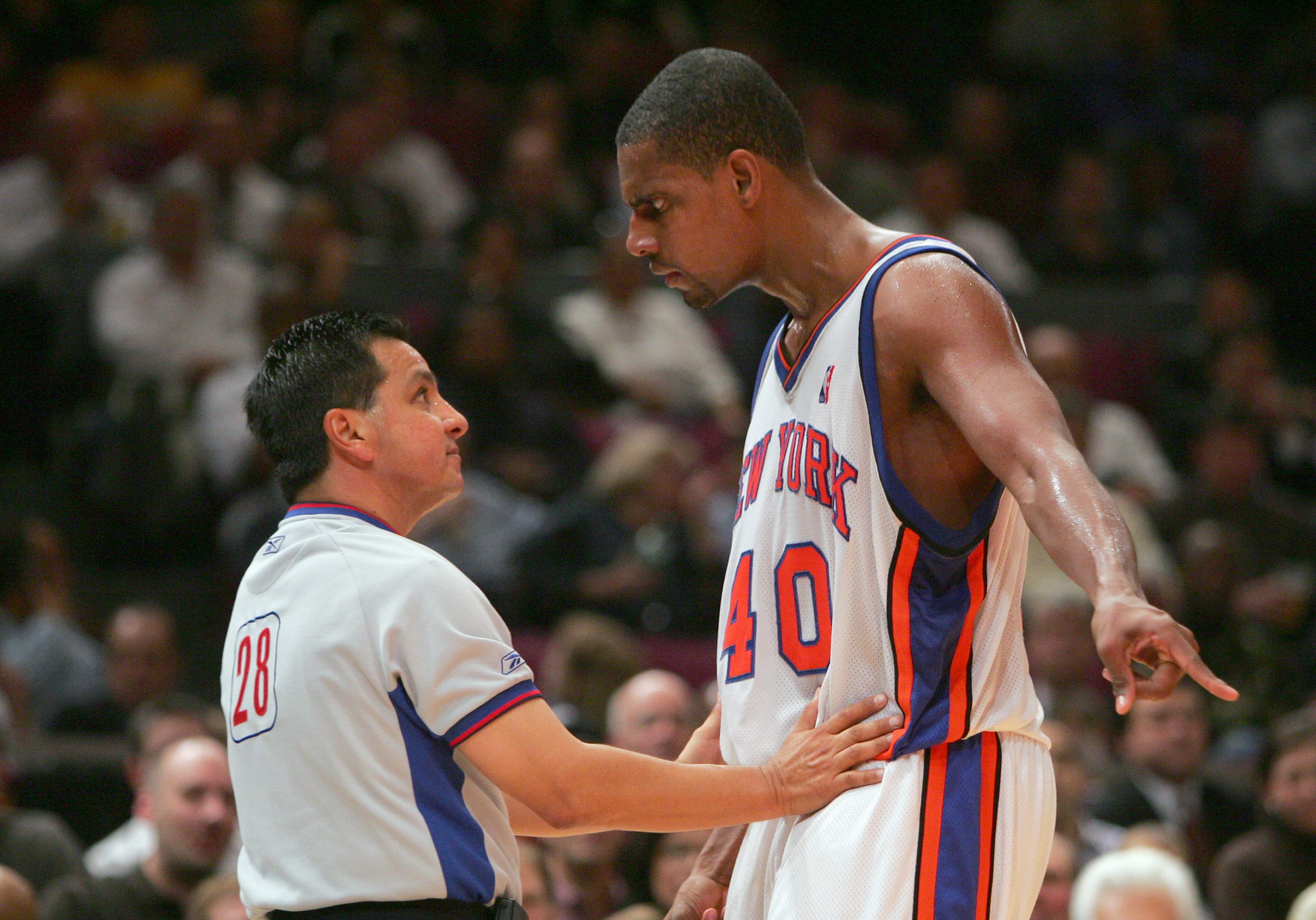 Kurt Thomas wasn't on the court to get buckets. He was on the floor to make his presence known, get physical with the opposition, and pick up fouls — he averaged 3.2 per game for his career — if need be. These are just some the reasons why the former 10th overall pick remained in the league until he was 40; it certainly wasn't because of his talent. Also, one of his nicknames happened to be "Dirty Kurt." So, there's another strike against him.
6. Metta World Peace
Metta World Peace, or as his friends like to call him "Ron," never backed down from confrontation. We saw him go into the stands during the "Malice at the Palace," and we witnessed him "accidentally" hit James Harden in the head with an elbow. We also saw him get the job done by "bodying" opponents and rattling them through the use of psychological warfare.
To some, World Peace, ironically, was nothing more than a goon. However, we'd like to think he was more self aware than that. Was he afraid to play dirty? Nope. Did he know his style of play bothered opponents? Yep. Did he care? What do you think?
7. Dennis Rodman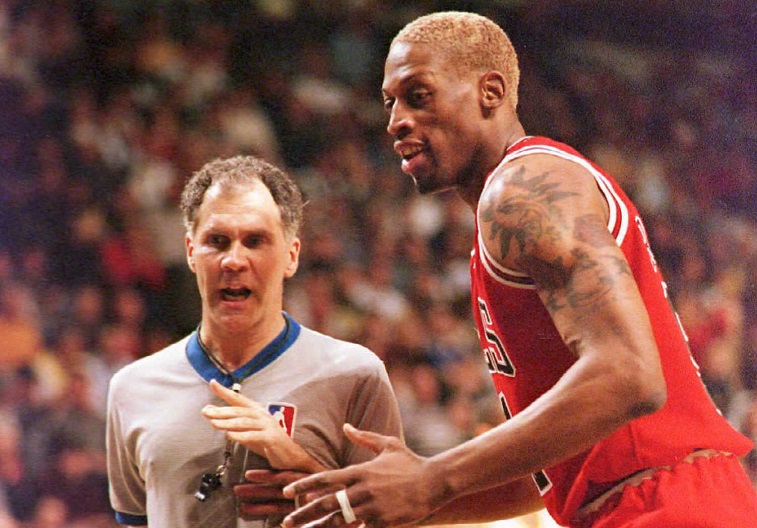 We all knew Dennis Rodman would make this list. Sure, he may have been one of the greatest rebounders the game has ever seen, but that doesn't mean he got the job done "cleanly." Rodman wasn't afraid of contact and he attacked the glass with reckless abandonment. He pushed opponents, got extra physical when necessary, and loved nothing more than getting in someone's head through taunting. In short, he was "Dennis the Menace."
8. Reggie Evans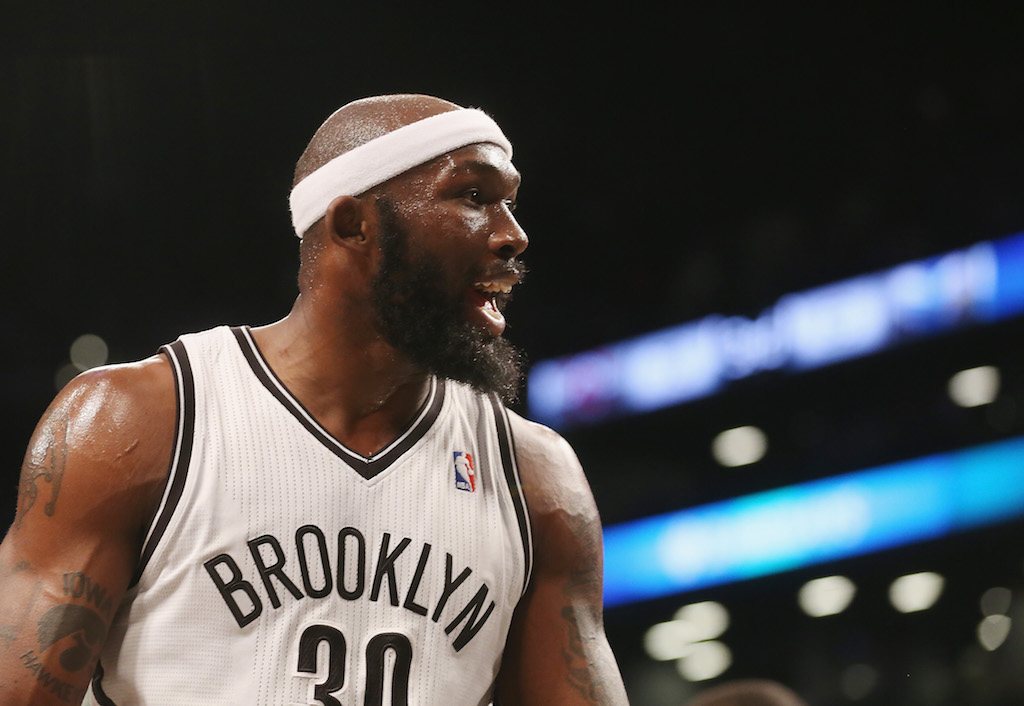 Reggie Evans was an excellent rebounder; the numbers back this up. However, his NBA career is not defined by this fact. His NBA career is defined by the fact that he was an ultra physical player, was never afraid to mix it up, and, on at least one occasion, took things a bit to far. Just ask Chris Kaman, who had the misfortune of being on the receiving end of one of Evans' more "handsy"moments.
9. Bruce Bowen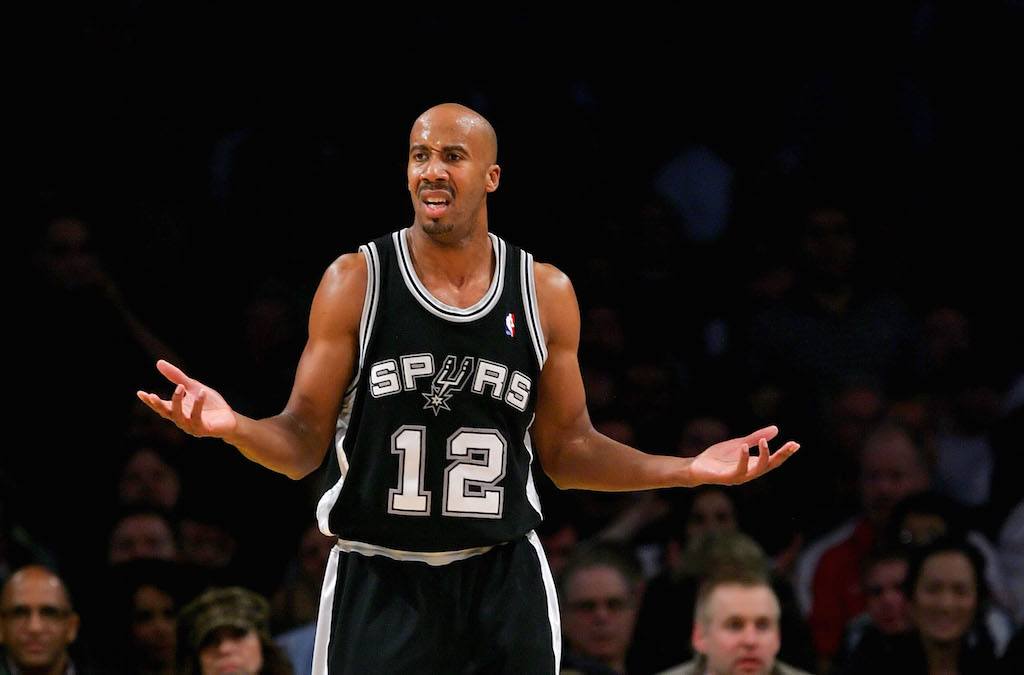 Don't let Bruce Bowen's above expression fool you; he knows exactly what he did. As one of the game's great defenders, Bowen did whatever it took to keep his opponents from scoring. He grabbed jerseys and pushed individuals from behind, and he did all this in an ultra-discreet manner. Yet, what made Bowen super dirty was the fact that he stuck his foot under shooters when they were in the middle of their jump shot, which led to tons of ankle injuries. Not cool, Bruce. Not cool.
10. Bill Laimbeer
Bill Laimbeer was another member of the "Bad Boys" who most certainly deserve a place on this list. He was physical, he took cheap shots, and he wasn't afraid to flop on the play. His aggressive style of play did not sit well with other members of the league. But that never bothered Laimbeer. The truth was, he thrived off of it:
A lot of basketball is mental. Some people find the way I play very frustrating. They can't handle it. I throw them off their game. I'm playing to win, and I'll use all my tools both physically and mentally to win the game. Other players don't like that and I can't help that. I have to do what I do best. I call it gamesmanship.
Call it gamesmanship. Call it dirty play. Call it whatever you want. The simple fact still remains, there was no one like Bill Laimbeer.
Statistics courtesy of Basketball Reference.
Kofi Bofa also contributed to this story.