5 NBA Players Who Earn Millions of Dollars Off the Court
The NBA is the most visible major sport in the world due to the exciting games and star power. The players aren't hidden behind helmets or pads. The nature of basketball demands a level of athletic excellence that is awe inspiring. No big secret there. It's no surprise that many of the world's top product endorsers come directly out of the NBA. Michael Jordan takes the crown as the greatest shoe salesman of all time.
These icons each combine on-court showmanship alongside an inescapable charisma. Championships and accolades, of course, make a media superstar who he is, rather than just a very good player. These athletes earn the most money off the court. (We limited our list to those currently playing or recently retired.)
5. Stephen Curry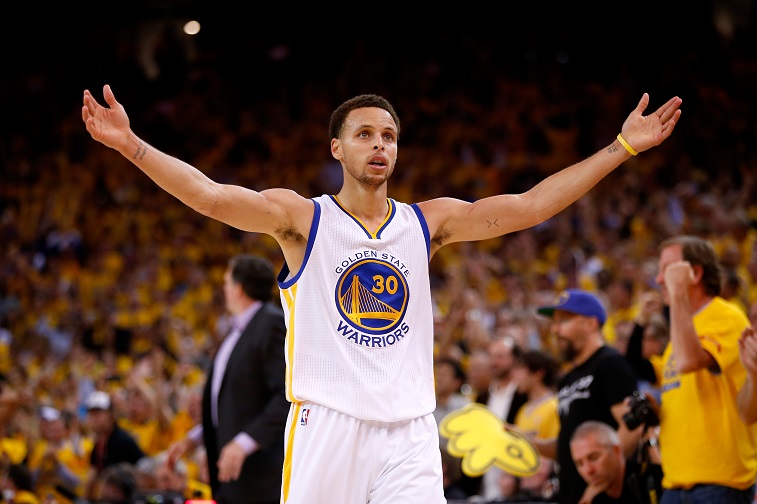 Years before he became the NBA's MVP and one of the greatest shooters of all time, Stephen Curry signed an endorsement contract with Under Armour. He never disclosed the terms of the deal. Howver, Forbes estimated that Curry likely pocketed $5.5 million in total endorsement income through last year.
Under Armour executives already laid out ambitious plans to ultimately build a $1 billion shoe empire, with Curry as the centerpiece. Although as of today Nike still reigns supreme in the basketball shoe market. Curry has also appeared in advertisements for State Farm alongside fellow Point Gods Chris Paul and John Stockton.
4. Kevin Durant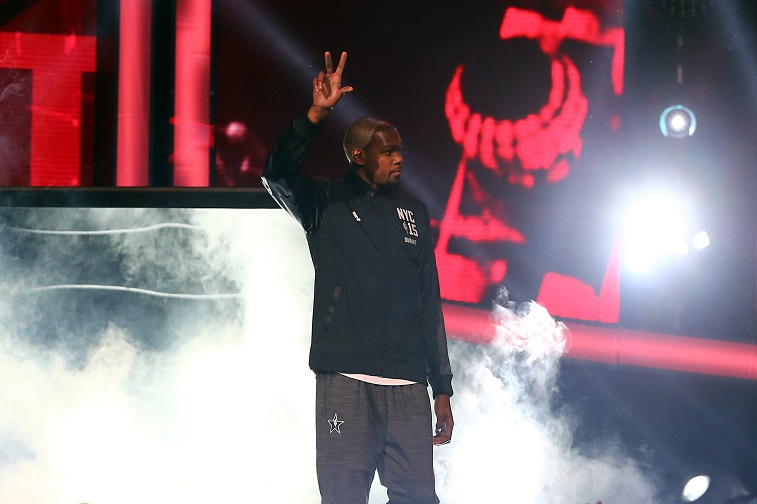 Small forward Kevin Durant flew beneath the radar in 2014, after fracturing his foot and only appearing in 27 games. But his appeal was undeniable. We all saw those Sprint advertisements, and even if his foray into Hollywood wasn't quite Space Jam the fact that it happened means something.
Ironically, Durant's exposure to the NBA faithful blossomed through the 2011 NBA lockout. YouTube videos appeared with KD playing pick-up ball at Rucker Park — balling for the love of the game. From there, Durant signed endorsement contracts with the NBA 2K video game franchise, Skullcandy headphones, and Sonic fast food. All this occurred through Roc Nation, the agency run by rapper Jay-Z.
In 2014, Durant signed a 10-year, $300 million deal with Nike. It was the largest shoe deal ever put together at the time. Questions about his earning potential in a larger marker long trailed the sharpshooting forward. Now that he's with Golden State, we'll finally see if his appeal will widen.
3. Blake Griffin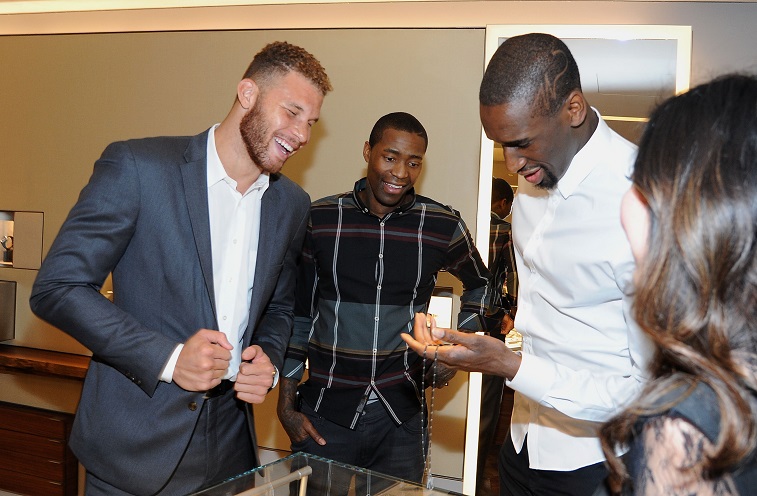 At 28, Blake Griffin has already established himself with the likes of Vince Carter and Michael Jordan. He's one of the all-time best dunkers in basketball history, but the Clipper standout has turned heads since his rookie year.
At the 2011 Slam Dunk Competition, Griffin caught a lob from Baron Davis through a Kia sunroof and jamming the ball down over the parked car. He walked off the Staples Center floor with the trophy. From there, Griffin's baritone voice became the force behind a revitalized lineup of Kia sedans capable of running errands through the suburbs, providing transit for super heros, or charging through medieval battlefields. Beyond Kia Motors, Blake Griffin has also pitched product for the likes of Subway, Vizio, Powerbar, and Nike.
2. Kobe Bryant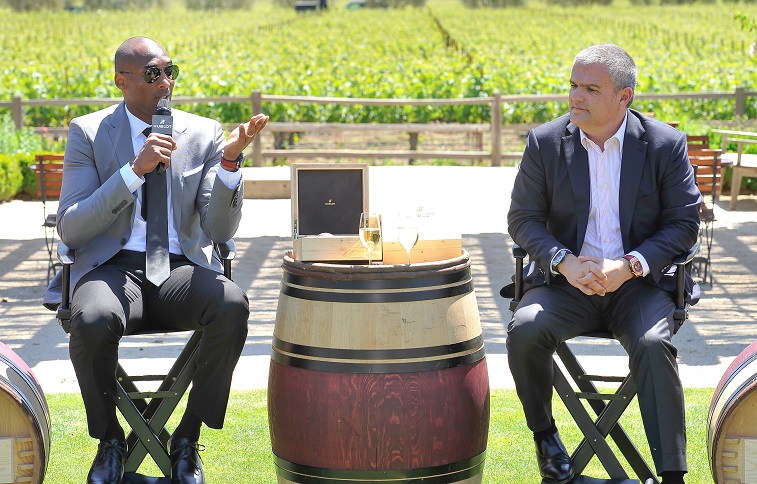 Over his 20-season career, Kobe Bryant won five championships with the Lakers, located in the second largest media market in the U.S. As a Nike endorser, Kobe traded cartoon barbs with LeBron James, designed fly-knit shoes, and commanded the respect of world dignitaries. Nike typically cast Kobe as somewhat of an evil genius, equal parts chic and cunning.
For his part, Bryant took the initiative to market himself toward an international audience. The Black Mamba is an avid soccer fan who's fluent in both Italian and Spanish. Bryant committed to taking annual tours of China to play exhibition games, raise funds for charity, coach basketball clinics, and pitch product. Last year, Kobe Bryant raked in an estimated $26 million from endorsements. This went along with his $23.5 million Lakers salary. Now retired, he remains in the public eye.
1. LeBron James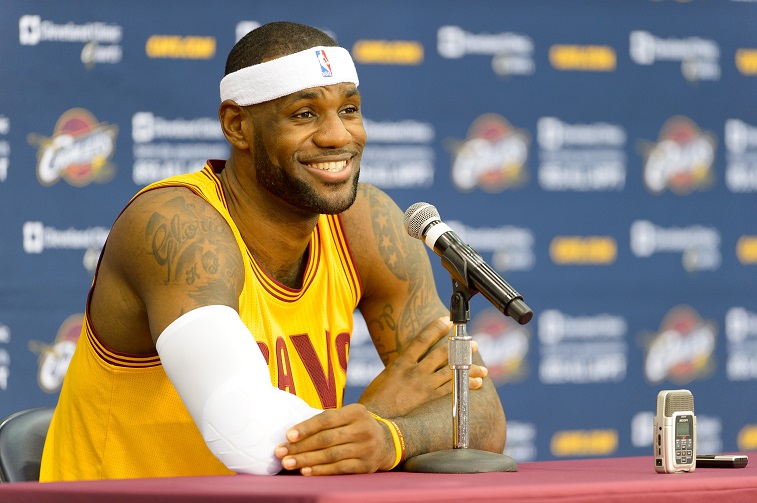 LeBron James, a highly scouted basketball prodigy, saw Nike provide gear to his AAU and St. Vincent-St. Mary rosters. This relationship culminated, or at least blossomed in full, when the shoe giant signed LeBron James to an unprecedented seven-year, $90 million deal before he had even been drafted into the NBA.
In Cleveland, the self-annointed King James quickly emerged as a likeable, but somewhat star-crossed rookie. At the time, Nike spoofed LeBron James and Kobe Bryant together as puppets, pitching the young and excitable phenom against the battle tested champion.
There's no doubt LeBron's personal brand shifted when he announced that he was taking his game to South Beach, in front of a nationally televised audience prior to the 2012 season. Then again, LBJ won back-to-back titles in 2012 and 2013, and erased his villainous status when he returned to Ohio — any hard feelings have long since evaporated, especially after he lead a seriously shorthanded group in the Finals his first year in Cleveland and brought them back from a 3-1 Finals deficit against Golden State.
In 2014, King James hauled in an estimated $44 million in endorsement cash, from the likes of Nike, Coca-Cola, Samsung, and Kia. Research firm Sport Scan Info has also made the claim that LeBron James' signature shoes accounted for $340 million in revenue at Nike through 2014.
Endorsement information courtesy of Forbes.