These Are the Only NBA Players Who Won NCAA Championships
The NCAA men's basketball tournament crowned a 2019 champion April 8, just a few days before NBA players started their postseason. The Virginia Cavaliers won the NCAA title by beating the Texas Tech Red Raiders 85-77. Although there are more than 400 NBA players and the NCAA is the stepping stone to the next level, there aren't that many national champions on NBA rosters. Let's take a look at the guys in the league that have had the opportunity to go to the Final Four and reach the top of men's college basketball.
Marvin Williams and Raymond Felton: North Carolina, 2005
Although they are getting close to the end of their careers, Williams and Fenton were both very important pieces to the Tar Heels championship run. Williams was the very hyped freshman and was the No. 2 overall pick in the 2005 NBA draft, while the fleet-footed Felton was also a first-round selection.
Joakim Noah and Al Horford: Florida, 2006 and 2007
When Florida won back-to-back championships, fans knew they had witnessed one of the best SEC basketball teams in a long time. Noah and Horford were both bruisers in the paint, and the Gators played suffocating defense all season long. Both ended up being top-10 picks in the following draft. Horford is a key piece to the Celtics. Noah is among the most hated college basketball players ever, but he turned out to be one of the most solidly productive NBA players of his era.

Danny Green and Ed Davis: North Carolina, 2009
The 2009 North Carolina squad had a lot of star power. Tyler Hansbrough and Ty Lawson led the way, but Green and Davis were both important parts to the team as well.

Green has had a very steady NBA career, and he won a championship with the Spurs in 2014. Ed Davis has always been an excellent rebounder and averaged nearly nine a game this year for the Nets.

Mason Plumlee, Miles Plumlee, and Lance Thomas: Duke, 2010
The Plumlee brothers were part of the 2010 Duke squad that won a slugfest of a match against upstart Butler. Neither one is among the elite NBA players, but Mason averages nearly seven points and seven rebounds per game for the Nuggets, who are fighting for a top seed in the West. Miles is part of the rebuilding project in Atlanta, and Lance Thomas is a role player for the Knicks.
Kemba Walker, Jeremy Lamb, and Shabazz Napier: UConn, 2011
UConn has fallen off from the top tier of college basketball programs, but not that long ago it was a dominant force in the tournament. Kemba Walker and Jeremy Lamb led Huskies to the title in 2011, with Napier playing a small reserve role. Napier took over Walker's point guard spot in 2014 and led the Huskies to another championship.

Anthony Davis and Michael Kidd-Gilchrist: Kentucky, 2012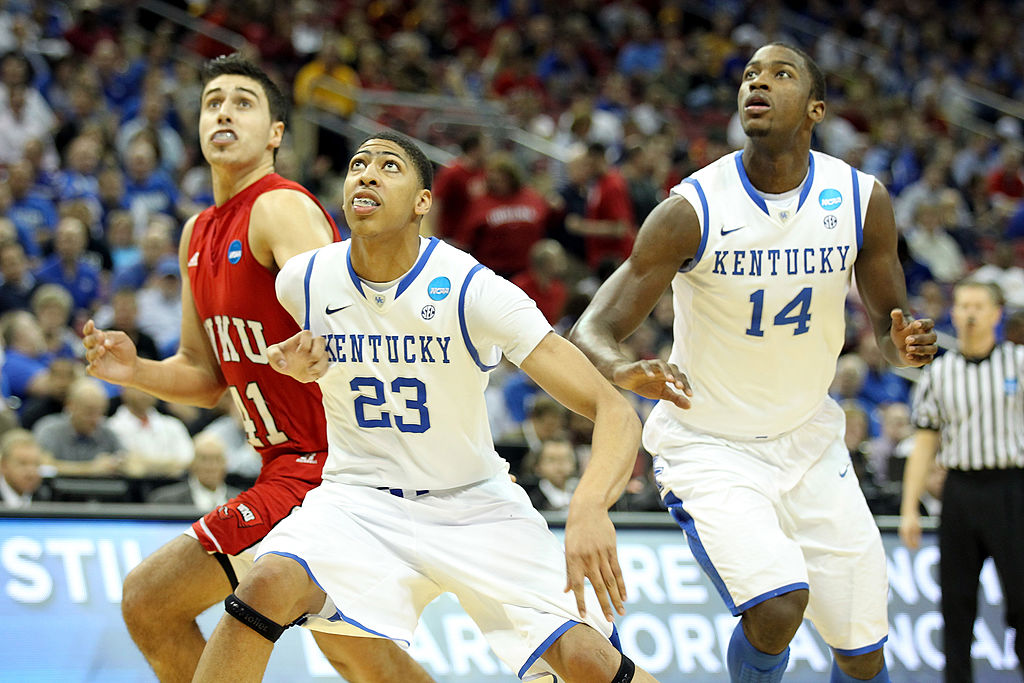 When Anthony Davis arrived on campus in Lexington, fans were excited about a potential national title. Behind the heroics of Davis, the Kentucky faithful were able to raise a championship banner in 2012. Both of them became NBA players during the 2012 draft.

As any basketball fan knows, Anthony Davis quickly blossomed into one of the best players in the NBA once he entered the league. Michael Kidd-Gilchrist averages nearly nine points and five rebounds per game for his career, all of which he's spent in Charlotte.

Justise Winslow, Tyus Jones, and Jahlil Okafor: Duke, 2015
Duke made the 2015 championship run look easy with one of the most talked about recruiting classes to ever land in Durham. Behind the dynamic post scoring of Jahlil Okafor, the clutch play of Tyus Jones, and the athleticism of Justise Winslow, the Blue Devils picked up another national title.

All three remain NBA players. Winslow is enjoying a good season in Miami, while Jones is playing a reserve role in Minnesota. Okafor is looking for a career resurgence in New Orleans, averaging eight points and five boards per game.

Ryan Arcidiacono, Mikal Bridges, Jalen Brunson, Donte DiVincenzo, and Josh Hart: Villanova, 2016
Villanova's 2016 national championship win was one of the most exciting moments in tournament history. Ryan Arcidiacono and Josh Hart averaged double digits and played pivotal roles in the Wildcats' title run. Daniel Ochefu, a Wizards draft pick, was also a key piece to that team, but he's working his way back to the NBA from the G-league.

Mikal Bridges, Jalen Brunson, and Donte DiVincenzo were freshmen role players in 2016 and team leaders for the 2018 championship team. Omari Spellman, who along with his teammates are NBA players, joined the 2018 squad. All of them are enjoying success in the NBA.

Arcidiacono is averaging nearly seven points per game for the Bulls, while DiVincenzo is putting up five points per game for the East-leading Milwaukee Bucks. Bridges (Suns), Brunson (Mavericks), Hart (Lakers), and Spellman (Hawks) are key reserves for their teams.