NBA Playoffs 2015: First-Round Preview and Predictions in the East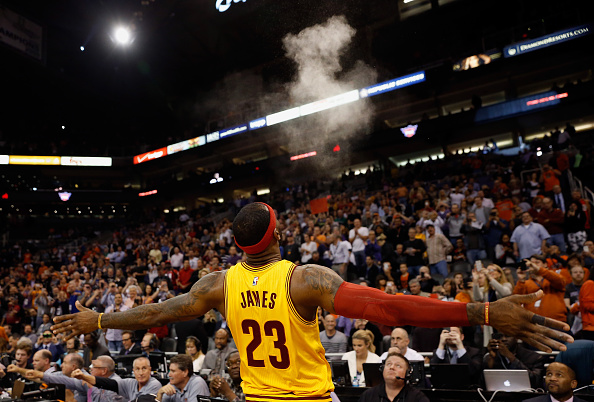 Strap yourselves in and get comfortable basketball fans, the 2015 NBA Playoffs are about to begin.
We had to wait until the final day of the regular season for the whole picture to be complete, but it was totally worth it. With teams locked into positions and seeding finally set, now begins the time to breakdown the numbers, analyze the matchups, and try to determine how it's all going to play out. While the West was the more intriguing conference throughout the season, there was plenty of drama to be had in the East. And don't be surprised if one of these teams ends up really challenging for the NBA title.
But for those who haven't been paying attention, there will be a new representative from this conference in the NBA Finals. The Miami Heat are not postseason bound. Despite playing for the last four NBA championships, the personnel turnaround in South Beach was too much to maintain their recent streak of excellence. But that's what will make this year's playoffs that much more exciting. For while the West has been a battleground for dominant teams, the East will get to experience a new conference champion. This change will certainly be good for the game of basketball. We can't wait.
The postseason begins Saturday, so there's only a few days to get yourself up to speed with how each conference is setup at this point. But don't worry; we're here to make things a whole lot easier. Starting with the games in the Eastern Conference, here's a preview of the matchups and our prediction of the outcomes.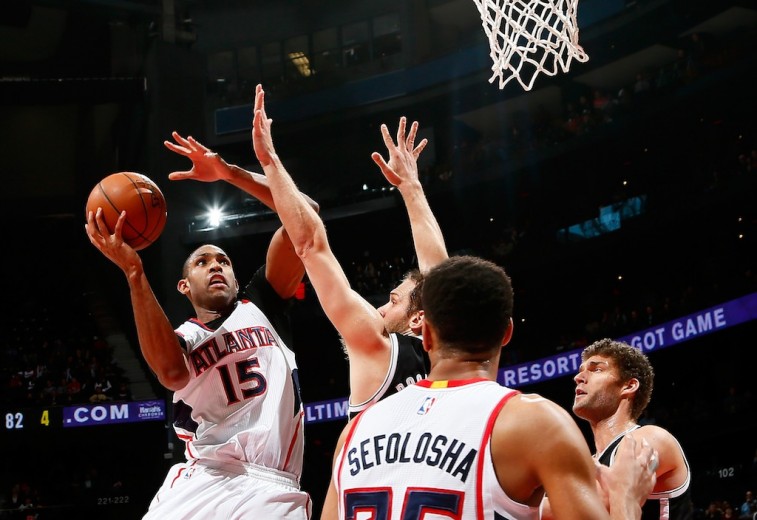 (1) Atlanta Hawks vs. (8) Brooklyn Nets
The Atlanta Hawks come into the playoffs as one of the more unlikely 60-win teams in NBA history, but there's no denying they play beautiful basketball. Mike Budenholzer has the Hawks playing a Spurs-like team brand of ball, which includes six players averaging double-figures in scoring this season. That's how you keep things balanced. They may be entering the postseason losers of three straight, and 5-5 in their last 10 games, but the Brooklyn Nets are pretty much limping into the postseason.
The Nets finished the regular season with a 38-44 record and got into the playoffs by the skin of their teeth. If the Pacers had defeated Memphis on Tuesday, the Brooklyn players would be watching the playoffs from the comfort of their own homes. The Nets are winners of six of their last 10 contests, but they have a defensive rating of 107.4 (23rd of 30). This won't be enough to deal with a Hawks team that's 10th in the league in scoring and sixth in offensive rating. Atlanta swept the season series between these two teams, and you should expect the trend to continue in the first round.
Prediction: Atlanta Hawks in four games
(2) Cleveland Cavaliers vs. (7) Boston Celtics
What Brad Stevens had done with the young Boston Celtics should be commended. It appeared that Boston was destined for the eighth seed in the East, but six straight wins and an 8-2 record in their last 10 contests have catapulted them in the No. 7 spot. Isaiah Thomas has been a major bright spot since coming over from Phoenix. Since joining the Celtics, the 26-year-old is averaging 19 points and 5.4 assists per game and has provided Boston with a surprising spark off the bench. But these Cleveland Cavaliers are built to win. And win now.
With LeBron James back playing for his home team, the Cavs are 53-29 and poised to make a run to the NBA Finals. As the season's progressed, they've played tougher D, gotten quality minutes and production from their bench, and discovered their once-missing chemistry. Kyrie Irving has come into his own and is playing like the top-tier point guard that James desperately needed. Kevin Love has started to settle into the team's third option and is contributing 16.4 points and 9.7 rebounds a game. These two teams split their four meetings in 2014-15, but the Cavs will be too much in the postseason.
Prediction: Cleveland Cavaliers in five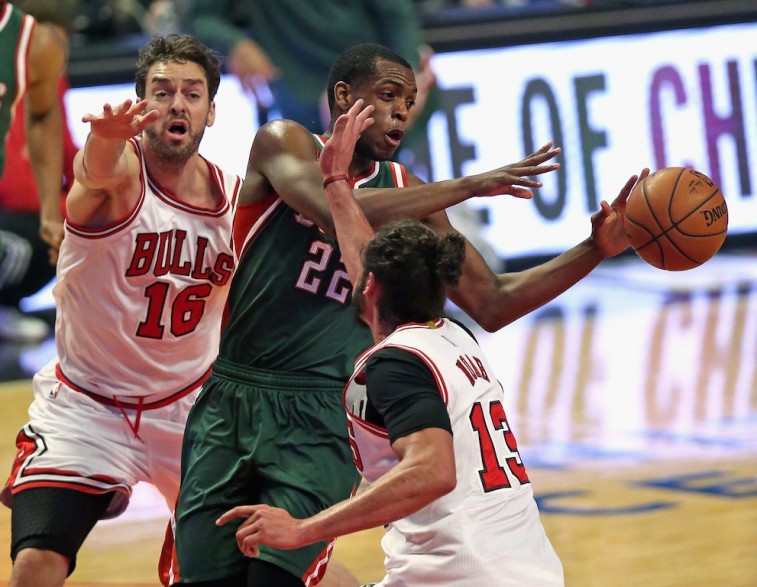 (3) Chicago Bulls vs. (6) Milwaukee Bucks
For the first time in what seems like forever, the Chicago Bulls will enter the postseason with all their stars on the healthy side. They are winners of their last four contests and boast a final record of 50-32. It will be curious to see how Derrick Rose performs in the playoffs, but the Bulls have found success because of the one-two punch of Jimmy Buter and Pau Gasol. Butler has emerged as a bona fide superstar, putting up 20 points per game, and becoming Chicago's go-to scoring option. Then there's Gasol, who's revitalized his career in Chicago and given the team 18.5 points and 11.8 rebounds per game. The question is whether or not injuries throughout the season will prevent Chicago from realizing their true potential. Also, these Milwaukee Bucks should not be taken lightly.
The Bucks won 15 games in 2013-14, but turned that number into 41 this year. Even when No. 2 overall pick Jabari Parker went down with an ACL tear back in December, Jason Kidd has turned these Bucks into a defensively dominant team. They only allow 97.4 points per game and are fourth in the NBA in defensive rating (102.2). Plus, their is no one in the league quite like Giannis Antetokounmpo. The Greek Freak is going to be an absolute matchup nightmare. However, Chicago did win the season series 3-1. The Bulls will probably survive this first-round matchup, but it should be a fun series.
Prediction: Chicago Bulls in six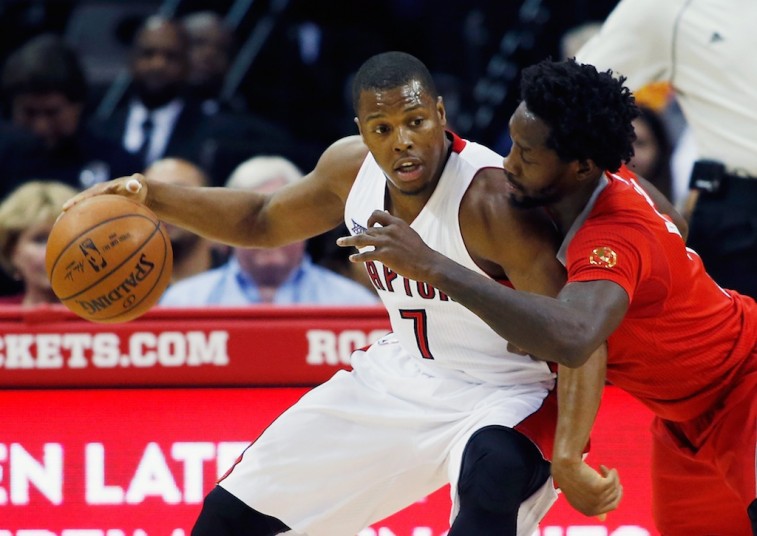 (4) Toronto Raptors vs. (5) Washington Wizards
This four-five matchup between the Toronto Raptors and Washington Wizards will more than likely be billed as a battle between point guards. The Raptors' Kyle Lowry will have to be at his best if he hopes to contain Washington's John Wall. These are two of the best at their position in the league, and it will be enjoyable to see them go head-to-head.
The Toronto Raptors took the Atlantic Division with a 49-33 record. They had a top-four offensive rating and put the ball in the basket, with an average of 104 points per game. The Wizards won 46 games because they built a team around quality defense. Washington's defensive rating of 103 was good enough for the fifth-best in the NBA. We think that the Raptors will continue their dominance over Washington (they went 3-0 against them in 2014-15) and advanced to the next round.
Prediction: Toronto Raptors in five
All statistics are courtesy of Basketball-Reference.com, NBA.com, and ESPN.go.com.