NBA Playoffs: 5 Highest-Scoring Players Ever
In the NBA Playoffs, nothing may be more important than having a superstar player who can light up the scoreboard on your roster. Sure, having a championship-caliber defense helps, but with the pressure of the postseason so high, a player who scores in bunches can deliver upset victories and even championships all on their own.
This impact is seen by the many championships won by legendary scorers like Kobe Bryant and Michael Jordan. With the new playoff season set to kick off this weekend, we are sure to see some spectacular displays of offense. Whether it's Steph Curry, Damian Lillard, LeBron James, Kevin Durant, or somebody else, some of the best scorers in the league will take center stage.
If they can score like the top scorers in NBA postseason history, the end result could be something special for their teams. Speaking of the most prolific scorers in playoff lore, here they are, ranked with points-per-game averages in mind.
5. LeBron James
Career playoff games: 178
Points per game: 28.2
With multiple seasons still left to add to his gaudy numbers, James is already one of the most prolific forces to ever play in the NBA playoffs. His 28.2 points per game in 178 playoff games has him sixth all-time in total playoff points with 5,020.
To further understand King James' playoff greatness, it's important to note that his 42.4 minutes per game ranks ninth all-time and he has the third-highest player efficiency rating in postseason history (behind only Jordan and George Mikan). Critics of James' postseason history will point to his 2-4 record in the NBA Finals to discount his excellence, but it's clear that he takes his game to another level in the postseason.
He and the Cavs have a shot to get back to the finals this season and reverse the trend, but overall, James (who isn't even 32 years old) should add multiple championships before he retires — and climb further up the playoff leaderboards in the process.
4. Kevin Durant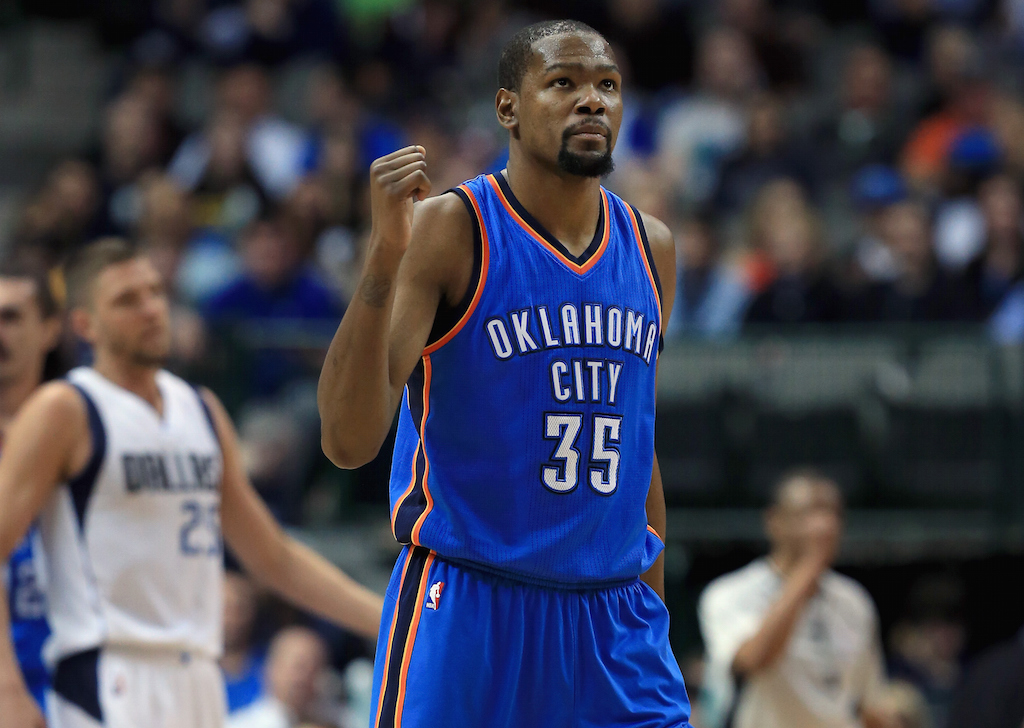 Career playoff games: 73
Points per game: 28.8
KD hasn't played a ton of playoff games at this point in career, but he's excelled in the chances he's had in the postseason. With a nearly 29 points per game average, Durant has never put up fewer than 25 per game in any playoff season. When the Thunder made their run to the finals back in 2012, he put up 28.5 per contest and scored 30-plus points per game eight times.
It's no surprise that the former league MVP has excelled in the playoffs, but it's a bit of a shock that OKC has yet to win it all with Durant and fellow superstar Russell Westbrook in the mix. Basically since the first day Durant ever stepped on a basketball court, the man has caused havoc with his ability to score.
Only in his ninth season and with four scoring titles to his credit, there's no telling how far KD can climb up the record boards, both in the regular season and playoffs. It likely won't matter to him, however, if the end result isn't at least one championship before he calls it a career.
3. Jerry West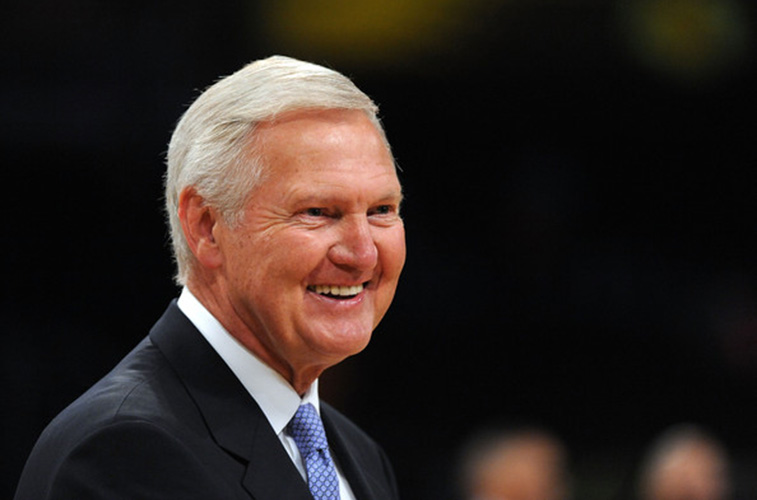 Career playoff games: 153
Points per game: 29.1
The man many know as "The Logo," Jerry West was as dominant a player as there was back in the '60s and '70s. In 14 seasons with the Los Angeles Lakers, he earned 14 All-Star appearances and scored the sixth-most points per game in NBA history with 27. On teams filled with other stars like Elgin Baylor and Wilt Chamberlain, one would think that West's Lakers should've won more than one championship.
Playing in an era dominated by the Boston Celtics though, his teams often settled for second place. West helped his team to the NBA Finals nine times over the course of his career, but they came up short on eight occasions (going 0-6 against the Celtics). However, if it wasn't for West's play, those teams likely would've came up short of the final series in most instances.
West averaged over 30 points per game or more during a playoff run seven times in his career — once averaging 40.4 in 1964-65.  An all-around great player who could also pass and rebound, West is a true basketball icon and is one of the main reasons why the Lakers are as revered as they are today.
2. Allen Iverson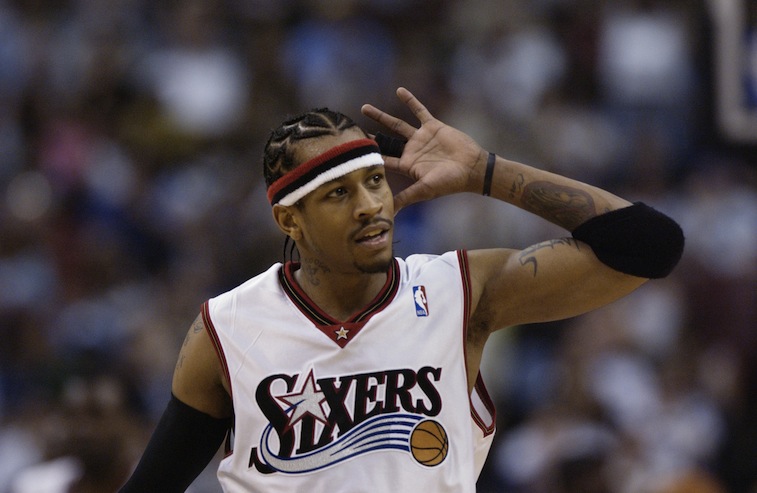 Career playoff games: 71
Points per game: 29.7
One of the newest members of the Basketball Hall of Fame, Iverson didn't allow his relatively small size to stop him from being a lethal scorer during his 14-season NBA career. Playing most of his seasons in Philadelphia, Iverson averaged a career 26.7 points during the regular season and led the league in scoring during the 2004-05 campaign.
While his teams weren't incredibly successful during their postseason appearances, A.I. couldn't be contained by opposing defenses when the games got bigger. In averaging nearly 30 points per playoff game in eight appearances, Iverson was ousted in the first round of the playoffs five times with the 76ers and Nuggets. During the one run that saw him reach the finals in 2001, he was at his most brilliant with nearly 33 points per night.
That season, he had 14 games with 30-plus points in the playoffs, six with 40-plus points, and two with 50-plus. He helped the 76ers upset the heavily favored Lakers in Game One of the finals in 2001 with 48 points, before losing the next four games of the series. Regardless of not owning a single ring, Iverson was a one-of-a-kind scorer and his status as a legend is evident.
1. Michael Jordan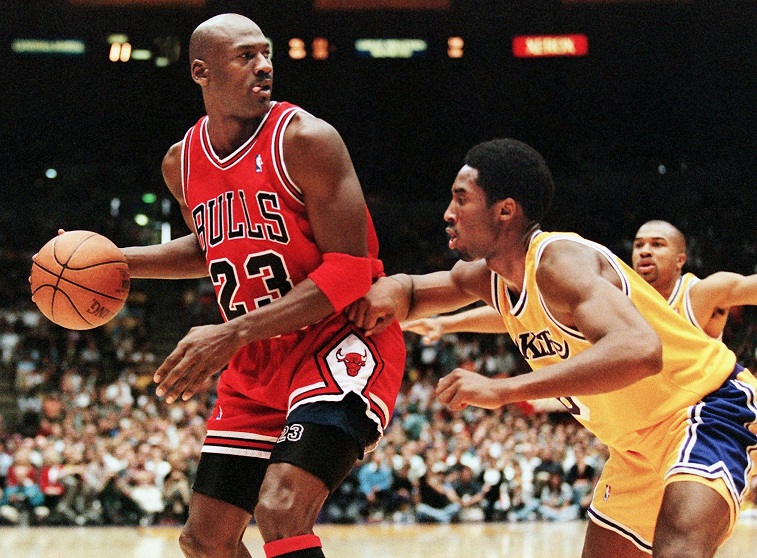 Career playoff games: 179
Points per game: 33.4
What didn't Jordan do in his basketball career? Just a few of the most notable honors MJ has to his name: 14 All-Star selections, five MVP awards, six NBA titles, and six NBA Finals MVP awards. To that end, it is no surprise that he is the only player in league history to average more than 30 points per game for his playoff career (and he averaged better than 33).
In 13 playoff seasons, Jordan never averaged fewer than 29 points per game in the playoffs and scored at least 30 per night in his final 12 appearances. He also had the individual moments to support all of his MVP honors. Simply put, nobody did it quite like Mike. It's highly unlikely that anyone will ever surpass Jordan on a level of basketball greatness.
His combination of competitive drive, talent, and success was as rare as they come. Even if Steph Curry keeps winning awards and breaking records or LeBron James adds more rings to his hand, it's nearly impossible to touch MJ. His playoff scoring numbers are just another testament to that sentiment.
Statistics courtesy of ESPN.com and Basketball-Reference.com.