NBA Playoffs: Ranking the Warriors' Potential First-Round Opponents
With the NBA regular season rapidly winding down, we know a lot of things about the Golden State Warriors. They have just nine games remaining and need to win just seven of them to break the regular-season wins record that they've chased all season long. We know they're amazing at home, and the expectation is that they'll return to the Western Conference Finals, where another great team, the San Antonio Spurs, could be waiting to derail their hopes of a championship repeat.
We also know that Stephen Curry is ridiculous and could easily repeat as league MVP once the dust settles on the season. One thing that is still up in the air about Golden State, however, is who their opponent will be in the first round of the playoffs. Assuming they finish first out West (a safe assumption at this point), the Warriors will face the No. 8 seed in the conference, which is a race that could go any number of ways over the final weeks of the season.
While six teams could technically end up finishing eighth in the Western Conference and draw the Warriors in round one, four of them are most likely to earn the spot.  While we're not sure any of these squads will present a real threat to Golden State in a potential playoff series, it's important to remember that upsets aren't just reserved for the NCAA. In that light, we've ranked these four squads in order of their abilities to hang with the Western Conference's most visible powerhouse.
4. Dallas Mavericks
Current position: tied for eighth in conference
Based on their current standing, the Dallas Mavericks have a pretty good chance of finishing eighth and facing the Warriors in round one. While a reversal of the We Believe series of a decade ago would be amazing,  this Dallas Mavericks squad is the safest matchup for the Dubs. Dallas did beat them earlier this season by a pretty wide margin, but they only own a 1-3 record against the Warriors and were blown out in two of those losses.
Dirk Nowitzki is always difficult to deal with and the future Hall of Famer has played well against the Warriors this season, which should give the Mavs some hope. Outside of Nowitzki though, nobody on Dallas's roster provides a notable challenge to Golden State. Deron Williams doesn't match up well with Stephen Curry at point guard, as Curry has scored 26 points per game against the Mavs. If you can't stop Curry, there's little chance that you can beat Golden State, so if this matchup happens, anything outside of a four-game sweep for the Warriors would be a surprise.
3. Houston Rockets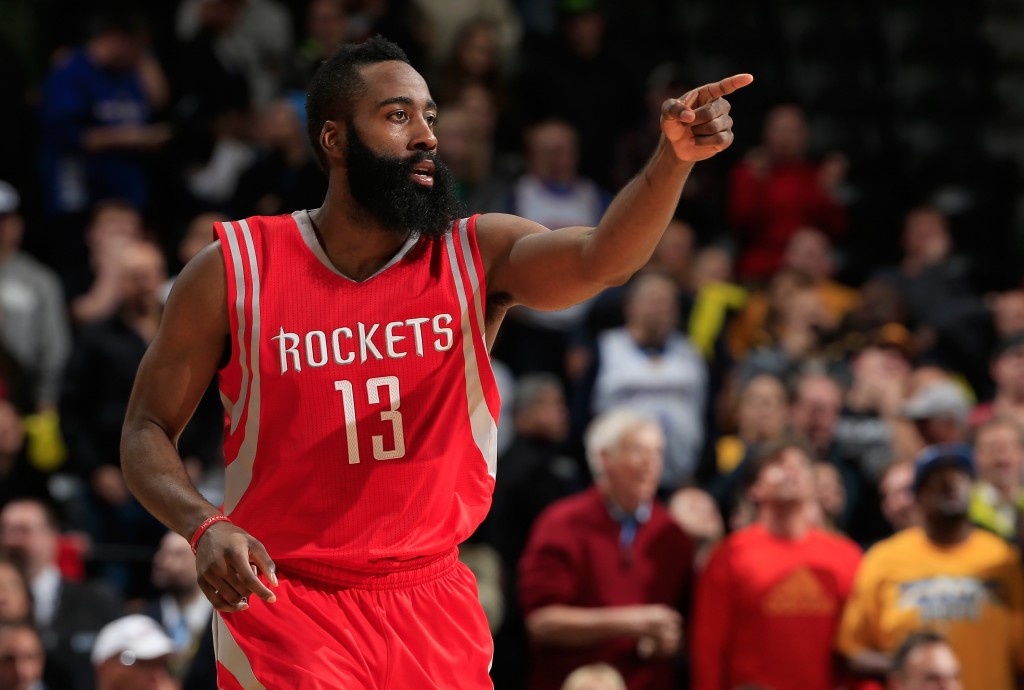 Current position: tied for eighth in conference
When you have a prolific scorer, your team always has a chance to notch upset victories. So, for the Houston Rockets and James Harden, a potential first-round matchup with the Warriors would create intrigue. Harden is the second leading scorer in the NBA with 28.6 points per game (behind only Curry's 30 per night), proving that he can carry his team by himself (see last year's playoffs).
Given last year's Western Conference Finals, which featured the two teams, there is certainly potential for drama if they match up again in round one. However, Houston hasn't figured out a way to beat Golden State this season — they were close back in December — and to expect them to do so in the postseason is hard to believe. With a roster that lacks talent behind Harden, this series probably wouldn't go any further than five games at most.
2. Utah Jazz
Current position: seventh in conference (one game ahead of eighth)
Thanks to a deep and balanced roster, the Utah Jazz are on the verge of their first playoff appearance since 2011-12. Utah has six players scoring in double figures this season, something that few people can say. That balance makes them difficult to deal with, but it hasn't led them to success against Golden State. Aside from an early season battle that they lost by just three points, the Jazz have been unable to keep up with the Warriors in any of their regular season meetings.
One thing that Utah has done is hold Curry in check (relatively), as the scoring phenom has scored just 18 points per game against the Jazz this season. With the ability to score all over the court, this team could give the Warriors some issues in round one if they match up. However, it's highly unlikely that they could push the series past five games. The Jazz are in seventh place in the West at the moment, so they will do whatever it takes to avoid the Warriors in round one.
1. Portland Trail Blazers
Current position: sixth in conference (2.5 games ahead of eighth)
The Portland Trail Blazers' dominant performance at home against the Warriors back in February makes them the most intriguing opponent for Golden State in round one of the playoffs. The Blazers struggled in every other meeting against the Warriors, but that one win showed what having a great point guard can do. Damian Lillard went off in that victory, scoring 51 points and leaving Curry in the dust. Overall, Lillard is fifth in the NBA in scoring and gives Portland one prolific scorer who can help a team win games they aren't supposed to.
Throw in another guy that can get buckets in C.J. McCollum, and it's clear that the Trail Blazers would have the best shot of any of the Warriors' potential round-one opponents to win more than one game in the series. No team is beating the Warriors in round one, but Portland could give them plenty of fits. Sitting in sixth in the West at the moment, they'll do whatever it takes to avoid finishing eighth, however.
Statistics courtesy of ESPN.com and Basketball-Reference.com.