Pat Riley's Miami Heat Are Making Him a Genius Again, the Golden State Warriors Look Scary Good, and More in Week 2 NBA Power Rankings
It's Halloween, and while some teams in the NBA are playing the role of frighteners, others are merely collections of NBA players who are frightening their fan bases. With the Chicago Bulls beating the Utah Jazz on Oct. 30, we're fresh out of undefeated teams. On the flip side of the coin, top overall pick Cade Cunningham scored two points in his delayed NBA debut, and the Detroit Pistons got into the victory column by beating the Orlando Magic. So no one is going 0–82 this season, either. As far as the NBA Power Rankings after two weeks? Six teams have one loss. Seven have managed to win only once.
In between all of that? It's run the gamut from good, bad, to ugly. (Cue the creepy whistling music from the 50-plus-year-old Clint Eastwood classic.) Mostly what we've learned so far is this: It's a long way to April 10, when the regular season ends with a full 15-game slate. We're just here to try and spot some trends, enjoy the good, digest the bad, and weather the ugly.
The ping-pong ball chasers: Thunder, Magic, Rockets, Pelicans, Pistons
30. Oklahoma City (1-5, 29th last week)
29. Orlando (1-6, 30th)
28. Houston (1-4, 16th)
27. New Orleans (1-6, 28th)
26. Detroit (1-4, 25th)
The Oklahoma City Thunder have the worst adjusted net rating in the NBA. They've been outscored by 16.2 points per 100 possessions. Four of their five losses are by double-digits, and the one game they won came after they trailed by 26 points. Orlando turns the ball over too much, doesn't make the other guys give it up enough, and are the rare team that seems unable to defend at any level.
Since blowing out Oklahoma City, the Houston Rockets have lost three straight by double figures. The good news is that Kevin Porter Jr. had only one turnover in their 31-point defeat at the hands of the Jazz. The bad news is that he literally had to sprain an ankle and play just 19 minutes to limit that count. The KPJ-as-point-guard experiment could be going better, sure. The New Orleans Pelicans miss Lonzo Ball, while Detroit must figure out ways to put the round orange ball into the round orange hoop with more frequency.
Looking for lottery luck: Mavericks, Clippers, Pacers, Nets, Bucks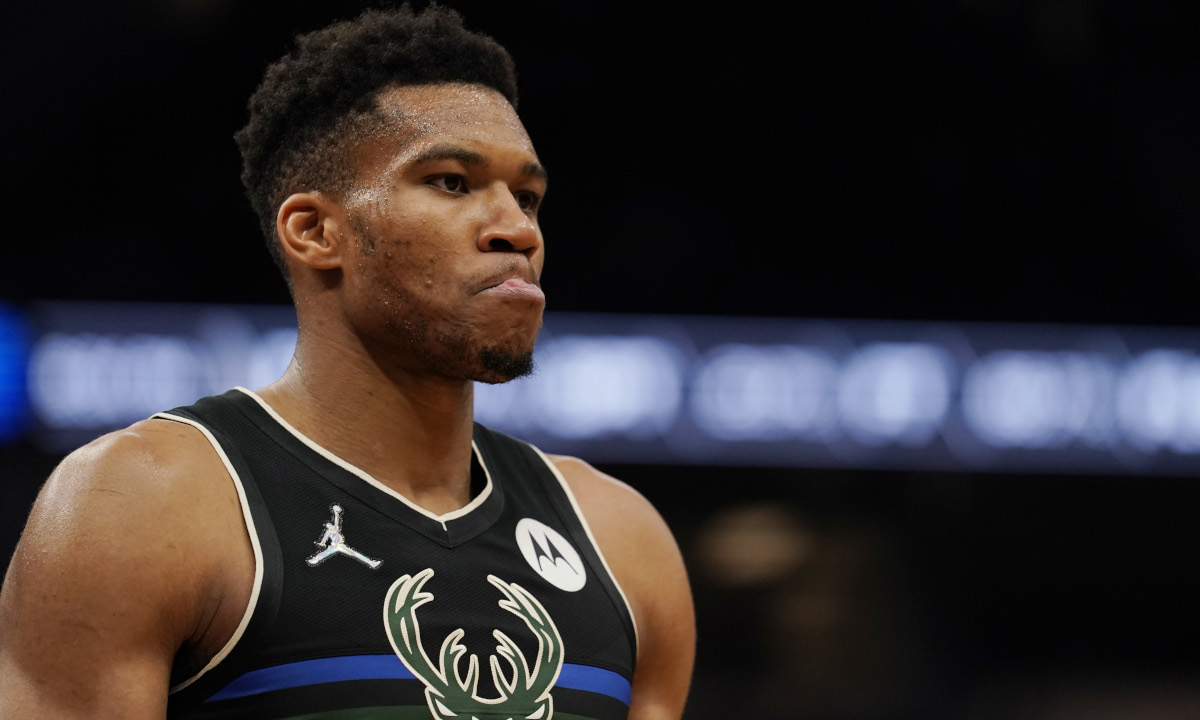 25. Dallas (3-2, 23rd last week)
24. LA Clippers (1-4, 21st)
23. Indiana (1-6, 15th)
22. Brooklyn (3-3, 19th)
21. Milwaukee (3-3, 20th)
Why, yes; yes, that is a team with a winning record in this tier. That's because when the Dallas Mavericks lose, they do so in spectacular fashion. Of course, they also can't shoot or stop other teams from doing so. Dallas ranks 28th in adjusted effective field-goal percentage and 24th in the same stat at the other end. Not good. The Los Angeles Clippers have that one blowout win. Kawhi Leonard can't get back soon enough.
The Rick Carlisle honeymoon didn't last long as four straight losses have spiraled the Indiana Pacers to the bottom of the East. The Brooklyn Nets lose, then win, then lather, rinse, and repeat. Their defense isn't creating transition opportunities, and their defensive rebounding isn't doing much of that, either. The defending champion Milwaukee Bucks followed a 2–1 road trip with two straight home losses. Maybe they need to hang the banner every night at Fiserv Forum.
Livin' on a play-in: Celtics, Kings, Grizzlies, Lakers, Cavaliers
20. Boston (2-4, 27th last week)
19. Sacramento (3-2, 18th)
18. Memphis (3-3, 6th)
17. LA Lakers (3-3, 22nd)
16. Cleveland (3-4, 26th)
This tier is home to the most significant upward mover in the NBA Power Rankings this week and one of the two biggest regressions. The Boston Celtics won a couple of games before taking a double-overtime loss on the chin at Washington on Oct. 30. The Cs could do with a little less grabbing because opponents are living at the foul line. The Sacramento Kings are over .500! That's all, that's the take.
The Memphis Grizzlies fell 12 spots, as did the Rockets. Either every opponent is having their best shooting night against Memphis, or the Grizzlies defense is the grisly reason why every opponent is having their best shooting night against Memphis. Ja Morant has been breathtaking, but it doesn't matter if you can't stop anyone. The grit-and-grind seems like it was a million years ago.
The Los Angeles Lakers lost at Oklahoma City after leading by 26 points. The largest blown lead in franchise history isn't the record this group was supposed to set. The Cleveland Cavaliers are playing big and have been remarkably competent at it.
Bottom of the bracket: Suns, Spurs, Nuggets, Hawks, Hornets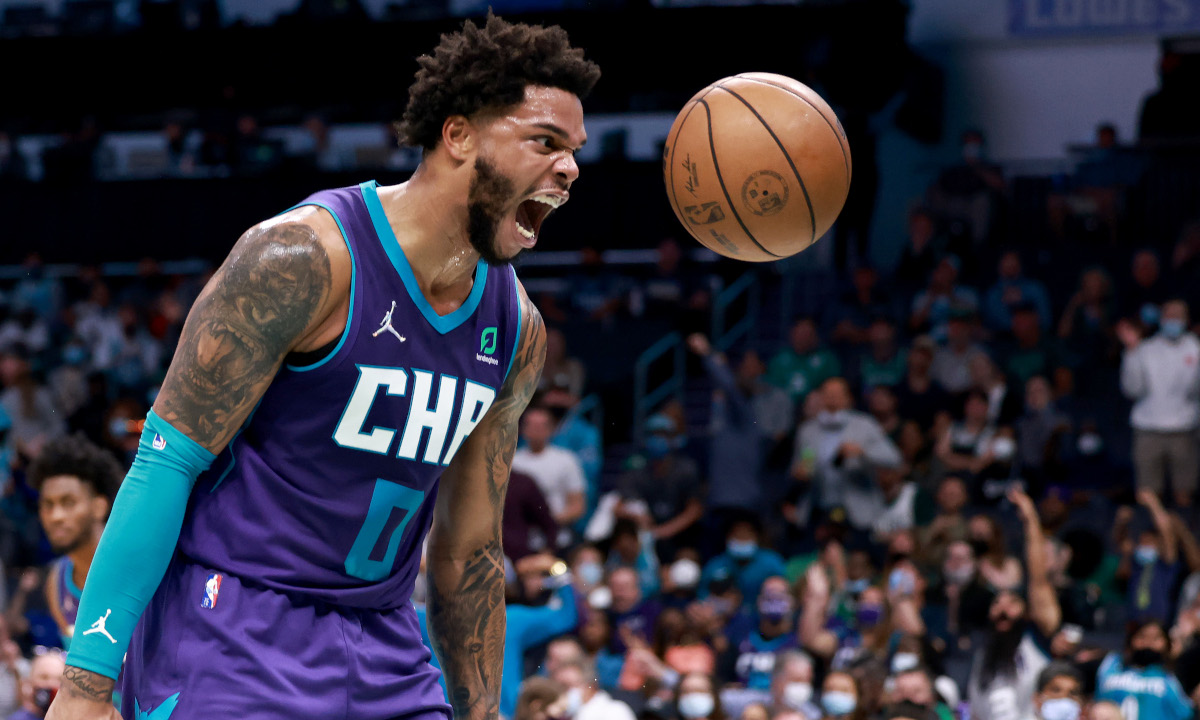 15. Phoenix (2-3, 24th last week)
14. San Antonio (2-4, 14th)
13. Denver (4-2, 12th)
12. Atlanta (3-3, 8th)
11. Charlotte (4-2, 9th)
The Phoenix Suns are figuring some things out but still need to get some more stops. As for the San Antonio Spurs, they are doing a lot of things right. Closing out games isn't one of them. The Denver Nuggets avoided a major scare with Nikola Jokić's knee injury not turning out to be as severe as it looked.
Trae Young avoided a suspension after bumping a referee, but his wallet is $15,000 lighter. As expected, he's struggling a bit since the NBA legislated against players inventing fouls. Miles Bridges is having a major breakout for the Charlotte Hornets. But for as great as Charlotte has been offensively, it's tough to win track meets every night consistently.
Sneaky contenders: Wizards, Timberwolves, Raptors, 76ers, Bulls
10. Washington (5-1, 13th last week)
9. Minnesota (3-2, 3rd)
8. Toronto (4-3, 17th)
7. Philadelphia (4-2, 10th)
6. Chicago (5-1, 4th)
The Washington ex-Lakers, ahem, Wizards, are showing some toughness. Montrezl Harrell averaged 23.3 points and 12.7 boards during Washington's three-game winning streak. Save for a poor return to Brooklyn; Spencer Dinwiddie has the offense running smoothly. If Bradley Beal starts making shots, the Wizards could be scary.
The Minnesota Timberwolves began regressing to the mean after a great start, though they got a nice win at Milwaukee. The Toronto Raptors are all over the place. They can't shoot, but they clean the defensive backboard well and crash the offensive glass better than anyone else in the NBA. That makes up for a lot of shooting woes.
The Philadelphia 76ers took some frustration out on the Hawks, but Joel Embiid's knee is a ticking time bomb. He's shot 38.5% over Philly's last three games. The Chicago Bulls are a missed DeMar DeRozan shot from 6–0, but Patrick Williams' season-ending wrist injury puts their depth under the microscope.
5. New York Knicks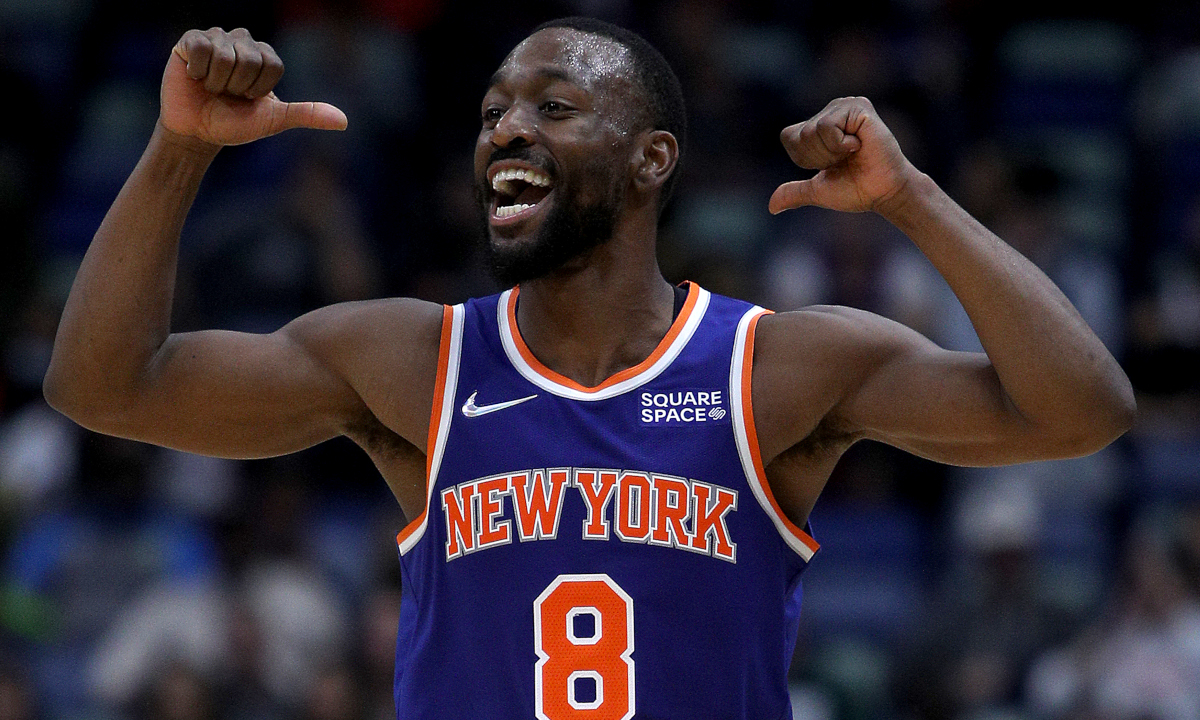 (5-1, 2nd last week)
The New York Knicks got a superb win at Chicago. They have the best adjusted offensive rating in the NBA, defend reasonably well, and value the ball. The Knicks could stand to create more turnovers, and they reach instead of move feet a little too often, but these are not huge concerns.
The Kemba Walker-Derrick Rose tag team at the point is working well. They're combining for 27.3 points and 6.2 assists per game, and both are sizzling from 3-point range. Walker has hit 57.9% on 6.3 deep balls a night, while Rose is taking four 3s a game and hitting 54.2% of them. Are we shocked to see New York leading the NBA in 3-point shooting at 40.7%? Not with the elderly point guards firing at will.
4. Golden State Warriors
(5-1, 11th last week)
If Klay Thompson 2.0 resembles his pre-"let's just injure everything in my leg" version, the Golden State Warriors have championship potential. He might not be an NBA 75 selection, but it's not a coincidence that in the two seasons he's been out, the Warriors missed the playoffs on the heels of five straight NBA Finals appearances.
Draymond Green sets the tone, though the dude could make a free throw now and again. That 7-of-19 shooting is a bad sign for a player who still has a lot of the offense running through him. Jordan Poole is making only 24.3% of his 6.2 3-point attempts per game. It's less than ideal when a guy makes his 35.1% shooting from last season seem like an outlier. So there are still concerns in the Bay Area.
3. Portland Trail Blazers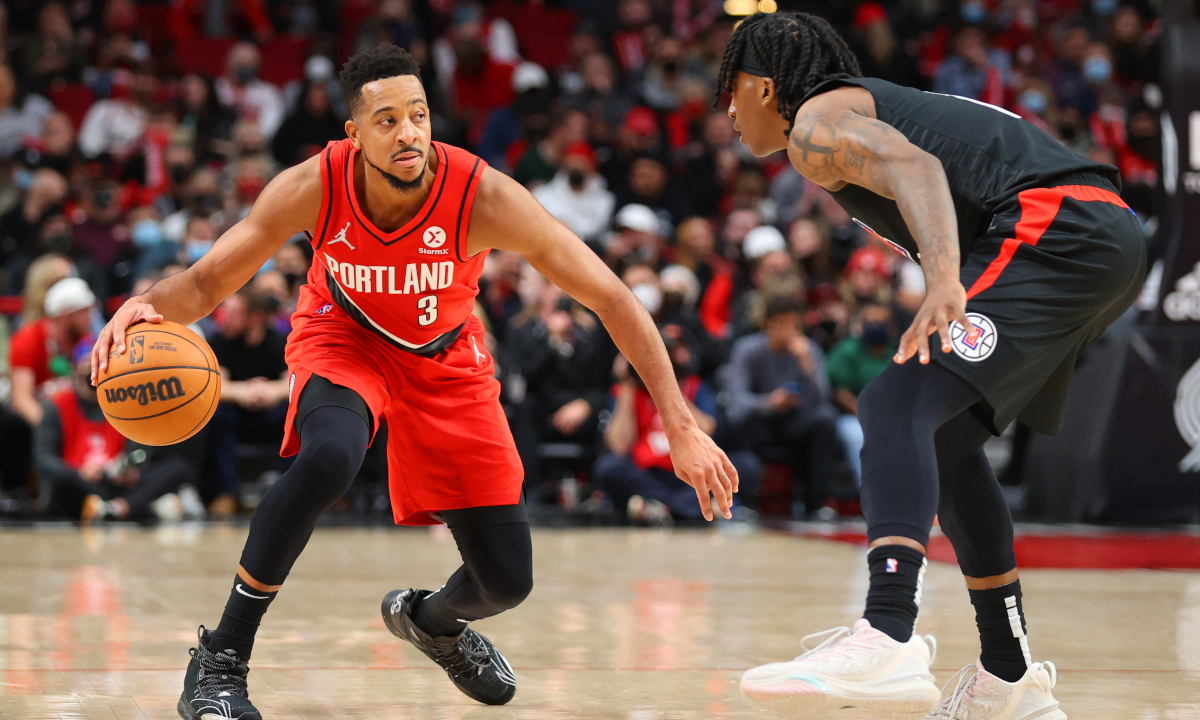 (3-2, 7th last week)
The Portland Trail Blazers have a home loss to the Kings and took a beating at the Clippers. But they've also beaten the stuffing out of the Suns and Grizzlies. Portland avenged the blowout in LA with a 19-point pummeling of the Clips on Oct. 29. This week, the Blazers get an early test with a three-game, four-night Eastern swing through Charlotte, Philadelphia, and Cleveland.
It's CJ McCollum doing the heavy lifting early. McCollum is averaging 24.2 points a game on 44.9% shooting from deep. Damian Lillard is hitting just 26.2% from the great beyond. Nine seasons at 37.5% make that a cold stretch rather than a trend. If they both get cooking? Portland is fifth in adjusted offensive rating, with Lillard chipping the paint off the rims.
2. Utah Jazz
(4-1, 1st last week)
Coach Quin Snyder opted to rest 34-year-old point guard Mike Conley at Chicago on Oct. 30, and the Utah Jazz responded with their worst offensive night of the season by far. Donovan Mitchell was just 9-of-27 and 2-of-11 from deep. He scored 30 points, showing sheer volume adds up. Bojan Bogdanović was a chilly 5-of-14, Joe Ingles went 3-of-9, and Jordan Clarkson led a lackluster bench effort by hitting just 5-of-19.
It's hard to beat anyone in today's NBA hitting 28.9% from 3-point range. Throwing in 20 turnovers makes it nigh on to impossible. The fact that the Bulls tried to help them out with Nikola Vučević and Lonzo Ball going a combined 8-of-30 allowed the Jazz to stay close.
1. Miami Heat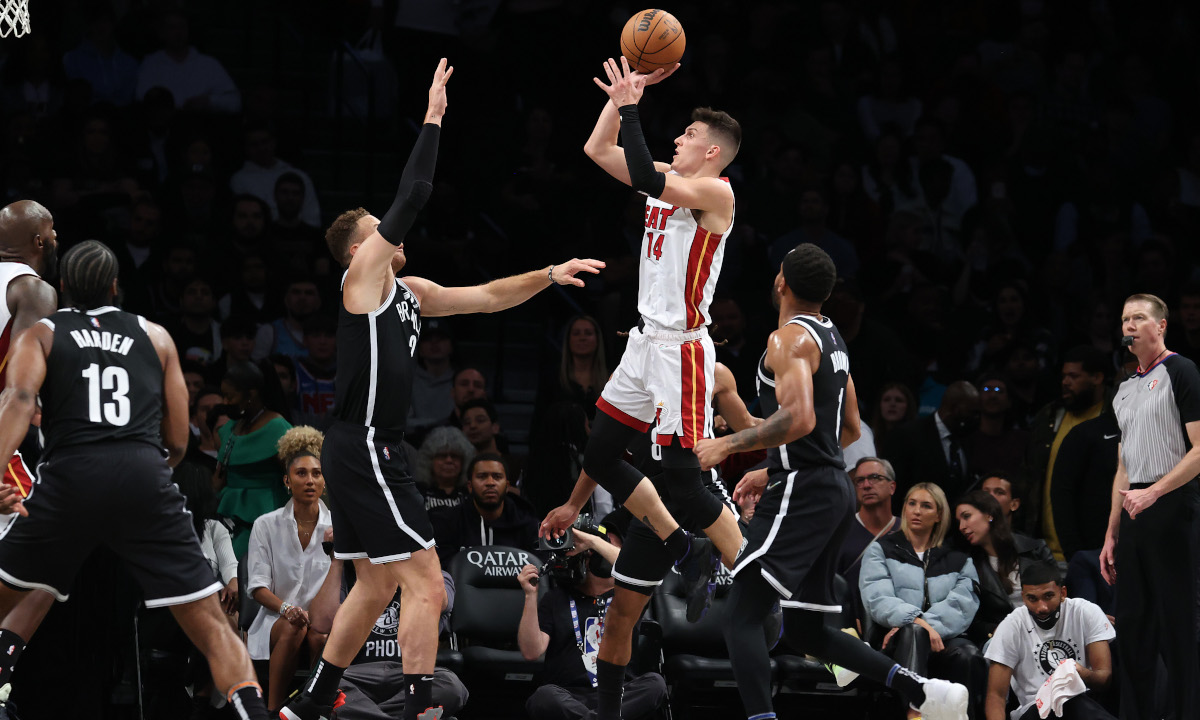 (5-1, 5th last week)
Some analysts were foolish enough to question Pat Riley's wisdom in acquiring Kyle Lowry to team with Jimmy Butler. Who could possibly be that far off? Ahem. Moving right along, the Heat are the NBA's best defensive team. They're also second-best in offensive rebounding rate and allow the second-worst offensive rebounding percentage to their opponents.
Miami makes offenses uncomfortable, cleans up its messes on the offensive glass, and dominates the defensive backboard. Doing those things wins a lot of games. The Heat have three players averaging at least 20 points per game in Butler, Bam Adebayo, and (checks notes repeatedly) sixth man Tyler Herro.
If Lowry (26.9% from deep) and Duncan Robinson (32.1% on 8.8 triple tries nightly) can heat up (pun potentially intended), Miami will be hard to beat. Although, as a certain dark lord might say, "I find your lack of rim protection disturbing." Yeah, the Heat could use a shot-blocker, but maybe they defend well enough not to need one.
Statistics courtesy of Cleaning the Glass and NBA.com., and Basketball Reference.
RELATED: 2 Kooky Words Have Become a Symbol of Hope for the New York Knicks and Their Long-Suffering Fans