NBA Power Rankings: The 5 Best Teams Heading into 2015
The NBA offseason is quickly approaching training camp reporting and chatter, with the draft, summer league, and various free agent signings, now largely on the books. For fans of almost every franchise, hope abounds at this point in the news cycle, whether it's coming from hot shot rookies, grizzled veterans, new head coaches, or team executives saying all the right things.
Still, only a few select teams will emerge to have a real chance at championship glory, by midseason. The elite teams, eyes squarely locked on the postseason, have already locked veteran personnel into fair contracts, while also laying the groundwork for young prospects to step up in crunch time.
5. Oklahoma City Thunder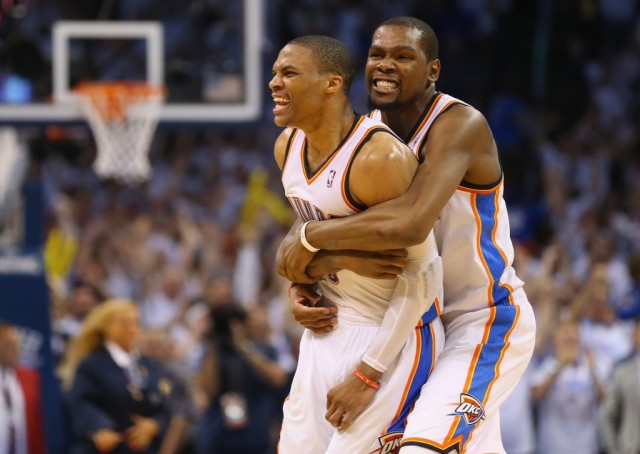 Barring injury, the Oklahoma City Thunder,will quickly emerge as a not-quite dark horse candidate for the 2016 Finals. Last season, a hurt Kevin Durant managed to average 25 points through 27 games, before being shut down, and shortly thereafter, Serge Ibaka took time off to recouperate from a surgery that repaired damage in his knee. This set the stage for Russell Westbrook to take over. And take over he did, blitzing the competition for 28 points, seven rebounds, nine assists, and two steals per game.
However, the Thunder closed out the regular season at 45-37, one game out of the playoffs. This offseason, the Thunder went on to replace head coach Scott Brooks with Billy Donovan, before signing Enes Kanter to a four-year, $70 million deal. Kanter underwent something of a renaissance last season, to put up 19 and 11, after being packaged within a three-team deal that brought him to OKC from Utah and shipped Reggie Jackson off to Detroit.
For next season, an Oklahoma City core featuring Durant, Westbrook, Ibaka, and Kanter will fill it up against anybody. On the other end, Ibaka will patrol work to control the glass and clean up after his teammates. Kanter is still a turnstile defensively, and the Thunder may need another piece to shore up a weak bench. Still, these issues will likely not be a major factor during the regular season.
4. Cleveland Cavaliers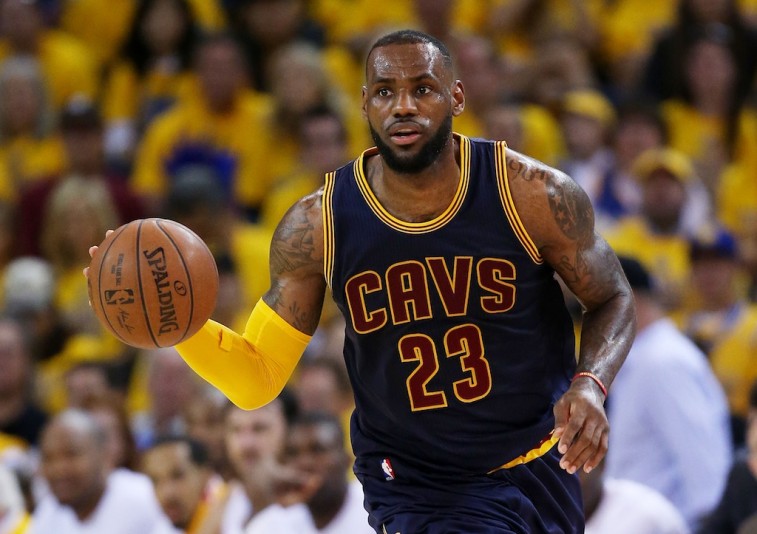 The star-crossed city of Cleveland was left to wonder what might have been after the Cavaliers lost the NBA Finals in six games, as Anderson Verejao, Kevin Love, and Kyrie Irving watched from the bench. Even In defeat, LeBron James earned some consideration for (or at least inspired serious conversations about) Finals MVP, after averaging 36 points, 13 rebounds, and nine assists per game stat line.
This offseason, the Cavs have already signed Kevin Love, Tristan Thompson, and LeBron James to deals worth a combined $280 million. Cleveland will likely bring back J.R. Smith for less money, after the mercurial guard declined his player option, for $6 million. For added wing depth, Richard Jefferson has also agreed to terms with Cleveland, for a one-year contract, at the veteran's minimum.
The Cavaliers will be deep into the luxury tax in its two-pronged and sometimes contradictory attempt to sate King James and win now. In hoping to keep James happy, team executives have thrown tens of millions of dollars at "LeBron's guys," instead of building through the draft and developing young talent. This year, the Cavs drafted Tyus Jones out of Duke, only to immediately ship the young point guard out to Minnesota in exchange for two second round picks to free up cash.
As is, Cleveland will likely make quick work out of a still-weak East, before running slam into a brick wall of an opponent in the Finals. The team still lacks a third playmaker – to flank LeBron James and Kyrie Irving, especially after James showed signs of running out of gas late last season, after carrying the full load against swarming defenses, night after night.
3. Los Angeles Clippers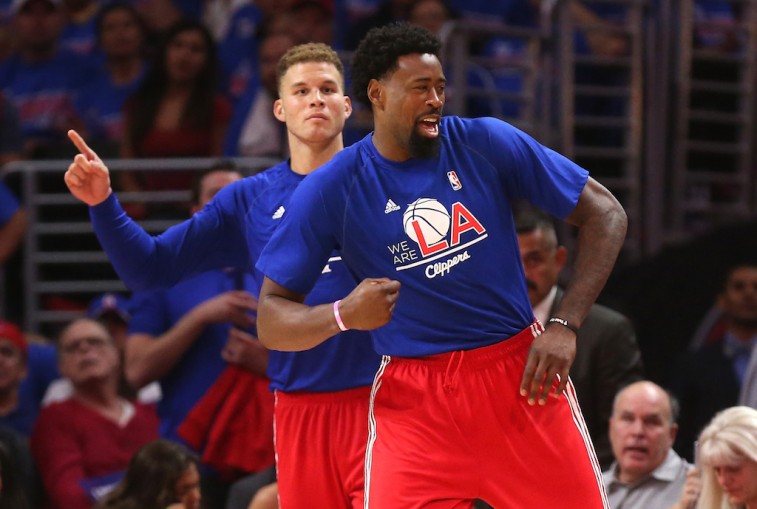 The Clippers salvaged their offseason (DeAndre Jordan-Gate, if you will) and brought in some much needed bench depth — Paul Pierce, Lance Stephenson, and Josh Smith. These new additions will help the Clippers to match up well against in-state rival Golden State and its high-octane "small ball" lineups.
All L.A. Clipper wings will feed off the energy of Lob City, with Chris Paul, DeAndre Jordan, and Blake Griffin starring as the primary ringleaders for this high wire act. The Clippers are especially dangerous off the pick-and-roll, where Chris Paul is left free to either knock down a mid-range jump shot or hit DeAndre Jordan in stride for a hammer dunk. With both options covered, CP3 has both Blake Griffin and sharpshooter J.J. Redick flashing towards the basket and lurking behind the arc to bust up defenses.
Next season, the Clippers will be out to finally make the Western Conference Finals after blowing their Semifinal series against the Rockets, despite racing out to a 3-1 series advantage against  Houston, including giving up a 19-point Game Six lead, before being run off the floor in Houston during the close out game.
2. San Antonio Spurs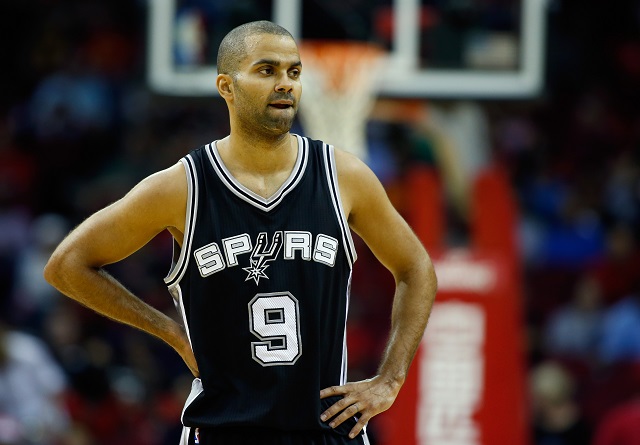 The Spurs are looking to avenge their opening round loss to the Clippers, and to keep the machine running, the Spurs signed marquee free agent LaMarcus Aldridge this offseason, before also agreeing to terms with Kawhi Leonard, Manu Ginobili, and Tim Duncan. Against this backdrop, former All-Star David West left millions of dollars on the table to sign for the veteran's minimum and chase after his first ring with Greg Popovich and company.
Tim Duncan, of course, remains the heart and soul of the San Antonio Spurs. At 38, Old Man Riverwalk still has plenty left in the tank, and often beats younger competition down the floor, right to the front of the rim. The Spurs may have lost that series, but Duncan more than held his own against Blake Griffin through the first round of the playoffs.
1. Golden State Warriors
The road to the 2016 NBA Finals still runs through Oakland until the playoffs prove otherwise. The Warriors, of course, are coming off a dream season, where they raced out to a 67-15 regular season record, avoided debilitating injuries, and made relatively quick work out of the playoff field. Stephen Curry also took home the MVP award, almost by default — "just" by being the best player on the best team in the league.
With the exception of David Lee, the Warriors will largely keep their championship unit intact heading into 2016. Parting ways with Lee may even be considered a net positive, as the move clears up a frontcourt logjam between Andrew Bogut, Festus Ezeli, and Draymond Green.
Golden State, with its abundance of riches, could even afford to bring Finals MVP Andre Iguodala off the bench last season. Steve Kerr and the Warriors have literally revolutionized the game of basketball, in refusing to shoehorn players into rigidly defined roles. Next year, the Warriors will likely be at it again, with Iguodala playing lockdown defense, Green crashing the boards, Klay Thompson spotting up behind the arc, and Stephen "Chef" Curry cooking up points, in bunches.