NBA: Ranking the 4 Best Landing Spots for Kevin Love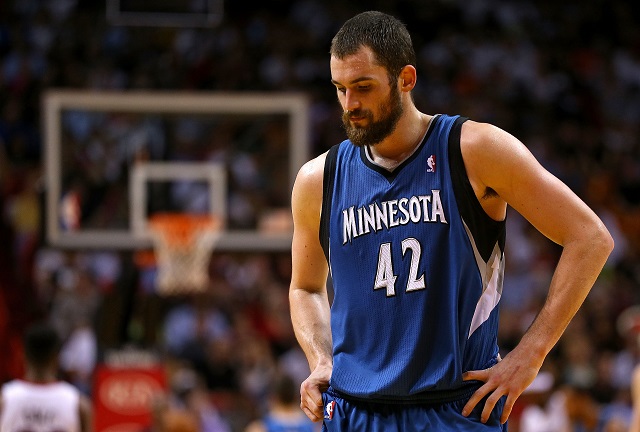 Kevin Love might be one of the best players in the NBA right now. No one really knows for sure how good Kevin Love is because, to steal a page from Bill Walton's book, he's never played in a meaningful NBA game. Love is the only player with numbers that brings out dark horse MVP chatter who hasn't made the playoffs once in his first six years in the league. He's also the only player of his ostensible quality — a top five power forward in the league right now, slotted somewhere with Blake Griffin, LaMarcus Aldridge, Serge Ibaka, and Chris Bosh –  that's available to the general NBA, and at 25, his next team is going to be slotted in for at least five years of high level play.
Since the thing about Kevin Love is that he's certainly not going to play for the Timberwolves after this season, and Minnesota is going to be in the unenviable position of having to trade their power forward named Kevin to an Eastern Conference team. The only questions, then, are for what and to which team. Since every team can use a floor spacing four with a knack for rebounding and a great outlet pass, fit is not exactly a problem from a GM's perspective.
From a player's prospective, though, is that bailing on a franchise only makes sense if you can sign a max contract or contend for a championship. The Wolves shot themselves in the foot when they offered Love a four year max with a one year opt out, rather than the five year deal (the Durant/Rose deal) that they were reportedly saving for Ricky Rubio. That didn't work. Anyway, here are the four places Kevin Love could end up, ranked in order of likelihood.
4. Boston Celtics
The Celtics are in the process of becoming the Houston Rockets east in the wake of the trade with the Brooklyn Nets that sent Kevin Garnett and Paul Pierce out, officially closing their window and putting them squarely into a rebuild. With a mountain of assets and an All-Star point guard, the Celtics are not a very good team right now, but they have the tools to become good if the right trade opportunities come along. Plus, their history of trading for players named Kevin with the Timberwolves factors into this, as well as Love's much publicized visit to Boston earlier this summer.
Doubts about whether or not the Celtics can actually put together a package for Love linger, though, especially since it's unclear exactly what Minnesota is trying to get out of the Love trade. If they're looking to get back to the playoffs, a deal involving future Brooklyn picks and prospects like Jared Sullinger and Kelly Olynyk isn't the most enticing package available, and if they're looking for players that will become superstars, well, the Cs don't have one of those readily available. There's also the question of whether Love would resign a long-term contract with a bad Boston team, something that Love hasn't publicly commented on.
The recent acquisition of Evan Turner, a player reportedly targeted by the T-Wolves, muddies the waters even further. The Cs would certainly flip him for the right price (a price that definitely includes Kevin Love), but does he really move the needle for anyone? The former second overall pick hasn't lived up to his draft pedigree so far, and he shares an alma mater with Boston's Jared Sullinger. Maybe the Celtics are trying to send them out as a package?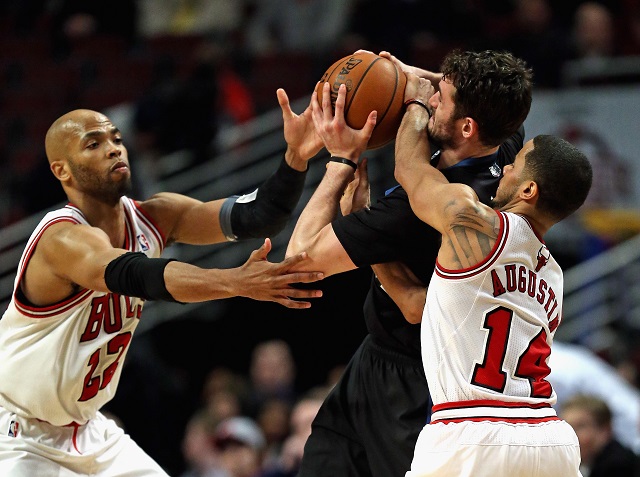 3. Chicago Bulls
It's the same song with a slightly different verse for the Chicago Bulls, who have reportedly offered a package to Minnesota featuring Taj Gibson, Jimmy Butler, and draft picks. The Bulls situation gets more complicated when Nikola Miroti?'s imminent arrival is factored into the mix — as a stretch four, he serves many of the same functions the Bulls would be getting from Love, which probably serves to limit how much Chicago is willing to offer in trade, although they have dangled both Miroti? and rookie Doug McDermott in talks with Minny.
On the other hand, pairing Love with Joakim Noah and (fingers crossed) a healthyish Derrick Rose, not to mention Tom Thibodeau, who can wring roughly 50 wins out of any squad, no matter how depleted, is drool-inducing. Basketball fans wanted Carmelo to take a serious pay cut ($50 million and change) to join Chicago, and the same arguments basically apply to Kevin Love. Perhaps more so, since Love's defense has taken a lot of Heat — that's overrated, by the way. Love's not a great defender, but he's hardly a net negative and works well in a team D setting.
A Love-to-Chicago trade would instantly make the Bulls an ECF favorite, if not the consensus best team in the East. Minnesota, though, is likely to want more than what Chicago can offer for him, so this is a longshot at best.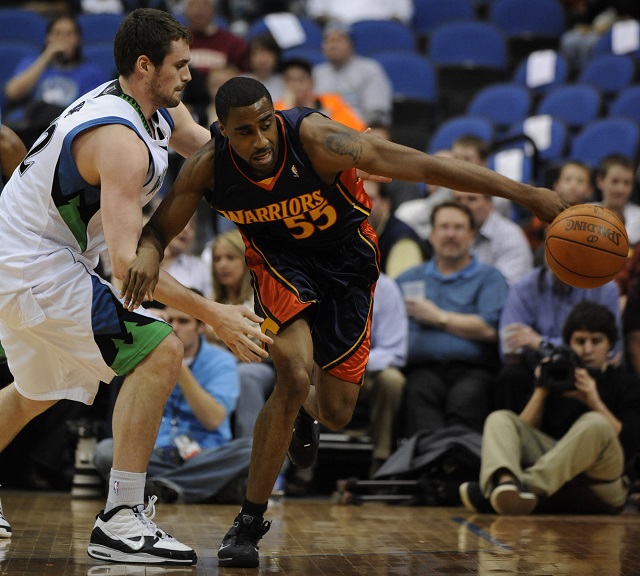 2. Golden State Warriors
Out of all the teams on this list, the Golden State Warriors — who have dangled a Love package that includes David Lee and Klay Thompson — will help the Timberwolves reach the playoffs the fastest, since their two players are probably the best set that would be coming back to Minnesota in a swap. Also, the idea of a Steph Curry and Kevin Love pick and roll should get any fan of basketball unreasonably excited. Love also fits into the small ball lineup that the Dubs like to run with: they've played Harrison Barnes at the four for long stretches just to help with their floor spacing. Love is, obviously, an upgrade for a team that's looking for that last push over the cusp into true contention.
If Minny wants draft picks and assets, though, the Warriors are going to be stuck outside the window watching. They can't trade a first round pick after this year's (2015) until 2019, and they're not going to be able to send many more pieces to speed up a Timberwolves rebuild. The reason for their predicament, by the way, goes back to getting rid of Richard Jefferson and Andris Biedri?š in order to free up space for Andre Iguodala. The right move, to be sure, but it leaves the cupboard bare.
The other factor working against Golden State: they're in the Western Conference, and the Timberwolves are going to want to send Love into the Eastern Conference. To keep him out of their stadium as often as possible, and to keep his efforts from hurting the Wolves in the hunt for the playoffs.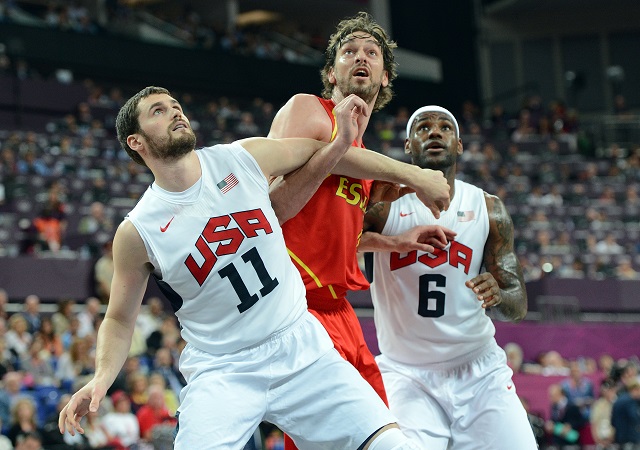 1. Cleveland Cavaliers
Kevin Love holds all the cards in this situation, by the way, because of his opt out clause. There is absolutely no reason for him to bail into free agency if he's traded to a team that he doesn't like. You could call this the Carmelo Anthony method of choosing employment, since it was how he wound up traded to the Knicks. Love, who had said that he'd sign a long-term extension with Cleveland if LeBron James returned (spoiler: he did) would certainly re-up with the Cavs, so they leap to the front of the list.
They also leap to the front of the list because James reportedly wants to play with Love, and the Cavs are going to bend over backwards in order to keep LeBron happy. The fact that they can offer the best asset of the bunch — number one draft pick Andrew "Maple Jordan" Wiggins, is icing on the cake. With all that in place, Cleveland remains the favorites to be Love struck.
Update: This article originally contained an incorrect sentence regarding Evan Turner's draft position, and his teammates at Ohio State. It has been corrected to fix that error.