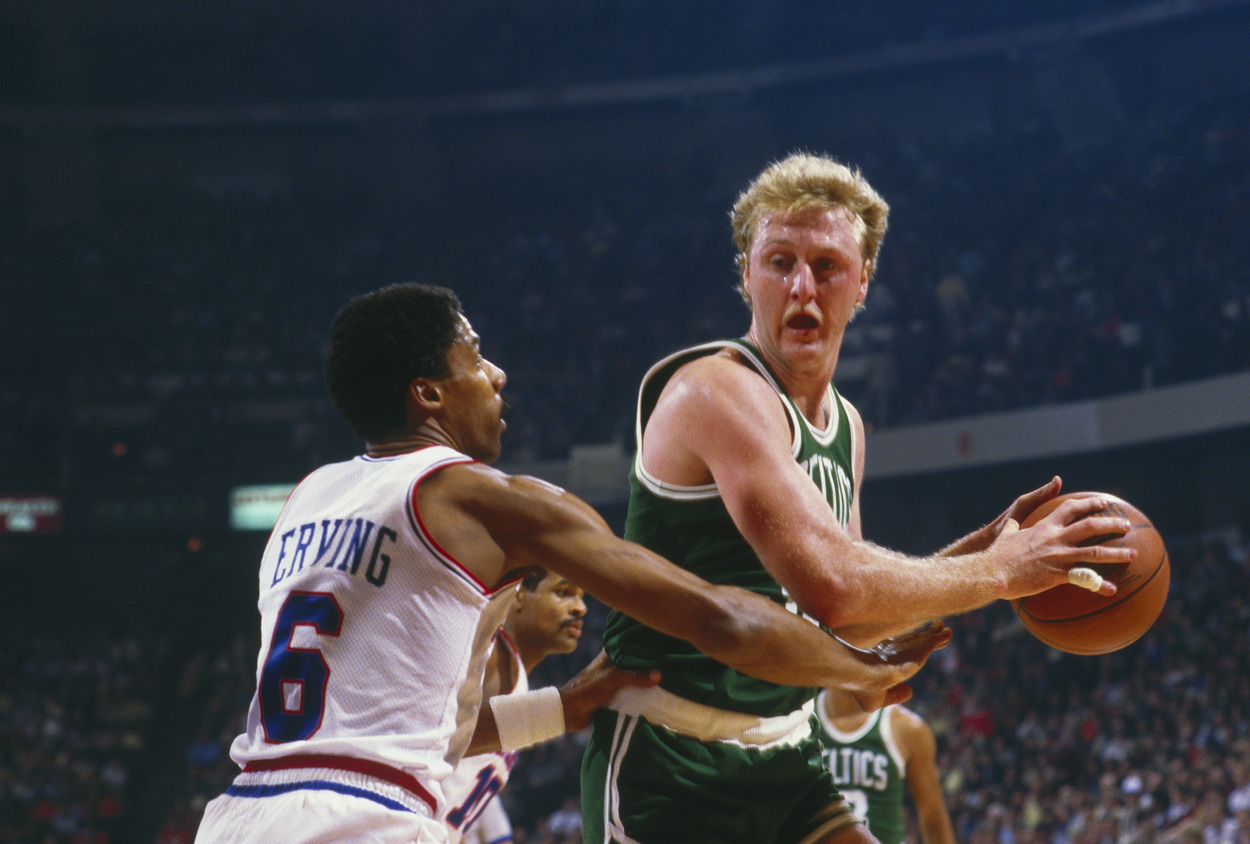 NBA Referee Dick Bavetta Shared His Account of the Fabled Larry Bird-Julius Erving Brawl: 'If You Can't Stop Something Before It Starts, Step Back and Take License Plate Numbers'
Longtime NBA referee Dick Bavetta described his personal reaction to the infamous brawl between Larry Bird and Julius Erving.
Amongst all NBA fights, the battle between Larry Bird and Julius Erving was far from the most violent. But it was right up there in terms of star power.
The 1984 brawl between Bird and Erving has been thoroughly covered throughout the years. But one perspective you may not have heard is from longtime referee Dick Bavetta, who had the distinction of throwing out two of the sport's all-time great players.
Larry Bird and Julius Erving got into a tussle
The rivalry between the Boston Celtics and Philadelphia 76ers dated back many years, well before Bird and Erving wore their respective uniforms. But the rivalry amplified when Larry Legend and Dr. J arrived at the scene.
First, Erving and Philadelphia spoiled Bird's 1980 rookie season by eliminating the Celtics in the Eastern Conference semifinals. The two stars would then meet in each of the next two Eastern Conference Finals, with Boston winning in '81 and Philly getting revenge in '82.
On November 9, 1984, Erving and the Sixers visited Bird's Celtics for a regular-season matchup at Boston Garden. Both clubs were undefeated going in, but Bird's 42 points on 17-of-23 shooting led Boston to a convincing 130-119 victory. However, few will remember Larry's shooting clinic over what transpired in the waning minutes of the third quarter.
First, the Celtics star was hit with an offensive foul after getting tangled up with Erving. Shortly after the whistle, the two superstars began chatting. Moments later, Bird swung at Erving, leading to the 14-year veteran throwing punches at the Hick from French Lick. Teammates, including Sixers rookie Charles Barkley, rushed to their defense in order to break up the fight.
Fittingly, the two stars were both ejected. But not before playing a sizable role in one of the most famous brawls in league history.
Dick Bavetta gives his take on the Bird vs. Erving fight
No official has worked more professional basketball games than Dick Bavetta. The 82-year-old made his officiating debut in 1975, the first of a record-setting 2,635 contests. But in a career that spanned nearly four decades, Bavetta's most memorable game was November 9, 1984, at Boston Garden.
Bavetta, who retired in 2014, shared the details of the night he personally witnessed the great Larry Bird and Julius Erving going after one another. But even before the fight started, the little-known ref was already dealt a losing hand.
"It was a national TV game, and at the start of the second half, Dennis Johnson stumbled into [referee] Jack Madden and broke Madden's leg," Bavetta told USA Today. "I had to do the second half by myself."
Once shorthanded, Bavetta got a birds-eye view of Bird and Erving going head-to-head.
"As every shot went in that Larry took, he went further back and he kept on saying to Erving, 'Aren't you gonna guard me?'," Bavetta explained in an interview with the Basketball Hall of Fame. "Finally it got too much and I see them choking each other, and a melee ensues. I learned from my brother Joe that if you can't stop something before it starts, step back and take license plate numbers. So I just stepped back and watched what was going on. And in doing so, I informed [the scorer's table] that Bird and Erving were gone."
The controversial decision to eject Bird and Erving helped Bavetta's reputation
To most people, it seems obvious to throw out the two players directly involved in a fight. But Bavetta's ejection of superstars Larry Bird and Julius Erving in a nationally-televised game caught many by surprise.
"I remember the comments by both teams were, 'Maybe a lesser-experienced official would have called a technical and kept both of them in the game. Whatever possessed Dick Bavetta to do it, it was the right thing to do,'" Bavetta explained to USA Today. "That was kind of a launching pad for my career, and the NBA started to look at me a little differently with certain leadership qualities."
The infamous brawl between Bird and Erving will always be more well-known for the players involved than the referee who ended it. But it's fascinating to see how Bavetta's bold decision ultimately helped him begin a long, successful career as one of the NBA's top rule-enforcers.
All statistics courtesy of Basketball Reference.