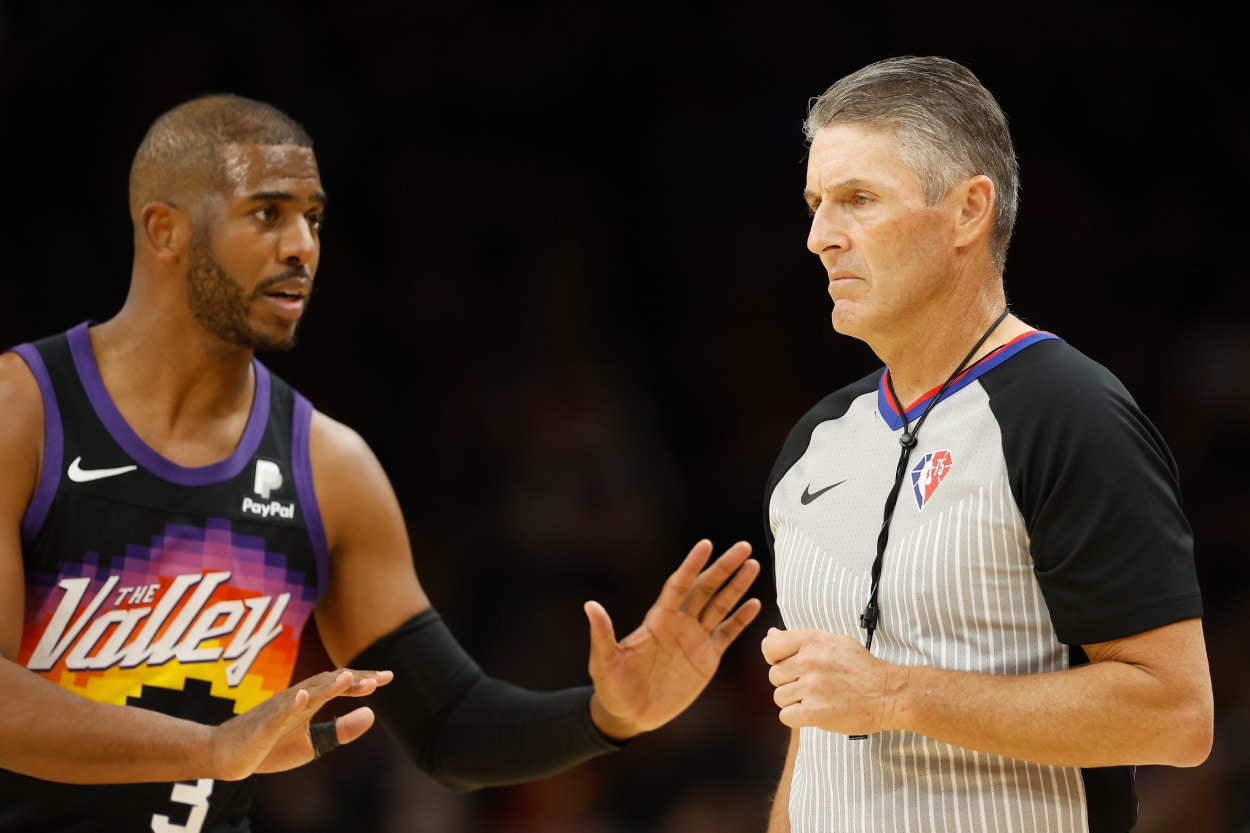 NBA Refs Scott Foster, Ed Malloy Didn't Get the Jack Harlow Hype at the Boston Celtics Game
NBA referees Scott Foster and Ed Malloy had an interesting exchange about rapper Jack Harlow during Sunday's game in Boston.
Usually, all eyes are on NBA referee Scott Foster. The veteran official has been criticized by many, especially Chris Paul fans, throughout the years.
On Sunday, all ears were on Foster, who was puzzled during a timeout while working Game 1 in Boston between the Boston Celtics and the Milwaukee Bucks. During a break in the action, the arena's jumbotron panned the crowd, showing the celebrities. Foster and referee Ed Malloy were both mic'd up for the game and had an interesting conversation when the big screen focused on rapper Jack Harlow.
Scott Foster is the head official in tonight's Warriors vs. Grizzlies game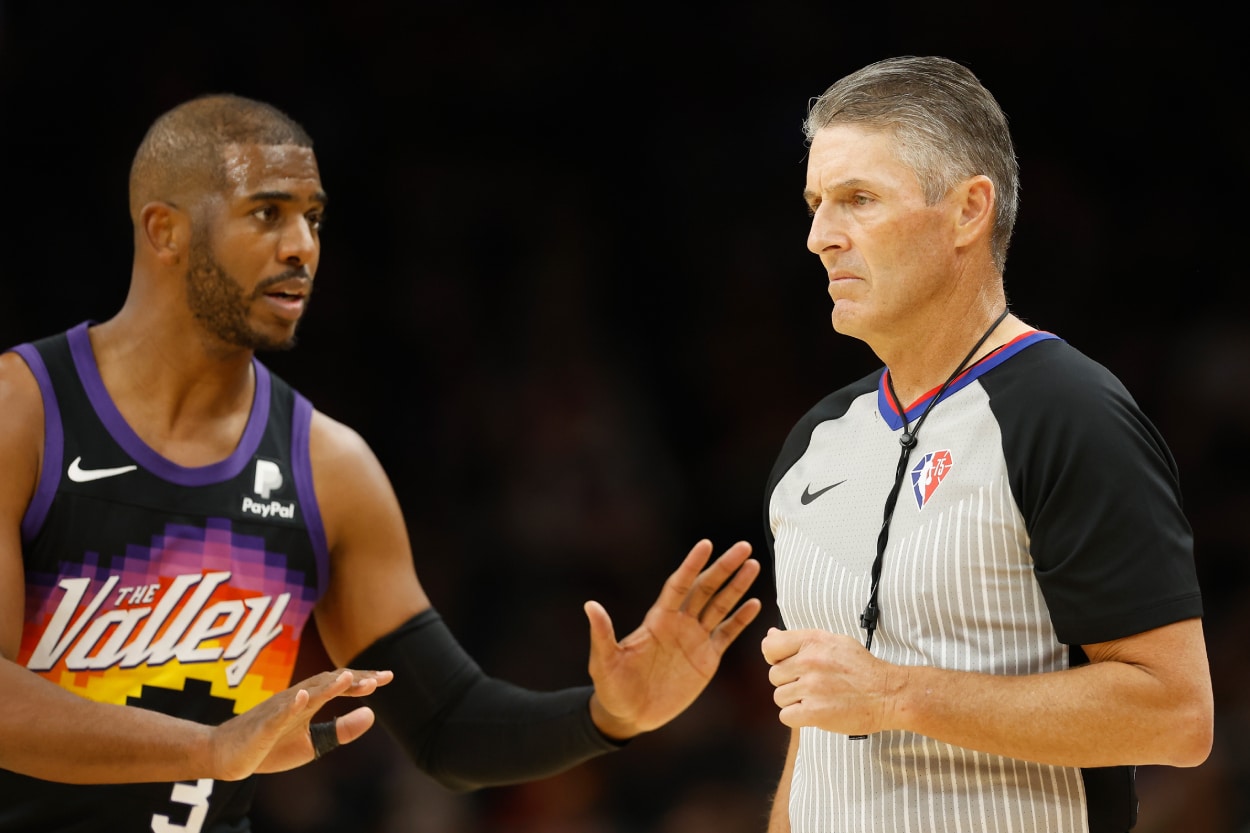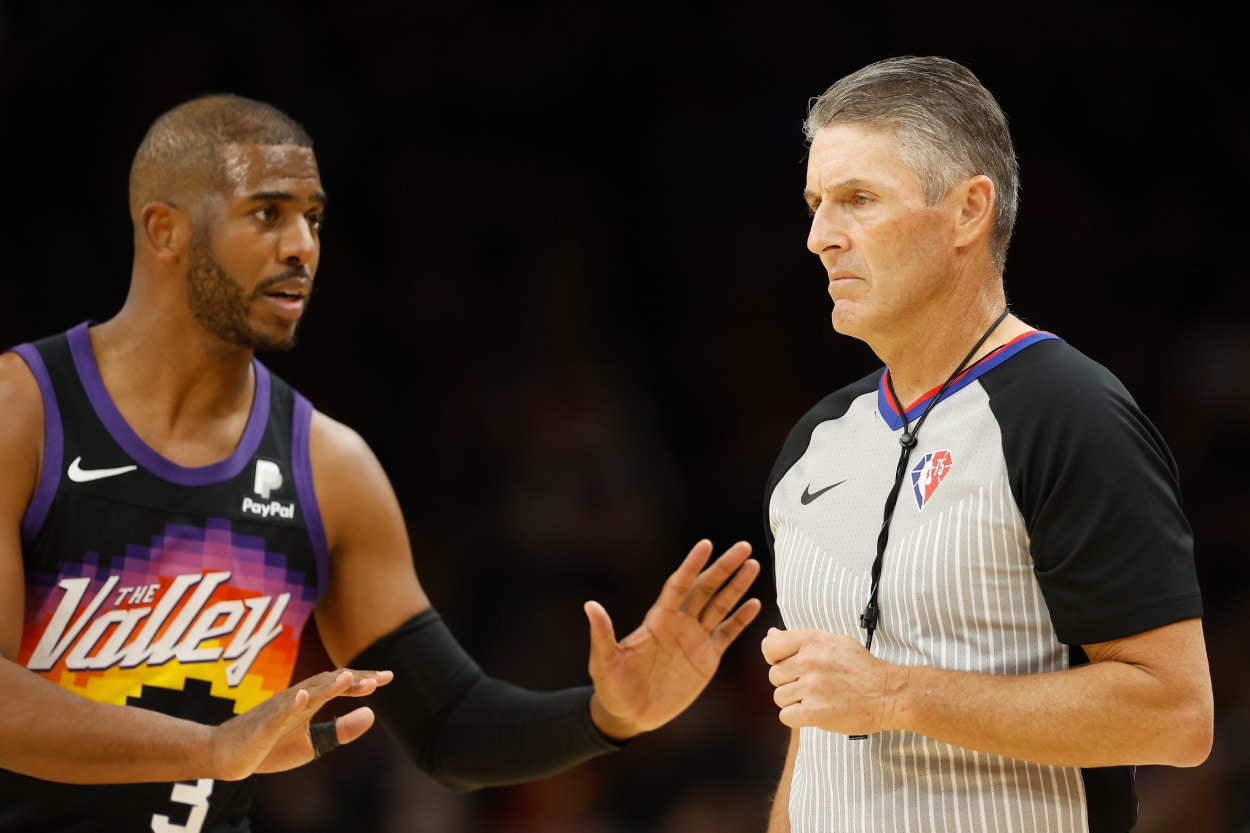 Foster might be a welcome sight for the Golden State Warriors in Memphis tonight. The Warriors saw Draymond Green get ejected after a questionable flagrant 2 foul was called during Sunday's Game 1 game against the Grizzlies that resulted in Green's ejection.
Foster is the oft-criticized official who has refereed NBA games for the last 25 years. He's mainly known for his bizarre statistic in games Paul plays.
He made headlines in Round 1 when Paul's Phoenix Suns played the New Orleans Pelicans. In the one game Foster reffed in that series, the Suns lost. That made it 14 straight playoff games that Paul has lost with Foster working.
The streak with Paul began in 2008 when the San Antonio Spurs defeated Paul's New Orleans Hornets in Game 7 and is still going. In 2020, Paul played for the Oklahoma City Thunder, and the Rockets eliminated them in a wild Game 7 with Foster doing the game. That was the 11th straight Foster-reffed playoff loss for Paul.
Paul made his feelings known about Foster after that game.
"They're shooting a lot of free throws, last night, tonight," an emotional Paul said after that playoff loss, per NBA on ESPN. "If I was a betting man — 11 in a row. Eleven games in a row. Eleven games in a row."
Scott Foster and Ed Malloy had a funny exchange about Jack Harlow on Sunday
During a break in Sunday's Celtics vs. Bucks game, the Celtics tried to pump up the crowd by showing some of the local favorites on the big screen above mid-court. They showed Patriots owner Robert Kraft and Donnie Wahlberg, with each getting a loud cheer. Then they showed Harlow, sitting courtside.
Harlow was in town for a concert over the weekend and got as loud a cheer as any. That prompted a hilarious conversation between the mic'd up referees.
"Who's Jack Harlow?" Foster asked Malloy.
"I have no idea," Malloy responded.
"This guy over here, right here in the white shirt."
"Who is he?"
"I don't know. Go ask him."
Harlow is a 24-year-old rapper from Kentucky. His 2022 single "First Class" reached No. 1 on the Billboard Hot 100 chart.
Harlow responds to Foster and Malloy's exchange
Harlow was quick to respond to the video of the exchange that was posted by SportsCenter. The musician showed he has a sense of humor.
"Clearly these mfs have never seen Narnia," Harlow tweeted.
Harlow's response was in reference to a joke about his likeness to Mr. Tumnus — a male fawn from The Chronicles of Narnia: The Lion, The Witch, and the Wardrobe.
Harlow witnessed the Bucks steal homecourt advantage from the Celtics with a 101-89 victory. The teams are back at it Tuesday for Game 2.
If we're being completely honest here, Foster and Malloy aren't the only ones here who had no idea who Harlow was. I had to lean over to my teen daughter and ask who he was when he popped up on the big screen.