NBA Rookie of the Year 'Making the Case': Cade Cunningham Set to Revitalize Downtrodden Detroit Pistons with All-Around Versatility
Note: This is part one of a five-part series detailing how five different rookies could win the NBA's Rookie of the Year Award.
Cade Cunningham was a consensus 5-star prospect coming out of high school in 2019 and was one of the top-rated — if not the top-rated — prospects by every major recruiting service.
The Arlington, Texas, native was the best player on the No. 1-ranked high school team in the nation and headed into college known as a versatile, high-character leader who was just as talented and polished off the floor as he was on it.
Cunningham ended up playing his college ball at Oklahoma State University and lived up to every bit of his high-school hype before entering the 2021 NBA Draft.
The Detroit Pistons took Cade Cunningham No. 1 overall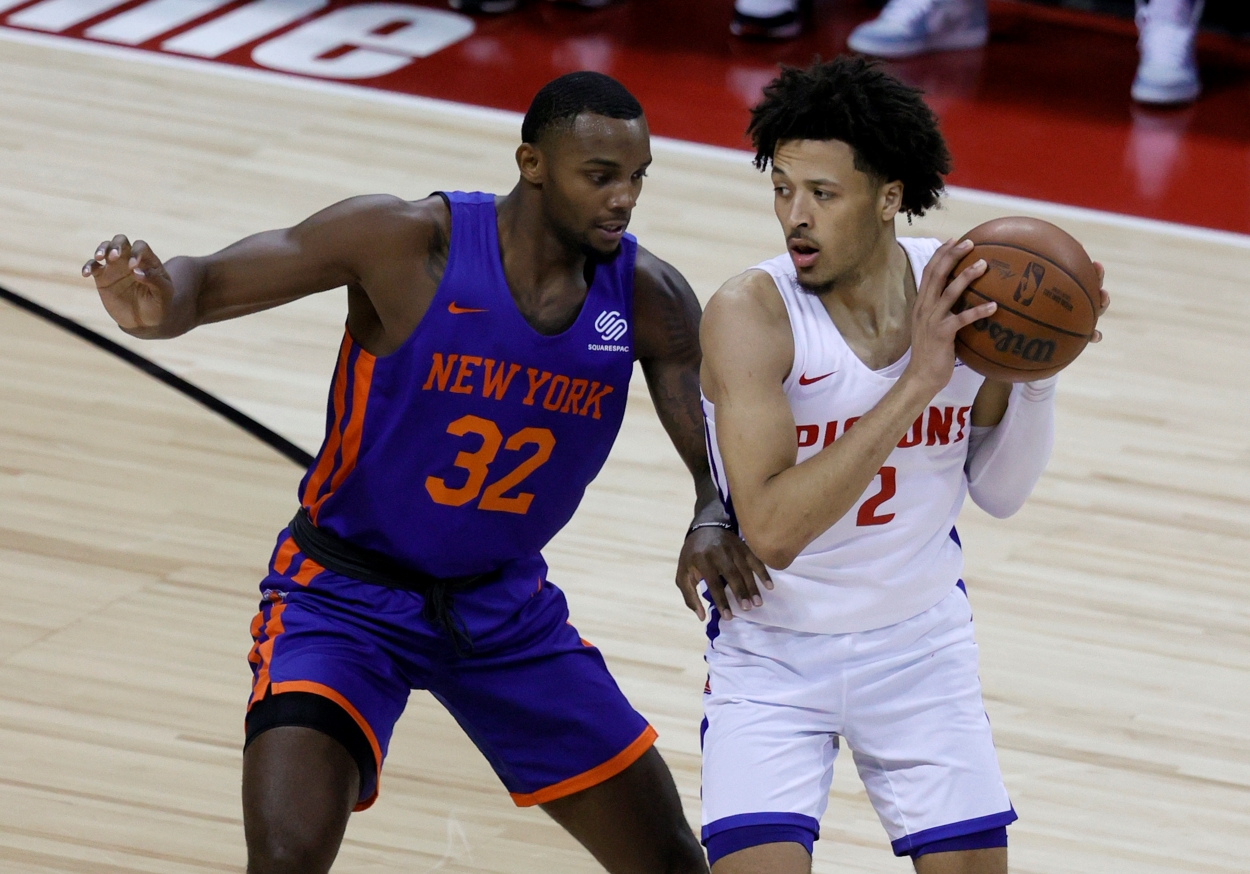 It was hard to poke holes in the 6-foot-8 guard's game coming into college, and it was hard to poke holes in it coming out of Stillwater as well. Cunningham was generally the favorite to go No. 1 overall to the Detroit Pistons in mock drafts.
Cunningham was a consensus All-American and the Big 12 Player of the Year in his lone season with the Cowboys. He averaged 20.1 points, 6.2 rebounds, and 3.5 assists in 26 games.
Not choosing to attend Duke, North Carolina, Kentucky, or any other college basketball powerhouse, the 20-year-old was forced to do more with less and was the main focus for opposing defenses every night. Still, he produced.
The Ringer's 2021 Draft Guide summed Cunningham up as a "franchise-changing offensive orchestrator with smooth scoring skills, versatile defense, and a winning mentality."
Cunningham's Rookie of the Year case: overall versatility
If the Pistons rookie wins the award, it's going to be because of his all-around versatility. Cunningham is a 6-foot-8, 220-pound playmaking point guard. His size alone gives him an immediate advantage over nearly every other guard in the league.
But he's also a skilled passer with a high IQ and excellent court vision. He's mature beyond his years, both on and off the floor.
Cunningham is comfortable running the point and dictating the tempo at which his team needs to play — he knows when to get out and run in transition and when to slow things down and run a half-court offense.
The 2020-21 Big 12 Rookie of the Year has a versatile scoring bag as well. He shot 41.2% from three at OSU, and his size allows him to outmuscle defenders at the rim. Driving lanes often open up for him, too, as defenses have to respect his passing ability and unselfishness.
The most significant question mark surrounding Cunningham is whether he's athletic enough to stay with quicker guards defensively. But his size and length — and, again, versatility — will allow Detroit to switch ball screens on defense or keep him on a player his size rather than a more shifty guard.
What would a Rookie of the Year campaign look like for Cunningham?
As the No. 1 overall pick, Cade is one of the favorites to be named Rookie of the Year. But for that to come to fruition, a few things need to break right. Numbers are always important in the award voting, so he has to produce statistically.
Something resembling the stat line the first-team All-Big 12 performer posted in college would give him a leg up in the award race. If Cunningham can score better than 20 points per game and continue to show his offensive versatility with decent rebounding and assist numbers, he'll likely be the front-runner.
But since he's a touted leader, the most critical aspect of the No. 1 pick's case may be whether he can carry a struggling Detroit franchise to some wins.
The Pistons finished dead last in the Eastern Conference a season ago with a 20-52 record. Cunningham isn't expected to lead the team to the playoffs during his rookie year, but the franchise must show some level of improvement. Somewhere closer to 30 wins may need to be the magic number.
Detroit's new franchise cornerstone is the preseason favorite to win the award. If Cunningham plays the way he did at Oklahoma State and shows he can start to build a winning culture in the Motor City, he'll head into his second year in the league already in possession of some hardware.
Saturday: The Case for Jalen Green
Sunday: The Case for Chris Duarte
Monday: The Case for James Bouknight
Tuesday: The Case for Josh Giddey
All statistics courtesy of Sports Reference.
RELATED: Cade Cunningham Is Following in the Footsteps of LeBron James, Michael Jordan, and Many Other NBA Stars With His Latest Endorsement Deal