As NBA Rosters Shuffle Amid Virus Outbreaks, 1 Big Question Echoes Around the League: Who Are These Guys?
More than 100 NBA players entered the health and safety protocols in December as the omicron variant of the coronavirus (COVID-19) sweeps across the continent. And these aren't just role players. Some of the NBA's biggest names are sidelined, including Kevin Durant, Luka Dončić, Giannis Antetokounmpo, Trae Young, and most recently Bradley Beal.
In the wake of these absences, NBA teams have raided the G League for emergency players. Nearly 50 players have signed 10-day contracts since the Denver Nuggets added Javon Reed on Dec. 4. It leads to fans asking the same question: Who are these guys? The truth is they are an odd mix of veterans thought to be done in the NBA, younger NBA vets getting an unexpected opportunity, and players getting a first chance to shine under the brightest lights.
Who are these guys? Some familiar faces are getting a new chance
The bulk of the players signing hardship 10-day contracts are recent entrants into the NBA, either draft picks that didn't quite work out or undrafted free agents that didn't figure in the long-term plans of their first team. The health and safety protocols are giving them another chance.
Reed is one of those players. A second-round pick by the Phoenix Suns in 2017, Reed played 21 games for Phoenix as a rookie but was waived late in the preseason in 2018. After a two-way contract with the Indiana Pacers, Reed failed to make the roster for the Miami Heat in October 2019. He's been out of the league since.
Other youngsters returning to the NBA are Justin Robinson, recently cut by the Milwaukee Bucks, and Admiral Schofield. He played for the Orlando Magic on a two-way deal last season and returned to the team on Dec. 17.
Among the rest of the crowd in the young veteran category are Theo Pinson, Marquese Chriss, George King, and Charlie Brown (Dallas Mavericks); Jemerrio Jones (Los Angeles Lakers); Wenyen Gabriel (Brooklyn Nets); Chris Silva and Rayjon Tucker (Minnesota Timberwolves); Matt Mooney (New York Knicks); Luke Kornet (Cleveland Cavaliers); Freddie Gillespie (Magic); Zylan Cheatham (Heat); Emmanuel Mudiay (Sacramento Kings), and Cheick Diallo (Detroit Pistons).
The Toronto Raptors added three players in this category, signing Juwan Morgan, D.J. Wilson, and Tremont Waters, after losing a big chunk of their roster to the protocols.
Former stars getting another chance at NBA glory, however brief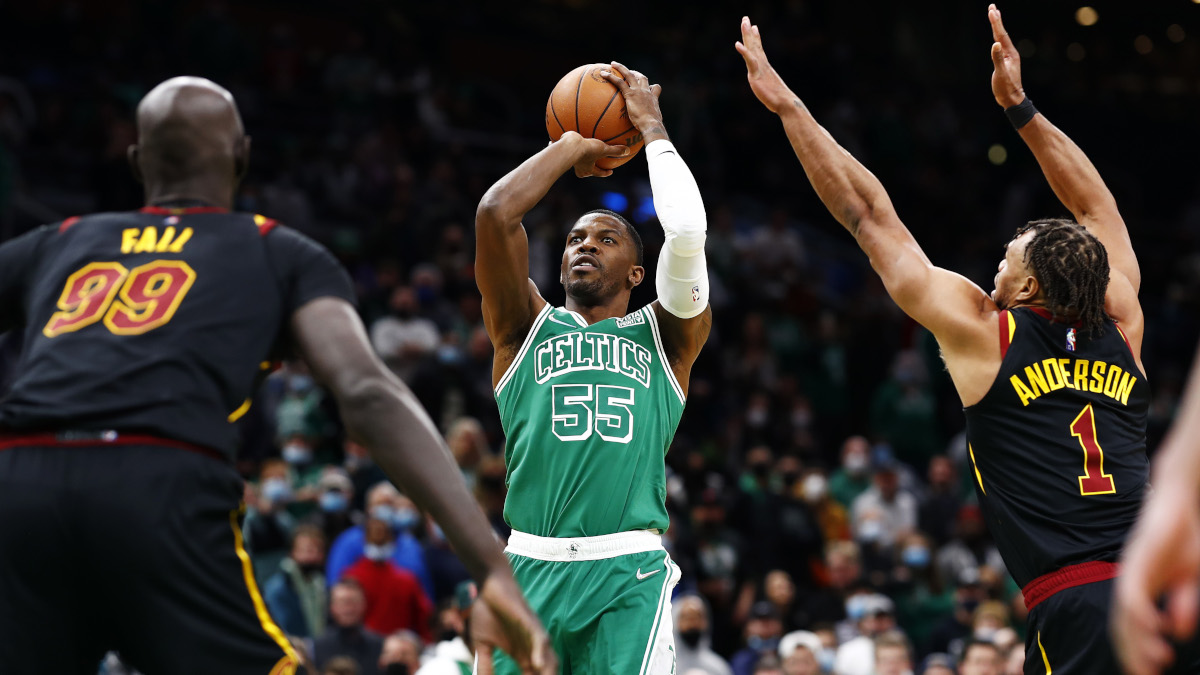 There have also been several veterans added to NBA rosters in recent days. Lance Stephenson last played in the league in 2019. He logged 23 minutes for the Atlanta Hawks on Dec. 22, hours after signing a 10-day hardship contract.
Other well-known role players re-entering the NBA include Alfonzo McKinnie, Langston Galloway, Ersan Ilyasova, James Ennis, Shaquille Harrison, C.J. Miles, Damyean Dotson, Justin Anderson, Tyler Johnson, Danuel House, and Wesley Iwundu.
Isaiah Thomas' return to the NBA created a stir as he joined the short-handed Lakers.
But no signing gained as much buzz as when the Boston Celtics brought back 40-year-old Joe Johnson after five players entered the protocols.
Johnson set an NBA record when he took the court on Dec. 22, nearly 20 years since he last appeared in a Celtics uniform. That shattered the mark of more than 14 years set by James Edwards with the Lakers in 1993.
Johnson's return included his first NBA bucket since Game 6 of the 2018 Western Conference Finals. He's played in the Big3 since hitting free agency in July 2018. According to Tim Bontemps of ESPN, Johnson was still processing the experience:
"It's amazing to be back here 20 years later. It's still surreal to me."

Joe Johnson
But if it was surreal for a man with 1,276 NBA games under his belt before his return, the third group of hardship players is somewhere they feared they'd never be.
Who are these guys? Players getting a first look at the NBA under extreme circumstances
Hassani Gravett was undrafted after his senior season at South Carolina in 2019. The 25-year-old combo guard played the 2019–20 season with the Lakeland Magic in the G -League. After spending last season in Macedonia, Gravett returned to Lakeland this season. After getting his first NBA start on Dec. 22 in a win at Atlanta, the Georgia native tweeted his feelings.
He's not the only hardship signee getting his first taste of NBA life because of the mass exodus to the protocols. Forward Aleem Ford came with Gravett from Lakeland. The Knicks signed guard Tyler Hall, who has played for their Westchester affiliate in the G-League since 2019. Undrafted rookie Moses Wright is now a Clipper. Former Georgetown guard Mac McClung is in Chicago.
Former University of Denver standout Ade Murkey joined the Kings. Since former ABA standout Byron Beck, he's the first to go directly from Denver to the pros. Royce O'Neal played for the Pioneers for two seasons before transferring to Baylor. He's now a starter for the Utah Jazz.
Jordan Schakel (Washington Wizards), Tre Scott (Cavaliers), Malcolm Hill (Atlanta), and Javin DeLaurier (Bucks) are first-time NBA players as well.
It's possible, perhaps even likely, these players will fade back to the lower rungs of professional basketball once the outbreak is over, and things return to a modicum of normalcy. But they're getting a chance in the NBA now. That's more than a lot of aspiring ballers ever get.
Statistics courtesy of Basketball Reference.