NBA Scouts Were Laughably Wrong About Calling Dwyane Wade a 'Gamble'
Great basketball talent is usually obvious, but scouts have underestimated many legendary NBA players. Dwyane Wade's rise to Hall-of-Fame status surprised a lot of people in the NBA. His career stands as a prime example of how players can prove their doubters wrong.
Dwyane Wade always had to fight for recognition
At every stage of his career, Dwyane Wade had to force the world to notice his talent. Growing up on the south side of Chicago, he used sports to escape the hardships of daily life. His mother dealt with drug problems throughout his childhood, and he witnessed a lot of gang activity in his neighborhood.
Wade played football and basketball as a kid, but quickly gravitated toward the hardwood. He put up great numbers in high school, setting school records for points and steals at Harold L. Richards High School. However, Wade struggled to get serious attention from colleges, in part due to his academic issues. Only Illinois State, Marquette, and DePaul recruited him.
Wade chose Marquette. After not playing during his freshman year due to eligibility concerns, he showed glimpses of where his skills could take him. Wade averaged 18 points, seven rebounds, three assists, and two steals per game, leading the Golden Eagles to their best record (26-7) since 1994. 
Wade broke out during his junior year. He scored 21 points a game as Marquette made the Final Four for the first time since 1977. His best performance was against Kentucky in the Elite Eight, when he recorded the fourth triple-double in NCAA tournament history in an 83-69 win. Following the season's end, Wade entered the 2003 NBA Draft. 
Who did scouts compare Wade to before the draft?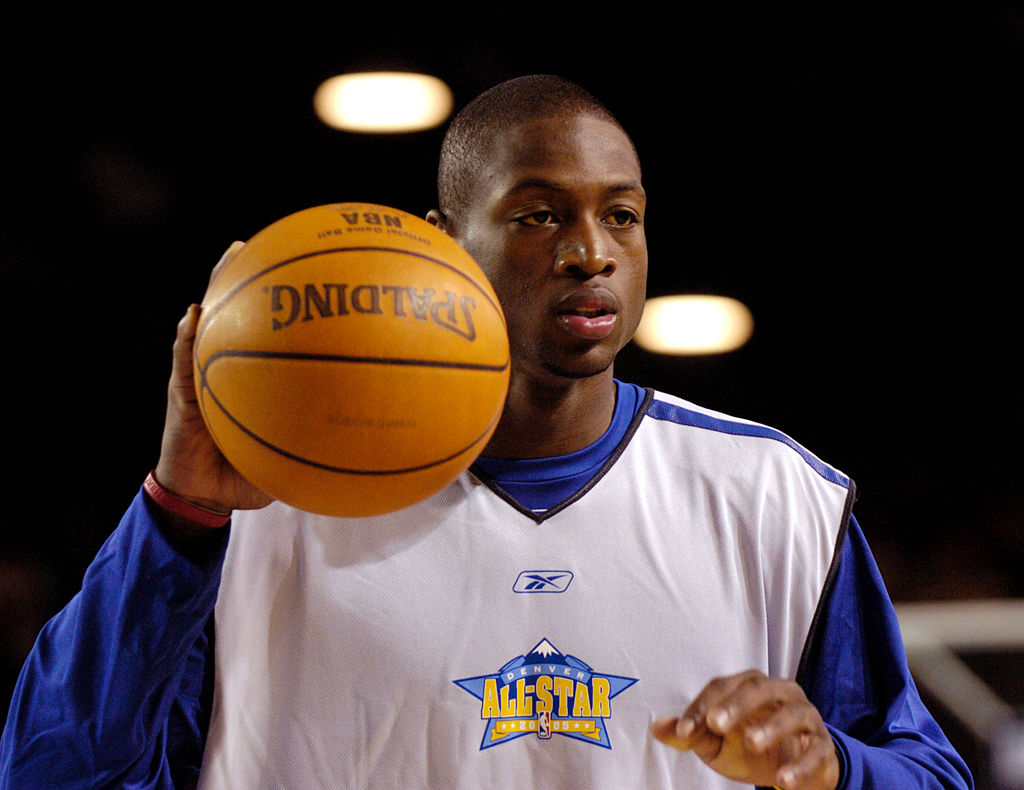 Despite his mid-major heroics, questions lingered about Wade's potential in the NBA. Scouts doubted his ability to shoot because he was almost exclusively a slashing guard in college. This was fair criticism at the time, but some misconceptions about his talent were weird.
Wade's height became an issue. Scouts were convinced he was shorter than his listed 6-foot-4 frame. This meant he could only make it in the NBA as a point guard. Scouts pegged Wade as a mid-to-late lottery choice — a solid starter, but nothing special.
The best-case scenario: He'd compare to Gilbert Arenas, a very good player remembered more fondly if not for the incident where he brought a gun into a locker room. The worst-case scenario: Wade would become the next Ed Gray, a first-round washout most people have never heard of. (Gray only played 60 games in the NBA.) To state the obvious, Wade made a fool out of everyone.
Wade becomes a Miami Heat superstar
Wade joined the Heat as the fifth overall pick. He took no time showing he was special. He filled the stat sheet by averaging 16 points, four rebounds, and five assists. Wade also became the fourth rookie to lead his team in points and assists in the postseason and even hit a game-winner in his first playoff game.
It only got better from there. Wade ended his third year as a champion and the fifth-youngest player to win Finals MVP. He convinced LeBron James and Chris Bosh to join him in Miami. Together, they changed the course of the modern NBA and won two more titles along the way.
Years of gravity-defying drives and clutch moments made him an elite player of his generation. Wade was never a knockdown shooter, but his midrange game was strong enough. He could convince defenders to fall for his pump fakes. His alleged lack of size didn't stop him from being a great defender and arguably the best shot-blocking guard of all time. 
Wade isn't the best player to wear a Heat jersey — James owns that title — but the fanbase loves him. They watched Wade grow from a boy into a man, a process that continues in retirement. He's so beloved that everyone basically forgets he left the team for stints with the Bulls and Cavaliers. His retirement ceremony was long, ostentatious, and fully deserved.
The draft process can be stressful for most prospects. All of their hard work leads up to one event where a lot of factors — the team they'll play for, the city they'll live in, the coaching staff that develops them — are largely out of their control. Wade's journey shows that if young players focus on themselves and keep pushing forward, they can achieve great things.