NBA: The Secret Behind Tristan Thompson's 2019 Success
To some NBA fans, Tristan Thompson might be synonymous with the LeBron James-led Cleveland Cavaliers teams that went toe-to-toe with the Golden State Warriors in the NBA Finals. He was, after all, not one of the stars of the top-heavy teams, and while he was a valuable member, he was rarely going to outshine his teammates. This year, however, he is showing that he can thrive without the face of a generation, having his best year as a professional. So what's the secret to his success?

Tristan Thompson's 2019-20 season for the Cavaliers
Before this year, Thompson, who went ahead of Kawhi Leonard in the NBA draft, had a changing role with the Cavaliers since he first came into the league. One year, he would be a sixth man for the team. Other years, Thompson served as a full-time starter. Before this season, Thompson had only broken double-digits in scoring three times and in rebounding once. The last time he did so in both instances came last year, although he'd never had a jump like he has this year.

Through 19 games, Thompson's scoring has risen by three points per game. Not only is he scoring more, but he is stretching his game far beyond the basket, where he spent most of his career before into this season. Although it is a small sample size, Thompson has begun shooting threes, hitting the first three three-pointers of his career in seven attempts. That doesn't make him a new Dirk Nowitzki, but it shows that he can hit the shots in a bind.

Thompson's rebounding is also at a career-high at 10.6 per game. He and Kevin Love are showing that they can be a viable frontcourt with each other with their joint ability to grab rebounds. Not only this, but Thompson's 1.2 blocks per game are also a career-best, as are his 2.2 assists. Thompson seems to have taken every aspect of his game seriously in a post-LeBron world, and given his game an all-out makeover.

Tristan Thompson's extreme makeover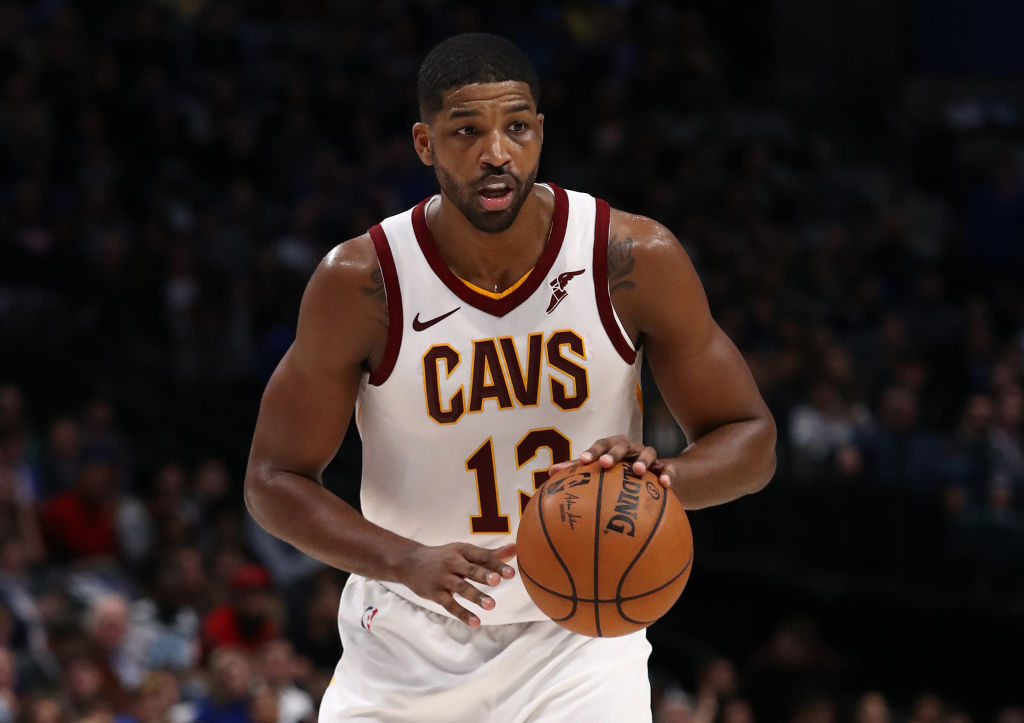 Thompson missed almost half of last season with an injury, and this served as a wake-up call for him. He spent his offseason not only working on his basketball game but his mind and body, as well. With a new head coach in John Beilein and a rejuvenated spirit, Thompson spoke about his motivation going into the season.

"Obviously missing all those games last year definitely pissed me off," he said (per Cleveland.com). "I never experienced that in my entire career. I accepted a challenge to really take care of my body and kind of changed some of the habits I was doing in the past, and so far, knock on wood, it's paying off."

One motivation could be that he's headed into a contract year. A good contract year can increase the future salary of a player exponentially. Thompson likely won't talk about that motivation, but he is human, and those things will exist in his mind. Thompson's hard work is getting noticed by others, too, and Beilein has lauded him for his work.

Beilein's seal of approval
Beilein values physical fitness from his players, and firmly believes that an out of shape player cannot last under his system. He singled out Thompson as he spoke about the season, stating that he's not only putting in the work but emerging as a leader of a locker room that's still trying to find its new identity.

"He came in incredible shape, from the very beginning," Beilein said (per Cleveland.com). "I said, 'He's not going to make this.' And he made it the first time. He has a great attitude about being a team leader. When you care so deeply about your team, you'll find some extras a lot of times to really grow yourself in that. The more you give to others, the more you are going to get."

The Cavaliers are still looking toward the future in life without LeBron James. Whether Tristan Thompson is in that future or getting ready to help somewhere else, it is clear he is putting in the work and taking things seriously going forward.