NBA Legend Shaquille O'Neal Once Made a Fake Bigfoot Video and Tried to Pass It off as Real
For more than two decades, Shaquille O'Neal's personality has been one of the biggest in sports. This has led to a plethora of funny stories coming out about him from his playing days. However, one of the eras of his career people don't talk about too often is the short period he spent with the Phoenix Suns. Shaq, though, was just as funny during his days with the Suns as he was throughout the rest of his career. In fact, he even once made a fake Bigfoot video and tried to pass it off as real.
Shaq played with the Suns for 1 season and in part of another
After winning a championship with the Miami Heat, O'Neal got traded to the Suns in February 2008.
He ultimately played in 28 games for them during that 2007-08 season, but struggled overall that year. O'Neal only averaged 12.9 points and 10.6 rebounds in the games he played with the Suns during that campaign. He did, however, play slightly better in the postseason, averaging 15.2 points and 9.2 rebounds, but the Suns lost in the first round.
Shaq then appeared in 75 games for the Suns in 2008-09 and became an All-Star again. He averaged 17.8 points, 8.4 rebounds, and he led the NBA in field goal percentage at a 60.9% clip. However, Phoenix went 46-36 that year and missed the postseason.
The Suns then traded him to the Cleveland Cavaliers in 2009. 
O'Neal's years in Phoenix were by no means his greatest in the NBA, but there are still some great stories about that era of his career. This includes one about a Bigfoot video.
He made a fake Bigfoot video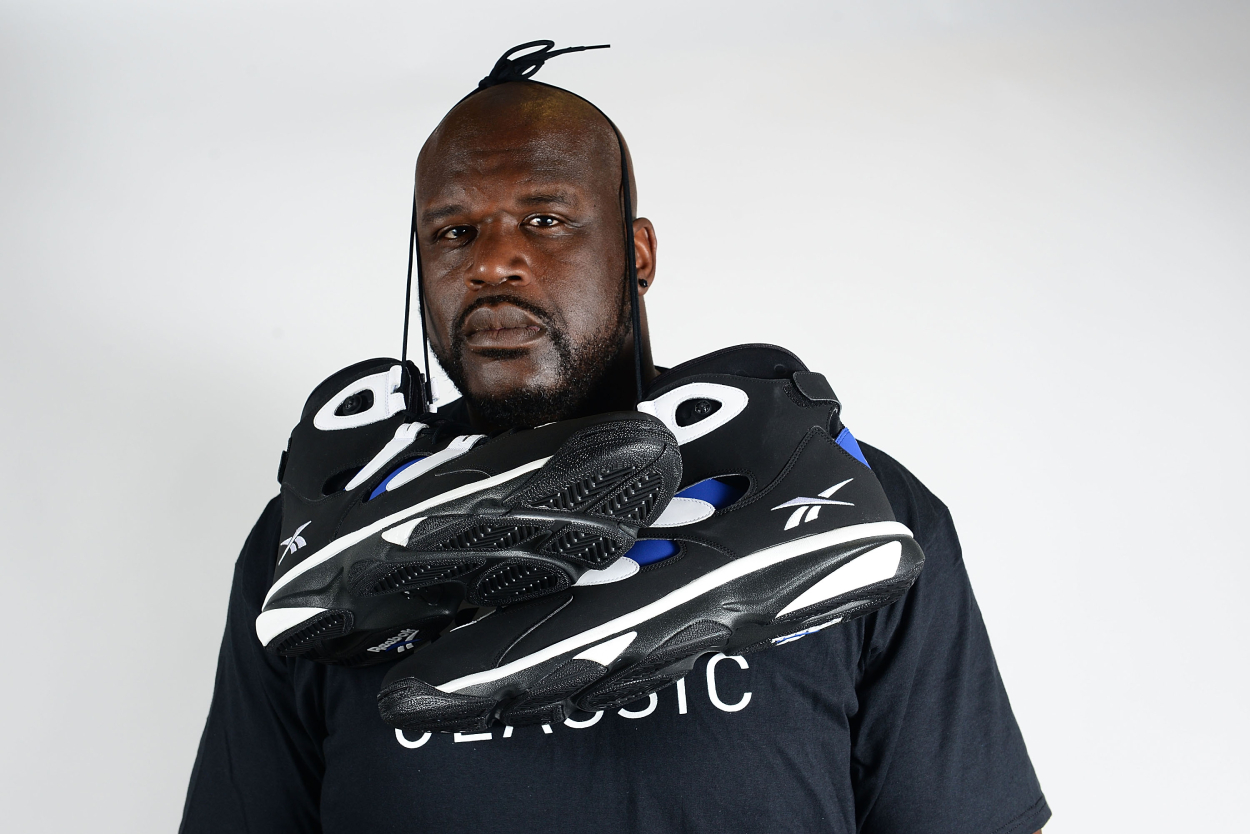 Former NBA player Raja Bell played on the Suns from 2005-06 to 2008-09, so he crossed paths with O'Neal during the 2007-08 season and part of the 2008-09 campaign.
While talking to Amin Elhassan, the former Assistant Director of Basketball Operations with the Suns, on his podcast, Real Ones, the two of them discussed the time O'Neal made a fake Bigfoot video.
"Do you remember when he came in and said he saw Sasquatch in the desert?" Bell said in February 2021. "He was like, 'I saw Bigfoot. There was a Bigfoot, a Sasquatch.' My man had someone film him. We didn't know it at the time because you just see it's a grainy, blurry video of desert at dusk. So, the lighting is poor and all of that. This is a big effin' figure walking like Bigfoot would walk in some of those fake videos."
O'Neal's height alone probably made the video believable. The former center stands at over seven feet tall. 
Bell continued: "Everybody's huddled around, and then we're like, 'That ain't no goddamn Sasquatch, that's your big a** walking through the desert.' He set the whole s*** up."
So, O'Neal's teammates didn't fall for the video, but it would be interesting to see how believable it actually looked.
Shaquille O'Neal is an NBA legend
Shaq may not have had a ton of success on the Suns, but he became an NBA legend before going to Phoenix. He ultimately led the LA Lakers to three NBA championships with Kobe Bryant before later going to the Heat and winning a title with Dwyane Wade. O'Neal also lost in the finals on two separate occasions with the Magic and Lakers.
Here's a look at some of his career accomplishments:
15-time NBA All-Star
Three-time NBA Finals MVP
1999-2000 NBA MVP
Two-time NBA scoring leader
28,596 career points (10th all-time)
O'Neal was one of the greatest players to ever play in the NBA. He is also one of the funniest personalities to ever grace the league.
Stats courtesy of Basketball Reference