NBA: Should the Knicks Trade Carmelo Anthony?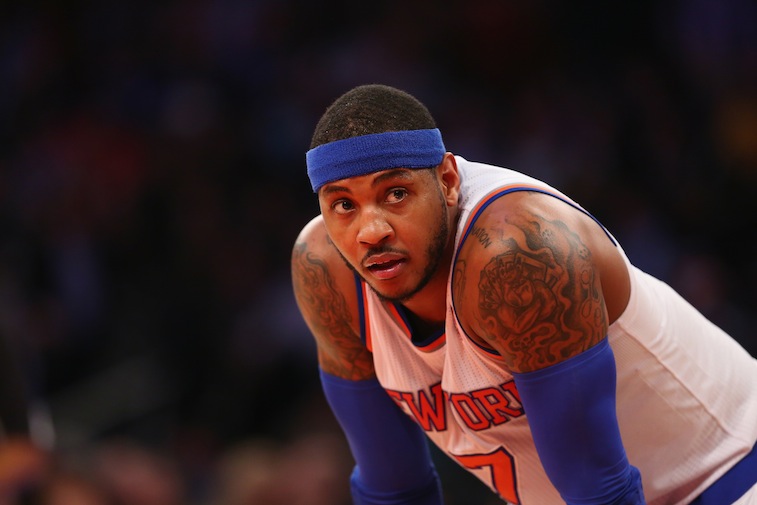 In the second year under head coach Derek Fisher, the New York Knicks have taken some big steps toward improving. Having already surpassed their total win mark from last season, they are currently just three games out of the eighth spot in the playoffs. Much of this could be due to the massive roster overhaul last offseason and the promising play of rookie Kristaps Porzingis, who was nearly voted into the All-Star Game as Eastern Conference reserve.
However, what's been mostly lost in all of this is the ever-growing rumors that the team could look to deal nine-time All-Star forward Carmelo Anthony in just the second year of his five-year, $124 million contract. There's also an increasing concern about the health of his left knee at this point in his career. He's less than a year removed from his surgery to repair a torn patellar tendon in his left knee. Anthony has missed six games this season due to soreness in his knee, but he has voiced no concern about any structural issues related to the surgery.
This has contributed to chatter about a few teams, such as the Chicago Bulls and Miami Heat, that are said to be interested in acquiring his service. With the trade deadline less than three weeks away, expect the rumors to only heighten. Even if there isn't any truth to the speculation, should the Knicks truly consider dealing Anthony? We don't think so. As appealing as it may sound to unload a massive contract, it would be a step backward for the organization.
Anthony is starting to build something with the current roster, especially with the play of Porzingis and Arron Afflalo in their first season with the team. The Knicks may not have assembled the most talented roster, but it's still significantly better than the one they constructed last season. They are a competitive team in the Eastern Conference, and they could legitimately make the playoffs. New York is by no means a title contender or a top-tier team in its conference, but it is certainly no longer the laughing stock of the East.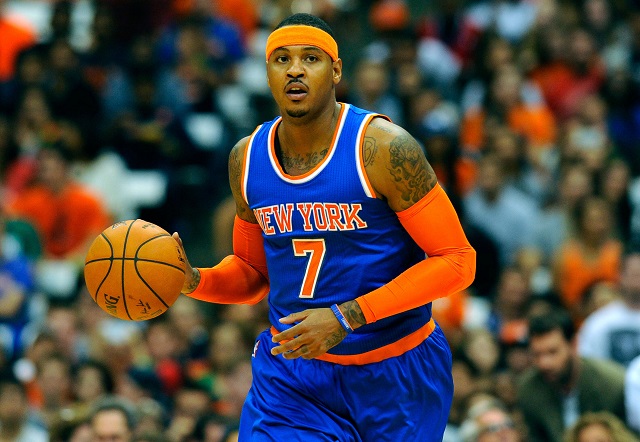 Some will point to Anthony's progressive drop in points per game over the last two seasons and the realistic concerns about the health of his knee. Although he has denied that he has tendonitis in his left knee, the 31-year-old is dealing with a common issue among NBA players. It's nothing that he can't play through; he just has to learn how to deal with the pain from time to time throughout the season. His dip in scoring could be somewhat affected by the knee soreness. However, he has been more willing to let his teammates take bigger roles offensively on the team.
It's something that Fisher noticed over the past several weeks. "He didn't try to take over the game," Fisher said, according to ESPN.com. "He has been playing that type of basketball for several weeks now. When he's sharing the ball and making everyone else better, we're a much better basketball team." Anthony's change in playing style is making a major impact on the Knicks this season, helping keep them in playoff contention. However, this change in his approach to the game could have a larger affect on making the Knicks a more appealing destination for future free agents to consider.
This should be what New York is more concerned with, especially given that the team is moving in the right direction, having already put together a solid core group of players in Anthony, Afflalo, Porzingis, and Robin Lopez. With Anthony essentially becoming more of a playmaker, rather than just a scorer, it could change the perspective of players entertaining the idea of joining the Knicks in free agency. All in all, keeping Anthony would not only be best for this season, but for their long-term plans as well.
No. 7 could become an even more critical selling point to free agents thanks to his increasing willingness to defer to teammates and allow them to make more of an offensive impact for the team. The situation involving his left knee is certainly something to watch, but this shouldn't sway the Knicks into trading away their biggest asset and centerpiece of the franchise. Yes, there have been plenty of bumps and bruises since his arrival, but he could be the reason why New York returns as one of the top teams in the league.