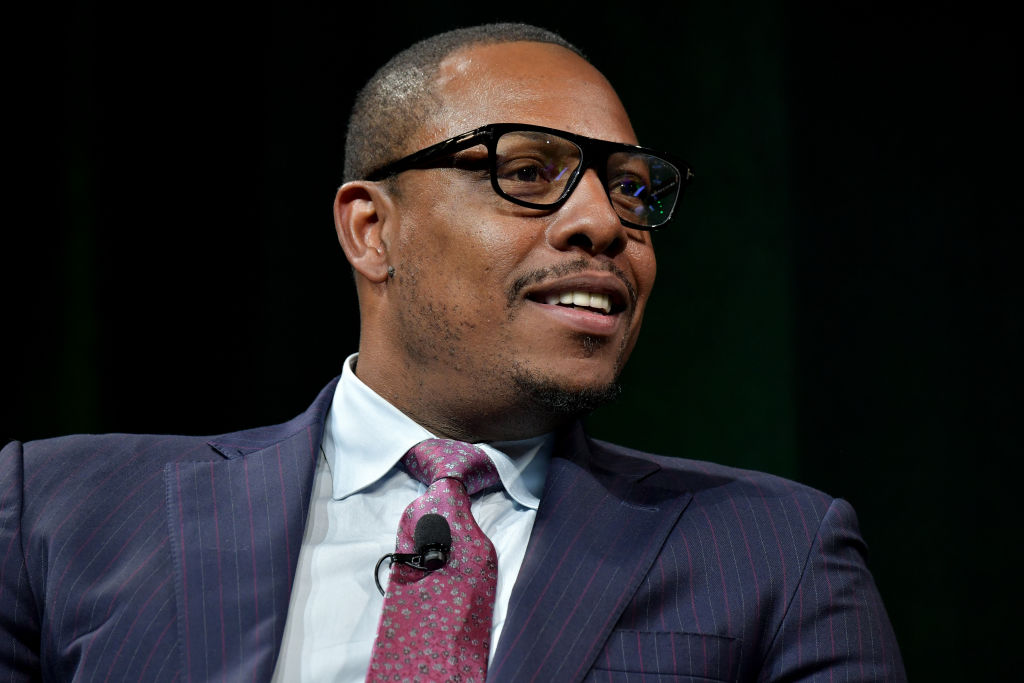 Retired NBA Star Paul Pierce Said 1 Thing That Has Fans Scratching Their Heads
Was Paul Pierce a great NBA player? Yes. Was he better than Dwyane Wade? Sorry, but no. Let's take a look at why Wade was the better player.
Toward the end of the 2018-19 NBA season, Paul Pierce made one of the most outlandish claims we have heard on sports television in quite some time. During a segment on ESPN, Pierce was asked whether Dwyane Wade had a better career than him.

He quickly stated that he was the better player and thought it was an outrageous question to ask. Pierce immediately was roasted on social media and received one of the harshest reality checks from a coworker we have seen in recent memory.

Was Paul Pierce a great player during his prime? Yes. Will he end up in the Hall of Fame? Yes, he will. Was he better than Dwyane Wade? Sorry, but no. Let's take a look at each player's biggest accomplishments to prove why Wade was the better player.

Career statistics
First, let's look at the numbers. Paul Pierce averaged 19.7 points, 5.6 rebounds, and 3.5 assists per game for his career. He finished with a career-high 26.8 points per game in the 2006 season and averaged more than 20 points for seven straight seasons of his career.
Dwyane Wade averaged 15.0 points, 4.0 rebounds, and 4.2 assists per game in his career, but his peak was much more impactful than Pierce's.
During his prime, Wade was one of the best scorers in the NBA. He averaged a career-high 30.2 points per game in 2009 and averaged more than 20 points per game for nine straight seasons.

The drop off for Wade near the end of his career was much steeper than Pierce's, but there's no denying when both were at their best Wade put up superior stats.

Individual accomplishments
If you watched the video from above, then you saw Jalen Rose rattle off several statistics that gave Wade the edge over Pierce.

Wade was an All-Star 13 times compared to Pierce's 10. He was selected to an All-NBA team eight times compared to Pierce's four.

Pierce never won a scoring title during his time in the league, while Wade achieved the goal during his 2008-09 campaign. Wade also made the All-Defensive team three times compared to Pierce's zero. When you look at it from the individual standpoint, there's no way anyone can say Paul Pierce was a better player than Dwyane Wade.

Championships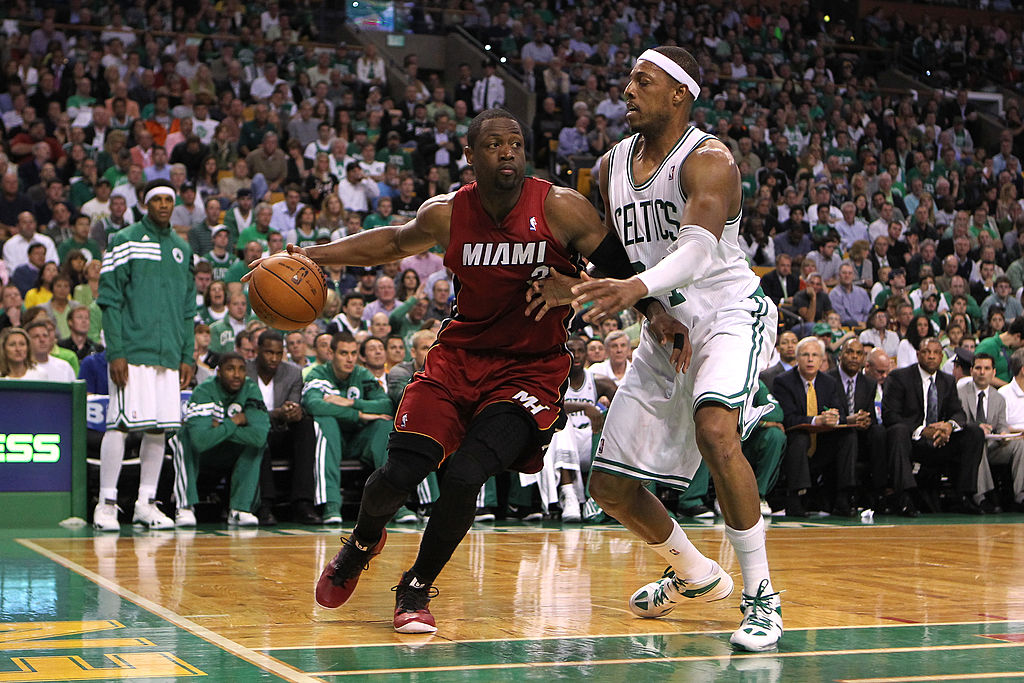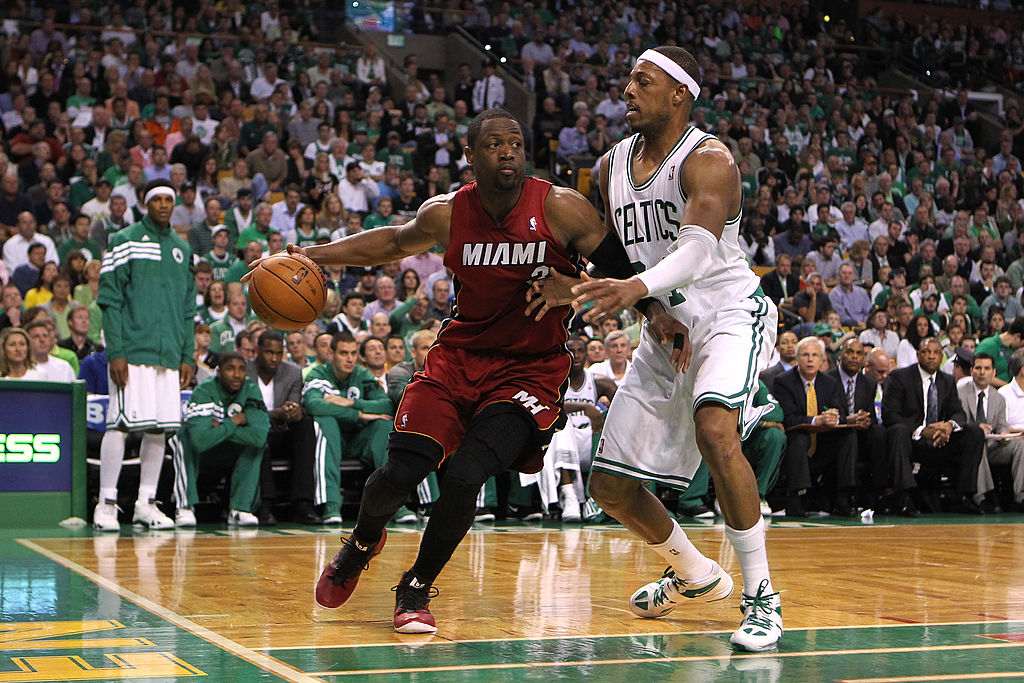 Championships are the measure where a lot of players compare each other. How many rings do you have? Pierce won a championship with Boston's big three in Boston in 2008. The Celtics trio — Pierce, Kevin Garnett, and Ray Allen — was one of the best teams in the league that season, finishing with 66 wins en route to the championship.

Boston couldn't sustain that same level of dominance over the next few seasons, and the Celtics traded Pierce and Garnett to the Nets.

By 2008, Wade had already established himself as one of the best shooting guards in NBA history, and with a declining Shaquille O'Neal, he almost single-handedly won the first championship for the Miami Heat over the Dallas Mavericks in 2006.

Miami was down 0-2 in the series and struggling to find points in Game 3 when Wade went on an offensive explosion to help them eventually hoist the Larry O'Brien trophy. He then teamed up with LeBron James and Chris Bosh to form their own big three in Miami.

The "Heatles" were the dominant Eastern Conference team during their four years together. They went to four straight NBA Finals, winning two of them, and possessed one of the toughest perimeter defensive lineups in the league. That version of the Heat won back-to-back titles in 2012 and 2013.

Who do you think was better?
After looking at everything we have analyzed between both players, who do you think ended up with a better career? Paul Pierce has made a strong case for himself, but when we look at everything in a vacuum, we have to side with Jalen Rose and fans on social media who say Dwyane Wade had the better career.