10 NBA Stars Who Have Been Overshadowed by LeBron James
Back when Michael Jordan still played, his greatness overshadowed others in the game — to the point where people forgot just how good those other athletes were. Dominique Wilkins, for example, averaged 26.4 points per game in 12 seasons with the Atlanta Hawks. Fans remember Karl Malone as much for losing to Jordan in the NBA finals as anything, and he ranks second on the all-time scoring list.
LeBron James is similar in this generation, blocking out several great players for one reason or another. Here are 10 current NBA stars who LeBron overshadows.
1. Kevin Durant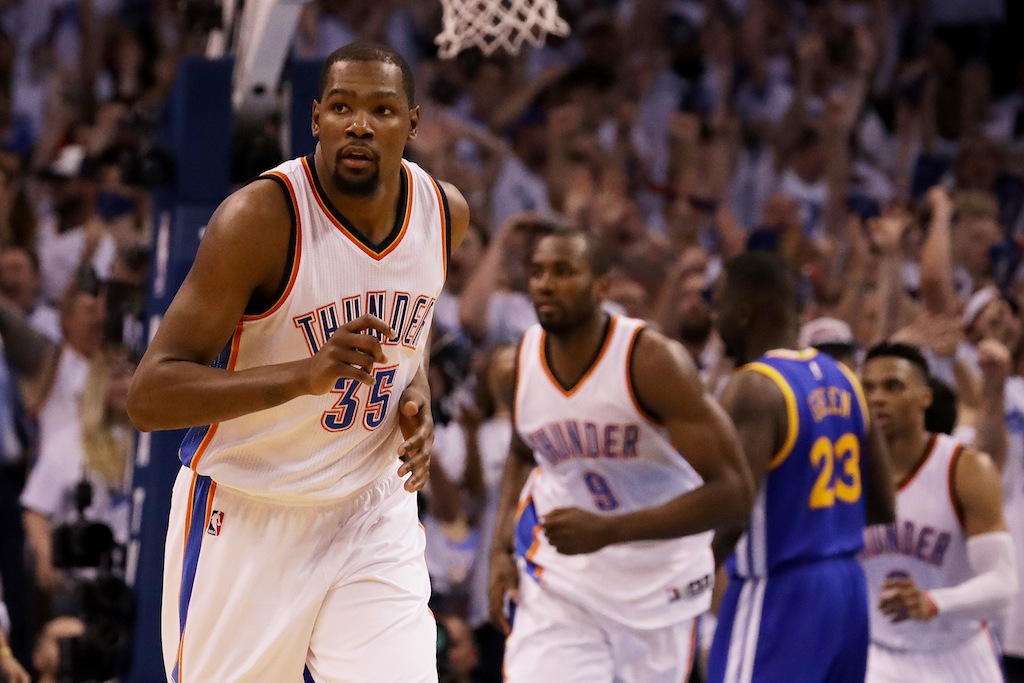 Kevin Durant is the first NBA star who comes to mind. The 27-year-old, who signed with the Golden State Warriors last summer, is one of the most talented players in the game. With his tall, thin frame and long arms — earning him the nickname "Durantula" — the sleek forward can get to the basket with the best of them and shoot from the outside with remarkable proficiency for a man of his height. Durant has led the NBA in scoring averages four separate times and led his team to the NBA finals once.
However, back in the 2011–12 NBA Finals, James and the Miami Heat awaited him. Durant averaged 30.6 points on 54.8% shooting from the field in the five-game series, but it wasn't enough to overcome James. Injuries to both Durant and Russell Westbrook, as well as the Warriors' rise, put a damper on the Oklahoma City Thunder's title hopes the last few years. It's no wonder Durant joined forces with Stephen Curry.
2. Dwyane Wade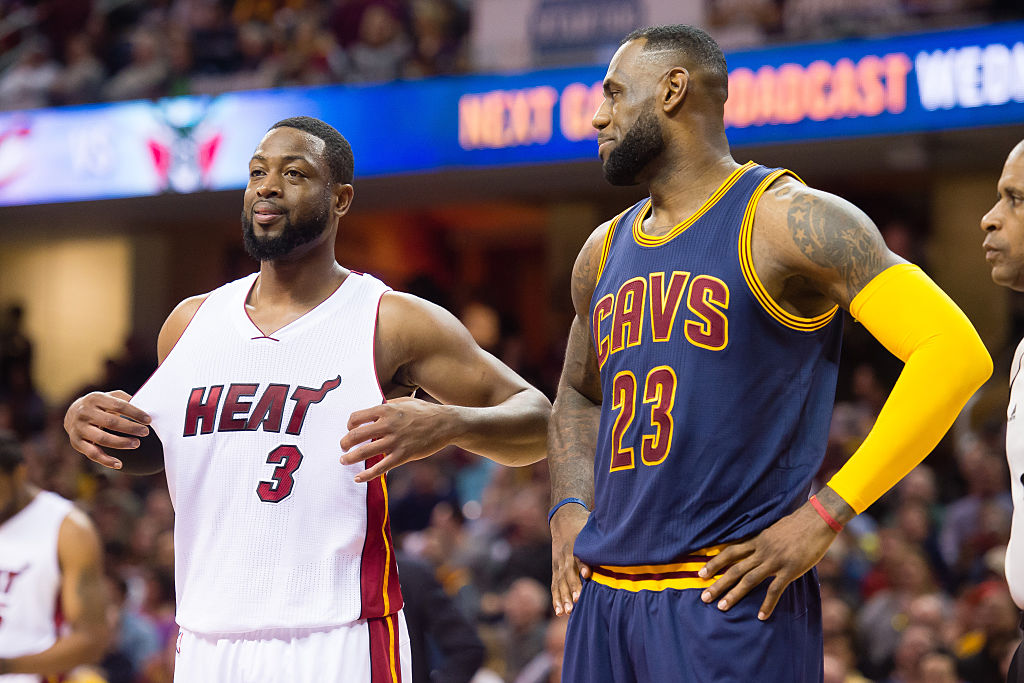 People are more likely to remember the somewhat broken down Dwyane Wade of the last five or six years; the one who has succumbed to knee injuries. But he's still a high-quality player, and he was once a truly great player before LeBron even arrived in Miami. At the time James decided to take his talent to South Beach, Wade had a championship, an NBA Finals MVP award, and a scoring title — all things James couldn't claim at the time.
Once the super-team formed in Miami, Wade agreed to take a back seat to bring in James, Chris Bosh, and two more championships. Now 35 years old and with the Chicago Bulls, Wade's legacy is mostly as the second banana to James. But make no mistake, Wade was a great player in his own right before LeBron left Cleveland to chase championships in Florida.
3. Carmelo Anthony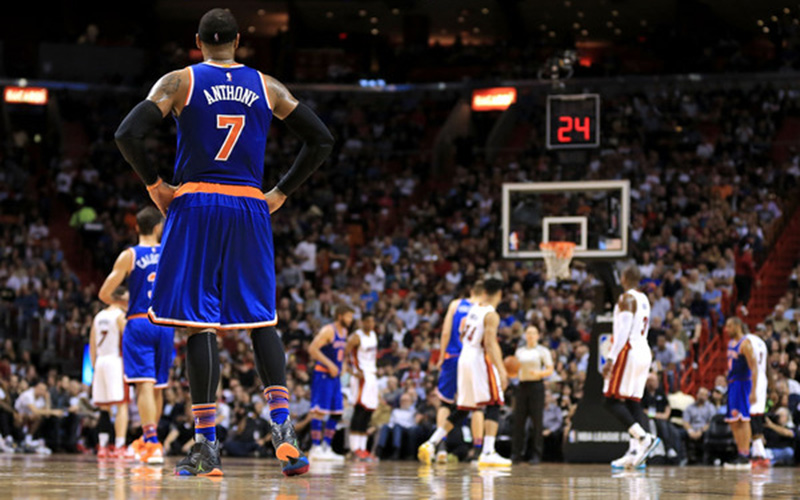 Much like Wade, Carmelo Anthony suffers from being drafted in the same 2003 class as LeBron. Many considered Anthony to be the second-best player in the draft. The Denver Nuggets took him third overall, and he immediately transformed into a big-time star. At 19 years old, Anthony averaged more points per game in his rookie year and led the Nuggets to the postseason for the first time since 1995–96, but he still managed to lose the Rookie of the Year award to James.
Even though Anthony has been a prolific scorer throughout his NBA career — leading the league once and averaging 24.9 points over 15 years — his lack of playoff success (which we can't completely attribute to him) and status as a "consolation prize" in the 2003 draft is sufficient in showing how James overshadows him throughout their professional careers. Had LeBron left Cleveland to join forces with Anthony instead of Wade and Bosh, perhaps many would view 'Melo a bit differently.
4. Kyrie Irving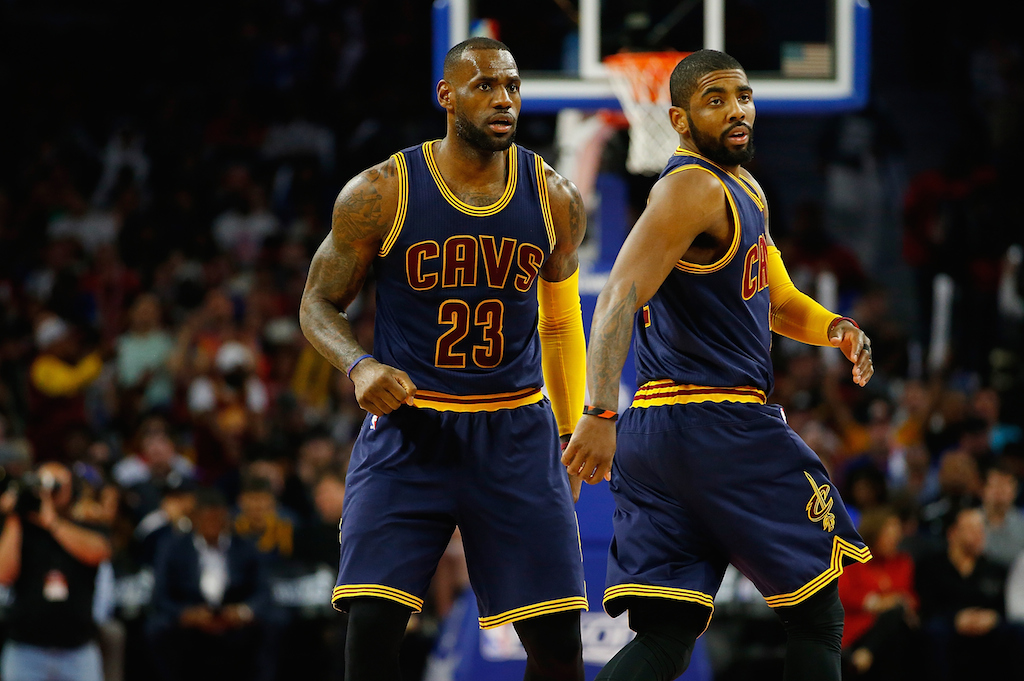 Timing is everything for Kyrie Irving. He was the No. 1 pick the Cavaliers received when James originally left the team, drafted following the 2010–11 season. In three seasons with the woeful Cavs, Irving developed into one of the best young point guards in the NBA; he averaged 20.7 points and 5.8 assists by the age of 21. The Cavaliers may not have been good yet, but fans thought the team might be able to build around their dynamic star.
Then James returned to Cleveland. If we could ask him, we'd bet that Irving has no complaints about it. He became the second-best player on his own team and made two consecutive trips to the NBA finals, including hitting a huge three-pointer in Game 7 of 2015–16 finals. He's an NBA champion in large part due to James. But we wonder how good Irving might have been had LeBron not returned home and forced him into a supporting role.
5. Jimmy Butler
Jimmy Butler is one of the more talented two-way players in the game, playing the same position as James. They fall in the same division in the Eastern Conference and matched up a few times in the playoffs so far, including a 2014–15 Eastern Conference Semifinals series in which Butler went toe-to-toe with James and was able to compete — at least statistically.
But James and the Cavaliers won that series, and Butler has struggled in the shadow of Derrick Rose in Chicago. Rose is gone now, but Wade took his place alongside Butler. If 27-year-old Butler is ever going to show that he has the talent and drive to become one of the elite players in the league, he may never have a better chance. Until he does, he continues to operate in the shadow of James.
6. Paul George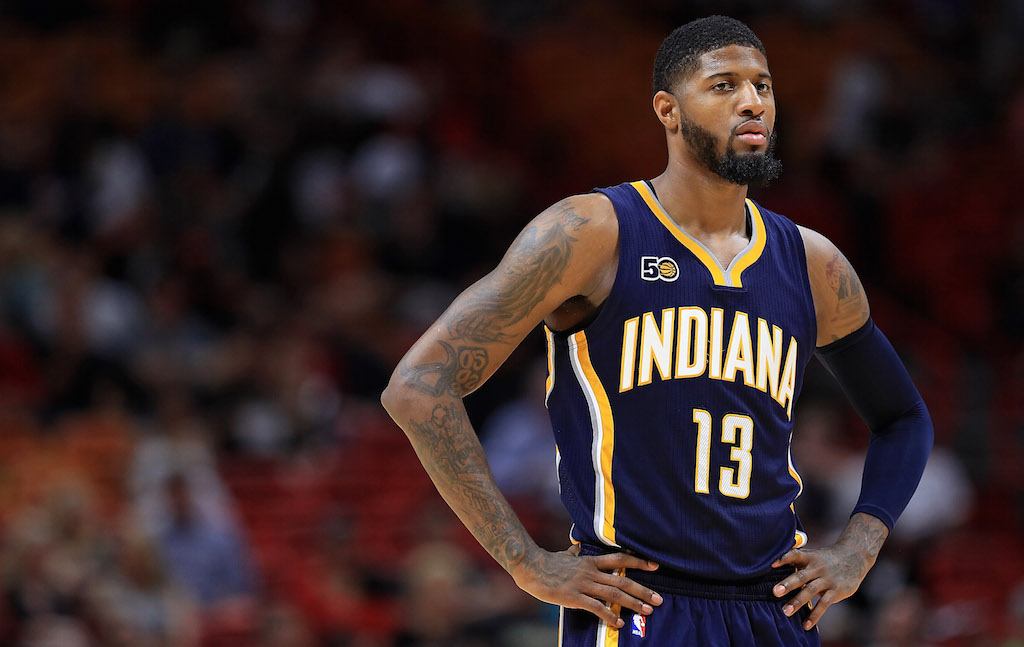 Everyone knows that Paul George is one of the premier small forwards in the game today. Now in his seventh NBA season, PG-13's resume includes three All-Star Game appearances, three All-NBA selections, and three All-Defensive Team honors. He also holds career averages of 17.4 points, 6.2 rebounds, and 3.1 assists per game.
And yet, regardless of statistics or individual accolades, the simple fact remains that until James hangs up his Nike's, George will never be more than the second-best small forward in the Eastern Conference. For proof of this, just look at how each fares in the postseason. While James has led his teams to six straight NBA Finals appearances, George can't even lead the Indiana Pacers past any team with James on the roster. We rest our case.
7. Kevin Love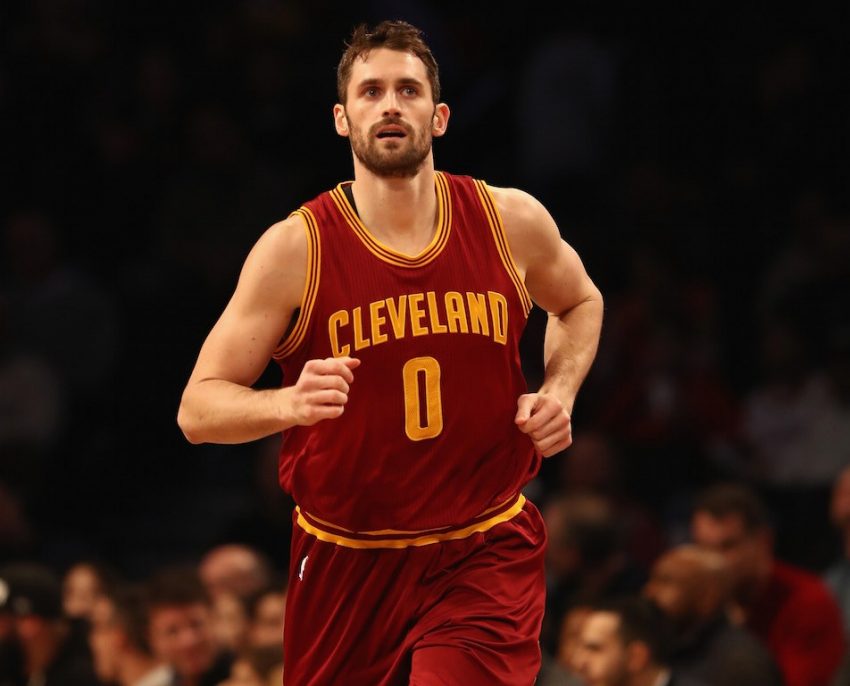 During his first six NBA seasons, Kevin Love essentially carried the Minnesota Timberwolves. He averaged 19.2 points and 12.2 rebounds per contest and was selected to the All-Star Game three times. Unfortunately, his numbers were pretty much empty, as none of his teams ever made it to the playoffs. That all changed when Minnesota traded Love to Cleveland in 2014. But the transition wasn't without its challenges.
Joining the Cavs gave Love his best chance of winning. However, it also required him to adjust to being the club's third option on the offensive end of the floor. Not to mention, as a member of LeBron's team, Love found himself under the microscope more than any other time in his career. Fortunately for all parties involved, winning has a way of fixing things.
8. Chris Bosh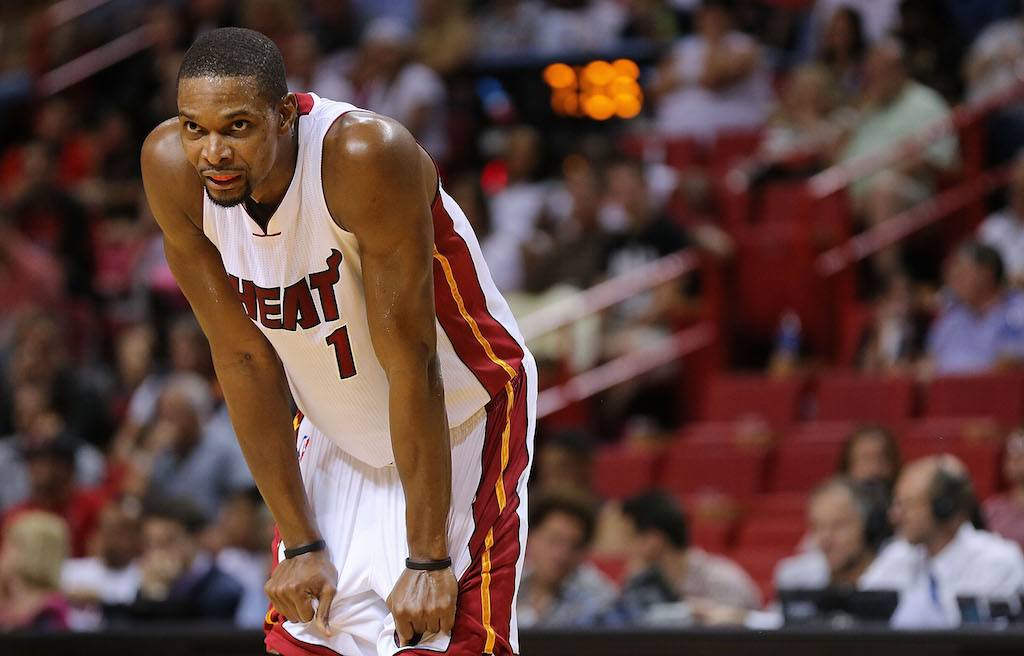 Like Love, Chris Bosh went from being "the man" on his own team (i.e. the Toronto Raptors) to playing third fiddle in LeBron's world (i.e. the Miami Heat). During those four years together in South Beach, Bosh often faced heavy criticism from the fans and media alike.
Whether people dubbed him as being too passive on the offensive end of the floor or playing too soft on the inside, it seemed as if Bosh could never do anything right. The reality, of course, is that Bosh, with his ability to spread the floor and knock down jumpers from the free throw line, was the key to making the whole thing work. Look where all that sacrifice has gotten him.
9. Chris Paul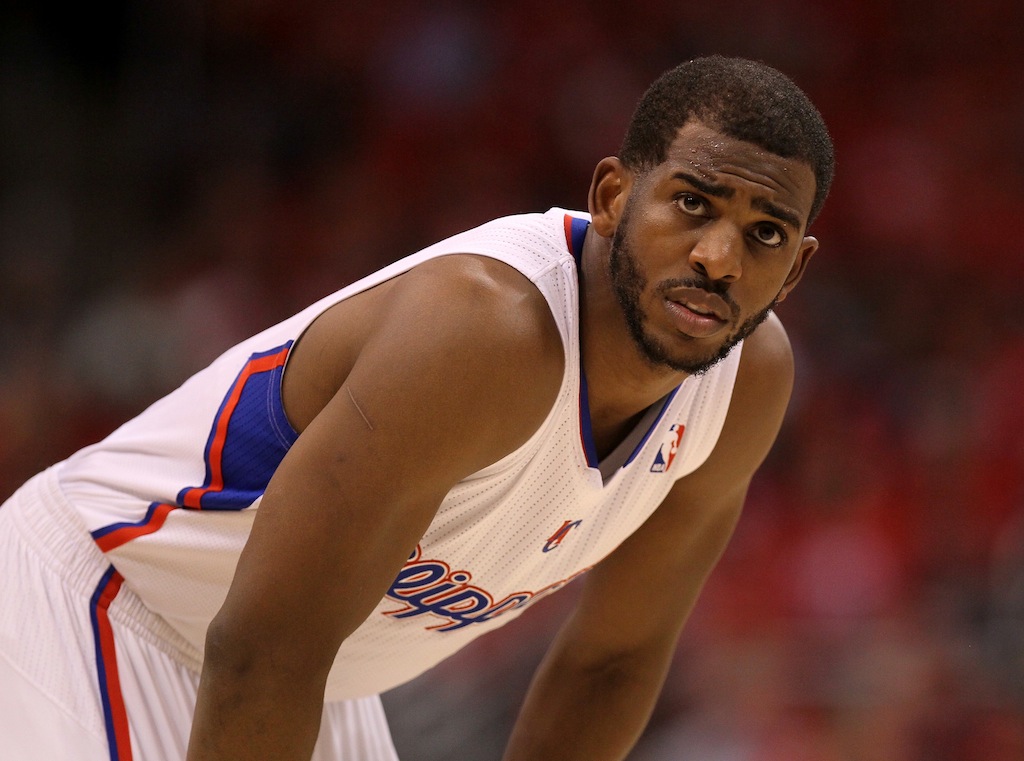 Chris Paul is an absolute superstar. He's a nine-time All-Star, an eight-time All-NBA selection, and ranks in the top 10 in the NBA in career assists. No matter how his career plays out, CP3 is already one of the greatest point guards ever. If only those figures translated to postseason success…
Unlike James, Paul has not vanquished his playoff demons. Whereas LeBron has won three titles and been to six straight Finals, Paul has never even played in a conference finals. Considering these two are the best of friends, this can't be easy on the future Hall of Fame point guard.
10. Klay Thompson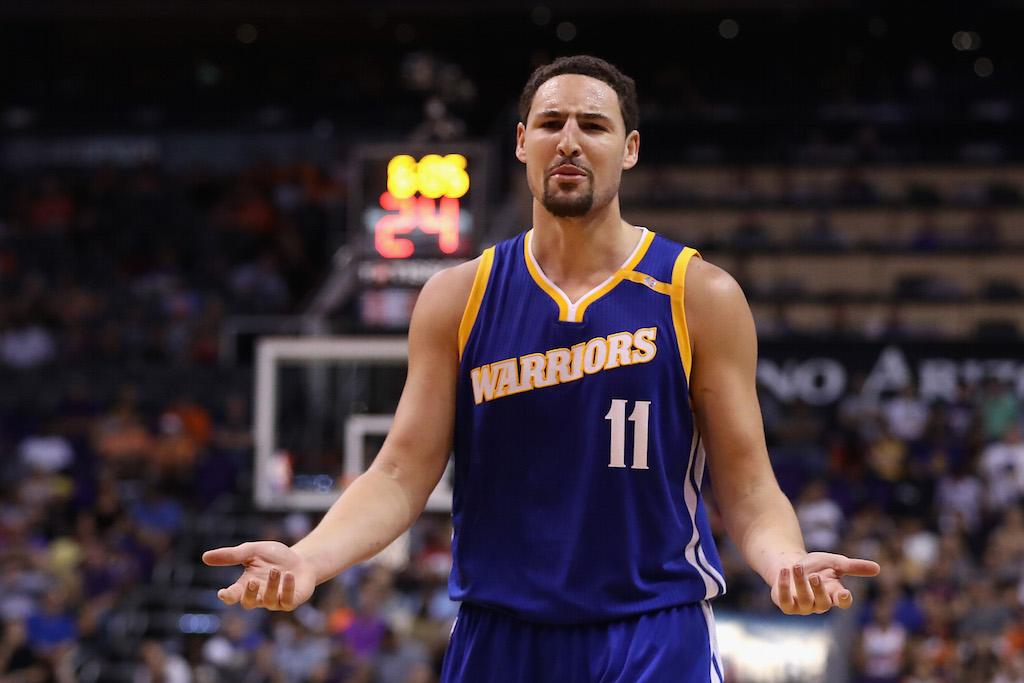 In reality, Klay Thompson is probably more overshadowed by his two-time MVP-winning teammate. However, thanks to some choice words he made during the 2016 NBA Finals, it's safe to say Thompson put himself in LeBron's crosshairs.
Sure, Klay dropped a team-high 37 points in Game 5 of the series. However, James — along with Irving  — put up 41 points in that same game, igniting a Cavs victory and setting the stage for one of the most epic individual Finals performances of all time. Some advice for next time: It's probably not wise to poke the bear.
Follow Ryan on Twitter @RyanDavisBP
Statistics courtesy of ESPN and Basketball-Reference.