The NBA Summer League has Already Showcased Three Pairs of Teammates Ready to Break Out
Three pairs of teammates are already showcasing their skills at the NBA summer league.
Summer league takes place in three different locations and consists almost exclusively of rookies and second-year players. Stats have to be taken with a grain of salt. The competition isn't great and winning games isn't necessarily at the top of teams' minds. The goal is to get young players minutes and help them develop.
On the other hand, for diehard NBA fans, it's really entertaining.
So far, during the first few days of the Las Vegas Summer League, three pairs of teammates have distanced themselves from the pack. Boston's duo of Aaron Nesmith and Romeo Langford, Atlanta's pairing of Jalen Johnson and Sharife Cooper, and Houston's Jalen Green and Alperen Sengun have all outplayed the competition.
Boston's Aaron Nesmith and Romeo Langford may be ready to help the Celtics this season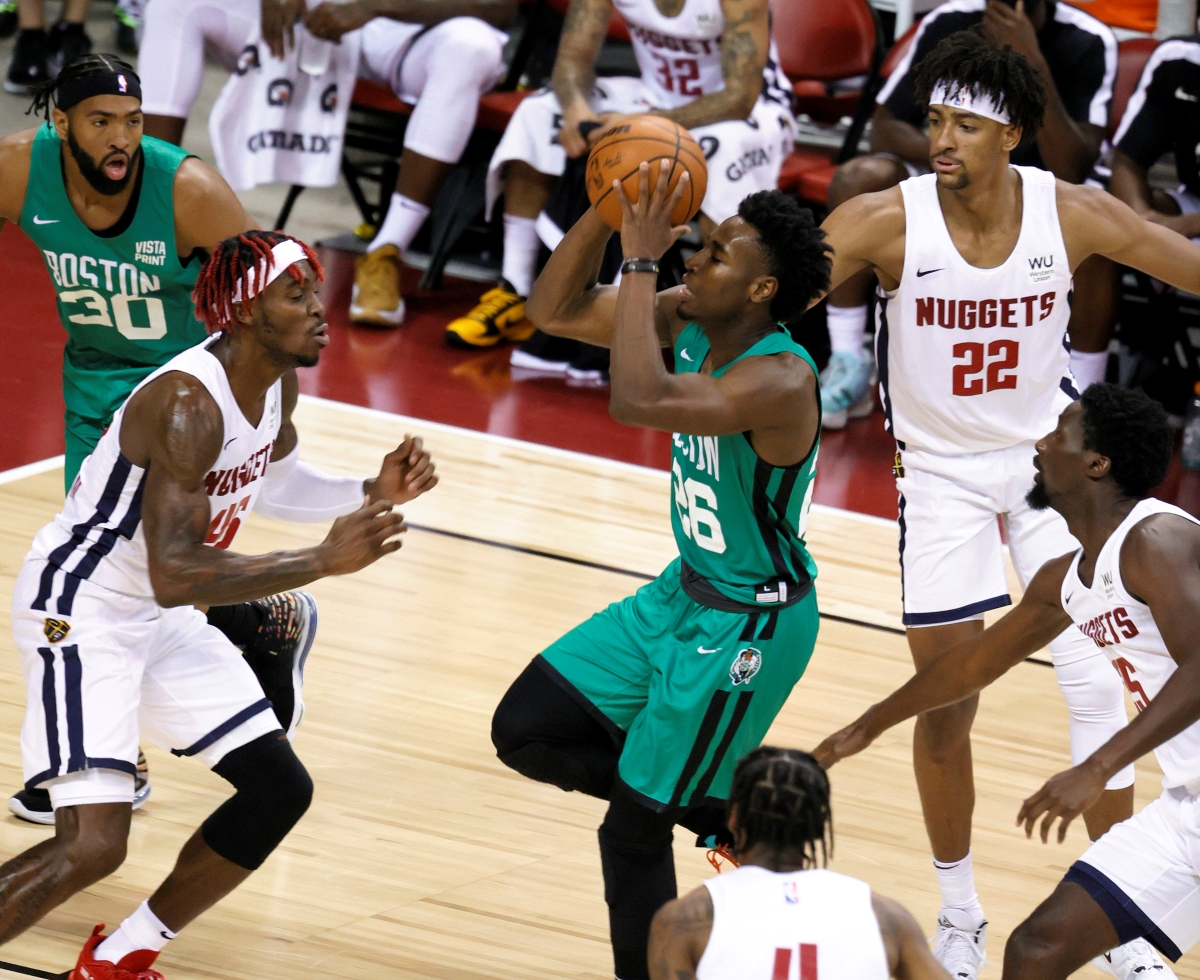 Drafted with the 14th overall pick in 2020, Nesmith was disappointing as a rookie. Even with Boston struggling for any semblance of shot creation or scoring outside of stars Jayson Tatum and Jaylen Brown, Nesmith averaged just 14.5 minutes and took fewer than four shots per game, averaging 4.7 points per contest.
Langford was drafted just one year earlier, also with the 14th pick. In two seasons with the Celtics, the Indiana product is averaging 2.7 points per game in 13.1 minutes.
Nesmith went off in the second game of the Vegas Summer League, dropping 33 points and adding seven rebounds and two assists in only 21 minutes. Known as a shooter coming out of Vanderbilt, the wing was 13 of 18 from the field and 7 of 9 from deep.
Langford only scored eight points but showed signs of life off the dribble, attempting five free throws in less than 20 minutes. He was plus-17 in Boston's win over Denver.
Jalen Johnson and Sharife Cooper look ready to add to Atlanta's already-potent offense
Cooper was the headliner on day three in Vegas. The 6-foot-1 guard, drafted with the 48th pick in this year's second round, scored 21 points and hit the game-winning three in the Hawks' win over Indiana. It was one of his five threes on the night. If Atlanta can get production out of a late second-round pick, it bodes well for superstar Trae Young and the team's backcourt.
Joining Cooper was Duke product Jalen Johnson, who had his second double-double in as many games in Vegas, scoring 18 points and grabbing 10 rebounds. Johnson is averaging 19 and 10 through his first two professional games.
The Houston Rockets' rebuild is off to a good start behind Jalen Green and Alperen Sengun
In Houston's win over Cade Cunningham and the Detroit Pistons, Green had 25 points, five rebounds, three assists, and a steal on 6 of 11 shooting. He showed off his athleticism and burst, getting to the free-throw line 11 times.
Drafted 16th overall in July, Sengun was a surprise in the Rockets' second summer league contest. He finished with 21 points, eight rebounds, three assists, four blocks, and a steal in the 111-91 win. More impressive than his stat line was the way Sengun passed the eye test. He hit a three from the NBA logo and drove to the rim for a layup after going behind the back and following it with a spin move to beat his defender. All this for a player who was expected to be a throwback, low-post big, accoording to draft scouting reports.
Two games worth of summer league play is too small of a sample size to glean much from. But even so, the three team's duos all showed they have the ability to help their teams this season if called upon.
All statistics courtesy of NBA.com.
RELATED: Ziaire Williams Just Became the 2021 NBA Draft's Hidden Gem