The Next NBA Superstar to Be Traded Won't Be Damian Lillard or Bradley Beal
The NBA superstar trade mill has been going round and round for a while now. Russell Westbrook just landed in Los Angeles alongside LeBron James. Before that, Anthony Davis, Paul George, James Harden, and Kawhi Leonard were the latest in a line that goes back to Kareem Abdul-Jabbar when he was still Lew Alcindor. Now, the Portland Trail Blazers' Damian Lillard and the Washington Wizards' Bradley Beal are the current superstars rumored to be on the block. But it might be Luka Doncic that ends up leaving his home in Dallas before Lillard or Beal get a change of scenery.
Lillard has shot down claims he's demanded a trade out of Portland, and Beal has made it clear on several occasions that he has no desire to leave Washington at the moment. Philadelphia's Ben Simmons is likely to be dealt sooner rather than later, but he's not a star on the level of Lillard or Beal. Ditto for Toronto's Pascal Siakam, whose name has also surfaced.
Somebody has to be next, though, right? The Mavericks have yet to see any real playoff success since drafting the Slovenian in 2018. Despite just finishing his third season in the NBA, Doncic might be gazing at greener pastures elsewhere.
Doncic could become the NBA's next disgruntled superstar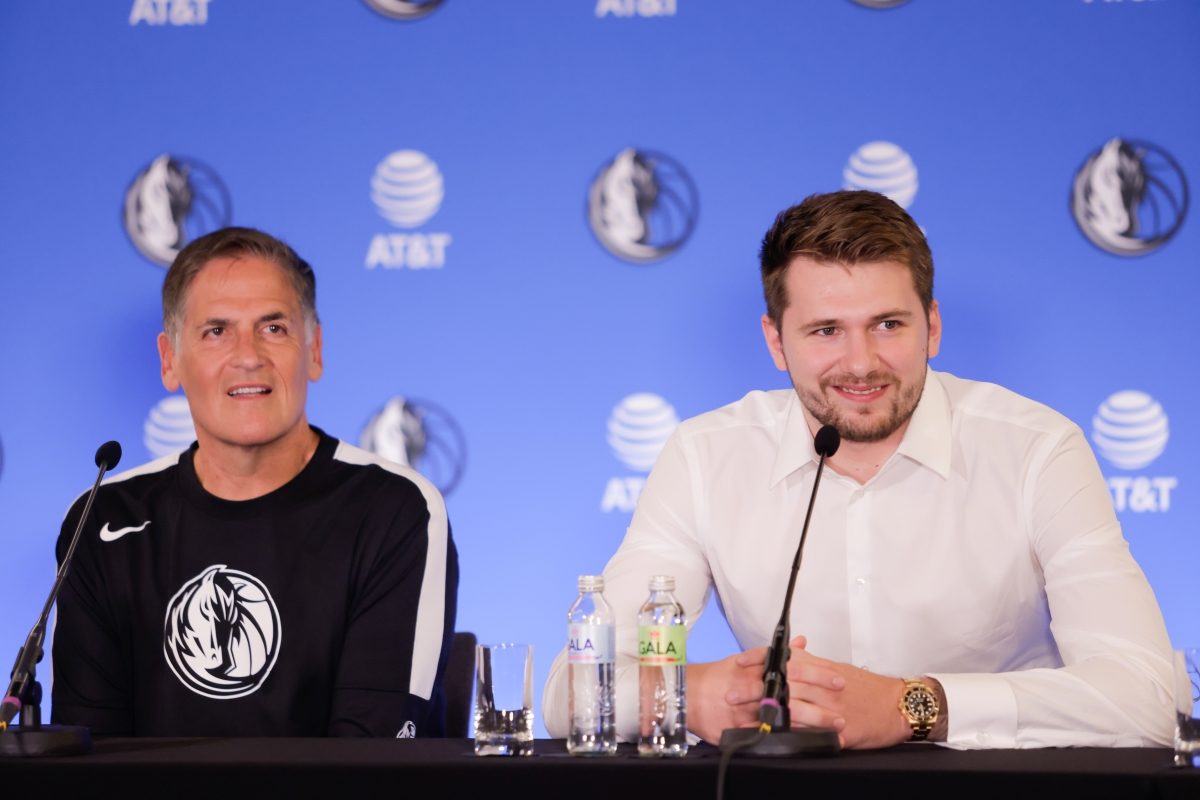 Doncic just signed his rookie supermax deal worth $207 million. That ties him to Dallas until 2027.
Lillard signed a max deal with Portland that will pay him $48.7 million in his age 34 season in 2024-25. Beal just signed a deal to stay in Washington for two more years. Both are legitimate NBA superstars, but neither has the future that Doncic does. He was the NBA Rookie of the Year at 19 years old. He was first-team all-NBA the following two seasons. The 6-foot-7 point guard was in the top five in both points and assists last year. He has career averages of 25.7 points, 8.4 rebounds, and 8.6 assists on 45.7% shooting.
Lillard and Beal are two of the best players in the NBA. Neither are better than Doncic is now, and he's only 22 years old.
Doncic won't want to carry Dallas forever
The best player the Mavericks have had during Doncic's tenure, by a good margin, is Kristaps Porzingis, but the 7-foot-3 center can't stay on the floor. He played in 72 games his rookie season in New York and 66 the year after that. But he hasn't played more than 57 games since and suited up only 43 times last year.
Dallas had Harrison Barnes during Doncic's rookie season. Otherwise, Tim Hardaway Jr., Seth Curry, and Maxi Kleber have been his most talented teammates. Still, the Mavs have made the playoffs the last two seasons, taking George and Leonard to the brink in the first round both seasons. Luka is almost averaging a career playoff triple-double at 33.5 points, 8.8 rebounds, and 9.5 assists a game. Hardaway Jr. was the closest in postseason scoring last year at 17.0 points per game, barely more than half of what Doncic provided. In 2019-20, Porzingis averaged 23.7 a game compared to Doncic's 31.0.
The Mavs are also essentially running it back from last season. Doncic signed his extension, Hardaway Jr. resigned, Boban Marjanovic resigned, and Dallas brought in Reggie Bullock and Sterling Brown for wing depth. Not inspiring. The team's best trade asset is Porzingis, a tall center with a history of foot issues (not historically great) on a max contract that pays him more than $30 million per year through 2023-24.
Could Luka Doncic be the next superstar to force his way out of an organization?
Not making matters any easier on the Mavericks was their disorderly offseason. Dallas fired long-time head coach Rick Carlisle, and rumors swirled that he and Doncic didn't see eye to eye. Former franchise superstar Jason Kidd was brought in to replace him. Kidd's reputation as a coach is checkered at best. The Mavs also had some front-office drama peppered in, with The Athletic publishing a piece entitled, "Inside the Mavericks front office, Mark Cuban's shadow GM is causing a rift with Luka Doncic." So that can't be good.
Yes, Doncic signed his rookie max extension. But as we've seen at an increasing rate over the past decade, NBA superstars control their own destinies. If Luka decides Dallas isn't putting him in a winning situation, there's no reason he can't be the next to demand a trade and the next to be shipped out of town.
All statistics courtesy of Basketball-Reference and contract details courtesy of Spotrac.