5 NBA Teams That Should Tank the 2016-2017 Season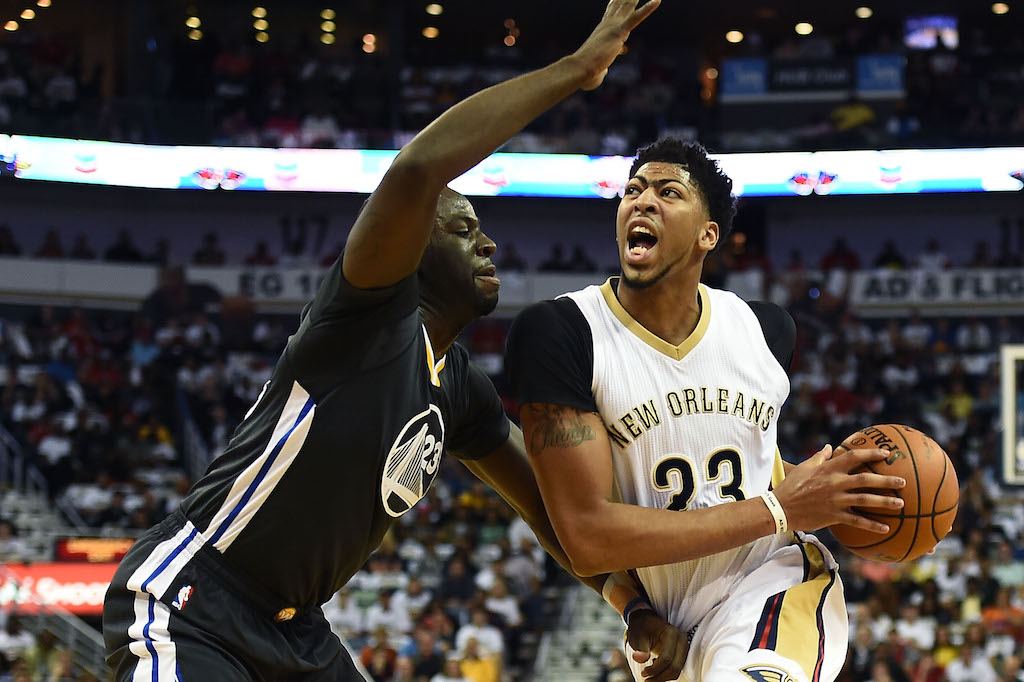 For many, the mere idea of tanking, or losing on purpose, is pure blasphemy. Firstly, hardworking fans pony up hundreds of dollars on game night for tickets, parking, concessions, and merchandise. Loyal fans, in exchange for their goodwill, will expect to support a finished product out on the floor. Additionally, it's no secret that players, coaches, and team executives remain very much aware that their job security and paycheck rely upon winning ball games. Lastly, it is up to the owner to negotiate arena and infrastructure deals out of the very same people and politicians that follow the team — and it's easier to sell fans and taxpayers on public funding for a winning team for obvious reasons. Tanking, then, can only be sold as a long-term investment: the idea that it's better to be worse for a short time now to get better later, rather than churning on the treadmill of mediocrity.
In recent years, it was Sam Hinkie and the Philadelphia 76ers that presented tanking as part of a legitimate, long-term team building process. Hinkie's wheeling and dealing had the team sell high on talented but arguably flawed players and prospects — think Michael Carter-Williams and Evan Turner — in exchange for cap space and draft picks. By trusting the process, Philadelphia now features one of the more intriguing rosters in all of basketball, with Ben Simmons and Joel Embiid as real building blocks.
This year, the Cleveland Cavaliers and Golden State Warriors appear to be set upon a collision course to close out the third and deciding act of their Finals trilogy. Next, the L.A. Clippers and San Antonio Spurs are both stacked teams, with legitimate shots at knocking off the Warriors out West. The five following teams, however, may be better served to pack it in and tank after the All-Star break instead of hustling hard only to serve themselves up as cannon fodder in the first round of the playoffs.
5. Sacramento Kings
The Sacramento Kings last made the playoffs in 2006. Since then, the team has burnt through nine separate coaches in 10 years. The change in ownership and a front office that seems to rotate on a seasonal basis does not seemed to offer the franchise any hope of stability. As recently as 2013, it was Ranadivé who stepped in to save the team for Sacramento and negotiate the completion of the Golden 1 Center, a state-of-the-art downtown arena, keeping the team from relocating to Seattle.
In terms of talent, DeMarcus Cousins, at 26, is already the best big man in the league this side of Anthony Davis. For 2016-2017, Boogie is racking up 29 points and 10 rebounds per game. In growing his game, Cousins has improved as a playmaker while also expanding his range out beyond the three-point arc. At the same time, Rudy Gay is playing the best ball of his life — efficiently scoring 20 points per game, which is something you don't expect from him. The team, though, is still struggling.
The Kings are now a middling 7-11. Recent draft picks Willie Cauley-Stein and Georgios Papagiannis already look like busts, and free-agent pickup Ty Lawson is dealing with his own off the court issues. With Gay and DeMarcus looking to hit the free-agent market in 2017 and 2018 respectively, it appears that Sacramento is no closer to playoff, let alone championship, contention than they were 10 years ago. A solution?  The Kings could sell high on Gay and Cousins now, in exchange for multiple draft picks. Whether this is an avenue that the current ownership, who would obviously prefer to be playing at least four games in the first round, wants to pursue remains to be seen.
4. Phoenix Suns
The Phoenix Suns operate with a logjam in the backcourt, which is quickly becoming routine for this Southwestern club. In case you forgot, the 2014-2015 Suns carried Eric Bledsoe, Goran Dragic, Brandon Knight, and Isaiah Thomas all on the same roster. Two years later, for this season, the Suns still feature three prominent combo guards on the roster, with Devin Booker joining Bledsoe and Knight. He's now coming off the bench as a sixth man despite dropping in 20 PPG last season as the full-time starter.
Booker, at the age of 20, has already established himself as one of the better shooting guards in the league. As a pure scorer, Booker can effortlessly pull up off the dribble for uncontested, mid-range jump shots. And, as this season has shown, when he's crowded out on the perimeter, Booker can go to a series of countermoves before driving the lane and finishing with either hand. He's already scoring 20 points per game, on 42% shooting, so it's entirely realistic that he will become even more dangerous if he can develop a more consistent outside shot.
Still, his emergence has made both Bledsoe and Knight fairly expendable. A real tank job out of the Suns might begin by accepting trade deals out of contenders for either of the guards to clear out cap space and rack up future draft picks. If that happens, expect Phoenix brass to mine the draft for a traditional point guard. The looming 2017 NBA draft will be loaded with point guards that can feed Booker the ball in his favorite spots and potentially a low-post scoring presence, too.
3. New Orleans Pelicans
In 2015, the New Orleans Pelicans went 45-37 and clinched a playoff spot on the last day of the regular season. That year, the eventual league champion Warriors swept the eighth-seeded Pels out of the first round of the playoffs. New Orleans then appeared to be a young team on the rise, with Anthony Davis having his coming-out party while being flanked by Eric Gordon and Ryan Anderson. Now, Davis and a banged up Tyreke Evans are the only remnants left from this recent playoff run.
With age, The Brow has proven himself to be a generational talent, despite the constant roster turnover in New Orleans. Anthony Davis, at 6-foot-10, is very much comfortable out in space, where he can turn, face, and drive past lumbering stiffs. On the low block, Davis can wheel and deal with an assortment of drop step, spin, and up-and-under moves to score the basketball. After forcing the defense to commit, The Brow will casually step back and rain down jump shots.
On opening night, Anthony Davis abused the Denver Nuggets for 50 points, while also racking up 16 rebounds, five assists, seven steals, and four blocks. For the next game, AD followed up this effort by dropping 45 points and 17 rebounds. Still, the 2016-2017 New Orleans Pelicans managed to lose eight straight games to start the regular season, with the low point of the year being a 27-point blowout loss to the Los Angeles Lakers at home. For now, the opposition is very much content to let Anthony Davis go off and get his, with little to no help out of the supporting cast, and it seems to have been a successful plan, as the Pelicans currently sit at 7-12 on the year.
New Orleans, like Sacramento, is a small market and has not been on the radar for top free agents. For the time being, the Pelicans must build and develop young talent through the draft before emerging as a perennial contender and signing ring-chasing veterans. Lance Stephenson, Tyreke Evans, and Omar Asik all clash with Anthony Davis' playing style and should be dealt by the trade deadline for additional picks and a salary dump. After tanking the season, the Pelicans should mine the draft to flank Davis with shooters and a bruising power forward to do the dirty work.
2. Oklahoma City Thunder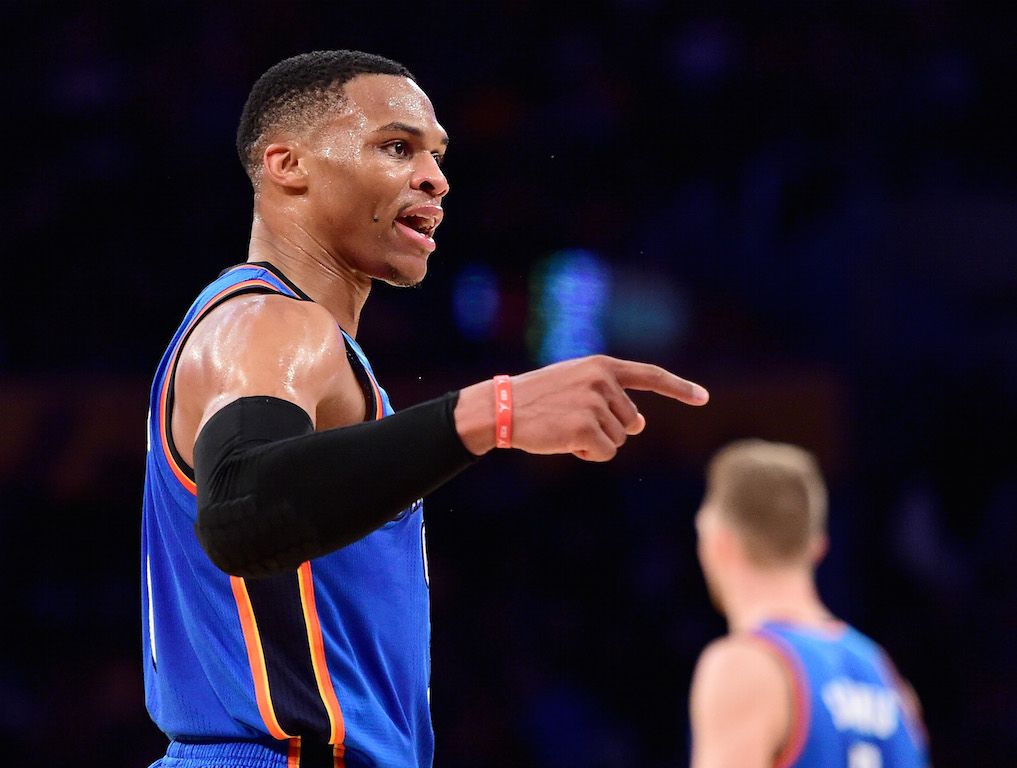 The idea of tanking in Oklahoma City is a very high-risk, high-reward proposal. An angry Russell Westbrook has been unleashed and is playing out of his mind,  averaging 31 points, 10 rebounds, and 11 assists through the first quarter of the season. At this rate, Westbrook will join the Oscar Robertson club as the second player to ever average a triple double for an entire season.
Oklahoma City is now 12-8 and would take the fifth seed out West if the playoffs were to start today. The Thunder would then face off against a hungry Clippers roster that would loom large as a match-up nightmare for this team. An OKC vs. LAC first-round tilt may only last five games, with Chris Paul controlling the tempo and throwing lobs to the DeAndre Jordan-Blake Griffin high wire act. If Oklahoma City were to slip towards the bottom of the playoff order, however, they would then be left to stare down a sweep at the hands of either the Warriors or the Spurs.
For several years running, the whispers have grown louder that Russell Westbrook will ultimately find himself wearing a Lakers uniform. Firstly, Westbrook was born in Long Beach and played his college ball at UCLA. Next, the raw athleticism and showmanship out of Russell Westbrook would be a natural fit for a Lakers franchise mostly associated with Hollywood glamour. The Lakers do have several young pieces like Jordan Clarkson, Brandon Ingram, and Julius Randle, each of which would sweeten the deal in any trade package for Westbrook. Russell Westbrook can become a free agent as early as 2018, if he were to exercise the player option on his latest three-year extension.
1. Miami Heat
Oh, how the mighty have fallen. As recently as 2013, it was the Heat that were celebrating their third championship as a franchise after outlasting the Spurs in seven games. The following year, in 2014, the Spurs had regrouped to beat the Heat in five games and close out the fifth title of their own long-running dynasty. Still, the Heat had taken four straight trips to the Finals in their own right behind one of the more imposing Big Three units of all time — LeBron James, Dwyane Wade, and Chris Bosh. That offseason, LeBron James shocked the world and returned back home to Cleveland.
Several months later, in 2015, a series of medical examinations revealed that Chris Bosh suffered from a rare blood clot condition, which ruled him out of 29 games down the stretch run of last season. Without Bosh, Dwyane Wade did turn back the clock to put up a solid 24 points, six rebounds, and four assists per game before going down in seven to the Toronto Raptors in the Eastern Conference Finals. For this offseason, D. Wade completed a homecoming of his very own in signing with the Chicago Bulls after feeling jilted and disrespected by Heat President Pat Riley.
Chris Bosh failed his latest physical heading into this regular season and will likely never play professional basketball ever again. The 2016-2017 Miami Heat have now been left to take the floor with Hassan Whiteside being flanked by Justice Winslow, Goran Dragic, and Dion Waiters. The unheralded Tyler Johnson is firmly entrenched as the sixth man on the team, right after vomiting at the sight of his own $50 million deal. These Heat are now 6-12 and no threat to make the playoffs.
It is now time for Pat Riley to wheel and deal with the full intent of tanking the season and taking a high draft pick. Miami, with a talented young core in place, will always be a prime destination for top-tier free agents. Stephen Curry will be an unrestricted free agent this offseason, while Kevin Durant, Blake Griffin, Chris Paul, and Gordon Hayward may all exercise options to opt out of their own respective contracts. For 2018, DeMarcus Cousins will emerge as the grand prize of that free-agent sweepstakes. Pat Riley, of course, was already able to pull up the unthinkable years ago, when a jovial LeBron James promised multiple, or "not five, not six, and not seven" championships.
Statistics courtesy of ESPN and Basketball-Reference.com.