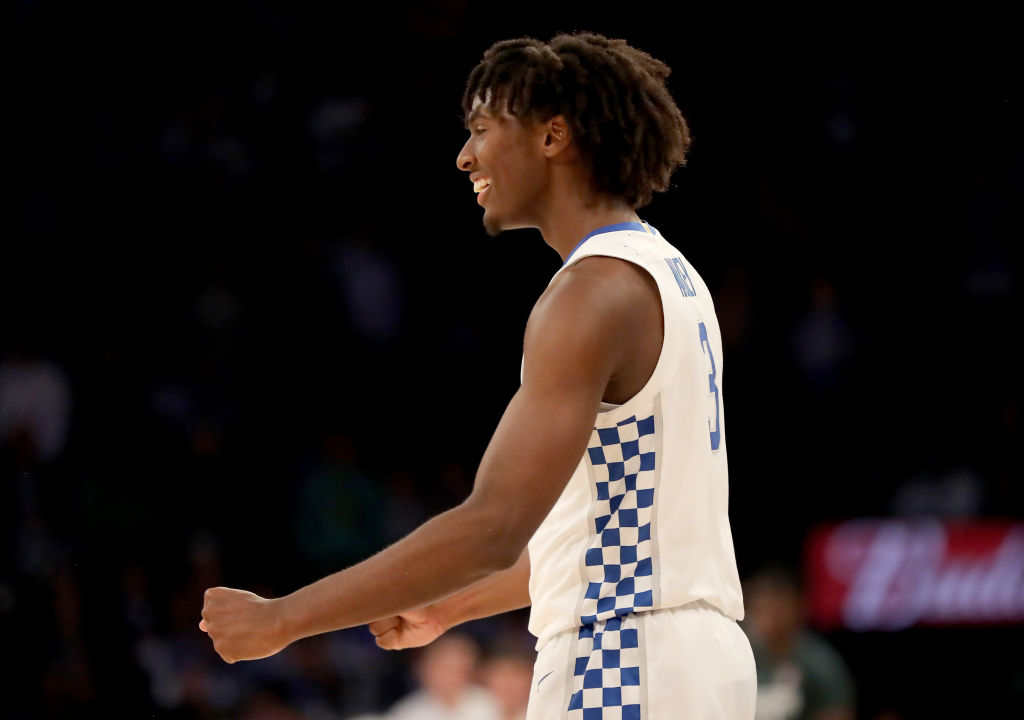 NBA Teams Will Be Watching New Kentucky Basketball Star Tyrese Maxey
Tyrese Maxey burst onto the national scene with an impressive debut for the Kentucky Wildcats on Tuesday night.
The Champions Classic at Madison Square Garden on Tuesday, November 5, featured each of the top four college basketball teams in the nation in a double-header. The No. 3 Kansas Jayhawks took on the No. 4 Duke Blue Devils in the first game of the evening and were followed by a clash between the No. 1 Michigan State Spartans and the No. 2 Kentucky Wildcats.
When the dust settled on the Champions Classic, Duke had defeated Kansas 68-66 and Kentucky had beaten Michigan State 69-62. And while Duke and Kentucky were both winners, the biggest winner of the night was Kentucky's new freshman star, Tyrese Maxey.
Tyrese Maxey shined on opening night
Michigan State's senior guard Cassius Winston won Big Ten Player of the Year honors last year and was his team's leading scorer on Tuesday night with 21 points.
But it was true freshman Tyrese Maxey who stole the show. Maxey matched Winston's 32 minutes played as the highest amount played in this No. 1 vs. No. 2 showdown, and led both teams in field goals made (seven), three-pointers made (three), and points with 26.
With Kentucky leading by only two points with a minute left in the game, Maxey drilled a three-point shot well behind the line to seal the game for the Wildcats. "I shot that shot 1,000 times in high school. I shot it 1,000 times this summer," Maxey said after the game. "I have confidence in myself because I put in the work."
Maxey was a top prospect coming out of high school
Hailing out of Dallas, Texas, Tyrese Maxey was a highly-recruited prospect when he committed to the University of Kentucky on May 9, 2018. Rivals, 247Sports, and ESPN all rated Maxey as a 5-star prospect, with ESPN giving him an overall grade of 95 out of 100 coming out of college. The 19-year-old ranked as the 10th best prospect in the nation at Rivals and 247 Sports and as the 13th best in the nation by ESPN.
In four seasons on the varsity team at South Garland High School in Garland, Texas, Tyrese Maxey averaged 21.9 points, 6.2 rebounds, 3.4 assists, and two steals per game across 113 games played. The basketball team made it to the playoffs in each of Maxey's three seasons as a starter from 2017 through 2019.
The 2019 NBA Draft class is wide open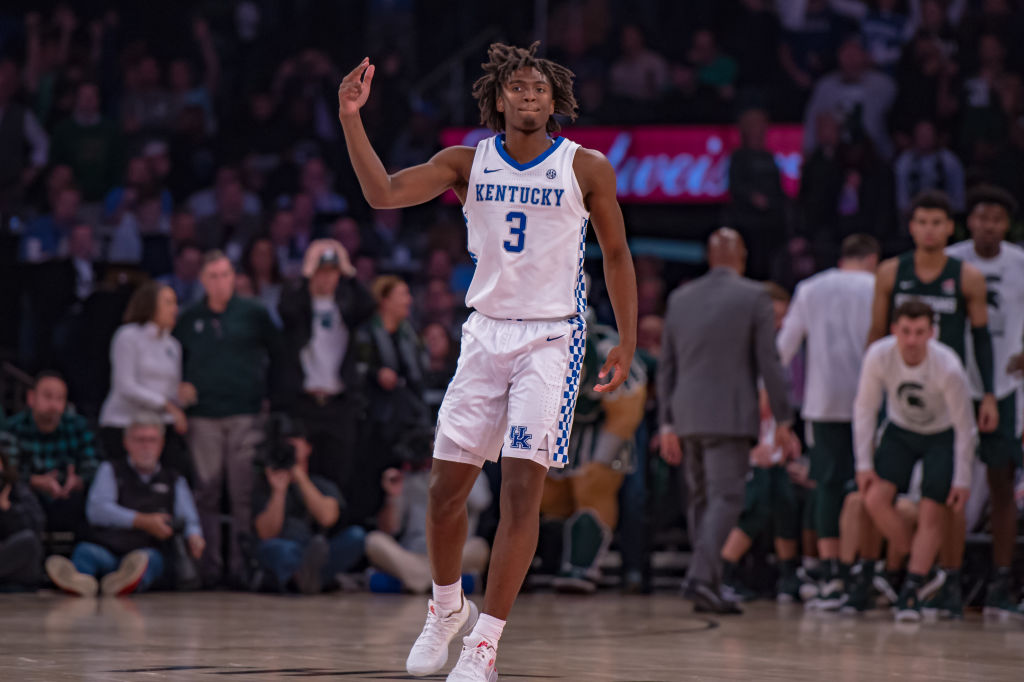 With a handful of great young players in the 2019-20 class but no clear consensus on who the top players are, the order that these prospects go in the 2020 NBA Draft will be heavily influenced by how they perform on the court this season.
Some early mock drafts have James Wiseman, the explosive 7'1" center out of Memphis going first overall in next year's draft. Others have North Carolina point guard Cole Anthony, who made an excellent first impression on Wednesday night with 34 points and 11 rebounds in his debut. LaMelo Ball is in this conversation as well.
Tyrese Maxey may not be in the running to be the top pick in next year's draft, but if he keeps playing like he did on Tuesday night, he could play his way into the top five. One thing is for sure; NBA scouts will be watching plenty of Kentucky's games this year.