NBA
NBA: The 3 Worst Injuries of the Season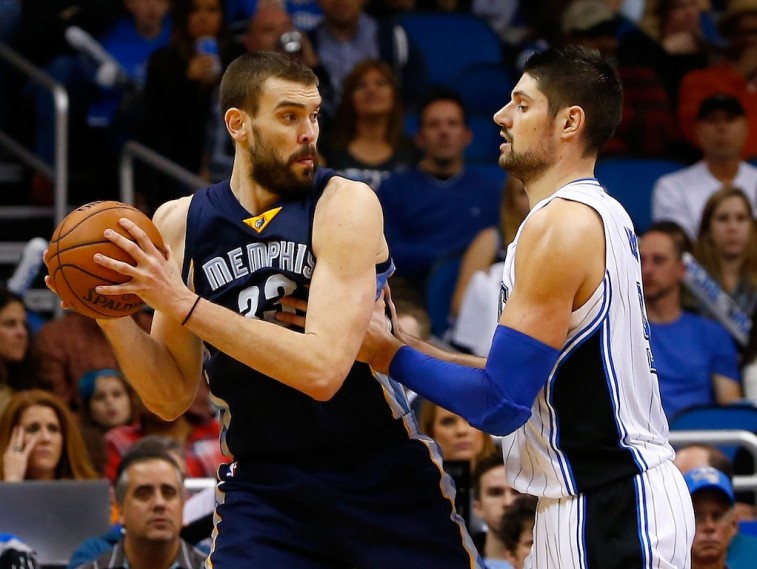 The NBA is a league full of stars, but when serious injuries occur to these players it can cripple their respective team's chances at the ultimate goal, winning an NBA title. This is common each year with major injuries seemingly striking down prominent players throughout the league. The risk of injury is something that comes with the territory of playing professional sports — they're nearly unavoidable. With that said, here are the three worst injuries so far this season.
3. Joakim Noah
Throughout his career, Chicago Bulls center Joakim Noah has established himself as one of the premier defensive big men in the league. He has two NBA All-Defensive First Team selections and one NBA All-Defensive Second Team nod, and he won the NBA Defensive Player of the Year award in the 2013-14 season. However, Noah has struggled with his health over the last two seasons, dealing with separate nagging injuries. He missed a portion of last year due to a sprained ankle injury but was an effective player for the most part.
Things have shifted downward in his ninth campaign as Noah was relegated to the bench to start the season by first-year head coach Fred Hoiberg. It's the first time since his rookie season that he's played primarily off the bench. Noah struggled in his new role and dealt with a slight tear in his sprained left shoulder, which he suffered in late December. He missed nine straight games due to the injury and made his return in early January, but re-injured his shoulder and subsequently required surgery to stabilize it, forcing him to miss the remainder of the season.
Although Noah hasn't been quite the same player this season, his defensive presence will be sorely missed by the Bulls, who are giving up 101.9 points per game. In fact, Chicago's defense hasn't entirely been the same with Noah playing in a limited reserve role. He's without a doubt their defensive leader and sets the tone on that end of the floor. In some ways, the decision to move him to the bench could directly correlate to the team's inconsistency overall, as they currently sit at a 27-25 record (just one game from being out the NBA playoff picture entirely).
The Bulls had developed a defensive identity over the years, which often won them games when their offense wasn't clicking. This hasn't been the case this season; they've already given up 100-plus points 29 times and not surprisingly hold a 7-22 record in such contests. This includes losing 11 straight games where the opponent has scored over 100 points as well as three separate losing streaks that involved the opposing team notching more than 100 points.
Chicago is hoping that Noah could make a return late in the season, but that could be a stretch with the expected timetable for a full recovery from his injury ranging somewhere between three to six months. The absence of the 30-year-old could drastically affect their NBA title hopes come playoff time.
2. Chris Bosh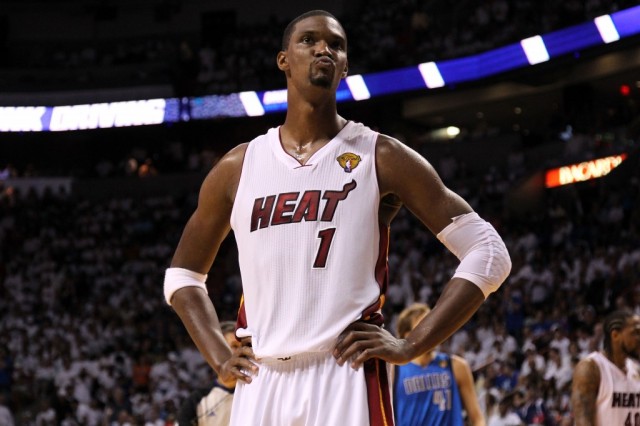 Since his arrival to the Miami Heat following the 2009-10 season, Chris Bosh has been a key part of the team, helping them achieve much from the get-go. He was one of the members of the Big Three alongside Dwyane Wade and LeBron James, which led the franchise to four consecutive NBA Finals with two NBA titles. Bosh's importance to the Heat only rose over the last two seasons as James rejoined the Cleveland Cavaliers.
Bosh immediately stepped in as the second scoring option on the team behind Wade, seeing his scoring averages jump up nearly five points to 21.1 in the first year post-James. He continues to be a reliable scorer this season, averaging 19.1 and 7.4 rebounds while playing in all 53 games prior to the All-Star break, earning him an 11th All-Star Game selection. However, Bosh has struggled with his health over the last two seasons as he dealt with blood clots.
The 31-year-old was sidelined for the rest of the year last February after he experienced blood clotting on his lungs. This appears to be an issue once again this year, as he pulled out of the All-Star Game and three-point contest this past weekend. Although more testing needs to happen, symptoms point toward Bosh having blood clotting in his left calf. This would result in him once again using blood thinners to help heal the injury, which would force him to miss the rest of the season for precautionary reasons.
Yes, Bosh should focus entirely on getting healthy before concerning himself with basketball, but there's no hiding the fact that his absence will have a huge impact on the Heat. He's the best scorer, notching double figures in all but three games, including 28 contests with 20 or more points. He also hauled in 10-plus rebounds 16 times along with notching 15 double-doubles.
Bosh also showed improvement in his range, hitting a team-best 81 three-pointers, which is also the most for a single-season in his career. With Miami currently sitting at a 29-24 record just two games from being out of the playoffs, it only makes the potential loss of their star big man that much more of a factor for how things could play out over the next two months.
1. Marc Gasol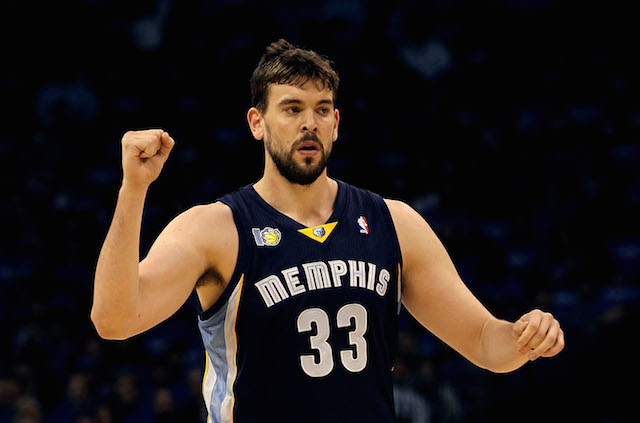 In his first eight seasons in the league with the Memphis Grizzlies, Marc Gasol has been a stable force for the franchise, reaching the postseason in each of the last five years. He has become the anchor of their stout defense, which has ranked near the top of the league over the last several seasons. During this span, he has racked up numerous accolades such as two All-Star Game selections, an NBA Defensive Player of the Year award, an All-NBA First Team nod, an All-NBA Second Team selection, and All-Defensive Second Team once.
Gasol has developed into a reliable scoring option, averaging more than 16.0 points and 3.8 assists in each of the last two seasons. He's regarded as one of the best passing big men alongside his brother Pau Gasol. He also put together the two best offensive performances of his career this season, scoring 37 and 38 points respectably — and notched his first career triple-double.
This has only strengthened the 31-year-old's case as being one of the most valuable players in the league given his overall impact on the game. It also makes his broken right foot that much more influential to the Grizzlies' playoff and title chances. Memphis currently sits in the fifth spot in the Western Conference with a 31-22 record. It has been a mildly frustrating campaign for the them, as they titter around .500 for much of the year.
However, they appeared to find their groove recently, winning seven out of their last 10 games, including their first game without Gasol in a convincing 109-90 victory over the Brooklyn Nets. Ultimately, the loss of their star center will certainly have a major impact on how things shape up over the next couple of months. It will be a true test to see if they can rally in his absence with the stiff challenge of playing in the ultra-competitive Western Conference.