The NBA's 5 Best 'Big Threes' of All Time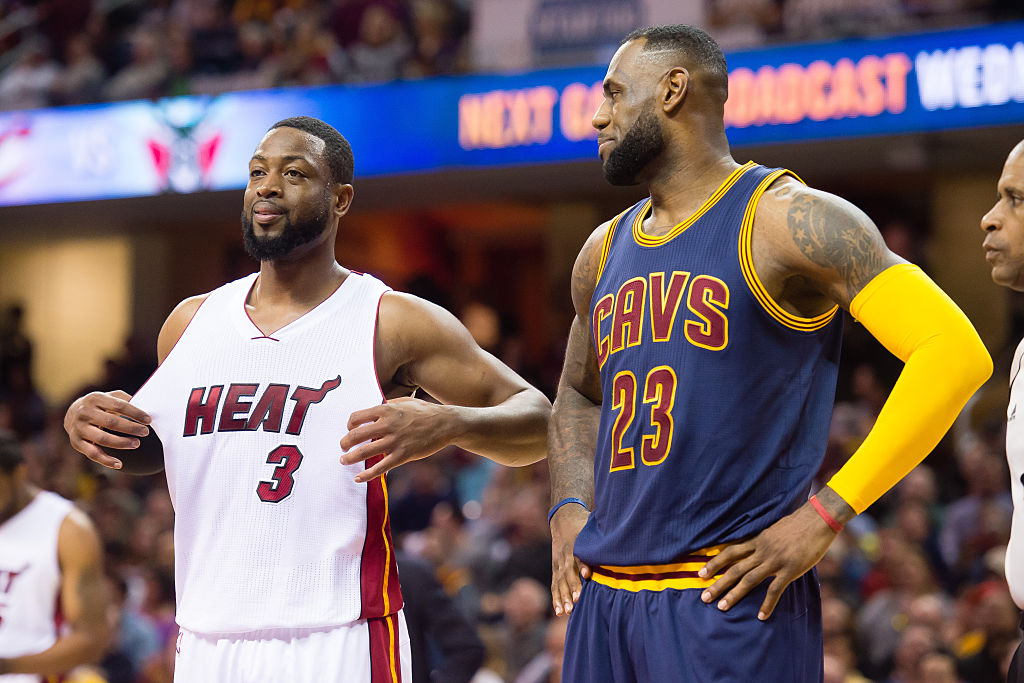 The NBA "big three" represents the perfect storm of both sheer luck and savvy front office wheeling and dealing — to work the draft, negotiate fair contracts, and arrange trades between rival teams. On the floor, each All-Star member of the best big threes will complement the group; they bring a critical skill set to the table. Characteristics may include clutch outside shooting, low-post scoring, playmaking, or even dirty work to block shots and rebound.
With a big three in place, it's easier to recruit solid role players who can help pursue a title run. If anything, it is the delicate task of managing competitive egos that sometimes undermine the longevity of these groups; each individual player is often asked to subjugate his own game to better the team concept.
The five best big threes in NBA history all managed to stand the test of time and claim multiple championships in what may be lauded as basketball nirvana.
5. LeBron James, Dwyane Wade, and Chris Bosh
Prior to the 2010 regular season, LeBron James announced his decision to "take his game to South Beach." From there, perennial All-Star Chris Bosh quickly followed. A new band of brother formed in Miami, with Dwyane Wade and Heat President Pat Riley apparently pulling all the strings behind the scenes.
In a rockstar-like introduction, a confident James predicted that the Heat would win [not one], but "four, five, six, or maybe even seven championships." After struggling out of the gate, Miami did make four consecutive trips to the NBA Finals, winning back-to-back titles in 2012 and 2013. Miami was especially dangerous in the open court. James and Wade took turns harassing the opposition into costly turnovers before making highlight-reel dunks and layups.
In half-court sets, Chris Bosh embraced his role as a versatile "Stretch Four." He could bang in the paint and knock down jumpers from deep. In 2014, however, the wheels fell off, despite the team making another run to the Finals. An aging, oft-injured Wade missed several games, and clearly lost a step come playoff time.
In the 2014 Finals, the Spurs humiliated the Heat 4-1, after locking down King James, and daring Miami role players to step up. Shortly thereafter, James abandoned ship and returned to Cleveland to form a younger, more spry Big Three with Kyrie Irving and Kevin Love.
4. Tim Duncan, Tony Parker, and Manu Ginobili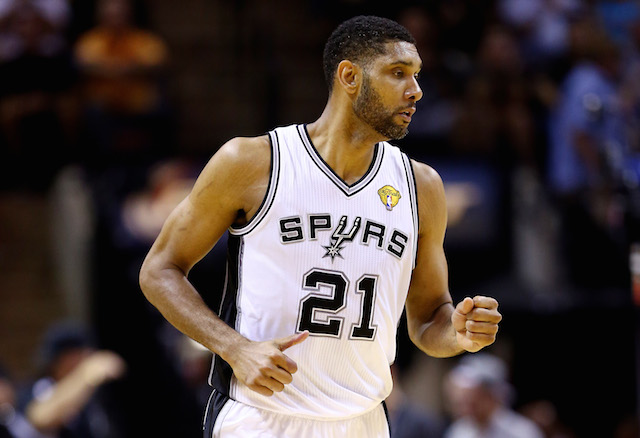 The ongoing 13-year run of Tim Duncan, Tony Parker, and Manu Ginobili in San Antonio is again, largely, the result of sheer luck in conjunction with the life's work of GM R.C. Buford to scout international players. In 1997, the Spurs took Tim Duncan with the first overall pick and prize of the draft. Duncan, of course, was the ultimate "can't miss" prospect, after dominating the competition as a four-year out of Wake Forest.
The prior season, the Spurs collapsed to 20-62, when David Robinson played through only six games after battling a back injury and broken left foot. The Spurs also elevated assistant Gregg Popovich to head coach amid this injury ravaged 1996-97 campaign. In 1999, Tim Duncan won his first out of five championships as part of a Twin Towers lineup that featured himself alongside David Robinson.
From there, the Spurs reengineered their winning lineup on the fly, with an aging Robinson ultimately embracing his role as a rebounder and shot blocker, and both Manu Ginobili and Tony Parker first taking the floor together in 2002. With time, the unlikely trio of Duncan, Parker, and Ginobili went on to win four championships together (2003, 2005, 2007, and 2014).
At power forward, Tim Duncan emerged as an all-time great for his ability to score in the low post, spot up from mid-range, rebound, and defend. Meanwhile, the San Antonio coaching staff helped Parker develop from a speedy, score-first point guard into a leading floor general who could get others involved while also picking his spots in the offense to either drive, or hit open jumpers.
In Ginobili, the Spurs had the ultimate wild card as a wing scorer who could create his own shots, distribute the basketball, and remain willing to spark instant offense off the bench. This trio, of course, aged quite gracefully, grooming the likes of LaMarcus Aldridge and Kawhi Leonard to take over the franchise.
3. Larry Bird, Kevin McHale, and Robert Parish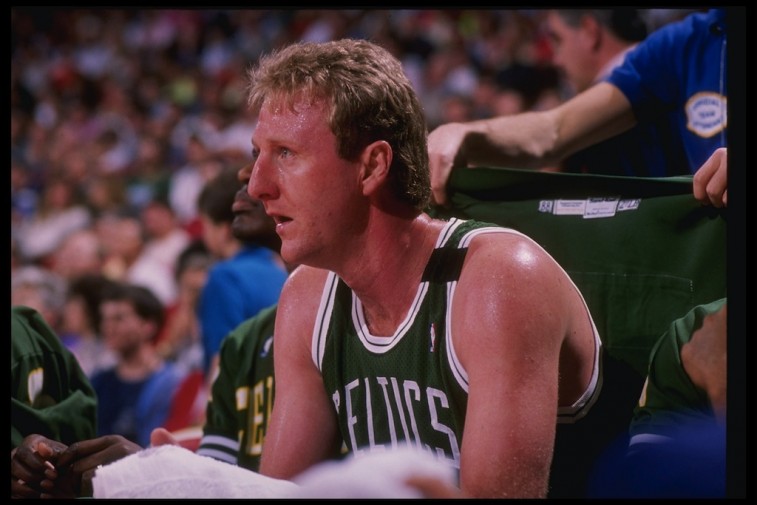 In 1978, Red Auerbach selected Larry Bird with the sixth overall pick in the draft. At the time, Celtics brass were willing to wait one year for Bird to play out his senior year at Indiana State before taking the parquet floor, as they were certain the "Hick from French Lick" would emerge as the savior for a proud franchise that had slid deep into mediocrity.
Two years later, Red was at it again, fleecing the Golden State Warriors prior to the 1980 Draft. After the victory cigar smoke cleared, the Celtics were left with the rights to Kevin McHale and Robert Parish. This big three front-line made five trips to the NBA Finals between 1981 and 1987.
As a group, Bird, McHale, and Parish won three championships (1981, 1984, and 1986), which included their first year together. Larry Bird, as one of the greatest closers and all-around players in the history of basketball, put up 24-point, 10-rebound, and 7-assist per game averages.
As a sidekick, Kevin McHale was a technician in his torture chamber on the low block for an array of up-and-under, spin, and drop step moves. Lastly, Robert Parish was the rare center who could go to war in the paint and also step back to hit open shots and free throws.
As winners, Bird, McHale, and Parish were the main links between separate generations of trios in Bill Russell, Bob Cousy, and Tommy Heinsohn, and Paul Pierce, Kevin Garnett, and Ray Allen in Boston. With each big three group, Celtics tradition has called for players to embrace team play and smart basketball fundamentals above raw athletic ability and individual statistics.
2. Magic Johnson, Kareem Abdul-Jabbar, and James Worthy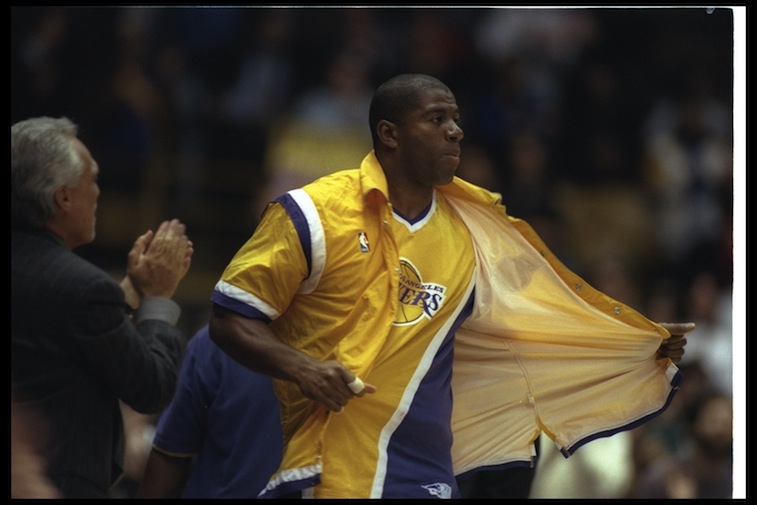 In 1980, as a 20-year old rookie, Earvin Johnson subbed in for Kareem Abdul-Jabbar at center during Game 6 of the NBA Finals against Philadelphia. That night, the Magic Man poured in 42 points, 15 rebounds, and seven assists, taking his first championship and Finals MVP honors.
The moment confirmed a changing of the guard, from Dr. J and Kareem to Magic and Bird, as the faces and headline acts of the NBA. By 1981, the Los Angeles Lakers elevated assistant Pat Riley to head coach. That season, Magic and Kareem won their second title together, beating the 76ers again in the Finals. In 1982, the Lakers took James Worthy as the first overall pick out of North Carolina, and Showtime flourished.
As a 6-foot-9 point guard, Magic crashed the boards, controlled the basketball, pushed the pace, and hit Worthy on the wing for transition dunks. In half court sets, the Lakers would pound the ball into Kareem, who was all but automatic on his patented sky-hook shots, from 15 feet and in. As a trio, Magic, Worthy, and Kareem won three titles (1985, 1987, and 1988).
These Lakers, of course, squared off against the Celtics and their Bird-McHale-Parish big three, in three separate trips to the Finals (1984, 1985, and 1987). For their part, the Lakers settled any debate on the floor, winning two out of these three title showdowns. In Game 4 of the 1987 Finals, with time winding down, Magic took an inbounds pass on the wing, up-faked, and drove past McHale into the lane. From there, Johnson buried a running hook shot of his own — in front of a shocked Boston Garden crowd.
1. Michael Jordan, Scottie Pippen, and Dennis Rodman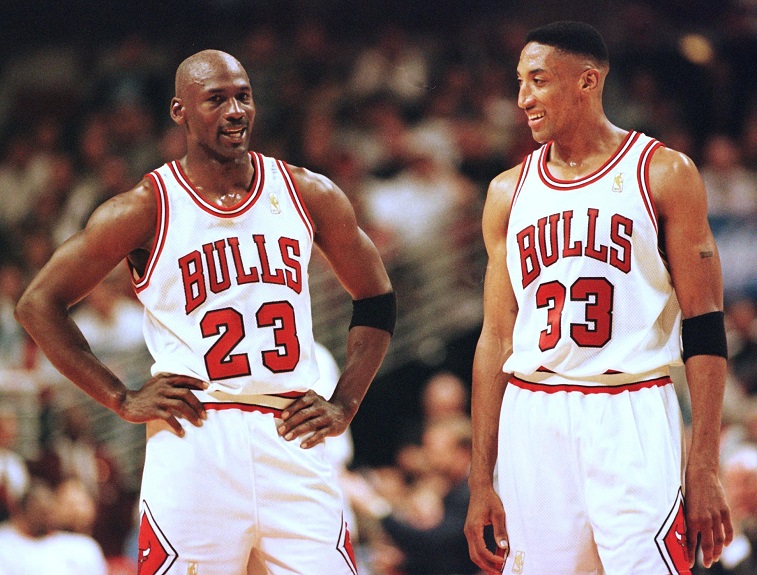 Ironically, it was Dennis Rodman and the Bad Boy Pistons that largely burnished the championship mettle of Michael Jordan, Scottie Pippen, and the Chicago Bulls. The original Jordan Rules called for Isiah Thomas and Joe Dumars to funnel No. 23 into the paint, where big men Bill Laimbeer, Rick Mahorn, and Dennis Rodman lay in wait to dole out hard fouls.
The scheme literally dared Jordan's supporting cast to step up in the postseason. For his part, Rodman was especially rough on Pippen, who he threw into the basketball support on multiple occasions. The Bad Boy Pistons spanked and humiliated the Bulls out of the playoffs in 1988, 1989, and 1990.
In 1991, a mentally tougher Jordan and Pippen finally got past the Pistons in the Eastern Conference Finals, en route to their first three-peat. In 1995, the Bulls actually traded Will Perdue straight up for their former tormentor, prior to making their second tree-peat run. With Rodman, the Bulls could throw an attack dog on the front-line with six more fouls to battle against the likes of Shaquille O'Neal and Karl Malone in the post.
As individual defenders, a strong case may be made that Jordan, Pippen, and Rodman were the all-time best at their respective positions. On defense, Jordan and Pippen were free to roam the perimeter for deflections, steals, and weak-side blocks, knowing full well that Rodman would control the boards.
After controlling the basketball, Rodman would pivot out and fire a sharp outlet pass to Scottie Pippen. From there, it would be off to the races, with Michael and Scottie playing a game of give-and-go on the break that would result in a graceful dunk at the front of the rim.
Statistics courtesy of ESPN and Basketball-Reference