NBA: The 5 Oldest Active Players
For every Justise Winslow and D'Angelo Russell, there's a Paul Pierce and a Manu Ginobili.
The National Basketball Association is filled with scores of young talent and to be quite frank, that's what puts the fans in the arena these days. The high-flying dunks and the ankle-breaking crossovers by the league's twenty-somethings are what usually make the nightly SportsCenter Top 10.
With that being said, the dedication and passion that the NBA's oldest players show each and every year they return to the hardwood is admirable. The Kevin Willis', Robert Parish's and Juwan Howard's – players who played past the age of 40 – is something rare. Heck, even Michael Jordan (after his numerous retirements), played until he was 40.
The five oldest players in basketball represent a diverse group. Two, maybe three of them are locks for enshrinement into the Basketball Hall of Fame in Springfield, MA. One of men – the oldest of them all – has had a deceivingly very solid career. The last of the bunch, well he'll always have his legendary appearance or two on the popular "Shaqtin' a Fool" clip show.
Here's a look at the five oldest active players in the NBA in descending order starting with the "youngest."
5. Pablo Prigioni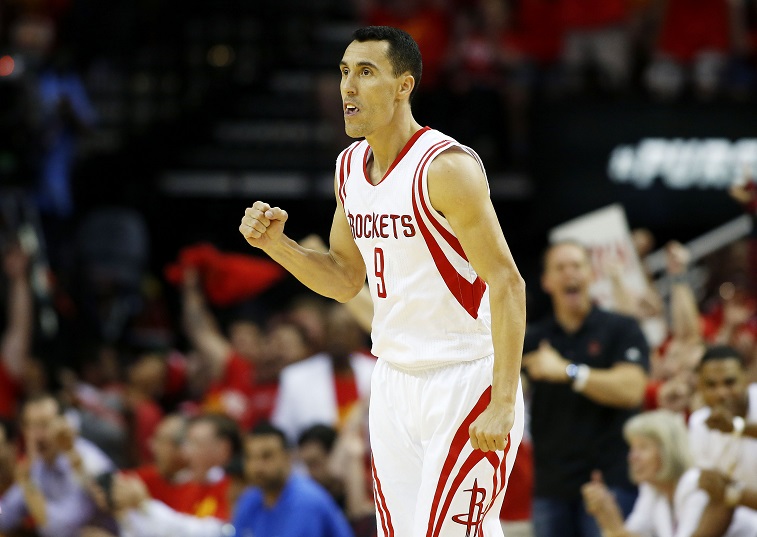 Age: 38
Years of NBA experience: 3
Years left on current contract: 1
Yep, Pablo Prigioni was the player alluded to that has absolutely no shot at basketball immortality in Massachusetts. However, the Argentinian has actually molded himself a nice little NBA career here in America.
After a highly successful tenure in the the Spanish and Argentine leagues, the point guard joined the New York Knicks in 2012. On Nov. 2 of that year, Prigioni became the oldest rookie in league history when he came off the bench for 16 minutes and contributed three assists and a rebound in the season-opening win. After two-and-a-half seasons off the New York pine (he also started 48 games), he was traded to the Houston Rockets in February. Prigioni actually played in 17 games during the Rockets playoff run, averaging 3.1 points per game in just over 17 minutes per contest.
He was traded to the Denver Nuggets in July and subsequently released. On Aug. 3, Prigioni signed a one-year deal with the Los Angeles Clippers. No matter how much longer his NBA career lasts, Prigioni will always have his 2012 debut to look back on and smile.
4. Vince Carter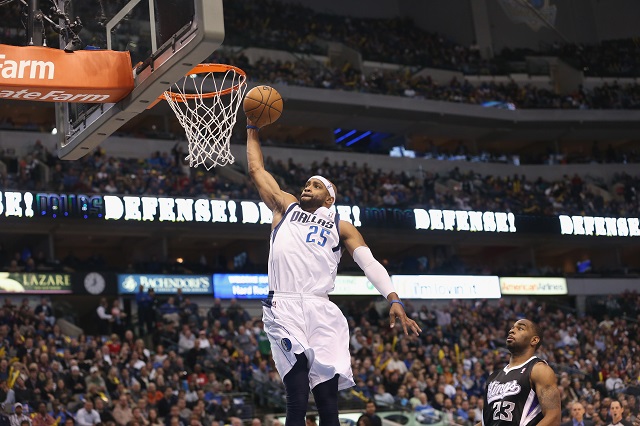 Age: 39
Years of NBA experience: 17
Years left on current contract: 1

"Vinsanity." "V.C." "Air Canada." Whatever nickname you choose to call Vince Carter by, all of them seem to fit him just fine.
Carter, who is just 111 days older than Prigioni, burst on the scene after being drafted by the Golden State Warriors as the fifth overall pick of the 1998 NBA Draft. Unfortunately for the Warriors, they had agreed to trade Carter in 1993 (as a future first round draft pick) to the Orlando Magic so they would not get to see V.C. in their uniform. The future star was again traded twice in 1994 and ironically ended up back with the Warriors on draft day. After being selected though, the Warriors traded Carter and cash to the Toronto Raptors for Antawn Jamison in what ended up being somewhat of a boneheaded move.
Across six NBA teams averaging 18.9 points per game, Carter has established himself as a worthy candidate for the Hall of Fame. While he's now in the twilight of his career with the Memphis Grizzlies, one of the best dunkers of all-time is still capable of rim-rattling throw downs and mega-clutch game-winners now and then.
3. Kevin Garnett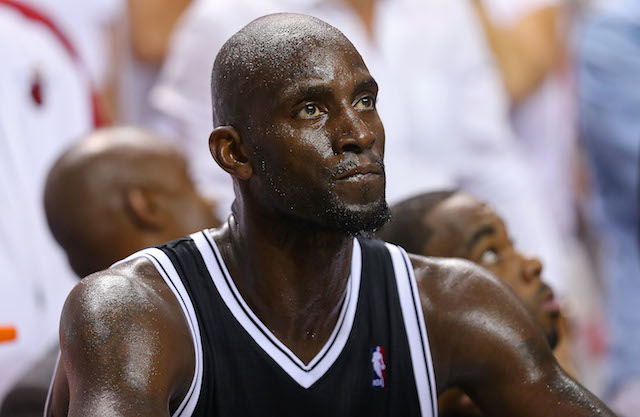 Age: 39
Years of NBA experience: 20
Years left on current contract: 1

Whether you love him or hate him, it's impossible to ignore what Kevin Garnett has accomplished as one of the greatest NBA power forwards of all-time.
The future first-ballot Hall-of-Famer may be regarded as one of the dirtiest players in the league. He has frequently been called out for his over-the-top trash talk. He's probably one of the most difficult players in the entire sport to have as a teammate. Let's focus on the positives though.
KG's bookend career began (and will almost certainly end) with the franchise that took him fifth overall in 1995, the Minnesota Timberwolves. He brought a struggling, newly born organization in Minnesota into perennial contention in the Western Conference during his first dozen seasons there. Then he shipped it up to Boston and was a monumental piece of a championship team in his first year there and contending squads thereafter. After a brief, decidedly unfulfilling stay with the Brooklyn Nets, Garnett is back where it all began, trying to do it all over again.
2. Tim Duncan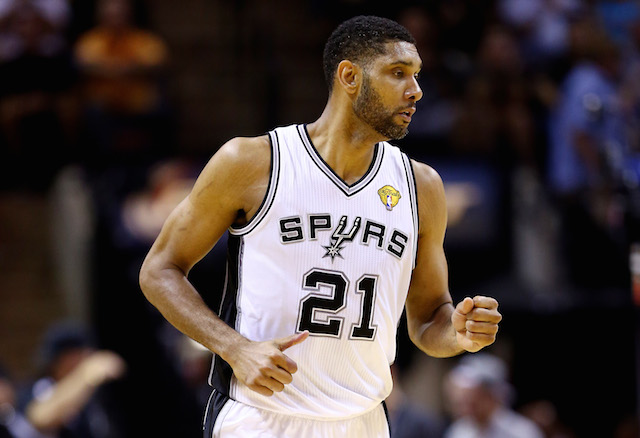 Age: 40
Years of NBA experience: 18
Years left on current contract: 1

For as much as their NBA statistics and skill sets may mirror each other, Garnett and Tim Duncan's personalities could not be more different.
The career-long San Antonio Spurs power forward has been widely regarded as one of the most respectable, decent guys in the league for years. You really can't say enough positive things about Duncan's long career and on top of that, he's been among the most successful players of all-time as well.
He has averaged a near double-double for his career and with 15 All-Star appearances and five championship rings (and counting), Duncan may be the most worthy number-one overall draft pick of all-time.
1. Andre Miller
Age: 40
Years of experience: 16
Years left on current contract: 1
For all of the talk about the Timberwolves' young and promising talent, they sure do like bringing in the geriatrics, too. In 2015 alone, the Wolves have acquired two of the three oldest players in the league.
Nearing the midway point of his 40th year on Earth, Andre Miller agreed to a one-year deal with Minnesota last summer, making this his eighth team. Miller, now playing for the San Antonio Spurs beats out his most-famous teammate (Tim Duncan) by a mere 37 days to earn the "oldest player" title and while their career stats are obviously not comparable, the guard has put up very good numbers.
He has played in an absurd 1299 games (936 starts) across 16 seasons, which averages out to an extremely durable 81 games per season. He has never made an All-Star team, but he did lead the league in assists per game at 10.9 way back during the 2001-2002 season with the Cleveland Cavaliers. His career averages of 12.5 points per game and 6.5 assists per contest are solid and has snagged 3.7 rebounds per game, which is very good for a point guard. He is also the all-time assist leader for active players with 8,505, a total that puts him ninth among all players in league history.
All data is courtesy of Basketball-Reference.com and Spotrac.com.
Follow Victor on Twitter @vbarbosa1127.