NBA: The 5 Worst Uniforms of the 1990s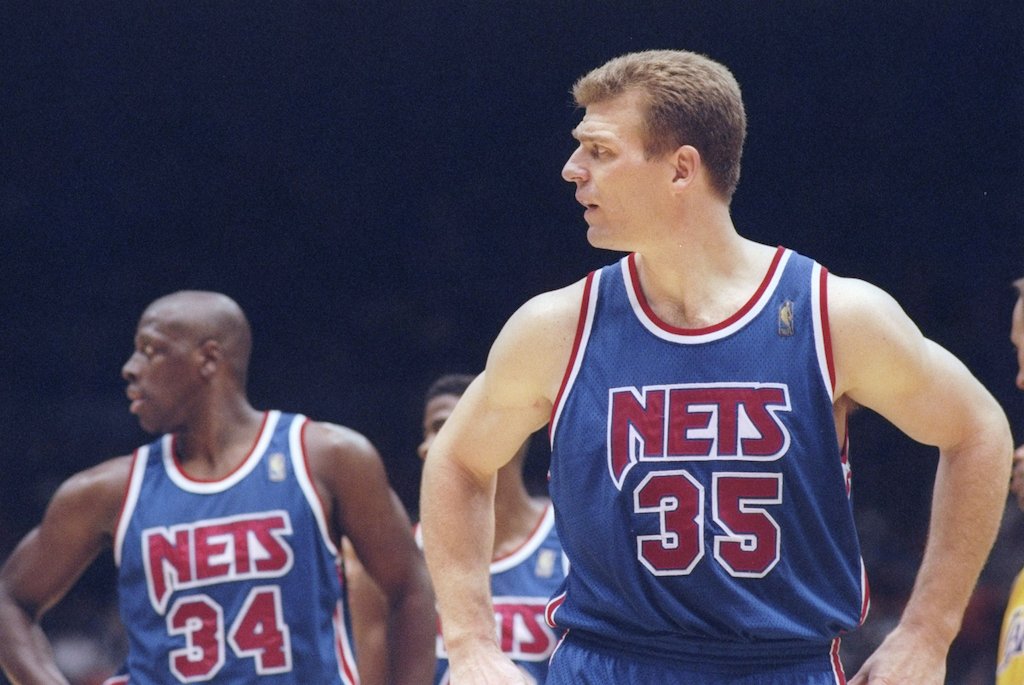 Aside from a handful of poor uniform decisions, the NBA has a history of being on the right side of fashion. But history is a funny thing, and if you go back far enough — to a time we like to call "the 1990s" — you can learn the story of an organization that was so out of whack, it considered such a drastic change to its identity that the league, its teams, and more importantly, the uniforms, would never be the same.
Thanks to an especially entertaining piece by ESPN's Zach Lowe, we got an inside look at something most NBA fans probably don't remember: when the then-New Jersey Nets tried to become the New Jersey Swamp Dragons. And if you think it's as absurd as it sounds, you'd be correct. Actually, it goes beyond even our wildest imagination.
After reading this piece, we were reminded just how crazy the NBA was in the '90s. On top of that, we saw how just awful the Swamp Dragons uniforms were going to be. And in honor of that particular awfulness, we decided to take a trip down memory lane; to a period in time when the NBA made some pretty poor fashion decisions. As far as terrible uniforms are concerned, these five designs take the cake.
1. Milwaukee Bucks
Nowadays, the Milwaukee Bucks have one of the most stylish uniforms in the NBA. That's the power of sticking to the philosophy that "less is more," and discovering that, sometimes, minimalism can be maximal in impact. However, that wasn't always the case.
From the 1995-96 season to the 1998-99 campaign, this organization followed the belief that "more is more" when it wore an alternate uniform that sported a massive "Buck" across the chest. While it wasn't exactly the most cartoonish of '90s uniforms (as we'll soon see), it didn't make it any less of an eye sore. We're just so happy this organization came to its senses.
2. Utah Jazz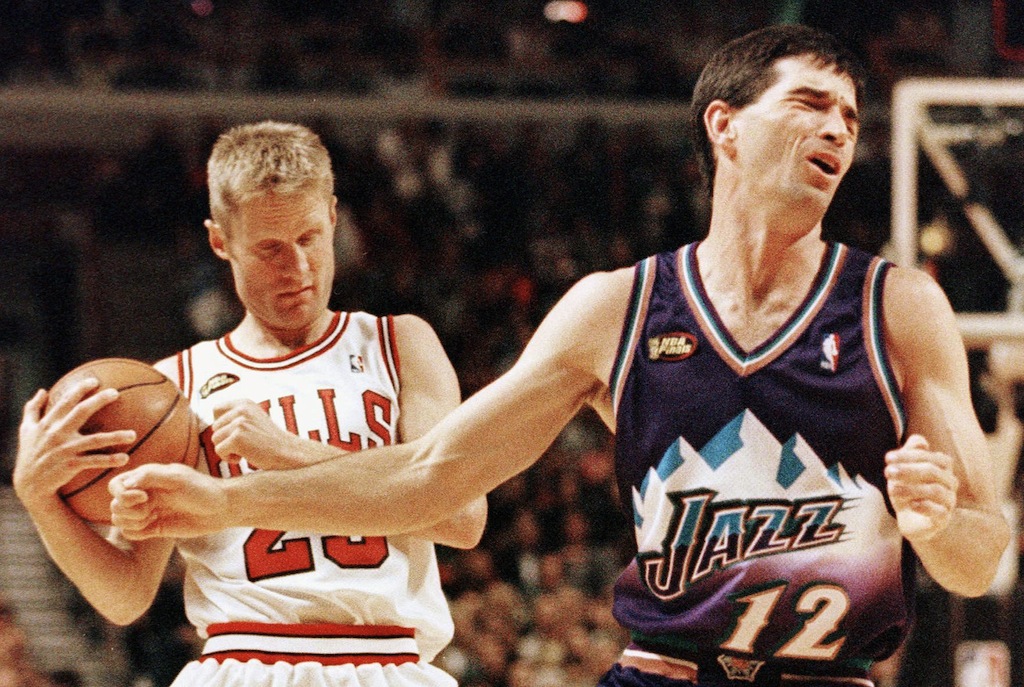 If you think John Stockton is reacting this way because he got called for a foul, you're only half right. He also has a major issue with these uniforms (probably). And we get it. They're terrible.
From 1996-97 to 2003-04, the Utah Jazz sported purple road uniforms that consisted of a massive "Jazz" written across a mountain rage graphic. And the truth is, not even a legitimate title contender could make these duds stylistically acceptable. Throw in the fact that the belt area is weird, the neckline and arms are oddly striped, and the numbers are made from a goofy-looking font, and you have one of the strangest NBA looks of the 1990s.
3. Houston Rockets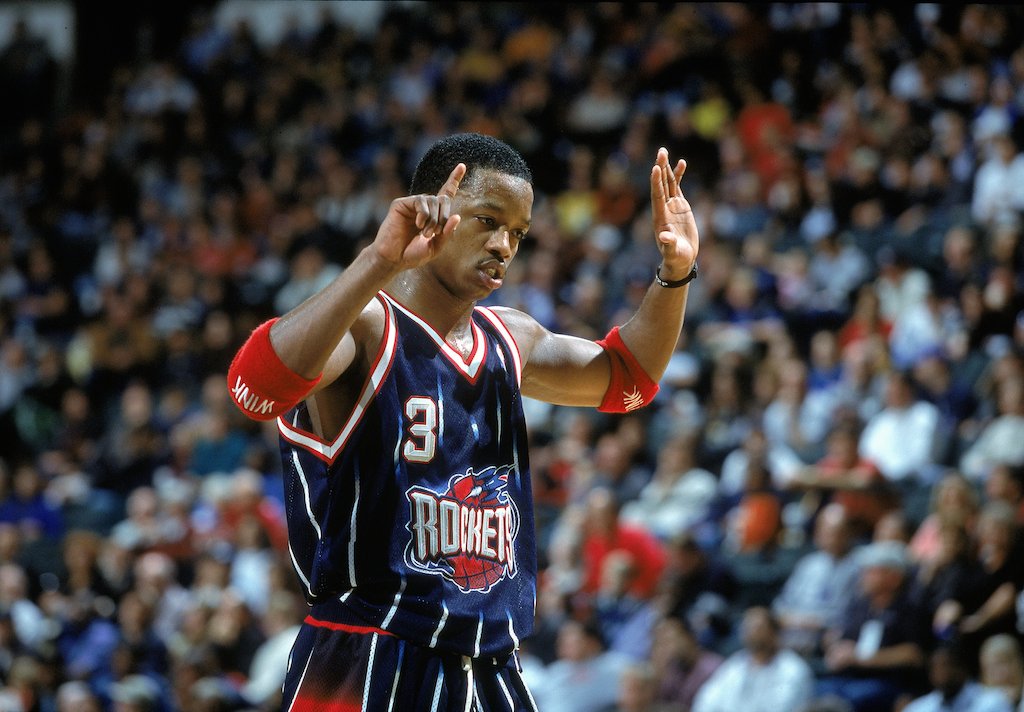 We told you things were going to get "cartoonish." And we meant it. Of course, in the case of these Houston Rockets uniforms, we wish we didn't.
While some may feel differently, we just can't get behind these road uniforms that the Rockets sported from 1995-96 to 2002-03. Blue pinstripes, a cheesy-looking rocket ship circling a basketball, and uninspiring font decision. This is how the Rockets chose to represent themselves in the arena of opposing teams. Fortunately, it wouldn't always be that way.
4. Vancouver Grizzlies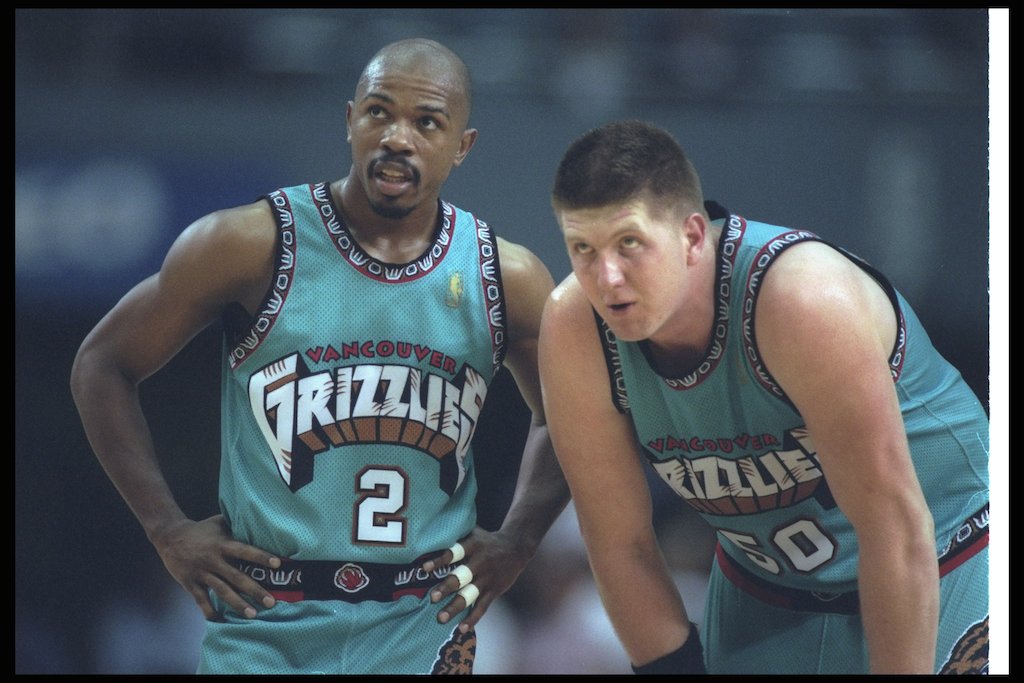 The Grizzlies' stint in Vancouver was a time marked by terrible play on the court and poor uniform decisions. The above picture is a perfect example of the latter.
We're not sure there's an adequate way to describe just how ugly these original road uniforms are, but we'll give it our best shot. From 1995-96 to 1999-00, the Grizzlies thought it'd be a good idea to rock these "teal" duds, consisting of three-dimensional lettering (with "claw" marks), Native American markings on the trim, and a massive grizzly bear on the shorts. If the idea was to "stand out," mission accomplished. Of course, in reality, Vancouver's consistently abysmal record pretty much did that on its own. Seriously, why draw more attention to yourself?
5. Atlanta Hawks
By no means are we suggesting that today's Atlanta Hawks are crushing the style game. Truth be told, it's actually the opposite. The neon just doesn't play. And yet, the way we see it, nothing is worse than the uniform the Hawks opted to wear during the 1990s. Specifically, the road uniforms from 1995-96 to 1998-99.
Under normal circumstances, we could handle the combination of red and black. Those are some powerful colors right there. But the big "hawk" across the stomach of the uniform, that's just something we can't get behind. It looks absolutely ridiculous. It was a bad idea. Fortunately for everyone, most importantly the people of Atlanta, these uniforms are a thing of the past. And that will always be considered a step in the right direction.
Information courtesy of ESPN and SportsLogos.