NBA: Top 3 Teams Kevin Durant Could Play for in 2016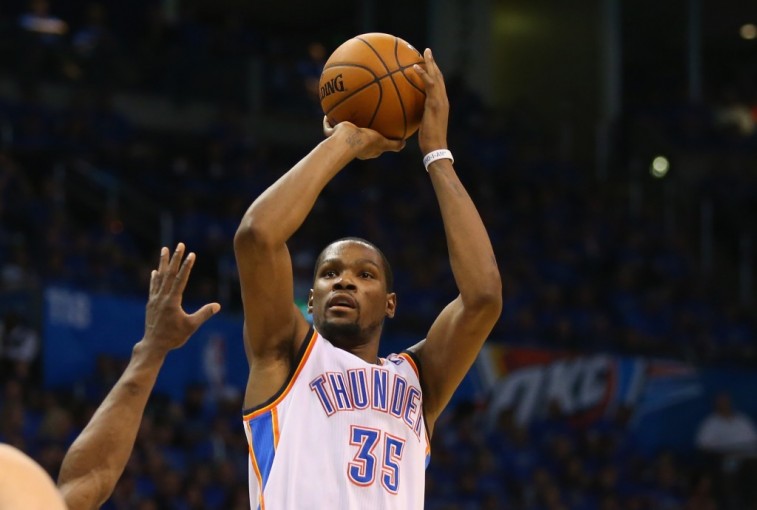 The 2015-16 NBA Playoffs may have just finished, but that doesn't stop the long-running conversation about Oklahoma City Thunder star forward Kevin Durant's pending free agency next summer. The 27-year-old will head into the first offseason in his NBA career as an unrestricted free agent, and will undoubtedly receive plenty of interest from many teams across the league, particularly after OKC dealt Serge Ibaka to the Orlando Magic.
Durant appears to have finally returned to elite-level status after dealing with foot issues for much of last season. He is arguably one of the five best players in the NBA and is just entering the prime years of his career.  Here are our top three picks for Durant's destination in 2016.
3. Houston Rockets
Since Daryl Morey has taken over the duties as the team's general manager, the Rockets have been active in the player-acquisition department, to put it mildly. So far, Morey has not let a single trade deadline pass without making at least one move on that day, but it isn't just shuffling players you've never heard of for picks or trade exemptions.
Indeed, over the past four seasons Houston has continued to make splashy moves such as acquiring James Harden from Oklahoma City, signing Dwight Howard, and trading for Ty Lawson from the Denver Nuggets. They are constantly looking for ways to improve the team in order to stay in the title contention picture and don't appear to be fearful of the luxury tax.
Durant still holds a strong relationship with Harden since his departure from the Thunder and has spoken highly of the Rockets' organization in the past. There are still a few cap-space hoops for Houston to jump through, but if Durant were serious about joining the team, this shouldn't be an issue.
Remember, the Rockets reshaped their entire roster for Howard (twice) and eventually landed him when he became an unrestricted free agent. Ultimately, this all makes Houston a dark horse in the Durant sweepstakes next offseason.
2. Washington Wizards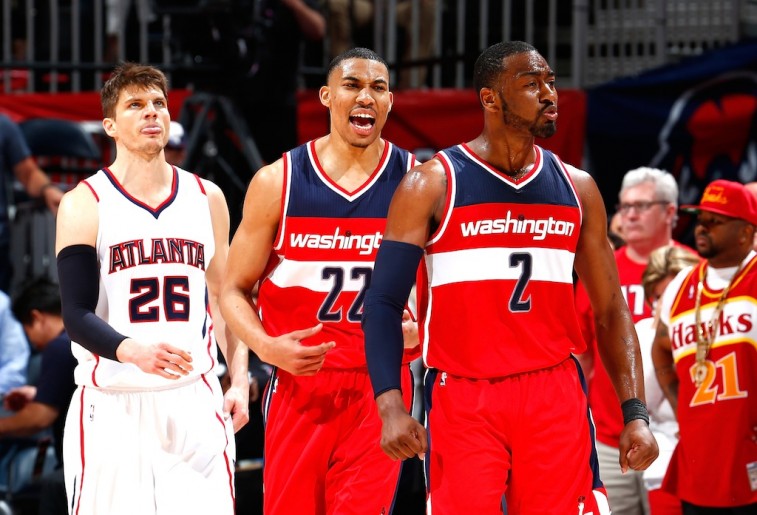 First and foremost, the Wizards hold one thing over every other potential suitor for Durant next summer: the opportunity to play for his hometown team. Washington also possesses a talented roster that is headlined by one of the league's best backcourts in John Wall and Bradley Beal.
Wall has come into his own over the past couple seasons as an All-Star-caliber point guard and proven scorer with a pass-first mentality. Beal continues to develop into one of the great shooters in the league — his shot is so clean you wouldn't be mistaken for thinking he was reminiscent of a young Ray Allen.
That said, Durant would immediately jump aboard as the face of the franchise and primary scoring option of the team. It also helps that he would play in a weaker Eastern Conference that could put him in title contention. In other words, outlandish as it may seem, the Wizards do pose a realistic threat to the next team in nabbing Durant in free agency.
1. Oklahoma City Thunder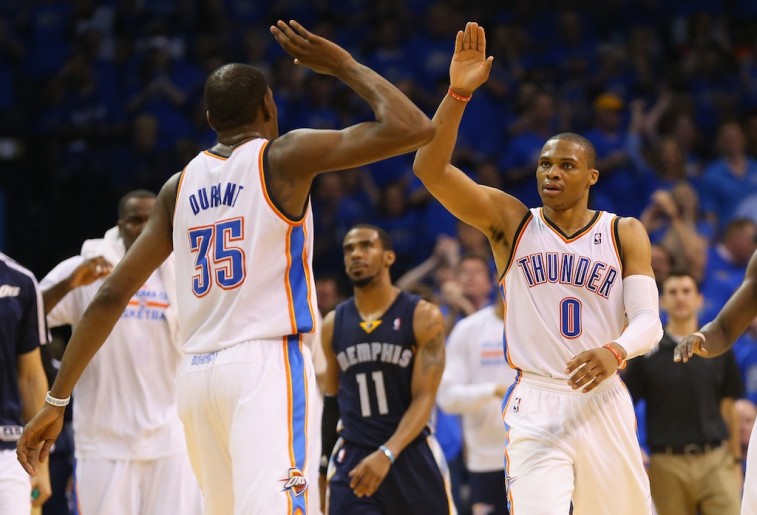 Throughout this entire process, Durant has never wavered on his desire to remain in a Thunder uniform. He has continued to show his loyalty to the franchise that drafted him, even if he has gone on the record saying that if he goes anywhere else, he'd like it to be the Warriors.
What also helps Oklahoma City's case is that they possess another top-five player in four-time All-Star point guard Russell Westbrook, who took his game to another level last season with Durant sidelined due to injury. The Thunder duo has helped make the organization into an NBA title contender year in and year out as they've build an extremely tight bond with each other over their eight seasons together.
What also helps the Thunder is that they have the benefit of offering Durant the most lucrative contract in free agency due to holding his Bird Rights. All in all, Oklahoma City is where the six-time All-Star established himself and brought the franchise to prominence in the league. It wouldn't be one bit of a surprise if he decided to stay put next offseason.