NBA Trade Deadline: 3 Deals That Failed Miserably For Would-Be Contenders
The NBA trade deadline is Feb. 10, and expectations are that teams will be active this year. There is a bit of perception vs. reality conflict about the trade deadline. Fans see it as the fix-all for their broken team, the ability to make that one deal that lifts a team from also-ran status to NBA champion. The truth is that most NBA trade deadline deals happen on the margins.
Teams deciding to sell look to move big salaries for draft assets. Or, if a club sees itself missing a rotation piece, it will make a move to fill the void. But those trades tend to be more like the Milwaukee Bucks acquiring P.J. Tucker last year. It was an important move for the Bucks' title chase. But "blockbuster" isn't the best word to describe it. The last star-caliber player to move at the deadline and directly impact a championship run was Rasheed Wallace in 2004.
So, as always, buyers beware. Here are the three worst cases of general managers ignoring that simple advice that dates to Roman times.
3. The 76ers pulled off an NBA trade deadline dud for the ages in 2005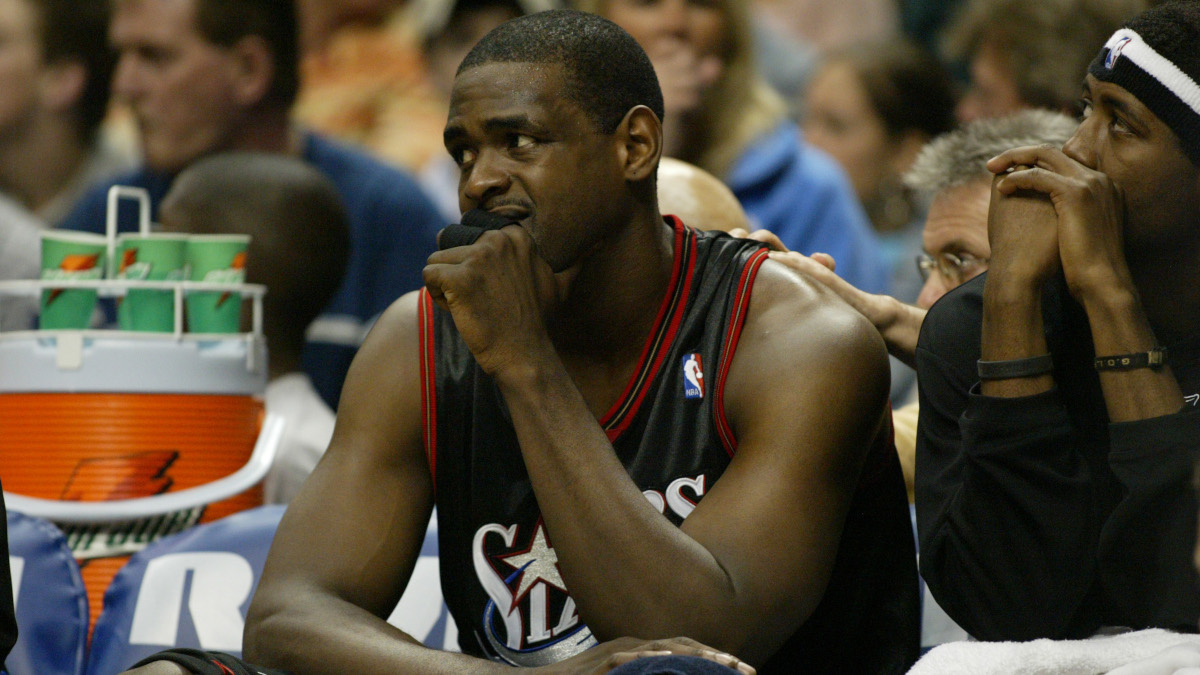 It's just not a bad-trades list if you can't have Billy King on it. Long before he mortgaged the future of the Brooklyn Nets for washed-up veterans Kevin Garnett and Paul Pierce, King made a deal attempting to separate his Philadelphia 76ers from the rest of the pack in the horrific Atlantic Division (back in the days when divisions were semi-relevant).
Before the Sixers played a game after the All-Star break, they trailed the Boston Celtics by a half-game in the Atlantic. King looked to the Sacramento Kings for the cure to fix his 26–27 club. While it's hard to argue that moving Kenny Thomas and replacing him at power forward with Chris Webber wasn't an upgrade, it was temporary at best.
Webber was 31 and on his last legs or, more specifically, the end of his knees. And he still had three years and $55.7 million left on his contract. The Webber and Allen Iverson tandem was much better on paper than reality.
Philadelphia went 17–12 after the trade. Webber missed six games because of his bad knees. The Sixers finished two games behind Boston, so the 76ers fell to the seventh spot. That earned them a first-round date with the defending champion Pistons. Five games later, their season was over. The Sixers missed the playoffs in 2005–06, with Webber healthy for 75 games. He was bought out in January 2007 for the super low price of $36.6 million to eat the final season-plus of Webber's deal.
2. The Boston Celtics send Joe Johnson walking out the door in 2002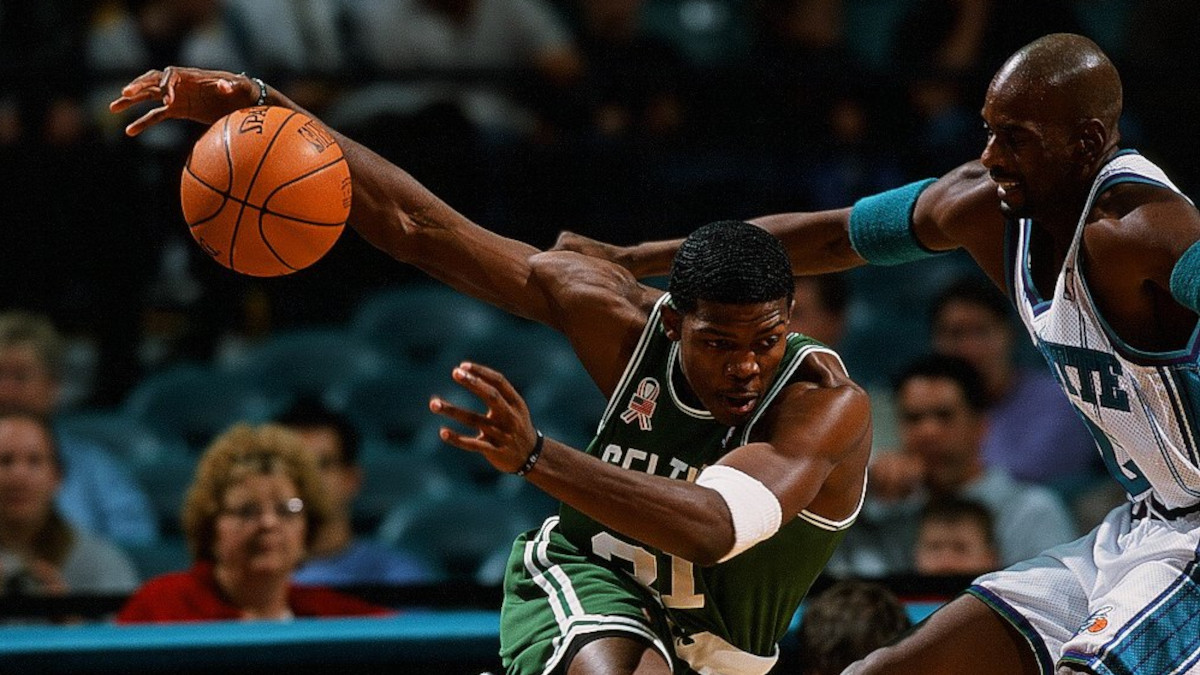 Rick Pitino's era of playoff-free basketball was already over. Still, his replacement, Chris Wallace, made a panic buy at the 2002 trade deadline that hastened his inevitable demise with the Boston Celtics.
In 2001–02, the Celtics sought to end a franchise-record six-year playoff drought. After a road win over the two-time defending champion Los Angeles Lakers on Feb. 19, Boston was 31–23. That was second-best in the East behind the upstart New Jersey Nets, who were five games ahead.
The next day, Wallace packaged rookie Joe Johnson, the 10th overall pick, with Boston's 2002 first-rounder and sent them to the Phoenix Suns for the two players that would push the Celtics to their 17th NBA title. Because that's the only reason to trade a lottery pick and next year's first-round selection, right?
Except what Boston got was veteran backups Tony Delk and Rodney Rogers. The Celtics were 18–10 after the trade and finished third in the East. They took the Nets six games in the Eastern Conference Finals before fading into mediocrity. Wallace was fired after the 2002–03 season. Joe Johnson went on to have a decent career — 20,000 points, seven All-Star selections.
But Boston got the chance to welcome Johnson back 20 years later as a hardship replacement, so there's that.
1. Ernie Grunfeld traded a superstar in his prime for one on the way down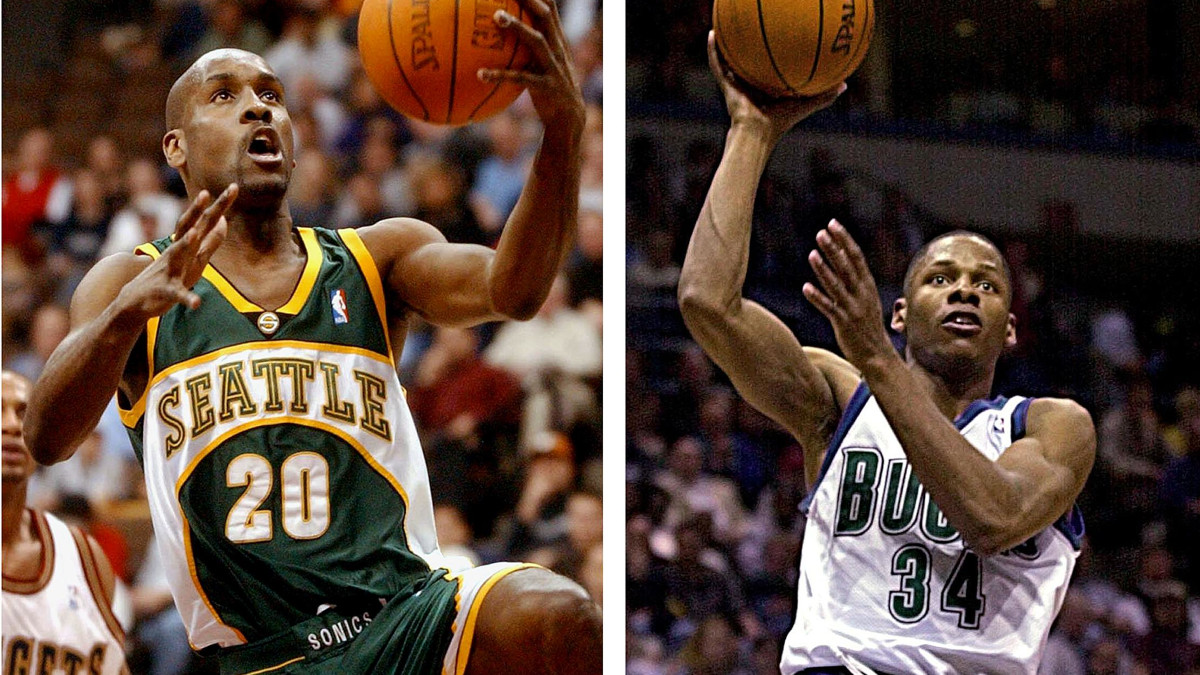 One year after Wallace's folly in Boston, Milwaukee general manager Ernie Grunfeld had a "hold my beer" moment. With the Bucks much closer to missing the playoffs than challenging for a spot at the top of the Eastern Conference, Grunfeld decided the time was perfect to trade All-Star Ray Allen.
Allen, a future Hall of Famer, was 27 and under contract for not one but two more seasons. Milwaukee was 27–26, seventh in the East. In its fifth season under George Karl, the team was two years removed from playing in Game 7 of the conference finals.
It seems like a perfect time to trade your best player for 34-year-old Gary Payton's expiring contract. Grunfeld threw in his first-round pick in 2003 to sweeten the deal for a two-month rental of Payton.
We know how it turned out for Allen. He emerged as a superstar in Seattle, won a title in Boston, and retired as the NBA's leader in 3-pointers. Payton bolted for the Lakers as fast as he could in free agency, and Milwaukee spent more than a decade on a swinging pendulum between mediocre and awful.
But Bucks fans will always have that seventh seed and a first-round loss in 2003 to warm their hearts on those cold Wisconsin winter nights.
Statistics courtesy of Basketball Reference. Contract information courtesy of Spotrac.
Like Sportscasting on Facebook. Follow us on Twitter @sportscasting19.