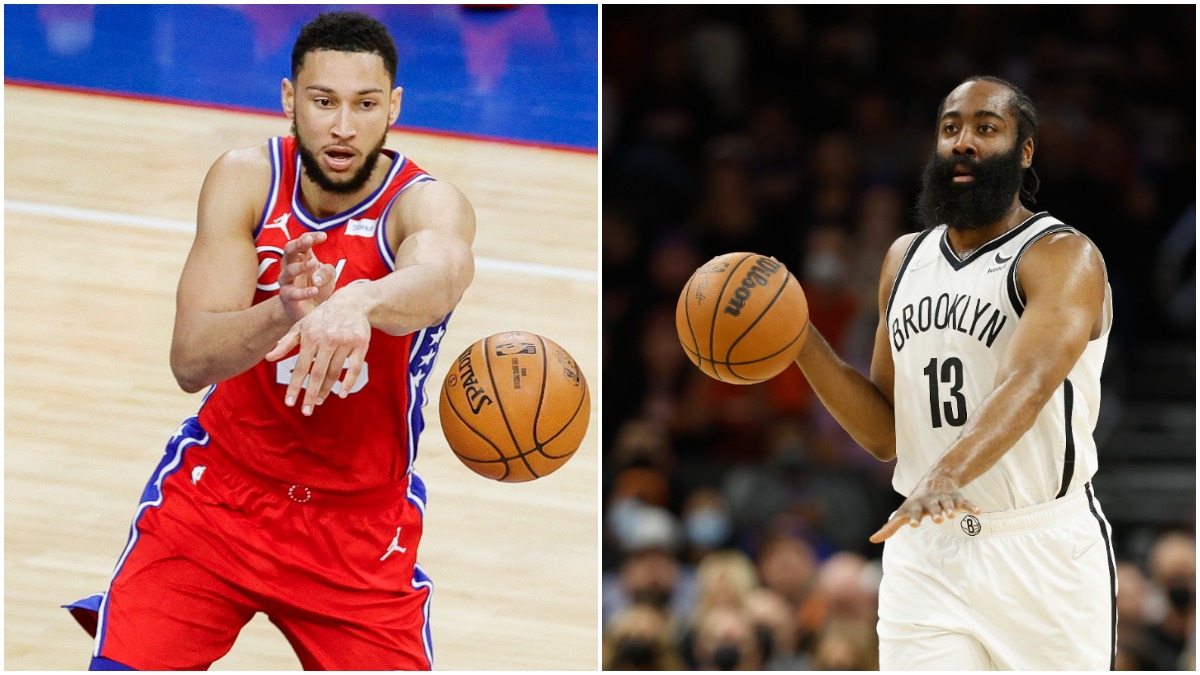 NBA Trade Deadline: A James Harden-Ben Simmons Trade Great for 76ers Now, but the Nets Will Get the Last Laugh
James Harden makes the Philadelphia 76ers contenders right now. But Ben Simmons could make more sense for the Brooklyn Nets in the future.
If your entire extent of NBA knowledge consisted of the 2021–22 season, it's effortless to determine the winner of a James Harden-for-Ben Simmons trade. Whoever gets the guy who is actually playing basketball wins. But with reports the Philadelphia 76ers plan to aggressively pursue the 10-time All-Star from the Brooklyn Nets using Simmons as the key bargaining chip, it's worth taking a more extended look at the proposition.
Harden is a former NBA MVP and one of the most prolific scorers in league history. Simmons is just 25 years old and already a two-time All-Defensive selection. He comes with a point guard's skill set welded to a power forward's frame.
What team wins a Harden-for-Simmons deal? That's where it gets complicated.
Smoke rising from the James Harden-Ben Simmons rumors for a while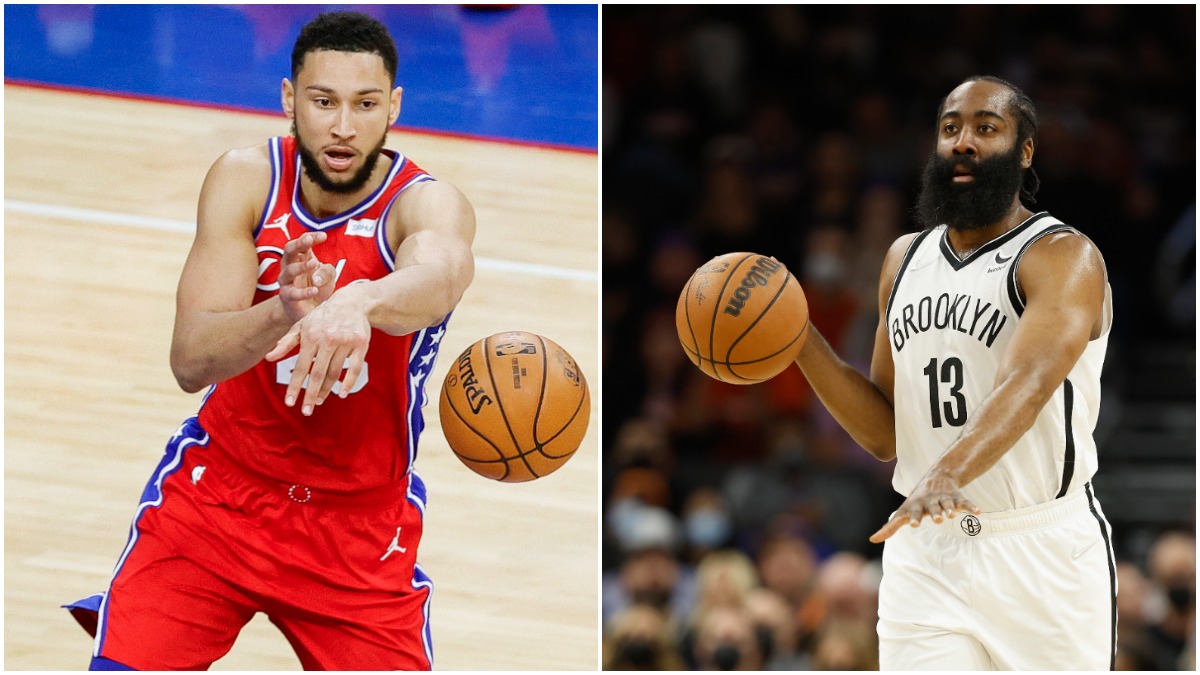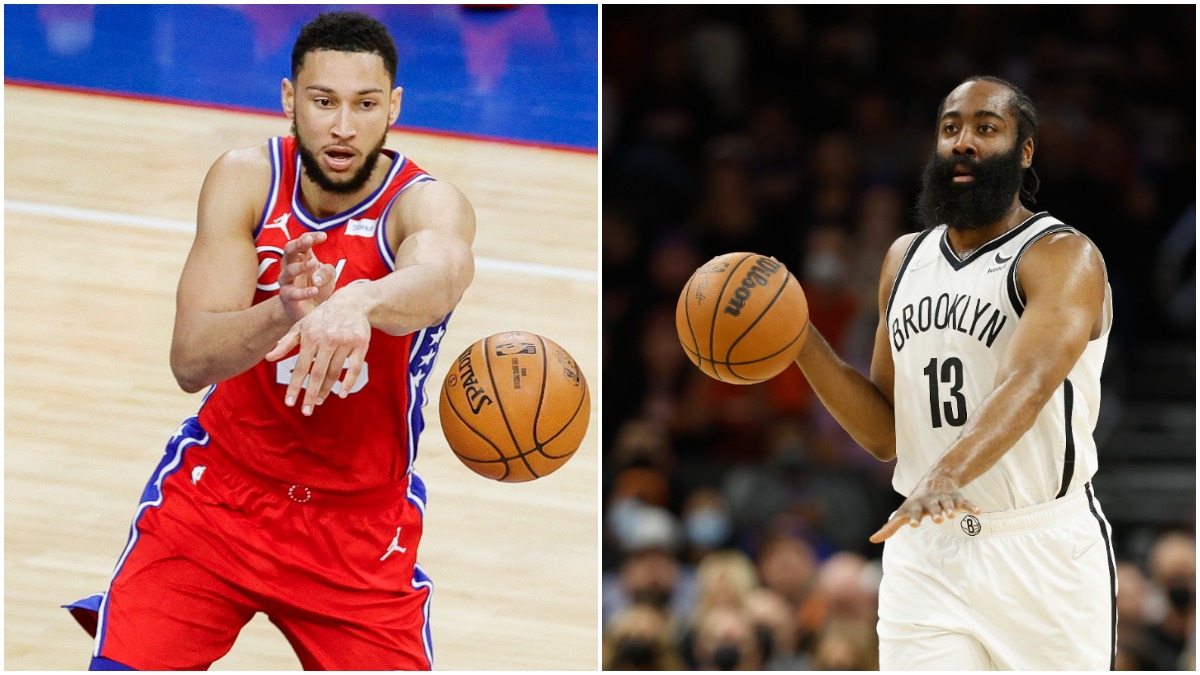 Ben Simmons missed his 52nd game when the 76ers visited the Dallas Mavericks on Feb. 4. He hasn't played an NBA game since Philadelphia lost Game 7 of the Eastern Conference semifinals to the fifth-seeded Atlanta Hawks on June 20.
The three-time All-Star held out of training camp before reporting to the team late in the preseason. The 76ers have fined Simmons more than $360,000 per game for all but seven of the games missed.
But 76ers president of basketball operations Daryl Morey didn't rush a trade. He reportedly had an idea of what he wanted in return for Simmons — another star to pair with superstar center Joel Embiid.
Even in what has been James Harden's least productive season since he was traded to the Houston Rockets by the Oklahoma City Thunder in 2012, The Beard checks the boxes as a legitimate star-caliber talent.
Amid growing reports of Harden's growing unhappiness in Brooklyn, rumors of Morey trying to trade for Harden for a second time started to percolate. As Houston's GM in 2012, the poster child for the NBA's embrace of analytics acquired the left-handed scoring savant in a blockbuster trade with the Thunder.
Morey pursued the three-time NBA scoring champion last season before the Nets ultimately obtained Harden. But just days after Brooklyn reportedly had zero interest in listening to offers, Shams Charania of The Athletic contradicted that with an article on Feb. 4.
Philadelphia gets the short-term win if it gets James Harden
In what constitutes a subpar season by his standards, James Harden averages 22.5 points, 10.2 assists, and 8.0 rebounds per game. No guard on the current 76ers roster comes close to that production level.
In January, Tobias Harris was to Ben Simmons in rumored discussions between Morey and the Atlanta Hawks. Since then, Harris' play has improved considerably. But Embiid carries the load for the 76ers.
Harden would give the Sixers a second scoring threat and presumably provide the All-Star center more room to operate. Harris becomes what he likely should always have been, a third scoring option for a contending team who spent much of his career miscast as an alpha for rebuilding or just plain bad clubs.
Philadelphia is 6–8 against the teams with the 10 best records in the NBA and was 31–20 entering the matchup with Dallas.
Embiid's medical history is also a concern. According to Vegas Insider, he's the favorite for NBA MVP honors. But he's missed extensive time throughout his career with foot, back, and knee problems. Harden would give the 76ers the ability to lighten the considerable load the superstar center has carried this season.
It also thrusts Philadelphia into the championship mix.
Ben Simmons a potential long-term solution in Brooklyn
Ben Simmons is in the second season of a five-year max contract extension signed in 2019. With Kevin Durant's extended deal kicking in next season, the 2013–14 NBA is under team control through 2025–26.
Confidence as a shooter is the biggest hole in Simmons' game. He's a generational defensive talent capable of guarding every position on the floor, the ultimate switchable defender. He gets downhill to the rim effectively, is a terrific passer, and is unselfish, almost to a fault.
That's where the problems start. The Australian doesn't trust the shot in games despite canning jumper after jumper in offseason video clips. That allows defenders to sag into the paint, daring Simmons to shoot. Spoiler alert: He seldom does. In four seasons, he's attempted 31 three-pointers, making five. Only 12.7% of his 3,188 career shot attempts are outside floater range.
Brooklyn has one of the best shooters of all time on its player development staff. Kyle Korver is in his first year on coach Steve Nash's staff and is already drawing high praise for his work with undrafted rookie Kessler Edwards.
With a legitimate shooting coach to guide him, Simmons could have sky-high potential just by opening his scoring ability to a second level.
Then there is the age factor. Simmons is almost eight years younger than James Harden. The veteran is 32 and is battling hamstring injuries for a second consecutive season. Given his usage rate and the wear and tear his contact-seeking style of play elicits, we already see signs of decline.
The left-hander can also opt out of his contract this summer. So the Nets must weigh the value of potentially paying James Harden almost $270 million over five years against committing to Ben Simmons for the next three years at $108 million.
That calculus seems simple.
Statistics courtesy of Basketball Reference. Contract information courtesy of Spotrac.