NBA Trade Deadline: Adding Eric Gordon Would Delight Chris Paul and Cement the Suns' Championship Roster
The Phoenix Suns have the best record in basketball. They have perhaps the most well-balanced backcourt in the game in Chris Paul and Devin Booker, a budding two-way star in Mikal Bridges, and an All-Star-caliber center in Deandre Ayton. Phoenix doesn't need to do much prior to the Feb. 10 NBA trade deadline, but it could make waves by acquiring Eric Gordon.
The Houston Rockets swingman enjoyed a successful partnership with CP3 when the two were in H-Town. With the Suns needing wing depth and Gordon in the midst of his most efficient scoring season, it could make sense for Phoenix to reunite the former teammates.
Houston has projected some uncertainty about whether it will trade Gordon. But the Rockets would look foolish not to capitalize on his value, and the Suns have every incentive to get aggressive with a win-now move that would solidify their championship roster.
Rival executives speculate the Suns could pursue Eric Gordon before the NBA trade deadline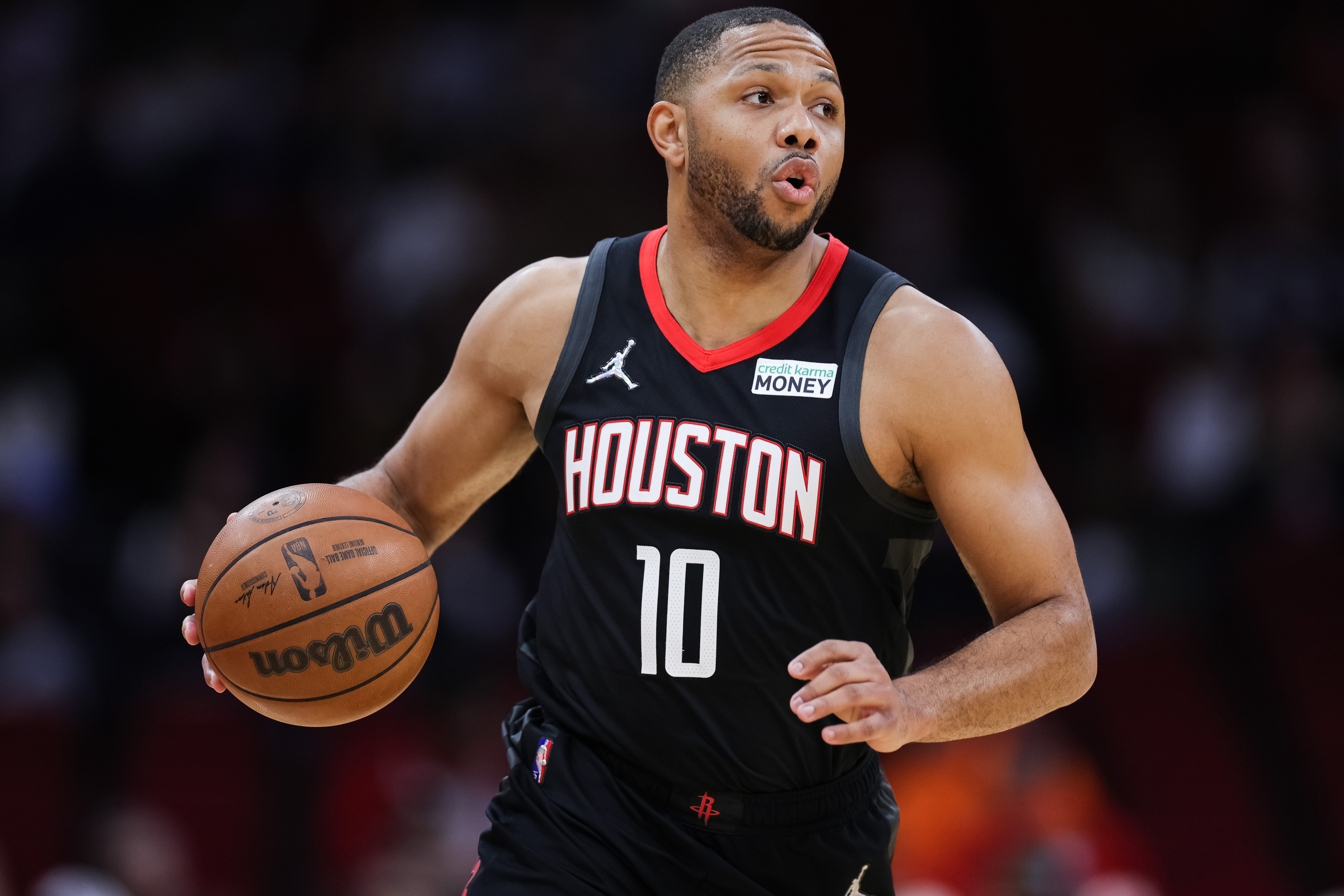 The Suns hold the NBA's best record and could just as easily choose to stand pat before the NBA trade deadline. However, opposing teams do not expect Phoenix to rest on its laurels.
Bleacher Report's Jake Fischer reported that the Suns are searching for a wing upgrade at the deadline. Fischer added that some league personnel believe Phoenix could make a run at Eric Gordon.
Nothing concrete links Gordon to the Suns. But he still makes a lot of sense for Phoenix.
The Suns already lost wing depth when Dario Saric suffered a torn ACL this past summer. Additionally, Abdel Nader has not played since November, while Landry Shamet is having a rather poor shooting season.
Conversely, Gordon is shooting the ball more efficiently than ever. The 33-year-old is averaging 14.3 points on a career-high 62.4% true shooting percentage, including 42% from beyond the arc on 5.5 attempts per contest. He's also averaging his highest assist total (3.1) since the 2014-15 campaign.
The Hobbit can score coming off pin-down screens or knock down catch-and-shoot looks. He's also capable of making plays off the bounce.
Perhaps of even greater import: Gordon has experience playing with Chris Paul.
Gordon shared the floor with Chris Paul in Houston
Oftentimes, veteran stars will lean on a sense of familiarity whenever they contribute to roster-building. That's certainly the case with LeBron James and the Los Angeles Lakers. Chris Paul could exhibit something similar by encouraging the Suns to push for his former Rockets teammate.
Paul and Gordon spent two seasons together in Houston. Along with an MVP James Harden, they helped lead the Rockets to 65 regular-season wins and a Western Conference Finals berth.
The Rockets nearly dethroned the Golden State Warriors in that series, taking a 3-2 lead over the defending champions. But CP3 suffered a hamstring injury at the end of Game 5 that rendered him inactive for the next two games. The Dubs crushed Houston in Game 6, and the Rockets blew an 11-point halftime lead in Game 7, shooting just 7-of-44 from beyond the arc.
Gordon said after Game 7 that Paul's absence made all the difference for the Rockets. Meanwhile, last fall, the Point God said he lamented not being healthy for those two seasons in Houston.
Might the former teammates have a chance to run it back in 2022?
Potential trade pitfalls
The closing ability of Paul and Devin Booker is anchoring the Suns' success. Gordon could present Phoenix with a third scoring option in crunch time, one who can space the floor and attack closeouts off the dribble.
But while Phoenix probably wouldn't mind making a splashy move for Gordon, it's not that simple.
Gordon is owed over $19.5 million next season. His $20.9 million salary for the 2023-24 season is non-guaranteed, but there's a catch. As Fischer noted, the $20.9 million would become fully guaranteed if the Suns were to win the title and he surpassed a stipulated 750 minutes (regular season and playoffs) threshold.
Considering the Suns already have to grapple with Ayton's impending free agency, are they willing to gamble on owing Gordon over $40 million in the next two seasons? Moreover, do they have the assets the Rockets would desire?
Phoenix has somewhat limited options ahead of the NBA trade deadline. Jae Crowder is too crucial to team defense, and Cam Johnson's breakout season should make the Suns hesitant to include him. Plus, both guys hold importance as switchable forwards.
The Suns would likely construct a package consisting of Saric, Shamet, Jalen Smith, and a first-round pick. Yet that deal would have drawbacks for the Rockets.
Shamet has a poison pill provision after signing an extension this offseason, meaning his incoming salary in a trade rises to over $9 million if he is dealt before the extension kicks in. Meanwhile, any team acquiring Smith could only offer him $4.7 million in free agency because Phoenix declined his third-year option.
The Rockets have the space to add salary and are in a position to take on some risk, primarily if they can obtain first-round picks. But it's still a reasonably sizable ask.
In any event, the Suns could well try to bring Eric Gordon into the fold at the NBA trade deadline in an effort to reunite him with Chris Paul and get over the hump.
Stats courtesy of Basketball Reference.
RELATED: Monty Williams Will Proudly Coach In the NBA All-Star Game to Honor the Consistency of His Phoenix Suns