NBA Trade Deadline: A Ben Simmons-Bradley Beal Blockbuster Would Be a Rare Win for Both Sides
In the City of the Brotherly Love, the Philadelphia 76ers and Ben Simmons are truly at an impasse. The upcoming trade deadline will allow Philadelphia to move its disgruntled star, but only for a worthy return centered around an All-Star-caliber player. Perhaps someone like … Bradley Beal?
Over in D.C., Beal and the Washington Wizards are struggling to stay in the playoff picture. With the star guard possibly becoming a free agent at season's end, the Wizards may want to get on the phone with the 76ers and discuss a blockbuster trade. A trade that would actually be a huge victory for both sides.
The 76ers are reportedly interested in Bradley Beal
With Simmons sitting out for the entirety of the season, the Sixers would love to move on from the drama. However, it's not as if Philly is willing to dump Simmons for nothing. Nor is it willing to lump Simmons into a package of players to acquire someone like Beal.
In a report from David Aldridge and Josh Robbins of The Athletic, Beal is on the shortlist of players Philly would accept in a Simmons deal. However, the Sixers won't attach another player to Simmons such as second-year guard Tyrese Maxey or third-year forward Matisse Thybulle.
Aldridge and Robbins also mention that Washington has given no real indication it's looking to trade Beal ahead of the deadline. In fact, the Wizards could be attempting to add talent around Beal, such as Indiana Pacers forward Domantas Sabonis. But with the team currently falling further down the standings, Washington has to at least wonder whether Beal decides to decline his $36.4 million player option and leave D.C. this summer.
Swapping Ben Simmons for Bradley Beal would be a win for both the 76ers and Wizards
While The Athletic's report gave little indication this deal was close to happening, it would be a major win for both the 76ers and Wizards to pull something off before Feb. 10.
Philadelphia turning the absent Simmons into Beal would be a game-changing move for a team that's now just a half-game out of first place in the Eastern Conference. Beal, who averaged 31.3 points last year, is an excellent shooter capable of shouldering some of the offensive load from MVP candidate Joel Embiid. Even if the Sixers had to part with a valuable defender like Thybulle as well as Simmons, acquiring Beal would make them that much deadlier come playoff time.
The move would also end the long-running Simmons drama. The point guard's holdout has cast a dark cloud over Philly's season, which is just now turning around thanks to Embiid's heroic efforts. If the 76ers managed to move on from Simmons for good, the franchise can finally look ahead.
So how would the Wizards benefit from this? For one, Simmons is a pass-first playmaker and elite defender that could make all of Washington's younger players better. Two, Simmons is under contract for another four years and $147 million after this season. While that doesn't sound like a positive, Beal would be eligible for a supermax extension of $246 million over five years if re-signed with Washington, according to The Athletic.
The Wizards made the mistake of signing John Wall to a mega-deal, someone they eventually had to move for Russell Westbrook. Do they want to force themselves into building around the 28-year-old Beal, whose great efforts have resulted in three series victories and none since 2017?
The Sixers would receive an Embiid-Beal combo capable of winning a title, while the Wizards would save major money with Simmons on the books and change the trajectory of their franchise. That's what you call a win-win.
A Ben Simmons-Bradley Beal trade is likelier to materialize next offseason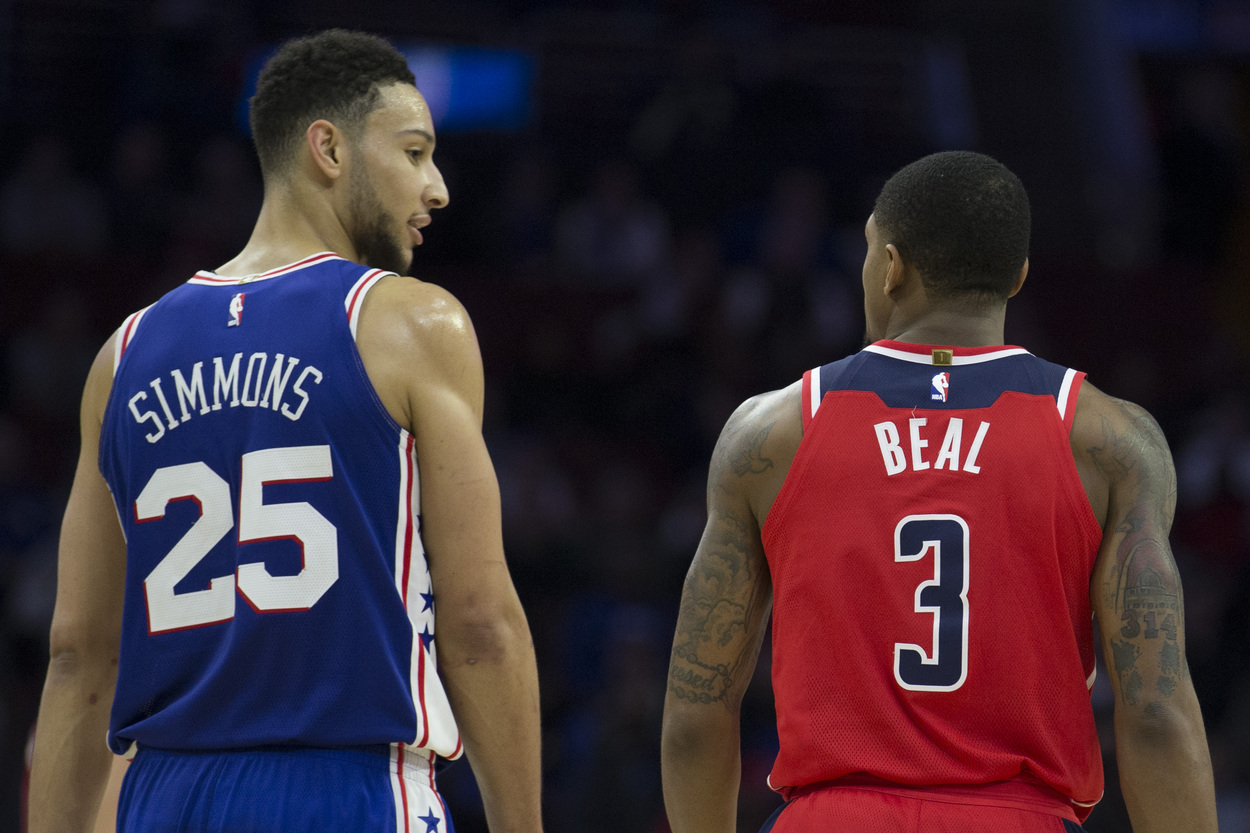 Even in a league where superstars are constantly on the move, it would be surprising if the Wizards and 76ers worked out a deal ahead of the trade deadline. But don't rule out a move this summer.
Considering Beal's contract status, the Wizards will want to know which way the star guard is leaning. On the flip side, Beal will want to see how the rest of this season plays out before making a decision. As far as the Sixers are concerned, they would also want to make sure Beal is at least exercising his player option, giving them a full year of his services before his contract officially runs out.
Additionally, it seems highly doubtful that Simmons is going to change his mind about playing for Philadelphia. But at least keeping him over the next few months would give the two sides time to work things out for the future. Then, if the offseason arrives and he still wants out, the 76ers can grant him his wish.
Whether it's in the next few days or the next offseason, a Simmons-Beal swap just makes a ton of sense for everyone involved.
All statistics courtesy of Basketball Reference and contract figures courtesy of Spotrac.
RELATED: NBA Trade Deadline: The Washington Wizards Must Make Major Moves to Save Their Season